Can I get compensation for my package holiday?
As a traveler or a family it is sometimes easier and more convenient to book a package tour. However, as any other trip there are circumstances that cannot be foreseen. The organizer of this package tour might suddenly change the flight times, your suitcases could get lost or you could be refused check-in at the airport. All of these are potential problems that can occur during any trip, whether it is an organized package holiday or an individual trip. Have you been in this situation? We at MYFLYRIGHT are here to help you. We want to ensure that travelers are informed about their passenger rights regarding package holidays and we want to help you solve any issues regarding your organized tour. Below you will find an overview of your rights.
If you have booked a package tour and there have been sudden unexpected flight changes, you are entitled to:
Partial or full refund of the price you paid for the trip
Compensation up to 600 € for flight delays of over 3 hours in accordance with the EU regulation on air passenger rights
Partial reduction in the travel price if your flight was delayed more than 5 hours
Partial reimbursement for your lost and damaged luggage
Withdrawal from the trip in the event of significant flight delay
What is a package tour?
A package tour, in comparison to the individual trip, is a journey in which the traveler books a combination of at least two different types of travel services with the tour operator or travel agent. A package tour usually applies if the travel services covered by the contract have been put together at the request of the traveler according to his choice. The traveler is often able to select the travel services from the organizer's portfolio. Package tours include usually the following components:
Passenger transport
Accommodation
Travel insurance
Car rental
Excursions (e.g. sightseeing, museum visits)
Any other type of tourist service.
Consumer rights during package holidays
As a general rule, package travelers are granted certain consumer rights during their package holidays. Similar to individual trips, the travelers are entitled to up to 600 € compensation in cases of flight delay and flight cancellation. When your flight is delayed during a package trip, you can make a claim against your tour operator as well as against the airline. The key factor here is how long you were delayed at your destination airport. Passengers are entitled to compensation from the airline with a flight delay at the destination of over 3 hours. It must be noted that in order to make your claim, the delay must not have been caused by extraordinary circumstances. When the reason for a flight delay is out of the airline's hands, for example a lightning strike, this is deemed an "extraordinary circumstance" and the airline is exempt from financially compensating passengers in this case. In the event that the travel service is severely impaired by the flight delay or cancellation, you can withdraw from the package tour entirely. Last but not least, if your luggage gets lost or delayed, you can ask for a partial refund of the price you paid for the trip and the airline should reimburse you for your necessary purchases.
Frankfurt table: package tour
The Frankfurt table serves as a guideline for package travelers in Germany who have experienced issues such as flight delay or flight cancellation during air travel. It shows a summary of court judgments of the District Court in Frankfurt regarding package travel rights and offers an overview of when and how much in percentage, a passenger can expect to claim for price reduction against the tour operator.
It is important to note that the Frankfurt table is not legally binding and serves only as a reference for passengers. Each case is assessed individually, and price reductions are calculated accordingly. However, it is beneficial for passengers to review existing examples, in order to get an idea of what type of price reduction could be applied in their case.
Package holiday – compensation for flight delay
As a rule, you are only entitled to cancel your entire package tour if a flight delay would significantly impair the course of your holiday. In such cases it is best that you inform your tour operator that you do not agree with the changed times. You must inform the tour operator in writing, so that you have proof if you need it later on. If you decide to fly according to the new flight times and it results in additional expenses for you, you should keep your receipts and invoices and send them to your trip organizer. Additionally, if you were informed about the change in flight times less than 14 days before the originally planned departure time, you are entitled to a compensation payment of up to 600 € depending on the flight distance. This amount should be claimed directly from the airline and not through the tour operator. Here is an outline of the compensation in relation to distance and delay:
3 500 kilometers (outside the EU) and a flight delay at the destination of at least 4 hours - 600 €
3 500 kilometers (outside the EU) and a flight delay at the destination of between 3 and 4 hours - 300 €
Between 1 500 and 3 500 kilometers (outside the EU) and over 1 500 kilometers (in the EU) if the flight is delayed at the final destination by at least 3 hours - 400 €
Up to 1 500 kilometers (in the EU) and a flight delay at the destination of at least 3 hours - 250 €

Flight delay: How to claim compensation
You have a few options when making your claim against the airline. Either you choose to make the claim yourself or you hand over the task to someone else. If you choose the former, it is more than likely that you will need to seek legal help, as the airline will be able to argue skilfully against your claim with help of their legal team. If you decide to enforce your claim independently, it will also cost you a lot of time and nerves. Nevertheless, we have prepared a letter template that you can use, to claim the compensation by yourself. You can find this template in the article Flight delay. Considering the time it takes to gather all necessary documents - which can be several hours - as well as how stressful it is dealing with airlines, it may be worth making your claim with MYFLYRIGHT instead.
Claiming independently is a risky process since airlines frequently do not disclose all information regarding a delay. An example of this is when you make a claim against the airline due to technical issues, whereas the delay was caused by a bird strike, in which case the airline does not have to pay compensation. By the time this is made clear, you have spent a considerable amount of time, effort and money. However, in the event of a rejected case when making your claim through MYFLYRIGHT, there is no need to worry about the costs, because commission is only charged when there is a successful outcome. You simply need to enter your flight details at www.myflyright.com. We are happy to help you with your claim for compensation and/or ticket refund and there is no cost risk for you at any point.

Package holiday – flight cancelled
The case of flight cancellation is very similar to the case of flight delay. The passenger is also entitled to compensation of up to 600 €, depending on the flight distance and the time when the passenger was informed about the flight cancellation. However, in some cases, tour operators reserve the right to change flight times in their contracts. The courts therefore disagree as to when a change in flight times can lead to compensation. A good scenario, however, is when the departure time shifts to night time, thereby disturbing the night's rest. In such cases the courts rule in favor of the passenger and demand compensation from the airline. As a conclusion, it always depends on the individual case and on the time at which the customer was informed of the change in flight times. You can find more detailed information on how to deal with cancelled flights in our article Flight cancellation.
Package holiday – baggage lost
If your suitcase gets lost or delayed, you should ask for a partial refund of the price you paid for the trip. In addition, the passengers can purchase necessary basic equipment such as clothes and toiletries at the expense of the tour operator or the airline of up to 1 400 €. Excessive expenses such as branded clothes and expensive technology are usually not accepted. The local service provider, for example the hotel, is usually not the right contact when you lose your luggage. If your missing luggage does not appear, you need to inform your tour operator immediately because you are entitled to between 5 and 30 % reduction of the daily rate of the trip as well. The complaint should be made in writing or in the presence of a third party. You will find more information on how to deal with luggage problems in our article Baggage claim.
What should I do as a package traveler?
If you have booked a package holiday and you are experiencing a flight delay or flight cancellation, you should still arrive at the check-in desk punctually. If you are not punctual, the airline or the tour operator can blame you for not being there on time and use this as a reason to not pay back the compensation. In cases of flight delays and flight cancellations, the airline must also provide you with additional services, depending on the length of your delay. These services include free meals and refreshments, which you are entitled to when your flight is delayed by at least 2 hours. Passengers should also receive free overnight accommodation and a transfer to and from the airport. Even in the event of extraordinary circumstances. The airline is still required to provide these additional services to the passenger. The following overview shows the rights and services you are entitled to in case of a flight delay: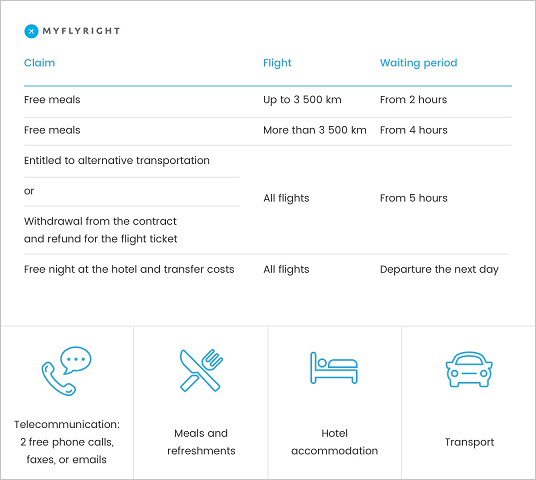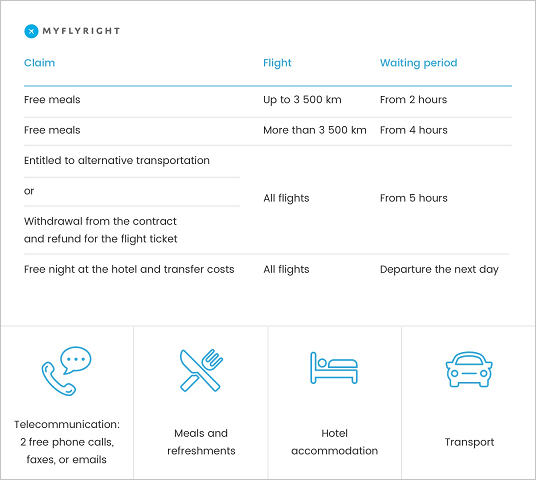 It is also advisable to ask the airline to confirm the reason for the delay or cancellation in writing. In this way you have proof of the reason, which you will need when you decide to enforce your claim against the airline. You should also gather evidence: photos, receipts of your expenses, tickets, vouchers, etc. Below you will find a checklist of the important documents you should keep: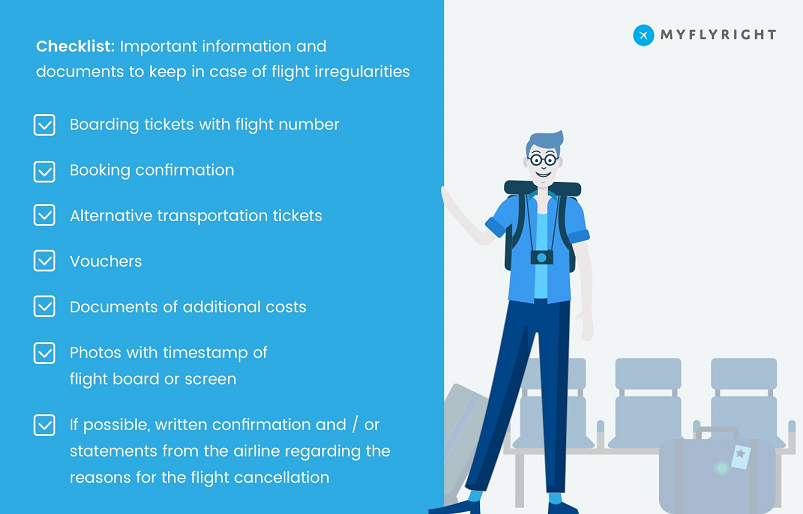 Refund rights for my package holiday
Whether a delay applies to cancel the travel contract has so far always been determined by the local courts on the basis of the respective circumstances: the purpose and the concrete arrangement of the trip as well as the type and duration of the impairment. This means that a right to cancel the trip can only exist if the flight delay calls into question the purpose of the entire trip and has a considerable impact on the travel service.
According to the EU regulation, on the other hand, you can withdraw from the flight if the delay is longer than 5 hours and you can have the ticket price refunded. However, this right is only against the airline and not against the tour operator. For package tours this can be a bit complicated because you have not booked directly with the airline and it is not always easy to find out the exact price of the flight from a complete package price. In addition, you are only entitled to a refund of the ticket price, but not of the entire trip. So if you decide not to fly, you will usually have to pay the cost of the package tour. You should therefore consider carefully whether or not you want to take a flight booked in connection with a package tour.
Can I withdraw from a package tour?
You only have the right to cancel if the flight delay significantly affects the overall travel service and the expected recreational value. This applies, for example, if passengers miss the departure of their cruise ship due to a flight delay and cannot simply join the cruise. In other cases, you should read the contract you concluded with your tour operator thoroughly and decide whether you would like to accept the new flight times or discuss further options directly with your tour operator.
If your package holiday was severely affected by a flight delay or flight cancellation, you can always contact MYFLYIGHT. To avoid the financial risk, as well as the time-consuming and stressful nature of the process, you can delegate your case to us. We are experts in passenger rights and we can help you get the compensation you are entitled to. With MYFLYRIGHT you can check if you have a claim for compensation for free – www.myflyright.com. If you wish, MYFLYRIGHT will pursue your case against the airline without any cost risk. Only in successful cases is a service fee of 25% plus VAT charged, saving the passenger time and stress. In some cases, an immediate pay-out of your claim is provided, where the compensation is paid after the receipt of documents within 24 hours. With an immediate pay-out, a commission of 35% plus VAT is applied.


Get up to 600 €* in compensation