Turkey - where Europe meets the Orient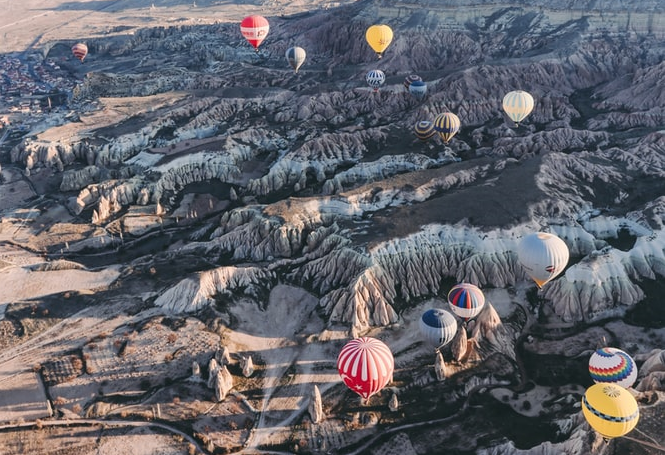 Istanbul: historic megapolis on two continents
Turkey is a popular travel destination all over the year. The country has an impressive past, a very active cultural life and you can find some of the most important historical spots from the ancient Greeks on its territory. With a beautiful landscape, perfect beaches and vibrant cities, Turkey is a great spot for all kinds of holidays. Since the coup attempt of 2016 and because of political tensions, Turkey's touristic sector has been suffering a strong decline. For tourists, however, not a lot has changed and the country is still a secure travel destination at very attractive prices.
Take Istanbul for instance, which is one of the most interesting mega cities in Europe - and Asia, of course. The two continents meet in the very center of Istanbul with the Bosporus, a narrow natural strait, splitting it into a European and an Asian part. 15 Million people live is this vibrant and historical place, and many of them cross from one side to the other with quick ferries or using one of the three available bridges.
There are not many cities with a similar impressive history like Istanbul. Founded already 2600 years ago with the name Byzantium, this place served as a capital for three historic empires – the Roman Empire, the Byzantine Empire and the Ottoman Empire. As such, Istanbul is both a vibrant modern town and a big archeologic ground with uncountable remains from its past. Its historic area and many buildings have been included in the UNESCO list of world heritage sites decades ago, shortly after the UNO began granting this title to important landmarks.
Traveling to Istanbul is easy as it is well connected by many international airlines. Turkish Airlines (TK), Thomas Cook (MT), Condor (DE), TUIfly (X3) and many other low budget airlines offer direct flights to Istanbul. By the way: Regarding passenger rights, you don´t need to worry about traveling to Turkey as a non-EU country. If you are coming from within the EU, airlines are still bound to the EU Regulation on air passenger rights.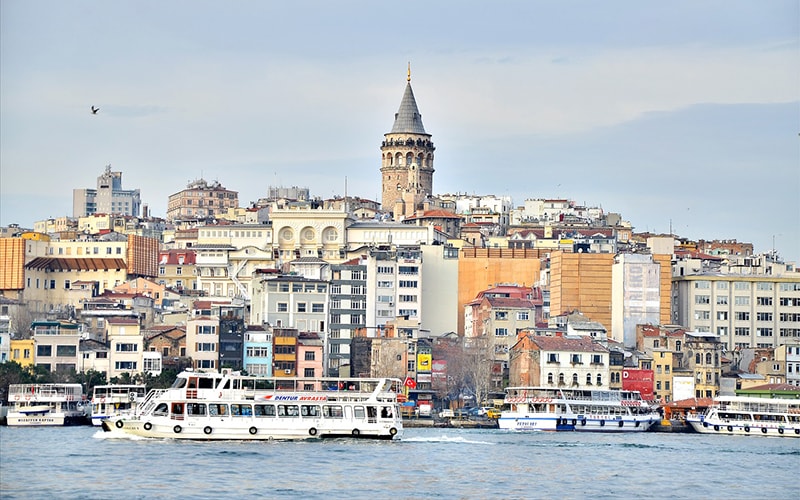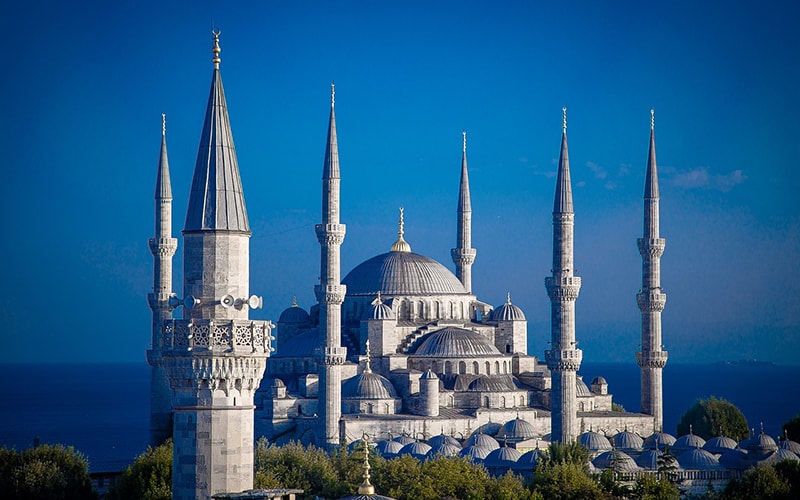 Istanbul – Area: 1,539 km² ; Inhabitants 2016: 14,804,116.

Antalya – Area: 1,417 km²; Inhabitants 2016: 2,222,562.

Alanya – Area: 1,598 km² (district); Inhabitants 2016: 104,573.
Antalya and the Turkish Riviera
Antalya is the biggest town on the so-called Turkish Riviera and an important destination for tourists coming by plane. Thanks to a mild climate, warm water temperatures at the Mediterranean coast and uncountable sights, this region attracts millions of tourists each year. Many of the most important archaeological sites from ancient Greece can be visited there, among them two of Seven Wonders of the Ancient World: The ruins of the Mausoleum at Halicarnassus and the Temple of Artemis at Ephesus .
Antalya itself is mostly known for its huge airport and a point of transit for other places in the region. But the city is also definitely worth a visit, especially if you are already nearby.
Strolling along fragments of the ancient city wall into the old town is a great experience. From several panoramic platforms, you have an amazing view across this beautiful part of the city. There you will look over an impressive skyline with old buildings and beautiful minarets of the many mosques that are located there.
The Yivliminare Mosque, for instance, is an impressive building from the 14 th century and looking across its famous 38 meters high, fluted minaret you have a spectacular view on the Mediterranean coast. Also, the lower Düden waterfall is impressive to see as it pours down the cliffs of Antalya. There are many nice restaurants around this area as well with a unique and relaxing atmosphere.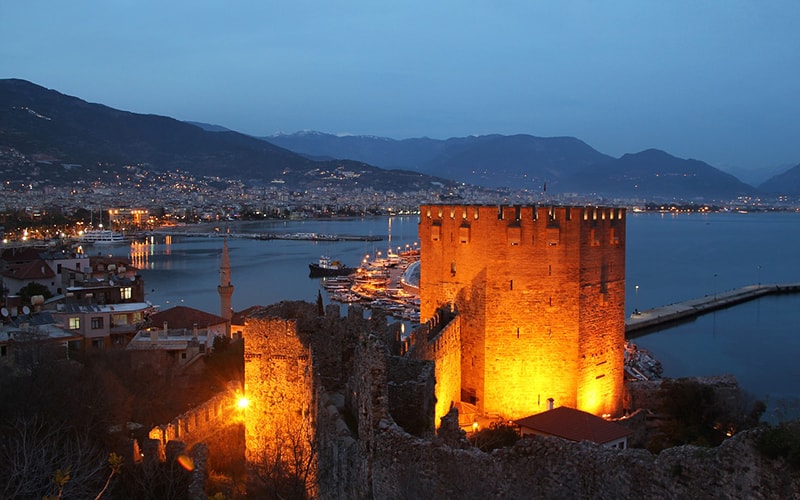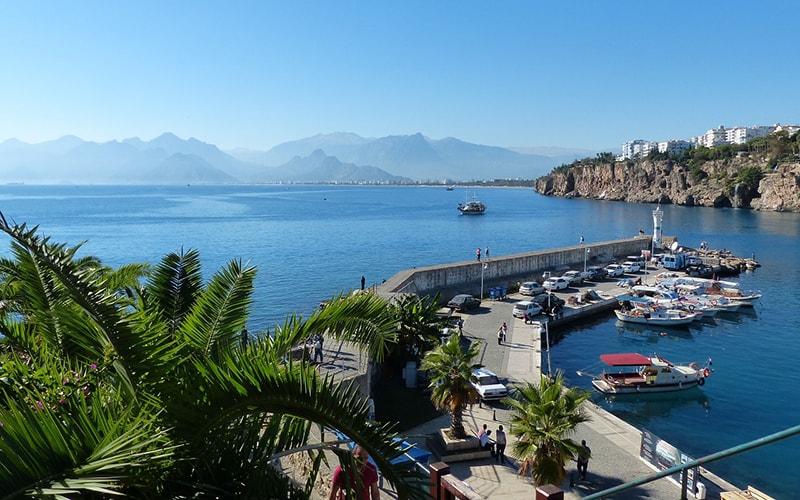 Alanya and Side
If you are a beach-bum, Alanya is one of the best spots to go on the Turkish Riviera. Many Germans come here to spend their summer holidays. And with over 10.000 German emigrants, Alanya is also the region with the biggest permanent German population in Turkey. Alanya is known for great beaches and one of them can be found right there in the center of town. Cleopatra beach stands out with fine-grained white sand, crystal clear water and a nice view on nearby cliffs. With a beautiful old town and a much laid back atmosphere, spending time in the city guarantees stress-free vacations.
Not far from Alanya you can visit Side, or Selimiye – how this historic place is called today. Thanks to countless important historical sights, this is a very special place. Side was founded about 3500 years ago and was an important place fin ancient Greece. You visit a massive, well-preserved Amphitheater which during its active times offered space for about 15.000 spectators. Nearby you can find the early Roman Temple of Dionysus with a beautifully restored fountain at its entrance.
Side was a very modern city in roman times, famous for its advanced water system. An aqueduct built at the end of the 2 nd century AD brought fresh water to the city, where it was distributed to city residents on many public fountains, baths, and cisterns. Wealthy citizen even had running water and sewer systems in their homes.
Many remains of that complex water system can still be seen today, such as a special opening in the city walls where the pipe entered the town. Also the remains of the Nymphaeum of Side, a big, ancient ornamental fountain can be visited by those who want to learn more about how the ancient Greeks and Romans used to manage water systems completely without electricity, pumps, and tubes made of concrete, plastic or metal.
Latest posts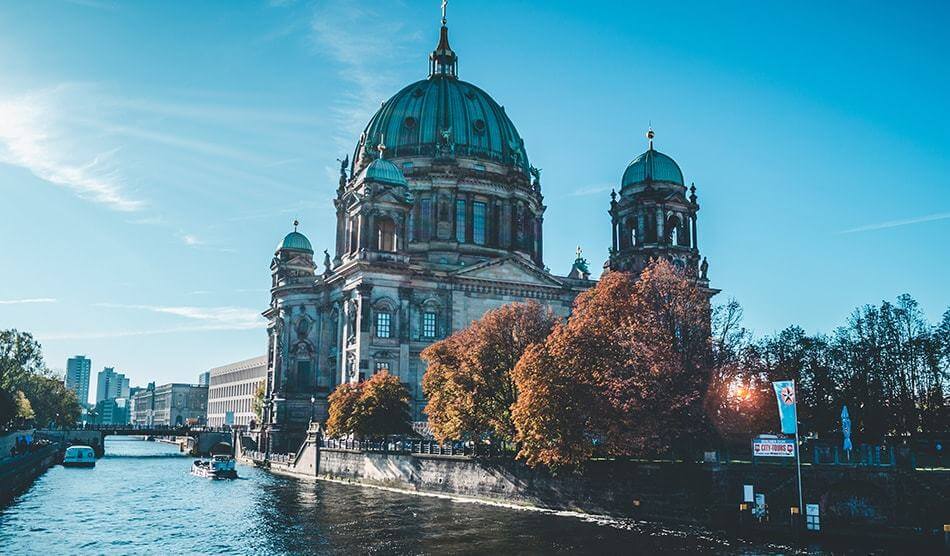 Germany
Berlin: Cool capital of Germany and upcoming super-hub
Trendy Berlin attracts more and more visitors every year, raising the question if the city's two airports can keep up and if Brandenburg will finally open after all its setbacks.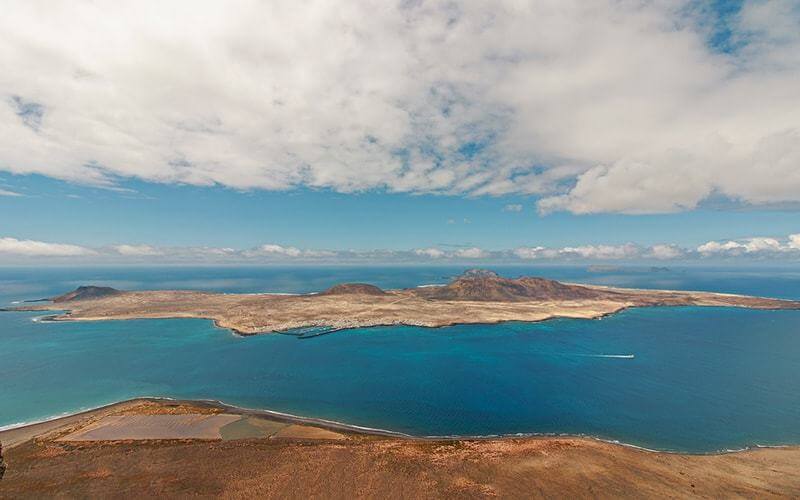 Spain
Escape the winter and book your flights to Canary Islands
The Canary Islands are the true island dream destinations for anyone looking for a slice of sun, sea and sand. Whatever the season, this is the perfect getaway and there's something to suit everyone.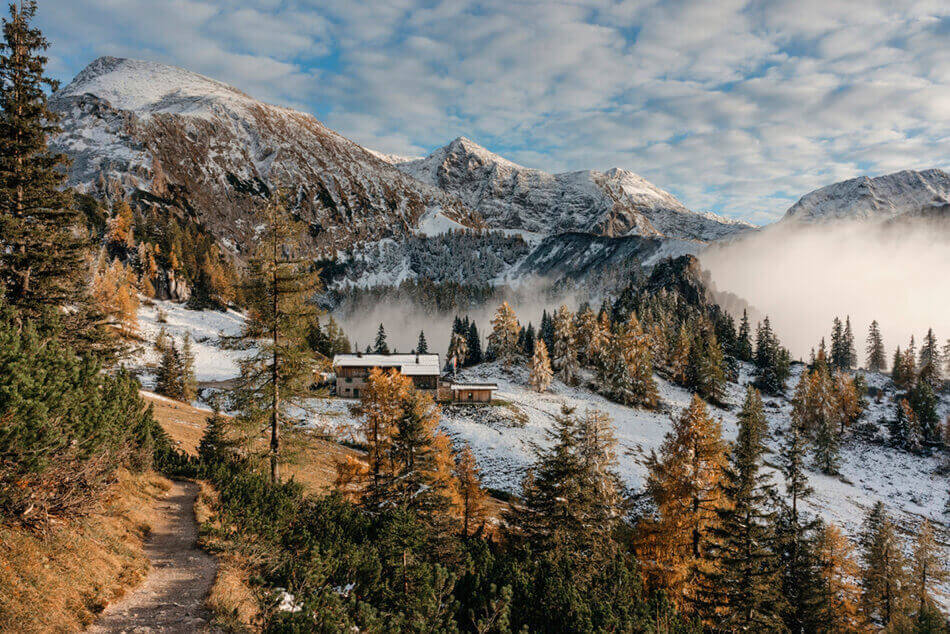 Head to the Alps: Map out your trip without a car
The Alps are one of the most visited regions of Europe, famous for beautiful high mountains, valleys and pristine nature. Leave the car at home and discover another way to explore the Alps.
About MYFLYRIGHT
MYFLYRIGHT is a legal tech company, specialized in the support of airline passengers affected by flight delays, flight cancellations, denied boarding, delayed or lost luggage and the refund of unused airline tickets. MYFLYRIGHT was founded 2016 in Hamburg, Germany. The company operates out of 3 offices, its headquarter in Hamburg and its branches in Prague, Czech Republic and Zaporizhia, Ukraine. Currently, MYFLYRIGHT employs a team of around 25 people working in Marketing, Operations, Legal, Customer Support and IT. The organization operates across 5 markets – Germany, United Kingdom, Romania, Austria, and Switzerland.
MYFLYRIGHT's goal is to provide access to justice for all aviation passengers who experience irregularities in their flight transportation. Notably, 75% of all compensation requests submitted by passengers get rejected. Whereas, MYFLYRIGHT is able to successfully execute the applicable customer claims in more than 98% of cases at court.
Get up to 600 €* in compensation