Can you claim compensation for your business trip?
When you set off on a business trip and the flight is delayed or cancelled, it is never a great start. Even though money would not make up for the inconvenience caused by a flight incident, at least you can always claim for the compensation you are entitled to. In the case of business travel, passengers still have the same rights as individual travelers. The amount of the compensation depends on the flight distance and business travelers might be entitled to either 250 €, 300 €, 400 € or 600 €. The airline must also provide passengers with additional services including free meals, refreshments and accommodation, depending on the length of their delay. If your business flight was affected by a flight delay or a flight cancellation or you were denied boarding, you can always check whether you are eligible for compensation. Simply enter your flight details at www.myflyright.com and we will do the work for you without any costs included.
What is considered as business travel?
Business travel, also referred to as a company trip or a working trip, is defined as travel for work purposes, usually on behalf of the company. The term applies to both the journey to the destination and the trip back home. In most cases, the business trip to another country involves one or several flights. Even though the flights are paid by the company, the passenger still reserves the right to compensation in most cases of flight irregularities such as flight delay, flight cancellation and denied boarding. The only exception is when the traveler's contract with the company specifies otherwise. Some companies include clauses in the contract that the employees need to waive their right to flight compensation during business trips.
Your passenger rights during a business trip
As a general rule, business travelers are granted certain passenger rights during their business tips. Similar to individual trips, the travelers are entitled to up to 600 € compensation in cases of flight delay, flight cancellation and denied boarding. The key factor here is how long you were delayed at your destination airport. Passengers are entitled to compensation from the airline with a flight delay at the destination of over 3 hours. With a flight delay of more than 2 hours at the departure airport, passengers are also entitled to additional services such as free meals and refreshments, free overnight accommodation, and a transfer to and from the airport. It must be noted that in order to make a claim for your delayed or cancelled business flight, the incident must not have been caused by extraordinary circumstances.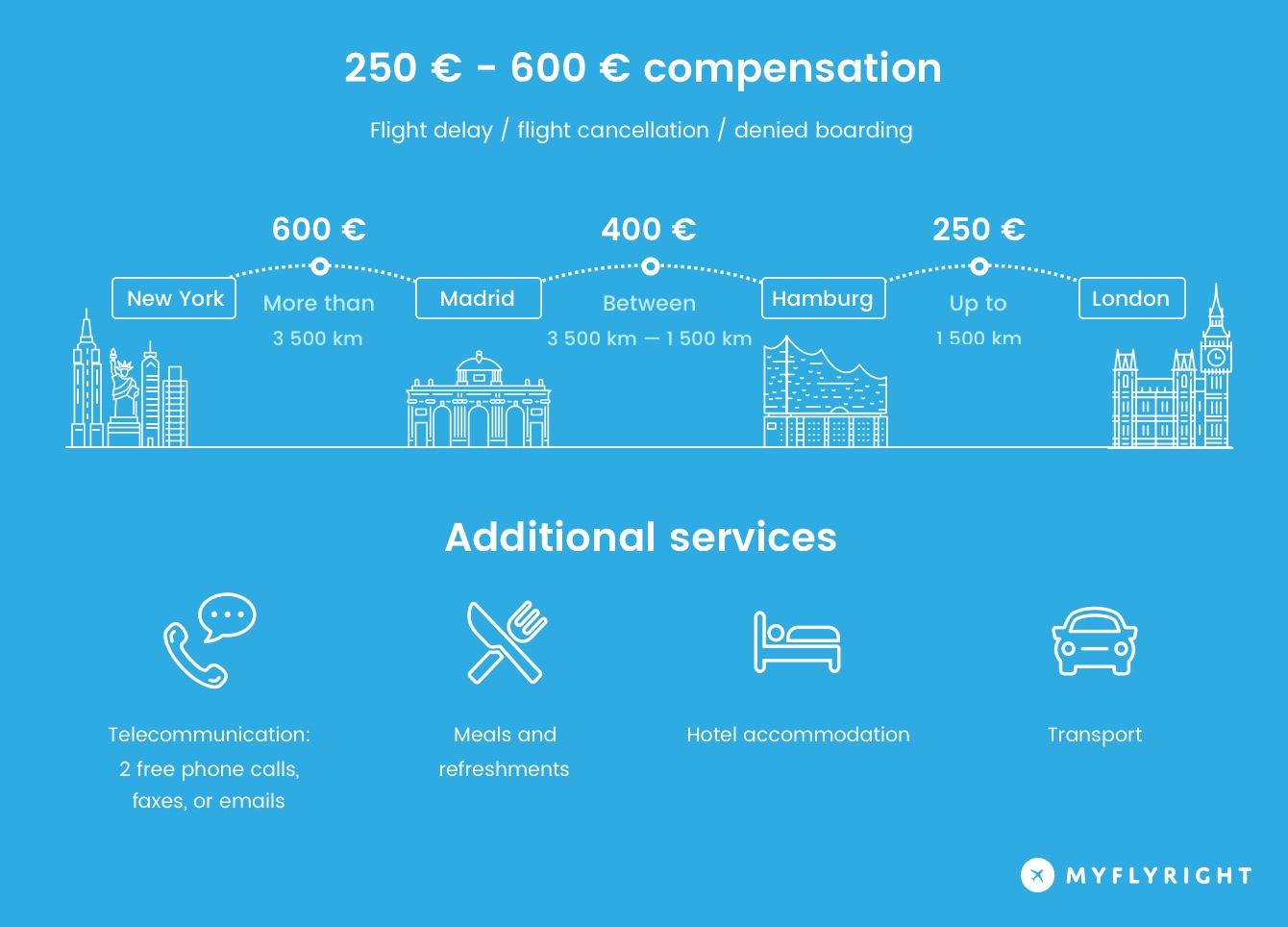 Flight cancelled when traveling on business
If your flight is cancelled during a business trip, this can have critical consequences. Missing important meetings and presentations, as well as disappointed clients, can be harmful to your business. But if your flight is cancelled on a business trip, who receives the compensation? You or your company? In general, the compensation payments are always made to the person who would have taken the flight – that is the traveller. It is completely irrelevant in such cases who booked the ticket. However, many employers are aware of this fact and insert clauses within the employment contract that contain specific provisions. You should always read the contract thoroughly, so you know whether you have waived your claim for compensation. In this case, the employer would receive the compensation.
If you have not signed such a clause and you believe you are entitled to flight compensation, you can check whether you have a claim when your flight is cancelled, using our compensation calculator. Enter your flight details at www.myflyright.com and find out how much you are entitled to. When the flight is not affected by extraordinary circumstances, the passenger is entitled to compensation of up to 600 €, depending on the flight distance and the time when the passenger was informed about the flight cancellation.
Flight delay compensation – business trip
Flight delays, whether you are heading off on a holiday or travelling for business, are not only inconvenient but extremely stressful. It can be confusing for passengers to know what to do in this situation, which is unfortunately becoming an increasingly common issue in air travel. The good news is that you have several options when your business flight is delayed, but how much compensation you can receive is dependent on a variety of factors. When your flight arrives at the destination airport with a delay of more than 3 hours, you are entitled to 250 €, 400 € or 600 €, depending on the flight distance. With a delay of over 5 hours, you can claim compensation for the ticket fare if you no longer wish to take the flight.
Additional services – business flight delayed
If you are travelling on business and you are experiencing a flight delay or flight cancellation, you should still arrive at the check-in desk punctually. If you are not punctual, the airline can use this as a reason to not pay back the compensation. In cases of flight delays, the airline must also provide you with additional services, depending on the length of your delay. These services include free meals and refreshments, which you are entitled to when your flight is delayed by at least 2 hours. Passengers should also receive free overnight accommodation and a transfer to and from the airport. Even in the event of extraordinary circumstances, the airline is still required to provide these additional services to the passenger. The following overview shows the rights and services you are entitled to in case of a flight delay: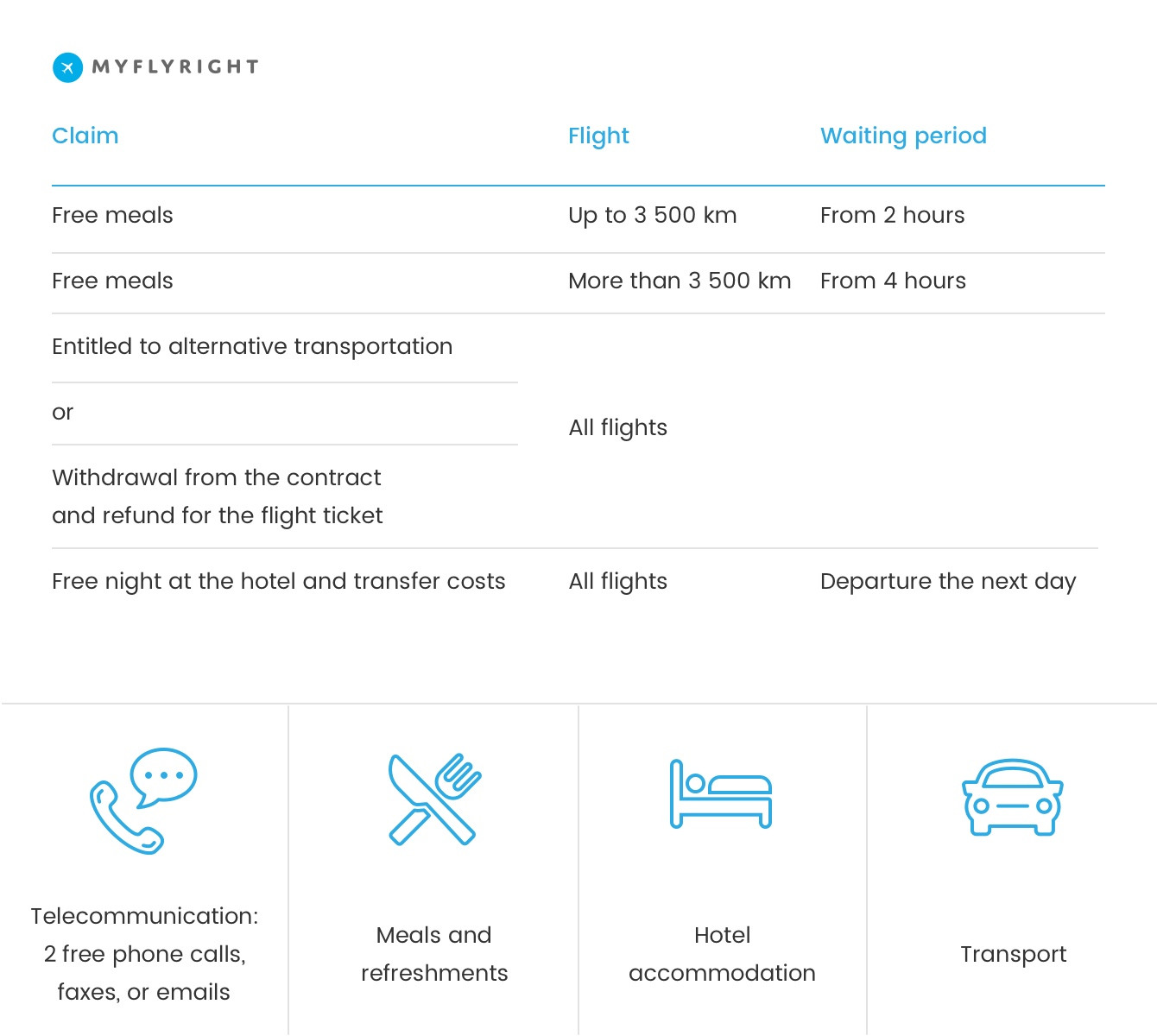 Business travel – baggage lost or delayed
If your luggage arrives late at the airport, your suitcase is damaged or completely lost, you are entitled to compensation of up to 1 500 €. You can also be reimbursed for replacement and so-called emergency purchases (such as toiletries and underwear) by the airline, within reason. Excessive expenses such as branded clothes and expensive technology are usually not accepted. An important note here is that if your baggage is delayed, you may only claim for emergency purchases during the time you do not have your baggage. For example, if your suitcase arrives 2 days later, you cannot still purchase any further hygiene products or clothing at the airline's expense.
How much compensation for your business flight?
Here is an outline of the compensation in relation to distance and delay:
3 500 kilometers (outside the EU) and a flight delay at the destination of at least 4 hours - 600 €
3 500 kilometers (outside the EU) and a flight delay at the destination of between 3 and 4 hours - 300 €
Between 1 500 and 3 500 kilometers (outside the EU) and over 1 500 kilometers (in the EU) if the flight is delayed at the final destination by at least 3 hours - 400 €
Up to 1 500 kilometers (in the EU) and a flight delay at the destination of at least 3 hours - 250 €
How to get compensation for your business flight?
You have a few options when making your claim against the airline. Either you choose to make the claim yourself or you can hand over the task to someone else. If you choose the former, it is more than likely that you will need to seek legal help, as the airline will be able to argue skillfully against your claim with help of their legal team. When enforcing your passenger rights against the airline independently, there are several points to consider and steps to follow. Firstly, you would need to write a letter to the airline. If you choose to send your letter by post, be sure to opt for registered post in order to make sure you know when the airline receives it, since this might be an important piece of evidence in court. You must include the following information in your letter or email: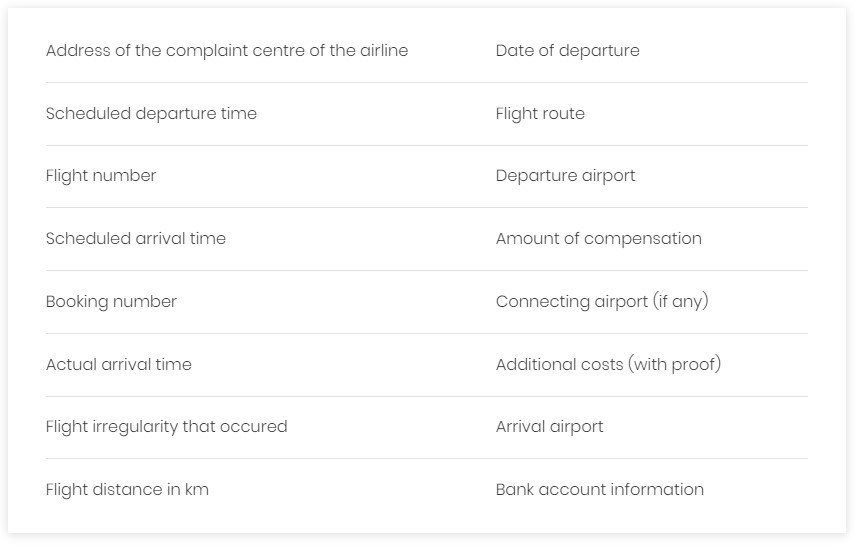 It is a good idea to set a deadline for the date your claim should be settled. The standard time period is 2-3 weeks. If you haven't received a response from the airline within that deadline, you should give the airline another opportunity to respond by sending a second letter. Once again, set a deadline of 2-3 weeks from when you send it and remember to use registered post if you choose to mail your letter.
Considering the time it takes to receive a response and gather all necessary documents – as well as how stressful and time-consuming it is dealing with airlines, it may be worth making your claim with MYFLYRIGHT instead. Claiming independently is also a risky process since airlines frequently do not disclose all information regarding a delay. An example of this is when you make a claim against the airline due to technical issues, whereas the delay was caused by a bird strike, in which case the airline does not have to pay compensation. By the time this is made clear, you have spent a considerable amount of time, effort and money. However, in the event of a rejected case when making your claim through MYFLYRIGHT, there is no need to worry about the costs, because commission is only charged when there is a successful outcome. You simply need to enter your flight details at www.myflyright.com. We are happy to help you with your claim for compensation and/or ticket refund.

Refund rights for my business ticket
When you need to cancel your flight ticket, it is important to know your rights and what you should receive from the airline. A fact that many are unaware of is that you, as an air passenger, are entitled to at least part of the ticket fare when you cancel the flight yourself, regardless of your reason for doing so.
A plane ticket consists of 3 parts – the base fare, the taxes and the fees. Whether you cancel right before the flight departs, or do not notify the airline at all that you will not take the flight, you can be refunded the costs of the taxes and fees. These alone can account for as much as 70% of the total ticket price. The base fare, also known as the "actual ticket price", will only be repaid in full if the airline is able to resell your ticket and if permitted by the airline's terms and conditions. In such a case, up to 95% of the total ticket price can be refunded to the passenger.
In the event you cancel your ticket, the airline must refund you the following amounts in full:
Airport taxes and fees
Security taxes and duties
Fuel surcharges
The majority of the above-mentioned fees is transferred to third parties, such as airports, and must only be paid when the passenger takes the flight. This is applicable even in case where you have purchased a "non-refundable" ticket. Fuel surcharges are neither a tax, nor are they handled by third parties. However, this cost must be completely reimbursed by the airline, because if you do not fly, you are not using fuel.
The following amounts will not always be refundable:
Actual ticket price
Transaction fees
The ticket price will not be refunded to the passenger when the airline has specified this within its terms and conditions. If they have not stated such specifications, the airline must prove that they were unable to resell your ticket. When they cannot provide evidence of this, 95% of the ticket price must be refunded to you. Any transaction fees included in bank transfers when buying your ticket will not be repaid.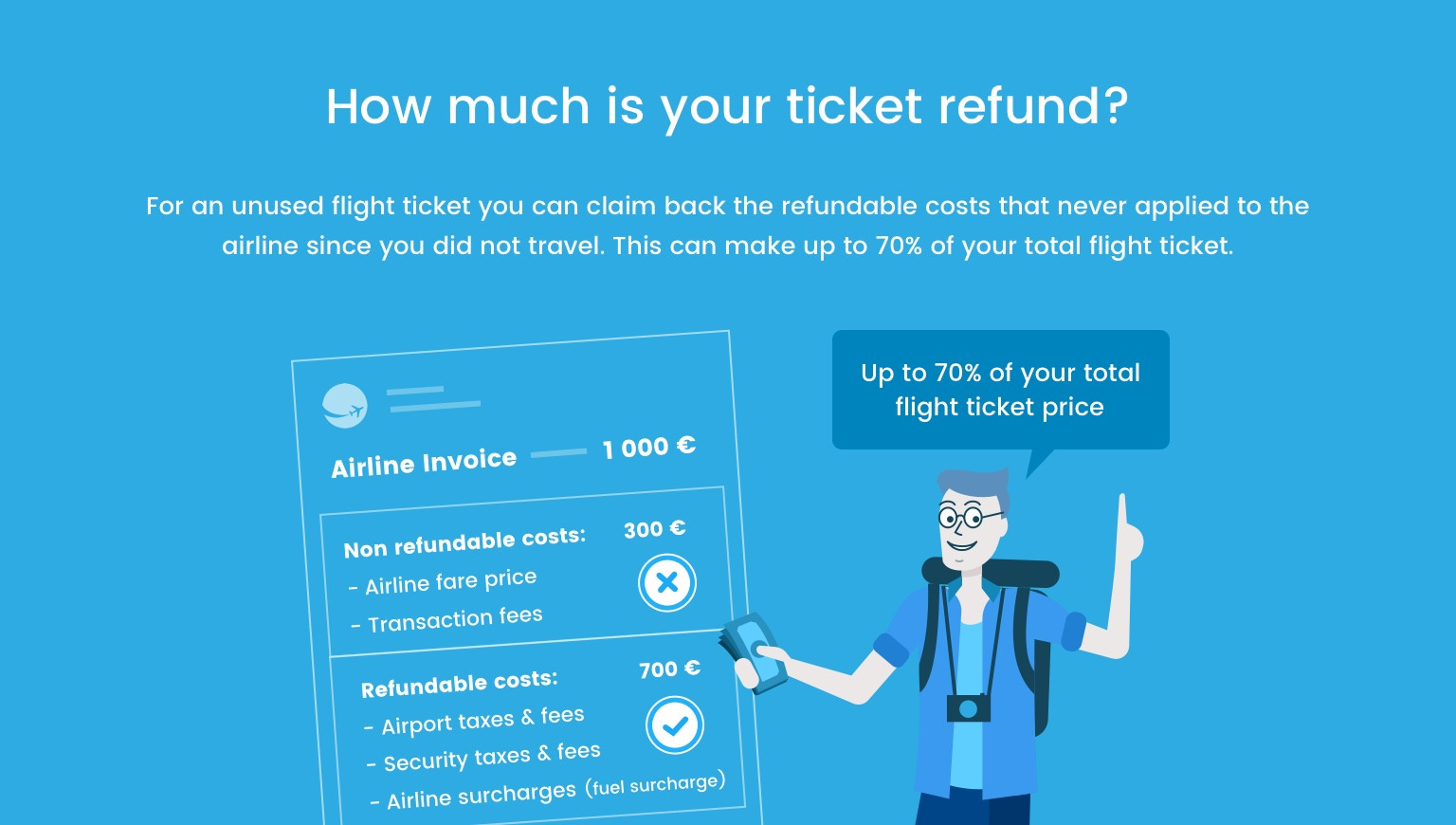 Help from MYFLYRIGHT
If your business trip was severely affected by some of the mentioned flight irregularities such as a flight delay or flight cancellation, you can always contact MYFLYIGHT. To avoid the financial risk, as well as the time-consuming and stressful nature of the process, you can delegate your case to us. We are experts in passenger rights, and we can help you get the compensation you are entitled to. If you wish, MYFLYRIGHT will pursue your case against the airline without any cost risk.
Get up to 600 €* in compensation