A step back in time in Bucharest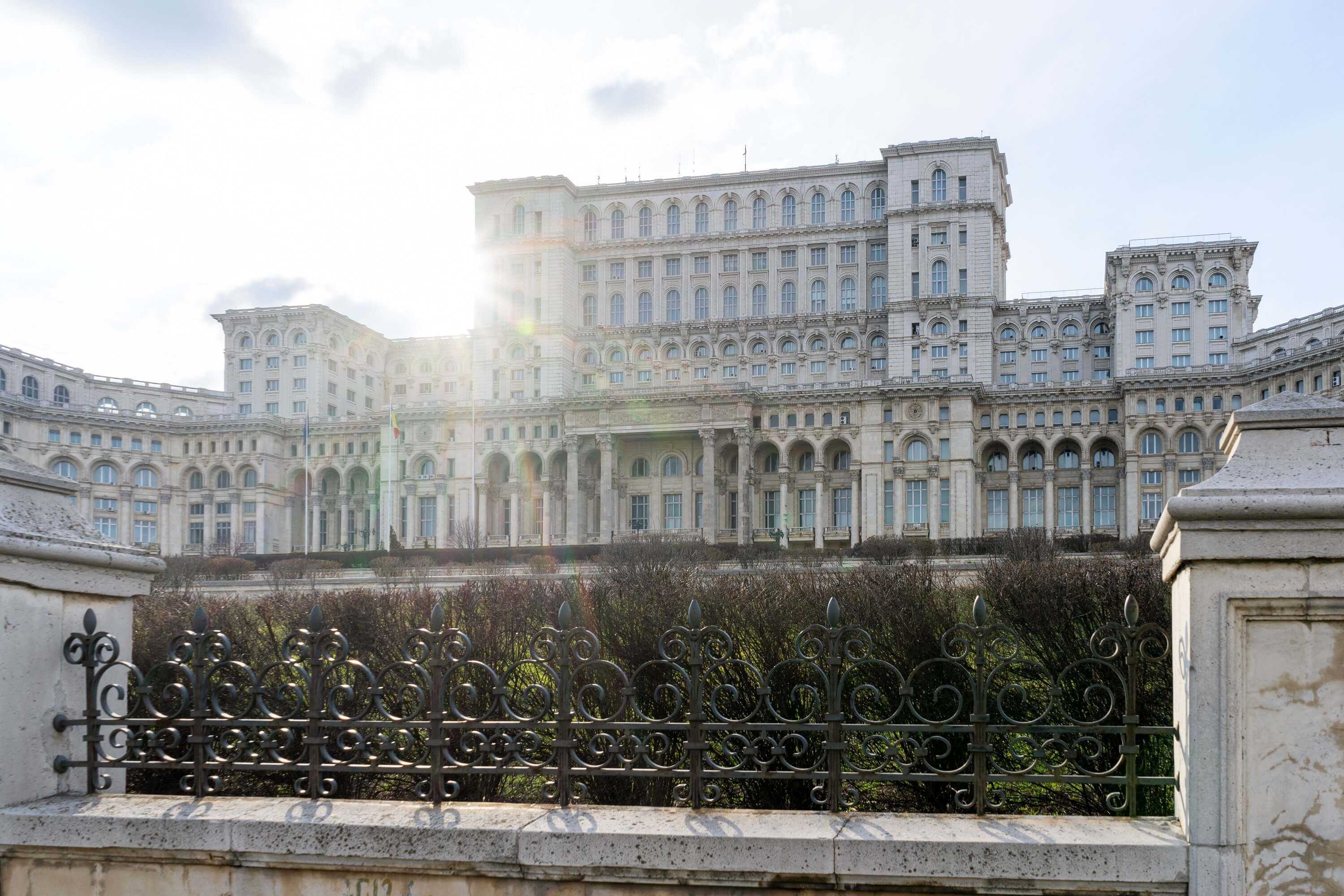 Bucharest, Romania's capital and the largest city in the country, was once dubbed the "Paris of the East". With its sweeping avenues and refined elegance still evident today, it's clear why it got the name. After a period of hard times, the city is bouncing back and its burgeoning art scene, impressive museums and culinary clout are putting it solidly back on the map.
If you need a little break from the bustling streets, no problem – Bucharest has an abundance of beautiful green spaces and every other bar or restaurant seems to have a pretty hidden garden or tucked-away terrace where you unwind.
Take a tour of the city with our local today, Giulia Nedelcu (@georgiana._.iuliana), who reveals the best places to dance the night away, which rooftops to watch the sun set from and where to soak up some culture.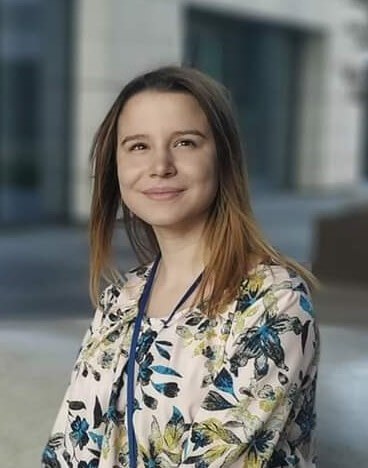 Giulia Nedelcu, image courtesy of Giulia

Hi Giulia, welcome to "Like Locals"! Tell us, what do you do in Bucharest?
Hello there! I'm currently doing a master's degree in Advanced Control of Real Time Systems at the Politehnica University of Bucharest, as well as working full time as a DevOps Engineer.
I was born in the city of Calarasi, which is halfway between Bucharest and the coast of the Black Sea, but I moved here in 2015, to start my life as a college student.
During my free time, I like to read and capture experiences and moments by writing or taking photos. I am a volunteer at the League of Students from the Faculty of Automatic Control and Computer Science, in fundraising and project writing teams. Last but not least, I'm trying to improve my Instagram account and I love meeting new people.

"The Romanian Athenaeum is one
of the great symbols of this city"

Can you describe your perfect morning?
For me it's very important how I start my day, so I always choose places that, besides having good food, also have a pleasant, relaxing atmosphere.
My perfect morning starts with a coffee at level UP, then I head to the gym at IDM Club. Of course, it depends on the time I have. Sometimes, of course, breakfast turns into brunch - Dianei 4 serves up healthy, fresh dishes and you'll find all the brunch classics as well as mouth-watering smoothies at Simbio.
My favourite place to just chill out is Miau Café, a bohemian café that is perfect for anyone who loves cats! There are also two dogs to keep you company and you can hang out with the animals inside or on the terrace.

What are the best things to do in Bucharest during the day?
Take a walk along Calea Victoriei, one of the most beautiful and oldest streets in Bucharest. As well as the grand architecture, you'll find plenty of shops, cafes and restaurants lining this avenue.
The Romanian Athenaeum (Concert Hall) is one of the great symbols of this city and, in fact, Romania, and is impressive from any viewpoint, inside and out. The Palace of the Parliament is also a must-see – a mix of Totalitarian and Neoclassical styles, this imposing structure has over 1, 000 rooms, is the second largest building in the world after the Pentagon and the largest parliamentary building in the world.
The parks in Bucharest are beautiful, perfect for a relaxing walk, a photo session, picnic, reading or – if you're feeling energetic - sports. It's difficult to choose because there are so many, but I recommend Hersstrau, Izvor, Tineretului, and IOR. Another gorgeous green space is the Bucharest Botanical Garden, where you can stroll around the glasshouses and see more than 5000 plant species in the Museum.

"head to Lacrimi Si Sfinti for traditional
Romanian food with a modern twist"


The Dimitrie Gusti National Village Museum is open-air and has 272 farms which were brought from all over the country and rebuilt on-site to show how people lived in rural Romania between the 17thcentury and the early 20th century. It's especially lovely in spring, when everything's coming to life or during summer, where you can get respite from the heat of the city.
For lunch, head to Lacrimi Si Sfinti for traditional Romanian cuisine with a modern twist – the Sarmale (stuffed cabbage rolls) are out of this world! If you are a sushi lover, Sushi Terra is the place for you - get a refreshing cocktail if you need a little pick-me-up! To satisfy your sweet tooth, go straight to Maison des Crepes - they serve the tastiest and most "Instagrammable" desserts.
You can even take a city tour "from above" by migrating between Upstairs Rooftop and 18Lounge. It's easy to while away an afternoon eating tasty snacks, sipping on a glass of wine or beer while gazing at the surrounding landscape, which will take your breath away.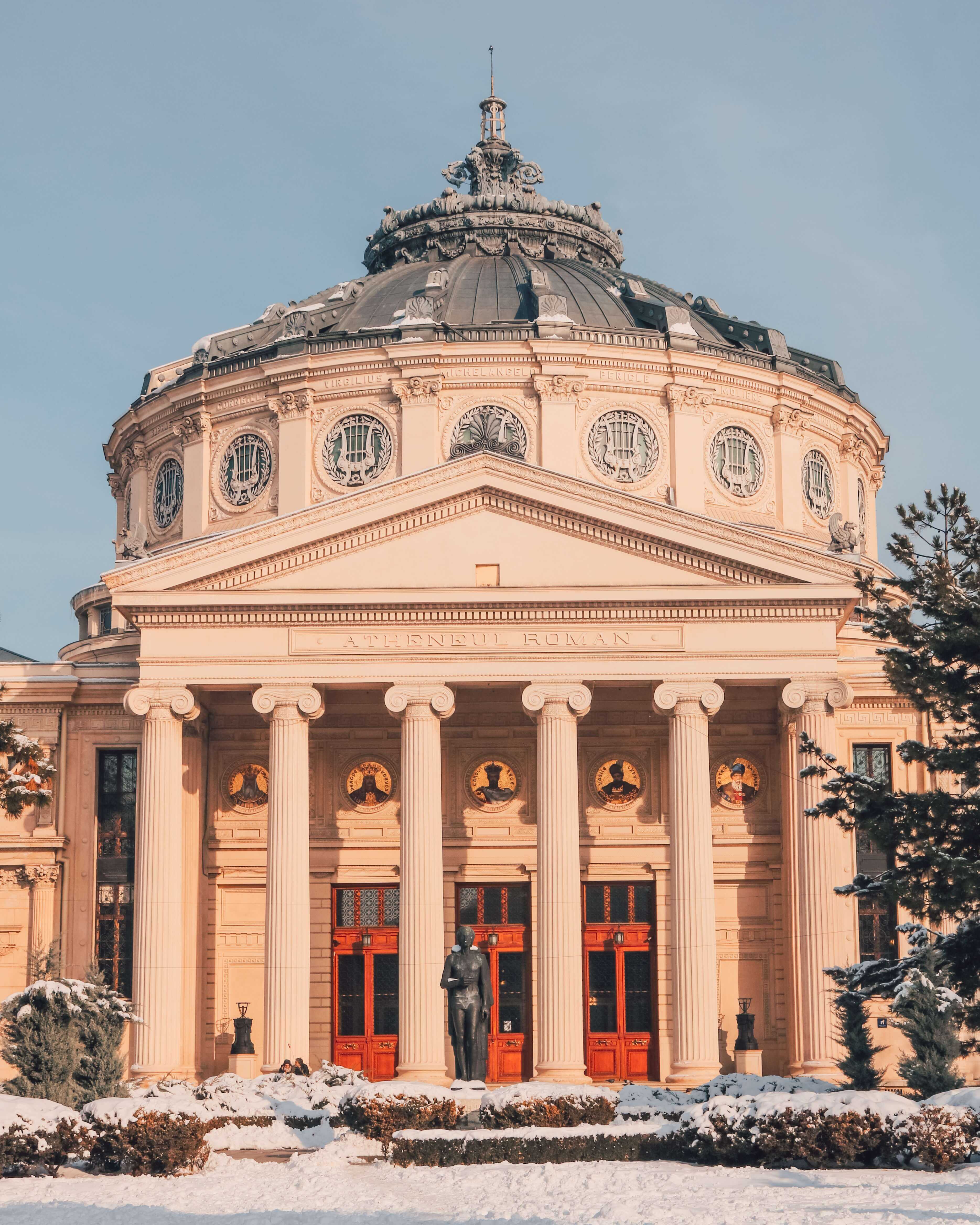 Romanian Athenaeum, image: Unsplash

"The heart of nightlife in
Bucharest is Old Town"

Where should we spend an evening in Bucharest? Best restaurants, bars, clubs?
Bucharest is a bustling city throughout the day, but it's at night when it really comes alive! Here's just a few recommendations for where to eat or grab a drink:
This is the perfect place to dine, drink a good wine and relax. I love to come here in the spring or summer, because they have a huge garden with a lovely terrace. You can spend the whole night under the trees without even realising how many hours have passed!
During winter you can have a unique experience on this rooftop bar – having dinner in a glass igloo! It's a great spot to watch the sun set over the city.
If you visit Bucharest and don't come to Caru'cu Bere, then you've missed out! This Neo-Gothic style building is over 130 years old and the atmosphere is really something special as you can enjoy your meal surrounded by stained glass windows, gleaming woodwork and painted ceilings. It's pretty touristy but well worth the visit.
There's always some performance or musical event going on in this creative hub and the sofas and chairs are painted by local artists. By the way, there's no sign, so just look for the colourful hanging umbrellas and you'll find yourself in the pretty garden in no time.
If you're thirsty for a good craft beer, both of these will hit the spot! Beer O'Clock has two locations and whether you head to one of them or to Romanian Craft Beer, you'll enjoy a cosy atmosphere over quality brews.
A cultural space where you can enjoy concerts, exhibitions, parties or just a few beers with friends. I really love the design of the place and of course it has outdoor seating – a must for any self-respecting pub in this city!

Surely you've heard that Romanians love and know how to have fun! Since fun doesn't necessarily mean staying home and watching a movie, or hanging out with friends on a terrace, I will introduce you to some of the clubs I love to go to. Nights in Bucharest are vibrant and colourful so you really must experience it while you're here!
The heart of nightlife in Bucharest is Old Town, and this is where you'll find the best clubs in the city:
This place – as the name suggests - is where you can taste the most diverse shots, but they also have great cocktails, plus essential remedies for long nights, such as borscht, kefir and pickles.
I adore these clubs because they remind me of Vama Veche, the legendary party spot by the Black Sea popular with Romanians who love dancing, socializing and carefree nights.

"Carturesti Carusel bookstore is
famous for its gorgeous interior"

What can we do when the weather's bad?
There are many things to do here in bad weather. You can go to Escape Rooms, for example, Captive, Mystery or 60 Minutes. There's a huge variety and it's always a fun way to shelter from the rain.
Head to AFI Cotroceni shopping centre where you can ice skate all year round and there's even a roller coaster if you're looking for an adrenaline kick!
Seneca Anticafe is a serene place, with a unique concept - you simply pay for the time spent there. It's lovely to relax with a cup of tea and a slice of cake, especially when it's miserable outside. Carturesti Carusel bookstore is famous for its gorgeous interior and huge selection of books. I can easily spend an entire afternoon there exploring the shelves. There are seats throughout the store to curl up in and enjoy your new read, a bistro and a gallery.
Take cover from bad weather by taking in some culture or history. The Art Collections Museum is huge and houses a large collection from Europe, Asia and the Middle East, as well as from Romania. Over 650, 000 artefacts (from prehistoric to modern) can be seen in the National Museum of Romanian History, and you will find everything from furniture and decorative art to weapons and maps.
Another option is to visit one of the many theatres - UNARTE, TNB or Excelsior are just a few – to see an interesting performance, or check out the Bucharest National Opera House for the ballet or an opera.

"Therme, Bucharest, is an oasis with
exotic plants, pools and thermal water"

Can you recommend any good day trips from Bucharest?
If you want to visit something other than Bucharest but you only have one day don't worry! The options are endless.
You can go to Stirbey Estate, which is 40 minutes away by train. It's located in a secluded park, with a forest and a view of Buftea Lake. A tip – on Fridays, entrance is free!
A little further away you'll find the charming historical city of Targoviste. There's lots to see there, with the biggest attraction being the Chindia Tower. Building of this structure, dating from the 15th century began during Vlad the Impaler's reign. These days, weapons and other objects which belonged to the man who inspired Bram Stoker's Dracula are displayed in the tower, plus you can climb to the top and get a good view of the surrounding castle ruins.
Balotesti is around 25 km from Bucharest and you can visit Edenland Adventure Park, which is the perfect place for those with an adventurous spirit or nature lovers – you can walk among the tree tops, climb, go horse riding or visit the animal farm. If you decide to stay overnight, there are cute little tree houses that look like illustrations from a fairy tale.
If you have time for a slightly longer trip, you can be in another country – Bulgaria – in a day!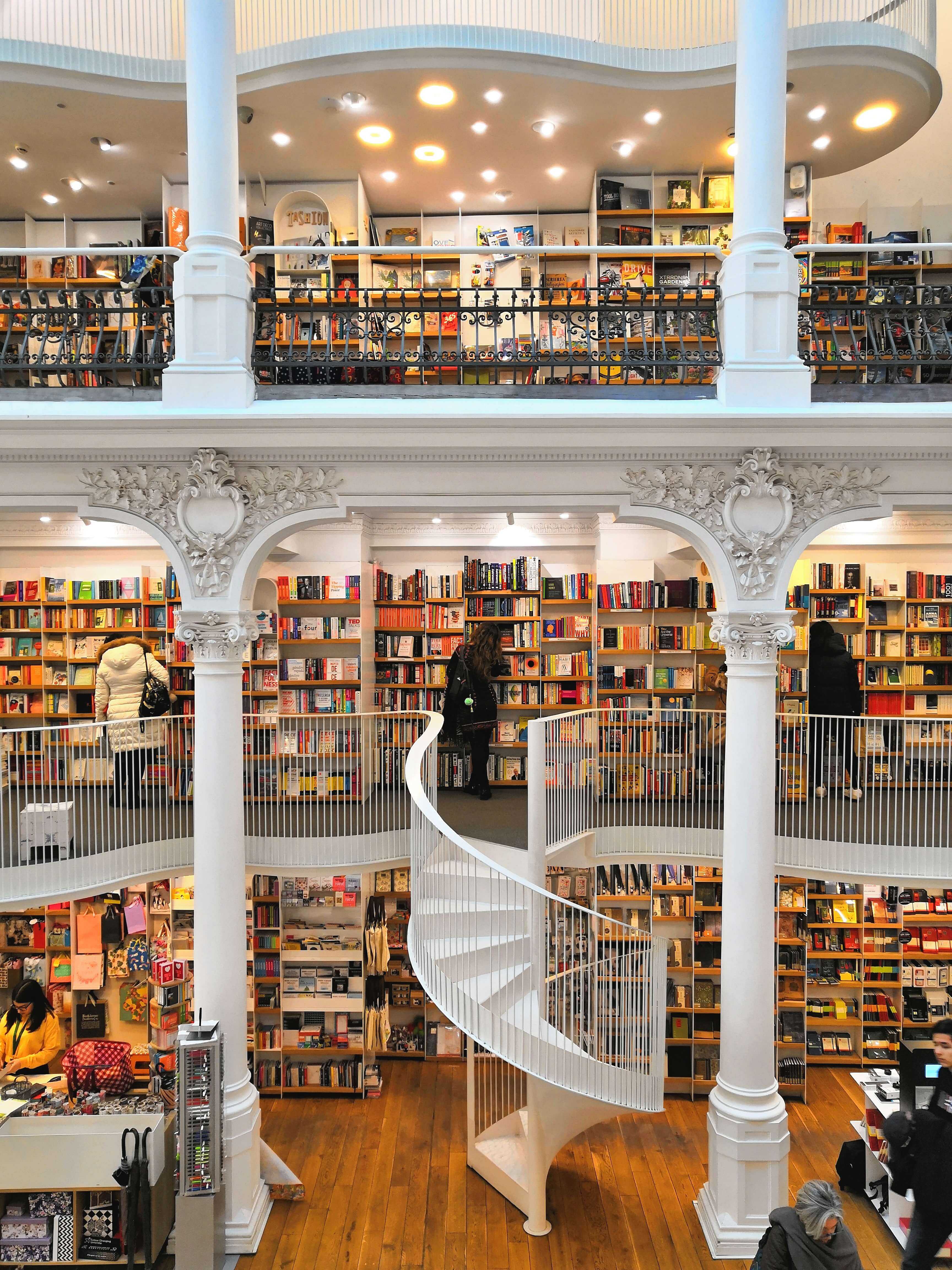 Carturesti Carusel, image: unsplash

Do you have any other tips for visitors?
Bucharest is a city rich in culture and there's a lot to do and visit here. This is one of the main reasons why I love living here. It's full of possibilities, with something to suit every type of character, whatever you're into!
The city is really flat and has 7km of bike lanes, so cycling is a great way to explore and to get a different perspective. There's plenty of bike rental places with various options for you.
Bucharest also has tons of amazing street art - In my neighbourhood, Regie, you can see the largest mural in the city, which is 18 metres high.
Last but not least, Therme, Bucharest, is the largest wellness, relaxation and entertainment centre in Europe: an oasis with exotic plants, pools with waves and slides, and thermal water that you can enjoy regardless of the weather outside.
I could keep writing about Bucharest for hours and hours about places to visit, where to eat the best meals or where to go for a great night out. But I'll stop here!
When you visit, you're bound to fall in love with my beautiful city and will want to discover it more and more.
Top image: Unsplash
Latest posts
Winter weather disruptions at Frankfurt Airport
The onset of severe winter weather has wreaked havoc on flight operations at Frankfurt Airport, causing widespread flight cancellations and flight delays.
Best German Christmas markets
Here's a closer look at some of our picks for the best Christmas markets in Germany.
Best places to visit in December: Winter destinations for every traveler
Whether you seek the adrenaline rush of skiing down snow-clad slopes or the soothing warmth of a tropical beach, there's a winter vacation destination tailored just for you.
About MYFLYRIGHT
MYFLYRIGHT is a legal tech company, specialized in the support of airline passengers affected by flight delays, flight cancellations, denied boarding, delayed or lost luggage and the refund of unused airline tickets. MYFLYRIGHT was founded 2016 in Hamburg, Germany. The company operates out of 3 offices, its headquarter in Hamburg and its branches in Prague, Czech Republic and Zaporizhia, Ukraine. Currently, MYFLYRIGHT employs a team of around 25 people working in Marketing, Operations, Legal, Customer Support and IT. The organization operates across 5 markets – Germany, United Kingdom, Romania, Austria, and Switzerland.
MYFLYRIGHT's goal is to provide access to justice for all aviation passengers who experience irregularities in their flight transportation. Notably, 75% of all compensation requests submitted by passengers get rejected. Whereas, MYFLYRIGHT is able to successfully execute the applicable customer claims in more than 98% of cases at court.
Get up to 600 €* in compensation
Check claim for free