Experience eco-tourism in New Zealand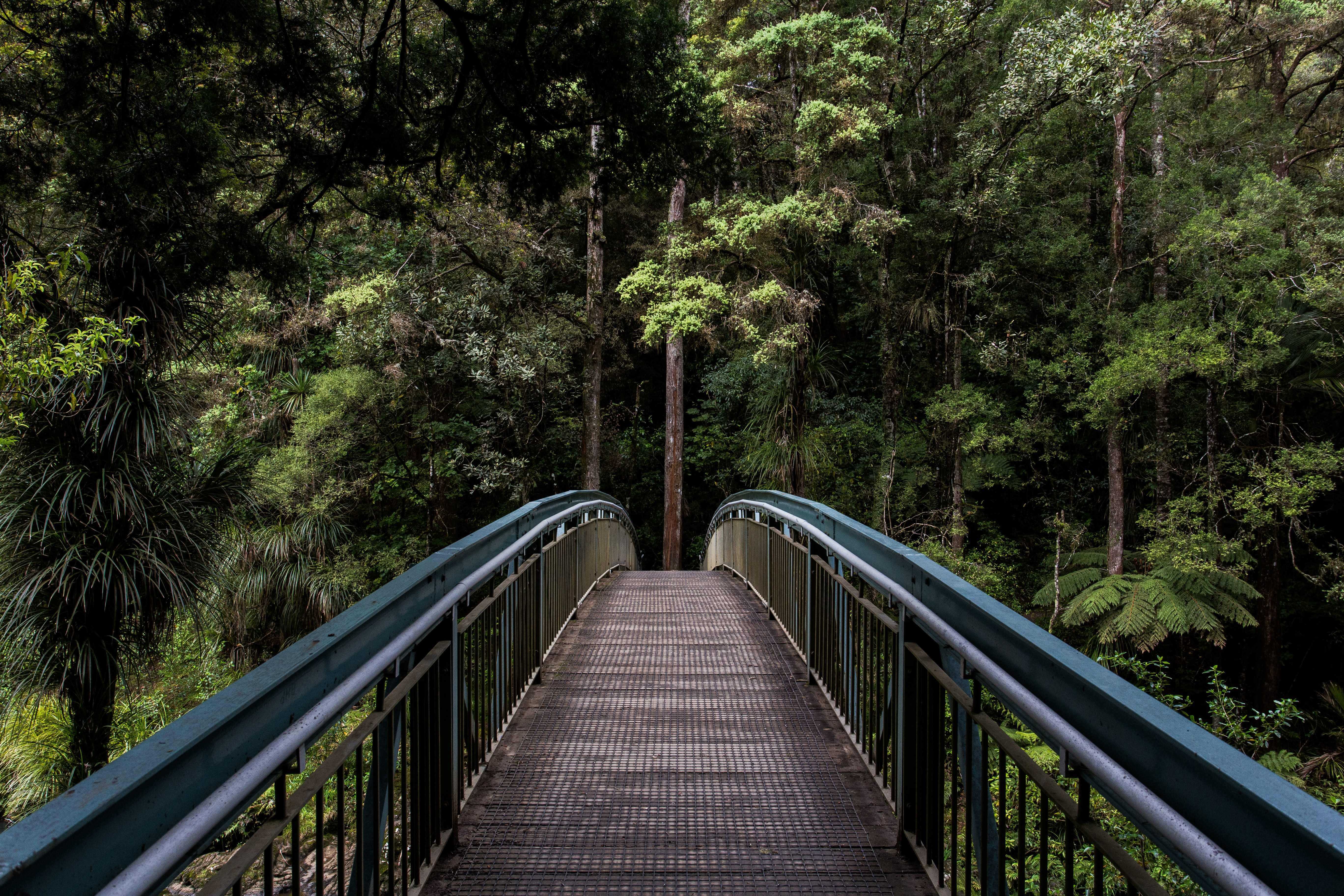 Are you one of those lucky folks who has received 600 EUR in flight compensation? Did you know you can use it to discover a magical place on the other side of the world? We're talking about amazing New Zealand! The "land of the long white cloud" has it all - white sandy beaches, mysterious fern forests and snow-capped mountain peaks. The good news for all the environmentally conscious among you: New Zealand has set itself the goal of becoming number one worldwide in terms of green travel.
A trip from Europe to New Zealand is not in itself sustainable, because without a plane or cruise ship it just won't happen. But at least you can make up for co2 emissions and choose an energy-efficient airline! The climate protection organization Atmosfair publishes an airline index annually with an overview of the world's largest airlines in terms of climate efficiency. So, when you book a flight with Air New Zealand (ranked 19th, class C), you're flying more environmentally friendly than if you fly on Emirates (108th, class E).
Once in New Zealand, sustainable travel is pretty easy. We've put together a few suggestions for you to ensure a guilt-free journey 😊.
By the way, as far as your compensation is concerned: if you've experienced a flight irregularity and haven't claimed yet, simply click on the appropriate one in the top right corner of this page and find out what you're entitled to or use our compensation calculator to see out how much you can claim - you could soon be planning your dream eco-trip to New Zealand!

New Zealand North Island highlights

Although the North Island is smaller than its southern neighbour, it's home to New Zealand's two largest cities, Auckland and Wellington, and 75% of the total population. Long sandy beaches and dense forest areas characterize the region on the west coast; In the northeast, mud pools bubble in the volcanic landscape, and in the central plateau, Lake Taupo beckons you with a wide range of water sports activities.
Maori greetings and ancient kauris
A highlight on the west coast is the natural harbour of Hokianga, which emerged from a former riverbed and winds 32 km inland. The turquoise water invites you to dive in while the 300-metre-high sand dunes are ideal for hiking or sandboarding. Despite its rugged beauty, this corner of the country has remained largely untouched by tourism. In the southern tip are the tranquil villages of Oponi and Omapere, mostly inhabited by Maori.

The eco tour…
Let's not forget that sustainability also has a social element. This includes getting to know the locals and their culture. Footprints Waipoua only employs Maori guides who will take you on an unforgettable trip to the Waipoua Forest. They put you under the spell of stories of their ancestors and show you the world's two largest kauri trees. The offer ranges from 40-minute to 4-hour tours, between 20 EUR and 65 EUR.
The eco stay…
Maybe you'd like to use your 600 EUR to pamper yourself with a few nights in some luxury accommodation. By far the nicest in the area is Kokohuia Lodge. There is only one room available and it has a double bed, private bathroom with a free-standing designer tub and a terrace with a fantastic panoramic view of the surrounding landscape. Only wood from sustainably managed forests was used in the construction of the lodge, the energy supply comes from solar panels and for breakfast there are organic products from the region. From 188 EUR per night.

Raglan, New Zealand's charming coastal vibe
Raglan, New Zealand's surfing mecca with a black sand coast, is a 2-hour drive south of Auckland. It's a lively place with a casual atmosphere, lots of cool cafes, plus a buzzing music and art scene. Visit the gorgeous Bridal Veil Falls nearby, a true natural beauty.
The eco tour…
If you're travelling green, why not learn something about the local wildlife? Raglan Eels offer group tours through their eco farm, educating visitors on horticulture, environmental research and ecological sustainability. As well as the slippery aquatic creatures, the farm also houses donkeys and alpacas. This tour can be combined with a kayak or boat trip.
The eco stay…
Solscape Eco Retreat is located on a hill in the middle of the original bush landscape. You can choose from a variety of accommodation types, from campsites (from 13 EUR per person) and tepees (from 54 EUR for 2 people), to original mud huts (from 70 EUR for 2 people) and elegant wooden houses (from 143 EUR, capacity for 3 people). There is also a vegan café where dishes are made from fresh produce grown in the on-site permaculture gardens.

New Zealand South Island: wild and rugged
The South Island is larger but far less populated - it's no joke that more sheep than people live here! It also has a more varied landscape: azure sea and picturesque bays in the north, natural rainforests on the west coast, and rugged mountain regions and glaciers in the south.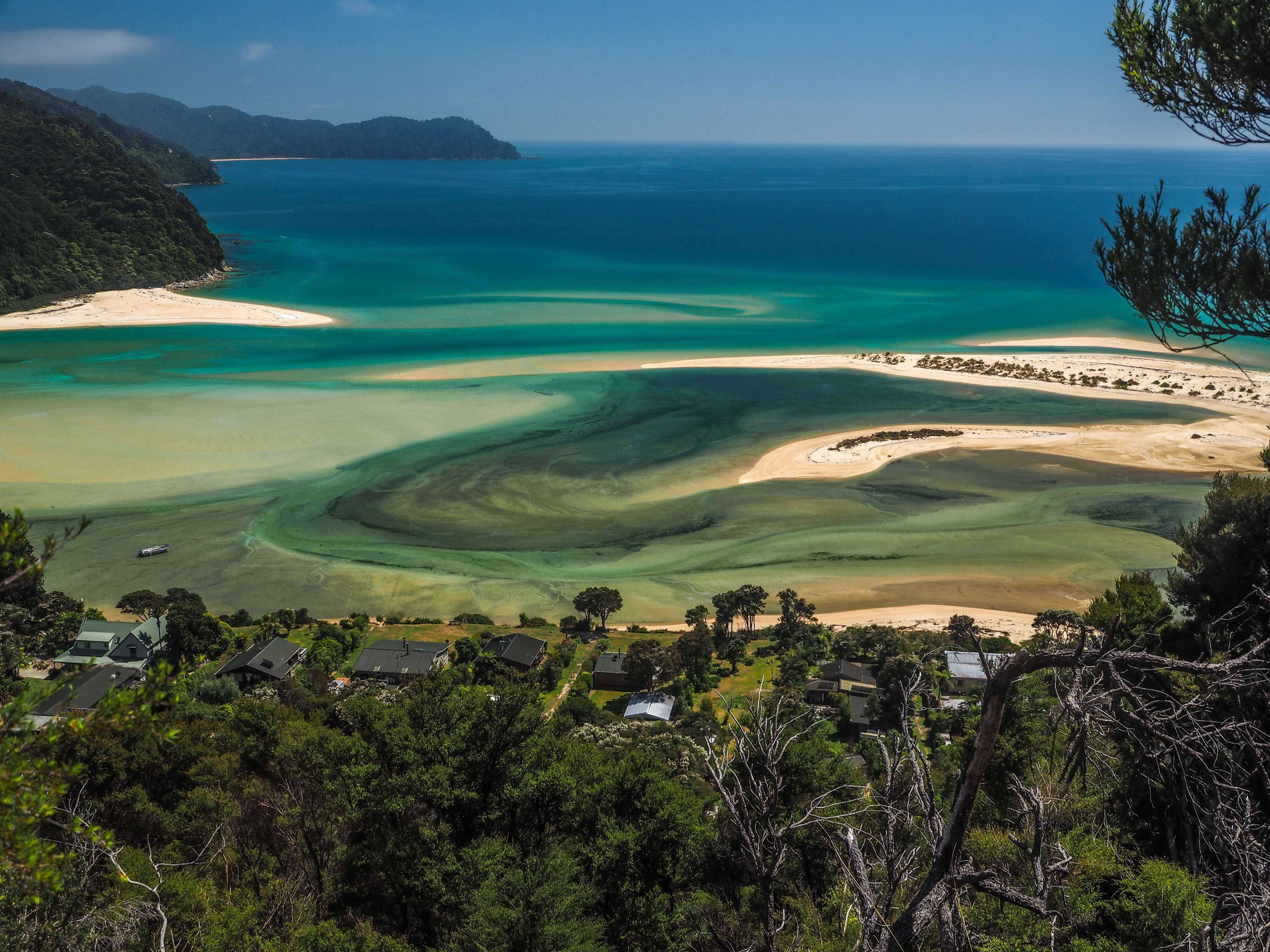 Abel Tasman National Park, image: Unsplash

Abel Tasman: Walk through breath-taking nature
This is the smallest but most visited national park in New Zealand. Despite the high number of visitors, you have the feeling of being peacefully secluded here. There are no roads through the area, you either have to leave your car at one of the entrances and continue on foot or have a water taxi take you to your desired destination. The main hiking trail winds 60 km along the coast and offers wonderful views of golden yellow sandy beaches, sparkling sea water and small bays.
The eco tour…
"Open your eyes" is the motto of Abel Tasman Eco Tours, the aim of which is to teach visitors to the national park all about the local flora and fauna in an educational and entertaining way. You have the choice between a boat tour, a jungle hike and a scenic tour. The tours are 128 EUR per person.
The eco stay…
Awaroa Lodge is right in the heart of the national park. There is no cell phone signal and no television here - just pure nature and birdsong. The owners are committed to the ethos of ecological and organic sustainability, support local conservation projects and work within the framework of the globally recognized Green Globe Standard. In addition to comfortable rooms with their own terrace, there is an in-house award-winning restaurant, a pizzeria and a day spa. A standard double room costs from 116 EUR per night.

Mountain hiking & stunning lake: Wanaka
Unlike its rival Queenstown, Wanaka has managed to maintain its relaxed small-town charm. Biking and hiking trails lead along the shores of Lake Wanaka, charming cafes and restaurants offer a breath-taking view of the lake framed by mountains in addition to delicious local cuisine. Wanaka is also a good starting point for hikes in Mount Aspiring National Park, a New Zealand World Heritage Site.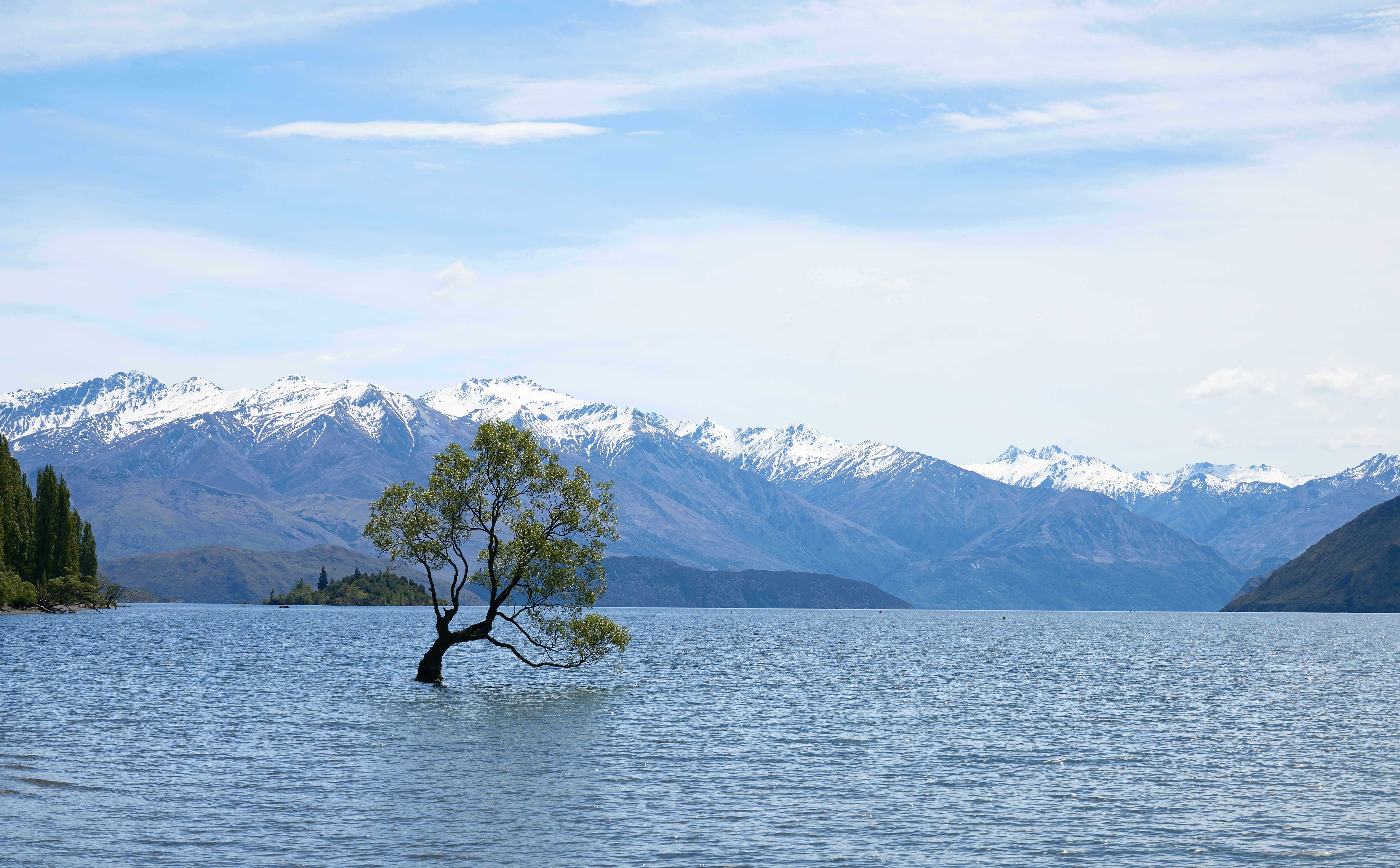 Serene Lake Wanaka, image: Unsplash

The eco tour…
The golden rule of Eco Wanaka Adventures is "take nothing but photos, leave nothing but footprints". However, something special can be left behind: As part of the Lake Cruise and Island Nature Walk, each of the participants plants a tree on Mou Waho Island and thus contributes to the reforestation of this island. The tour is 143 EUR per person.
The eco stay…
Oasis Wanaka offers a selection of tepees and yurts that have been specially adapted to the local climate conditions. As in an old settlement, they are arranged in a circle. The centrepiece is a large communal kitchen with a dining room where you can cook, chat and play board games with fellow travellers. From 107 EUR per night.


These are just a few examples of breath-taking landscapes to explore. Of course, the list could go on forever, because New Zealand is simply a paradise of infinite natural beauty. By travelling green, you're doing your part in keeping it that way!
Top image: Unsplash
Latest posts
Eurowings anticipates a 10-20% increase in ticket prices
Eurowings, a leading German low-cost airline, recently forecast a likely 10-20% increase in ticket prices.
Lufthansa's LoveHansa Airbus A320neo becomes a symbol of enduring partnership
In the aviation industry, aircraft often hold special significance, representing more than just a means of transportation.
Facial recognition replaces boarding passes Berlin Brandenburg Airport
Berlin Brandenburg Airport (BER) has introduced facial recognition technology to increase passenger comfort and simplify the travel experience.
About MYFLYRIGHT
MYFLYRIGHT is a legal tech company, specialized in the support of airline passengers affected by flight delays, flight cancellations, denied boarding, delayed or lost luggage and the refund of unused airline tickets. MYFLYRIGHT was founded 2016 in Hamburg, Germany. The company operates out of 3 offices, its headquarter in Hamburg and its branches in Prague, Czech Republic and Zaporizhia, Ukraine. Currently, MYFLYRIGHT employs a team of around 25 people working in Marketing, Operations, Legal, Customer Support and IT. The organization operates across 5 markets – Germany, United Kingdom, Romania, Austria, and Switzerland.
MYFLYRIGHT's goal is to provide access to justice for all aviation passengers who experience irregularities in their flight transportation. Notably, 75% of all compensation requests submitted by passengers get rejected. Whereas, MYFLYRIGHT is able to successfully execute the applicable customer claims in more than 98% of cases at court.
Get up to 600 €* in compensation
Check claim for free