Ljubljana: City break of dreams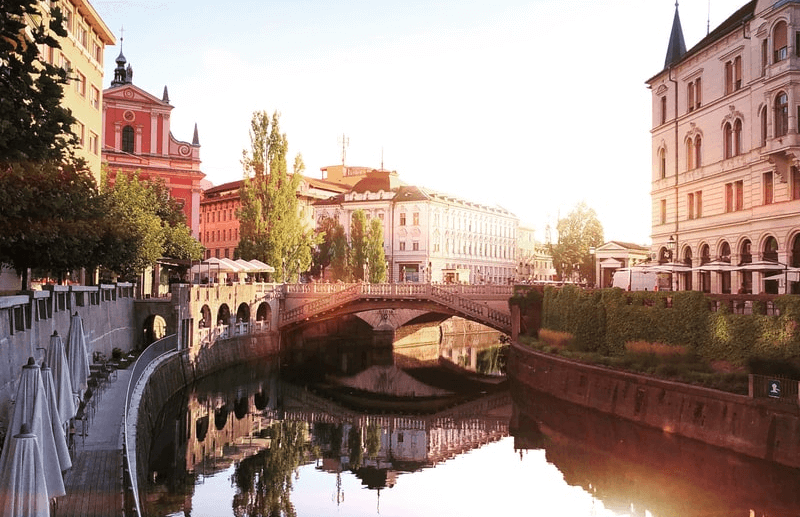 In today's "Like Locals" post, we're talking about Slovenia's capital, Ljubljana. Students make up a large portion of the approximately 290, 000 inhabitants, making this city young, dynamic and ever-changing. It's also super affordable – you can get a good cup of coffee for just 1 Euro! For anyone into architecture, the cityscape, influenced by Jože Plečnik in the 1920s, is not to be missed. Ljubljana is easy to get to and the perfect destination for a cosy long weekend.
Today's guest, Matic, is here to show us around his hometown, so we can see the very best sights and local cuisine when we visit Ljubljana.
Hi Matic, can you tell us a little about yourself?
Hello! I'm a part-time student of Political Science and I also do online English tutoring. I've lived in Ljubljana all my life and, as a huge fan of the outdoors, Slovenia is the perfect country for me. Although it's small, we have a little bit of everything: towering mountains, crystal clear rivers, magnificent caves and even some sea.
"Trubarjeva cesta is by far the most
beautiful street in Ljubljana"
Can you suggest what to do in Ljubljana for a great breakfast?
On top of studying, I'm also self-employed and am one of those guys who moves from one café to the next with my laptop. My absolute favourite is TOZD – I start my day there with a great coffee and finish it with a delicious microbrew beer in the evening. Another good place for breakfast is Nebotičnik Café, which means 'skyscraper' in English. The café is at the top of a beautiful Art Deco structure, which was actually the highest residential building in Europe when it first opened in 1933, and has a great view of the Ljubljana Castle and the Julian Alps.
"For nightlife in Ljubljana, head
to Metelkova mesto."
What are the best things to do in Ljubljana during the day?
I like meeting with friends or clients someplace along the Trubarjeva cesta ("Trubar Road") – this is by far the most beautiful street in Ljubljana. As for lunch, Ajdovo Zrno is a good choice if you're vegan or vegetarian. A real favourite with locals is Abi Falafel, where you can not only get freshly made, crispy falafel, but the best mezze in town! For dessert you definitely need to try a Bled Cream Cake, or Kremšnita, a cake made from custard and Chantilly cream. You'll find the best one in Slaščičarna pri Vodnjaku, a lovely traditional pastry and sweet shop tucked away in the old town.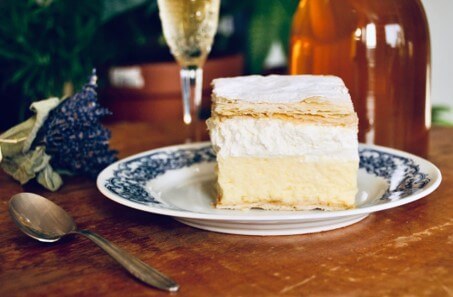 Kremšnita / Bled Cream Cake, image: unsplash
"avoid bad weather in Ljubljana by taking
the funicular up to Ljubljana Castle"
Where's best for dinner and a night out?
I love pizza, so my go-to places for dinner are Trta and Foculus, both excellent pizzerias. For nightlife in Ljubljana, head to Metelkova mesto. This former military headquarters from the Austro-Hungarian Empire is now a cultural centre and there's always something to see and do – various art exhibitions, workshops and live music events are on pretty much every day. You could spend your whole night there and never get bored!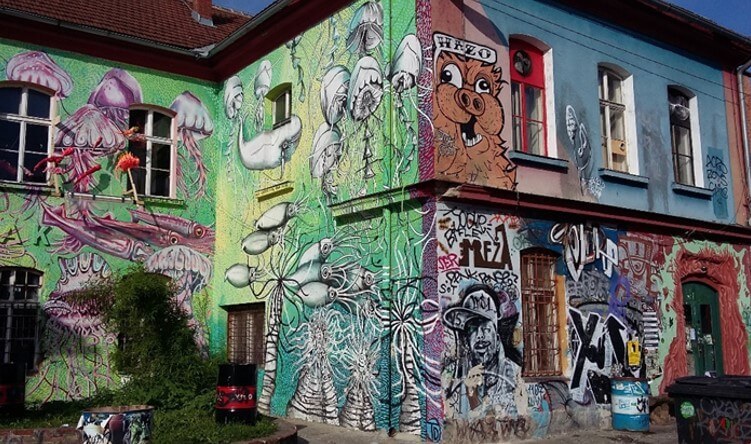 Building in Metelkove mesto, image: Sandra Tranta
Are there things to do if Ljubljana weather's bad?
You can still enjoy the city - avoid the walk up the hill and bad weather in Ljubljana by taking the funicular up to Ljubljana Castle, one of the top sights to see here. You can even take part in an escape room game in the castle, which is great entertainment for children and adults alike.
There are plenty of galleries and museums to shelter in where you can learn all about Slovenian history and art. I really recommend the National Gallery (Narodna Galerija), with its impressive collection of medieval and contemporary art and the National Museum of Contemporary History (Muzej Novejše Zgodovine Slovenije), which gives insight into our political history.
What's a good day trip from Ljubljana?
Ljubljana is actually very small, so in a few days you can see most of the city. Then you can do various trips in the area – the best way to get around is by car. All of the sites listed below are between a 45 and 90-minute drive from Ljubljana:
Surrounded by lush wooded hills. At its south western tip lies the only island in Slovenia, with a picturesque Neo-Gothic church in the middle, one of the most famous landmarks in the country.
Both are an absolute must for nature lovers! You can hike, fish, kayak or simply sit back and breath in the fresh air. There are even plenty of music festivals every year for any punks or heavy-metal fans out there.
"When you visit Ljubljana, you have to
try our local microbrewery beers"
Two of the main attractions in Slovenia. And no wonder – the cave with its massive dripstone formations is breathtaking and the castle, which is nestled in the side of a cliff, is like something out of a fairytale.
In the marketplace of this little town you'll find a unique tourist attraction – the Beer Fountain! How does it work? You buy a glass with a chip on the bottom and when you put it under the beer tap, it recognises the chip and automatically fills up. There are 6 different types of beer to choose from, and for 8 Euro you can pour yourself 6 x 100 ml of beer – fantastic!
Do you have any more tips about the beautiful capital of Slovenia?
The city is laid-back and safe, so there's no need to worry here. When you visit Ljubljana, you have to try our local microbrewery beers, Human fish and Bevog! Don't buy tacky souvenirs (unless that's your thing of course), you can buy something cool and original in one of the local designer shops on Trubarjeva cesta. Get some local tapas and have a picnic in the park surrounding Ljubljana Castle and don't miss out on the markets! The covered Central Market is open every day and is great for fresh produce, or you can hit Art market and ARTish market all in one Saturday morning for some unique gifts to take home.
Top image: unsplash
Latest posts
Winter weather disruptions at Frankfurt Airport
The onset of severe winter weather has wreaked havoc on flight operations at Frankfurt Airport, causing widespread flight cancellations and flight delays.
Best German Christmas markets
Here's a closer look at some of our picks for the best Christmas markets in Germany.
Best places to visit in December: Winter destinations for every traveler
Whether you seek the adrenaline rush of skiing down snow-clad slopes or the soothing warmth of a tropical beach, there's a winter vacation destination tailored just for you.
About MYFLYRIGHT
MYFLYRIGHT is a legal tech company, specialized in the support of airline passengers affected by flight delays, flight cancellations, denied boarding, delayed or lost luggage and the refund of unused airline tickets. MYFLYRIGHT was founded 2016 in Hamburg, Germany. The company operates out of 3 offices, its headquarter in Hamburg and its branches in Prague, Czech Republic and Zaporizhia, Ukraine. Currently, MYFLYRIGHT employs a team of around 25 people working in Marketing, Operations, Legal, Customer Support and IT. The organization operates across 5 markets – Germany, United Kingdom, Romania, Austria, and Switzerland.
MYFLYRIGHT's goal is to provide access to justice for all aviation passengers who experience irregularities in their flight transportation. Notably, 75% of all compensation requests submitted by passengers get rejected. Whereas, MYFLYRIGHT is able to successfully execute the applicable customer claims in more than 98% of cases at court.
Get up to 600 €* in compensation
Check claim for free