Lleida, Spain: A local perspective


Today in "Like Locals" we're heading to the small city of Lleida. Situated in western Catalonia, Lleida is the capital of the Segrià region and is surrounded by fertile land fed by the Segre River flowing through it, resulting in an abundance of fresh, local cuisine. This city is full of surprises and its rich history, surrounding nature and the close vicinity to mountains as well as the coast make it the perfect destination for anyone wanting to see authentic Spain.
Today's guest, Vanesa (@wearing_my_soul), is from the region and is full of passion for her city, so she's the perfect guide to show us around Lleida.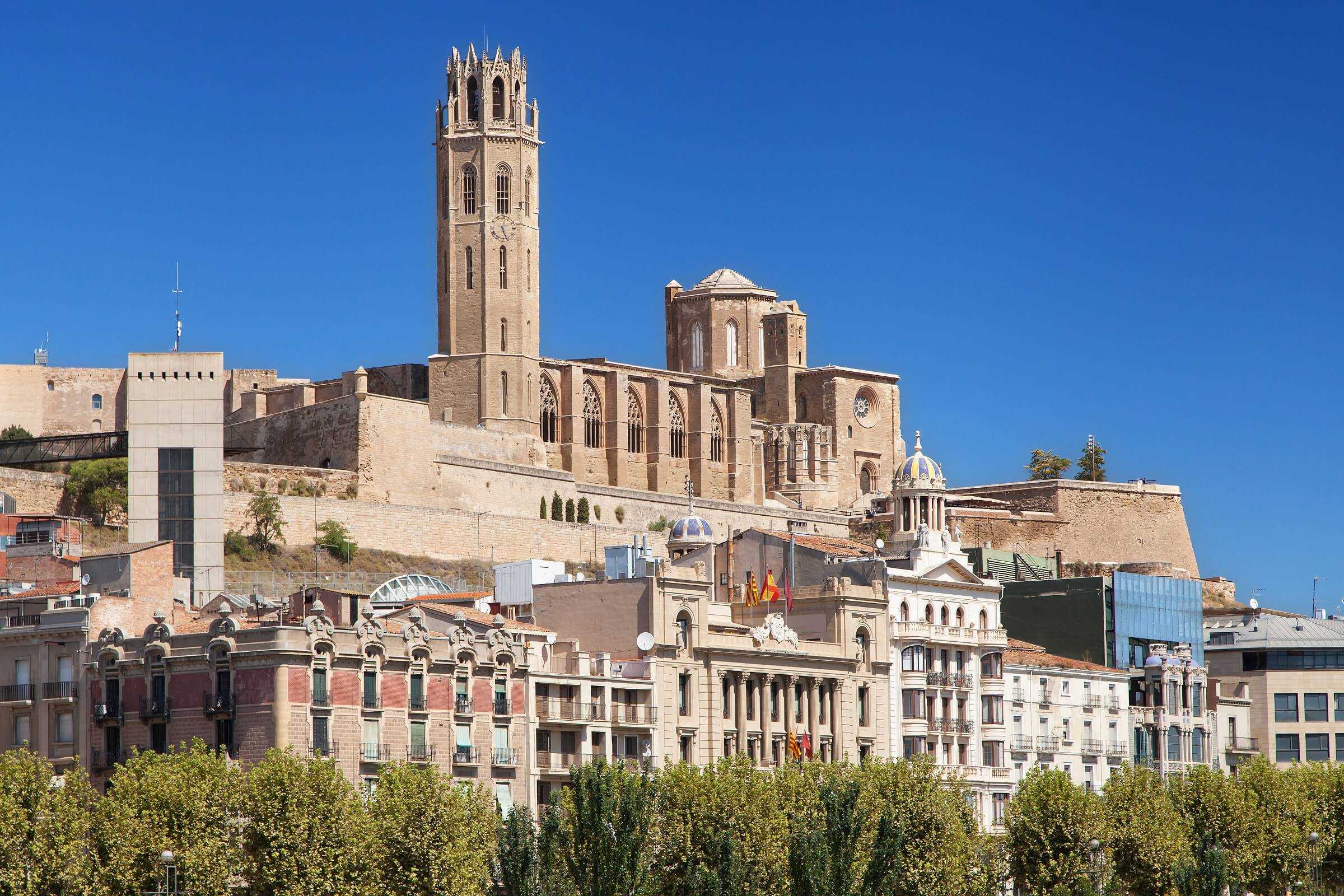 View of the Old Cathedral from the city centre*
Hi Vanesa! Can you tell our readers a bit more about yourself?
Hi! I'm 35 and work as a child education teacher, as well as studying psychology. I'm a huge fan of fashion, healthy living, organic food and - most of all – travel. I was born in the tiny village of Alguaire, which is about 18km from my city, Lleida. I moved here because I love the beauty and vibrancy of Lleida – every day I discover something new!
"A local specialty in Lleida
is the empanadilla"
Can you describe your perfect morning?
My perfect morning routine is to wake up at 9am and then go for some tasty food. My absolute favourite breakfast place is Sweet Fifties (site only in Catalan) and I love anything sweet to start my day. Not only can you find fantastic coffee and a range of cold-pressed juices, they also have American-style muffins which are freshly made every day – from red velvet to Oreo, there's sure to be something you can't resist. Another great spot is Churreria Chocolateria J. Moreno, where they serve amazing churros and all the flavours of hot chocolate you could ever want!
After that, I need to burn off some calories, so the best thing to do is go for a walk or a run in la Mitjana Park, where there are many trails to explore. When the weather is good, you can chill out at one of the picnic tables and there are even huts for bird watching as there are such a wide variety living in the area. The park is at the edge of the city, but this is the beauty of living in a smaller place – it doesn't take long to get out to nature and unwind.
"one of the biggest draws for tourists
is Lleida's historical sites"
What are the best things to do in Lleida during the day?
My go-to place for lunch is Xicoira. It is a Vegetarian restaurant with really tasty pasta dishes as well as creative wraps, soups and tapas – also for someone with a sweet tooth like me, they serve very tasty desserts!
A local specialty in Lleida is the empanadilla, which is a large pie – a big empanada - typically filled with spinach, pine nuts and raisins, which you can get in virtually every lunch place. If you are a meat lover, don't miss out on the embutidos (pork sausages). The Lleida region produces some of the best olive oil in the world, so our cuisine is bursting with flavour – it's very difficult to have a bad meal here!
After lunch, take a walk to the city centre, where you can shop till you drop in unique boutiques, designer shops, and market stalls selling local food and wine which line the 2.5 km-long Main Street (Carrer Major).
"To escape bad weather in Lleida, visit
the gorgeous New Cathedral"
Of course, one of the biggest draws for tourists is Lleida's historical sites. The Old Cathedral and the King's Castle are absolute must-sees. This is an ancient complex on top of a hill in the city, from which you have a view over the whole of Lleida and the surrounding area. You can reach the complex on foot, by car, or there's even a lift from Plaça de Sant Joan for only 20 Euro cents for anyone wanting to avoid the climb. Building of the cathedral began in 1203 and was completed in 1431 and the bell tower, which is the most recognisable monument in Llleida, can be seen from much of Segrià. Surrounding the complex and covering the northern side of the hill is Santa Cecília Park, which is lovely to meander through after you have taken in some history.
"1203 Restaurant has the best
views of the city of Lleida"
You can then take a leisurely stroll along the Segre River and cross over to The Camps Elisis. These beautiful gardens, inspired by the Champs Elysées in Paris, have a promenade, end of the century style monuments, such as Cafè Xalet and the Templet de la Música, and regular sculpture exhibitions. It's the perfect way to end your day in Lleida as the sun starts setting.
Where would you go if the weather's not good?
To escape bad weather in Lleida, visit the gorgeous New Cathedral, as well as the Church of Sant Joan, both are close to the city centre and are beautiful inside and out.
You can also take shelter in one of the fantastic museums in Lleida:
Immerse yourself in the city's history.
Soak up some contemporary culture.
For something a little off-beat, this unique museum houses 'giants' - figures up to 2.5 metres high - which have been used in the biennial Lleida parade "The Gathering of the Giants". The parade is held to honour Lleida's patron saint, Saint Anastasi and 12 towering figures are carried through the town as part of the celebration.
Where's best for dinner and a night out?
For dinner, you must visit 1203 Restaurant. It has the best views of the city of Lleida from its terrace and is situated at the base of the Old Cathedral, which is lit up at night, making for a really special atmosphere. You can try the local delicacy of snails ("caragols" in Catalan) which are simply served with a vinaigrette or aioli, as well as seafood, cannelloni or steaks.
If you're looking for great cocktails and tasty fish dishes, The Blackberry is the place to be and to try a wide selection of local wine and tapas, Vinicia is perfection!
"Visit Lleida in May, when we celebrate
local cuisine with the Snail Festival"
What about perfect day trips near the province of Lleida?
Lleida is in such a great location – in just 1 and a half hours you are in the Catalan Pyrenees surrounded by rugged natural landscape and glacial lakes. There are so many beautiful places to hike or cycle in this area that you would have to dedicate an entire blog post to it!
In the same amount of time, you can reach the sea - explore breath-taking ancient monuments (in Tarragona), or simply relax on the beach and take a dip in the turquoise water on Costa Daurada.
Do you have any other tips for visitors?
Visit Lleida in May, when we celebrate our local cuisine with the Snail Festival – Aplec del Caragol –over 10 000 kg of these delicious delicacies are consumed! There's a fantastic atmosphere, with the whole city coming out to enjoy food, music and dance. It's a great way to experience the city and meet the locals.
A unique piece of architecture is La Llotja de Lleida, a congress centre and theatre, which was designed by Mecanoo, a Dutch architecture firm. This modern, orange-bricked building somehow perfectly complements the ancient buildings throughout the city, and I love the contrast with the Old Cathedral on top of the hill behind it.
Lleida may be small, but there's so much to see and do in this vibrant Catalan city. Come and see for yourself!
*all images: Adobe Stock
Top image: Adobe Stock
Latest posts
Winter weather disruptions at Frankfurt Airport
The onset of severe winter weather has wreaked havoc on flight operations at Frankfurt Airport, causing widespread flight cancellations and flight delays.
Best German Christmas markets
Here's a closer look at some of our picks for the best Christmas markets in Germany.
Best places to visit in December: Winter destinations for every traveler
Whether you seek the adrenaline rush of skiing down snow-clad slopes or the soothing warmth of a tropical beach, there's a winter vacation destination tailored just for you.
About MYFLYRIGHT
MYFLYRIGHT is a legal tech company, specialized in the support of airline passengers affected by flight delays, flight cancellations, denied boarding, delayed or lost luggage and the refund of unused airline tickets. MYFLYRIGHT was founded 2016 in Hamburg, Germany. The company operates out of 3 offices, its headquarter in Hamburg and its branches in Prague, Czech Republic and Zaporizhia, Ukraine. Currently, MYFLYRIGHT employs a team of around 25 people working in Marketing, Operations, Legal, Customer Support and IT. The organization operates across 5 markets – Germany, United Kingdom, Romania, Austria, and Switzerland.
MYFLYRIGHT's goal is to provide access to justice for all aviation passengers who experience irregularities in their flight transportation. Notably, 75% of all compensation requests submitted by passengers get rejected. Whereas, MYFLYRIGHT is able to successfully execute the applicable customer claims in more than 98% of cases at court.
Get up to 600 €* in compensation
Check claim for free