Local tips on what to do in Brisbane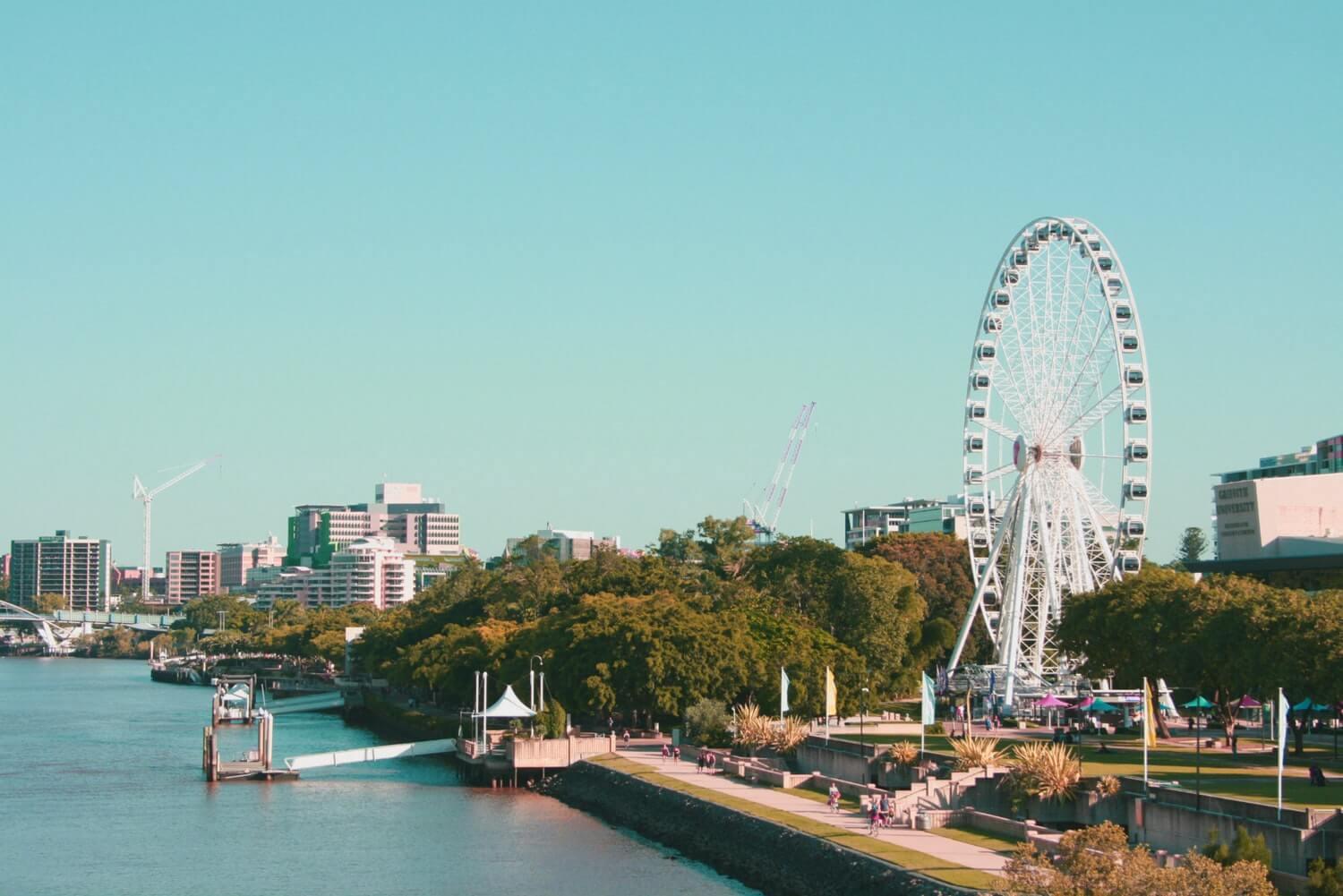 Once upon a time there was a sleepy town in Queensland which was given the ironic nickname of "Brisvegas", due to its lack of nightlife. Over the years, Brisbane has blossomed into the sophisticated cultural centre of East Coast Australia. Residents enjoy 261 days of sunshine a year, and after a hard day at work, there's a choice of a taking a dip for free in Street Beach's downtown swimming pool, hiking in one of the lush rainforests nearby or basking in the sun on one of the Gold Coast's tropical beaches.
Today in "Like Locals", we're talking to Amber (@ambervshark) about her beautiful hometown. Read on to find the best things to do, places to visit and where to eat in Brisbane.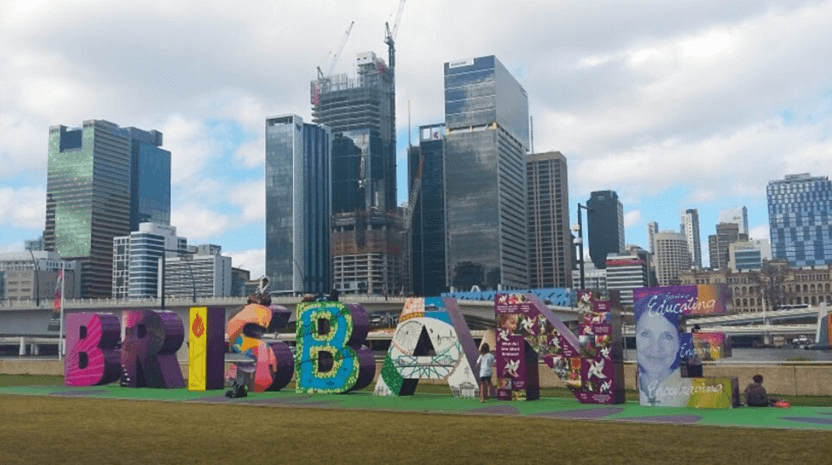 View of the Brisbane's business district from Southbank, image: Sandra Tranta

Hi Amber! Can you tell us a little about yourself?
Hello! I'm a graphic designer, with a passion for art, sharks and my cuddly Shar Pei, Hunter.
After living in Europe for a while, I returned to my home, Brisbane, and have been living here now for 13 years. As I work in the neighbouring town of Ipswich, I've come to love all it has to offer, too, with its well-kept heritage homes and green, leafy parks.
Brisbane is lively and there's always something to keep you entertained so you'll never be bored, but it's also lovely to be able to simply enjoy the perfect Queensland weather and take it easy by the pool.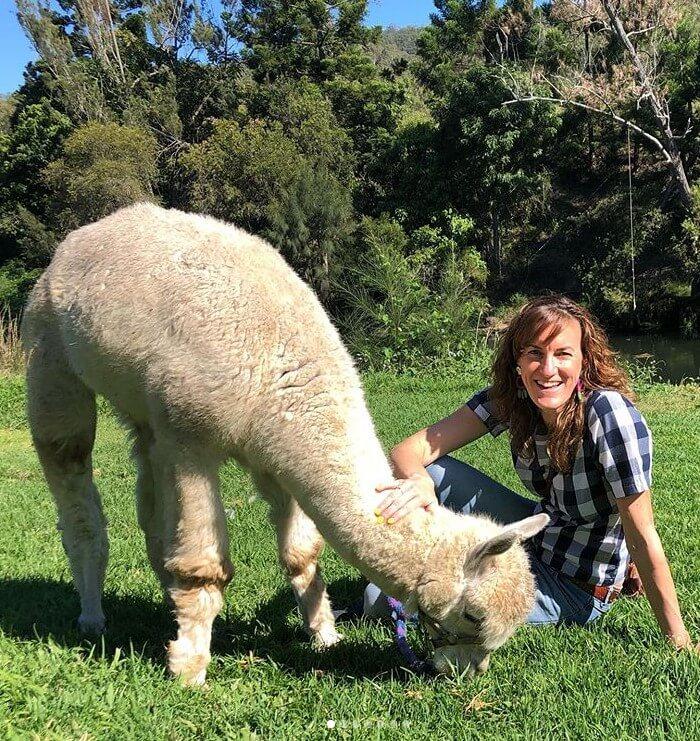 Amber at Mountview Alpaca Farm, image courtesy of Amber
What are your favourite things to do in Brisbane in the morning?
I like to meander through the bustling neighbourhoods of New Farm and West End, which are packed full of cafes, restaurants and little galleries. These are a just few of my highlights:
This is a local favourite - If you're starving and want to spoil yourself, this is the place for you!
Housed in a beautifully renovated former ice cream factory, this gallery showcases the work of one of Australia's most celebrated contemporary artists.

Bromley Room #2, images: Sandra Tranta
One of my favourite weekend morning pastimes is wandering through the market stalls, especially on Sundays when there's a flea market. I love browsing through people's collections of curiosities!
"For a taste of Brisbane nightlife,
Eat Street is the place to be!"
What do you like doing during the day?
As I work in Ipswich, I spend most of my daytime there. During my lunch break or after work, I walk to Queens Park, which has an amazing (free!) Nature Centre. There's a huge variety of local wildlife and from the breezy café, you have a perfect view of the park. Next door, there's an education centre, where you can learn all sorts of interesting facts about our flora and fauna. Afterwards, I like to treat myself to an afternoon pint in The Pumpyard, a great microbrewery with a welcoming atmosphere.
Where to go for a night out and the best restaurants in Brisbane?
For a taste of Brisbane nightlife, Eat Street in Hamilton is the place to be! You can spend the whole evening there trying food from all over the globe, as well as enjoy live music and theatre performances. If you have a sweet tooth, head straight to The Doughnut Bar for their decadent doughnut fries.
Lefkas Taverna, in the West End, is one of my favourites for a delicious dinner. Try the grilled baby octopus, it's out of this world!
"Moreton or North Stradbroke Island are
perfect day trips from Brisbane"
On the banks of the Brisbane River, the newly opened Howard Smith Wharves pulse with nightlife. Trendy bars, restaurants and a brewery mean there's something for everyone. And it's not just for the evening – during the day, the grassy banks are full of picnicking families or dog lovers going for a stroll.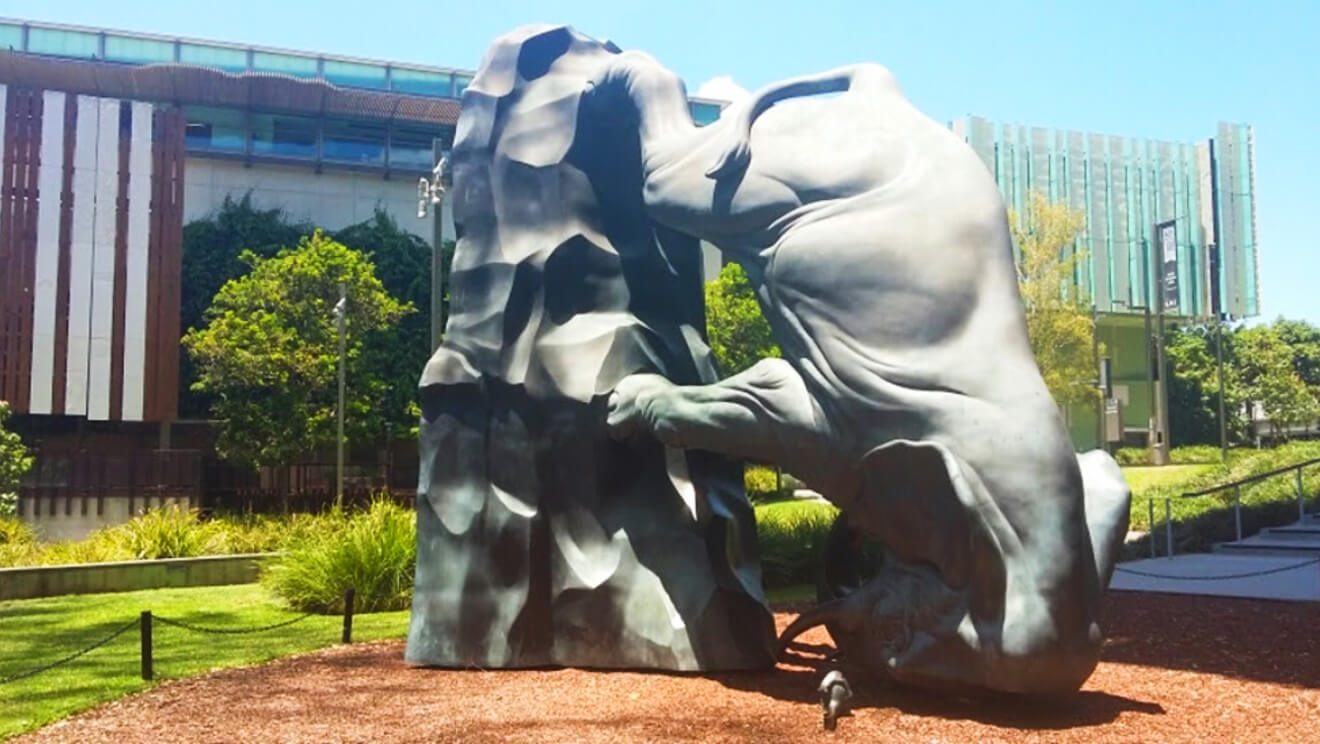 "The World Turns" statue outside the GOMA, image: Sandra Tranta
Brisbane weather is usually perfect, but what do you do if it rains?
On those rare days when the weather's bad, there's plenty to do indoors. These are my top three tips:
GOMA (Queensland Gallery of Modern Art)
You'll always find fantastic exhibitions and fun kids' workshops here, plus there are 2 cafes and a restaurant for when you need to take a break and re-energise.
A great way to shelter from the rain and have fun with your friends, this escape room is my favourite.
Find your Deal of the Day on allthedeals
Discover cooking or craft classes to get the creative juices flowing, relaxing spa treatments or a romantic dinner for two on this handy site.
Where would you go for a day trip from Brisbane city?
One of the things I love most about my hometown is that there are so many varied and beautiful places nearby that are really easy to get to.
About an hour's drive from Brisbane, right on the Gold Coast, this is a cross-between an art gallery, café and bar. They serve delicious food (their cake is perfection!) and you're surrounded by art in a really chilled-out atmosphere.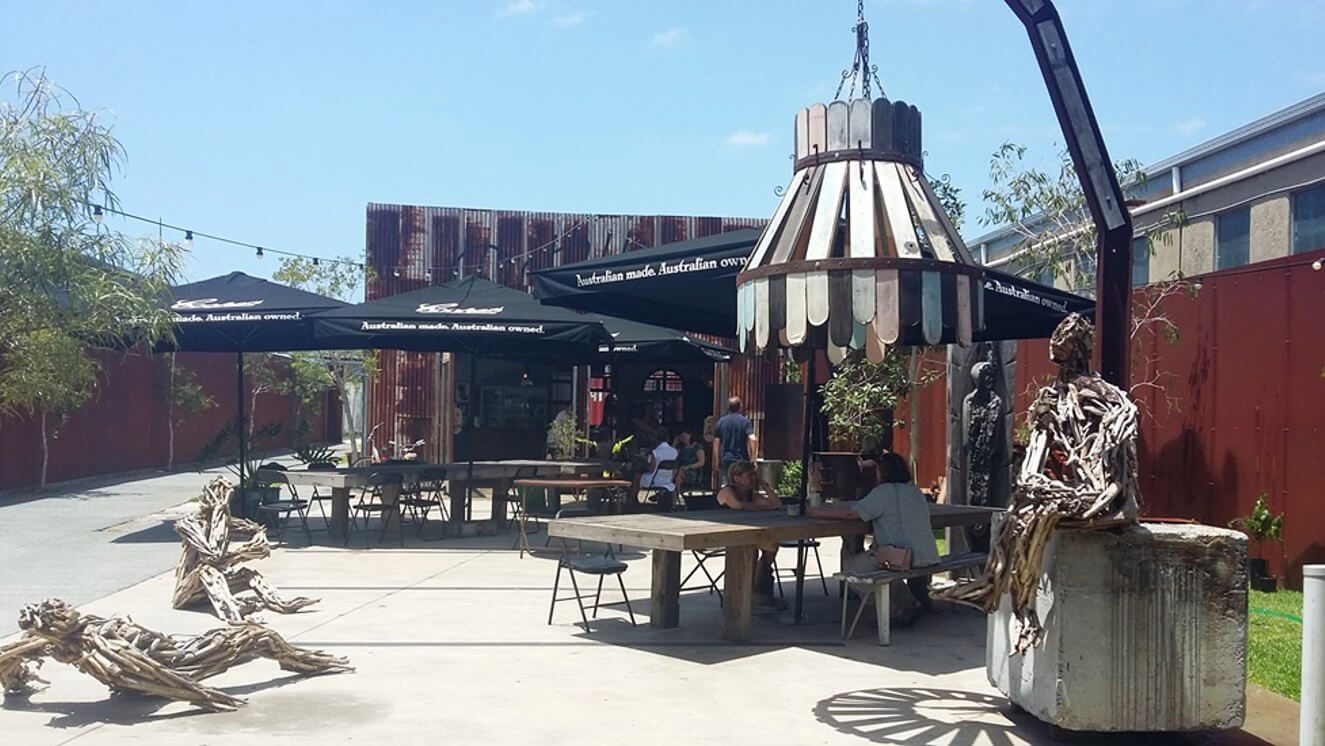 Dust Temple, image: Sandra Tranta
Rent a stand-up paddle board. Whether an expert or beginner, you're bound to enjoy the scenery while paddling on the crystal-clear water by the beach.
There are always well-curated and interesting exhibitions in this gorgeous gallery. One of the highlights is the famous Australian artist Margaret Olley's home studio, which was relocated here and is displayed permanently. The road to the gallery takes you through sleepy towns and the scenic Tweed region.
The farm is part of a winery, so you can get a picnic basket and a bottle of wine, then enjoy it on the lawn while listening to live music. The best part is that you can walk an alpaca around on a lead. They're such incredible creatures, it's an experience you'll never forget!
Both are easily reachable and perfect day trips from Brisbane whether you want to relax on white sandy beaches or spot the abundant wildlife in the area.
"Brisbane Powerhouse always has an
exciting new exhibition or event"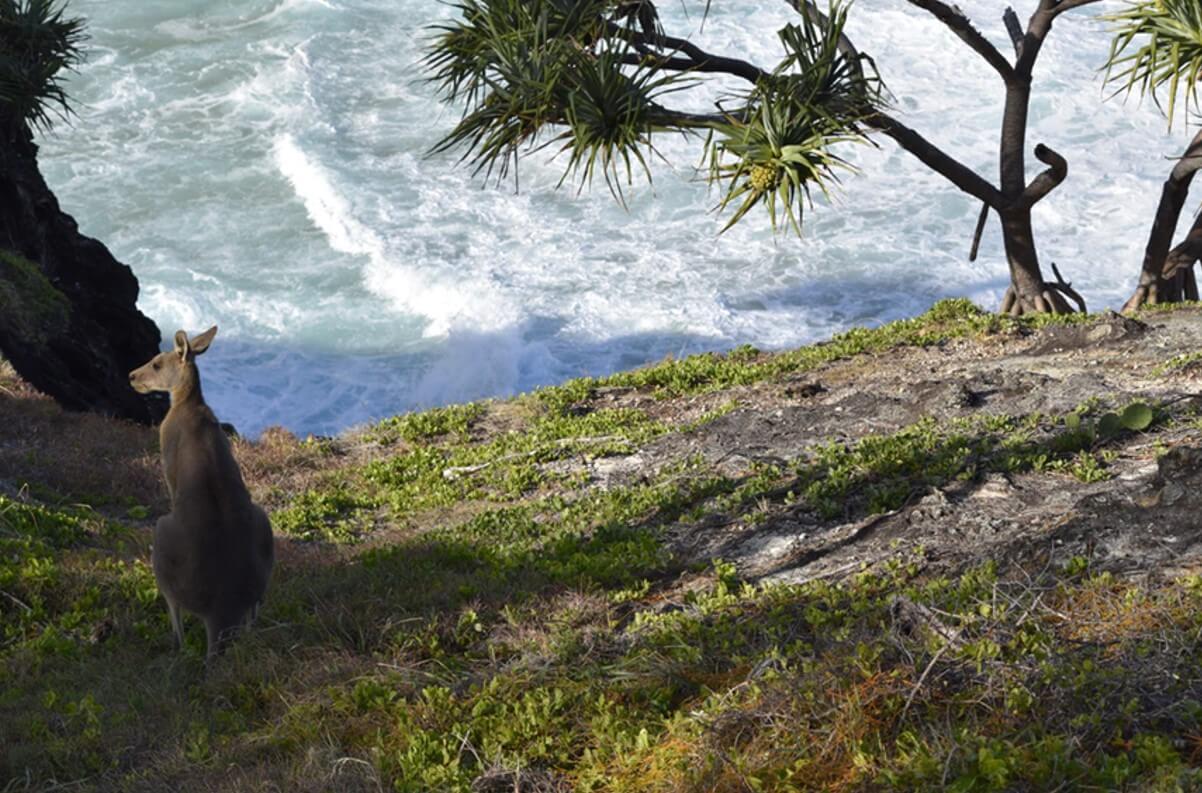 Stradbroke Island, image: unsplash
Do you have any other tips for visitors?
Of course, Brisbane always has more to discover:
This former power station from the 1920s, which has been transformed into an arts centre, always has an exciting new exhibition or event going on.
Located on the river, opposite downtown Brisbane, there's so much to do - free swimming, BBQ and picnic areas, cycling along the river, a rainforest walk and plenty of cafes and restaurants.
Take a boat trip along the river – the coolest way to get around by public transport! Stop off at Bulimba for a shopping trip.
Top image: unsplash
Latest posts
Winter weather disruptions at Frankfurt Airport
The onset of severe winter weather has wreaked havoc on flight operations at Frankfurt Airport, causing widespread flight cancellations and flight delays.
Best German Christmas markets
Here's a closer look at some of our picks for the best Christmas markets in Germany.
Best places to visit in December: Winter destinations for every traveler
Whether you seek the adrenaline rush of skiing down snow-clad slopes or the soothing warmth of a tropical beach, there's a winter vacation destination tailored just for you.
About MYFLYRIGHT
MYFLYRIGHT is a legal tech company, specialized in the support of airline passengers affected by flight delays, flight cancellations, denied boarding, delayed or lost luggage and the refund of unused airline tickets. MYFLYRIGHT was founded 2016 in Hamburg, Germany. The company operates out of 3 offices, its headquarter in Hamburg and its branches in Prague, Czech Republic and Zaporizhia, Ukraine. Currently, MYFLYRIGHT employs a team of around 25 people working in Marketing, Operations, Legal, Customer Support and IT. The organization operates across 5 markets – Germany, United Kingdom, Romania, Austria, and Switzerland.
MYFLYRIGHT's goal is to provide access to justice for all aviation passengers who experience irregularities in their flight transportation. Notably, 75% of all compensation requests submitted by passengers get rejected. Whereas, MYFLYRIGHT is able to successfully execute the applicable customer claims in more than 98% of cases at court.
Get up to 600 €* in compensation
Check claim for free