Militello in Val di Catania: Sicily's hidden gem


A note from MYFLYRIGHT: We realise that people currently aren't travelling and are aware of how serious the situation is right now in Italy. However, we decided to publish our latest blog on the beautiful Baroque town of Militello in Val Catania to spread a bit of positivity, lift some spirits and to give you some inspiration for where to explore when things do finally improve. For now, please enjoy the read 😊
Militello in Val di Catania, with its population of just over 7000, is a compact, charming town in Eastern Sicily. With its grand Baroque architecture, numerous serene churches and hidden frescoes, this is a place that inspires and fascinates all who visit and it's no wonder the town is a UNESCO World Heritage Site.
The town is the perfect size for a couple days' leisurely exploring and from there, you can head out to one of the nearby pretty villages, hike in the countryside, learn about mysterious caves or gaze at cascading waterfalls.
Our local today, Samuele shares his passion for beautiful Militello in Val di Catania and gives us his tips on what to visit, where to eat and the very best sights nearby.

Welcome to Like Locals Samuele! Can you tell us a little about yourself?
Hello everyone! I'm a theatre actor and I love living here in Militello in Val di Catania because, even though the town is small, it's absolutely gorgeous, with a fascinating history and is surrounded by beautiful countryside.

"Grab a pizzetta, some arancine
or a cartocciata for a snack"

How would you spend your ideal morning?
My perfect morning starts with a swim, then it's time to meet my friends for breakfast Art Cafè. They serve great coffee and plenty of tasty snacks to start your day.
If you want to do a little exercise to get the blood pumping, it's great to run through the town and take in the many architectural wonders it has to offer as you go. When you want to go a little further, it doesn't take long to get out to the beautiful surrounding countryside. Seeing Sicily unfold beneath you as the dew evaporates – what a way to start your day.

How about daytime in Militello in Val di Catania? Things to do, places for lunch?
It's common here to enjoy lunch at home or with family, but there's no shortage of places to eat out. Sicilian food is, in my opinion, the best in the world and you can't go wrong with trying some of our traditional delicacies. Grab a mini pizza - pizzetta-, some piping hot arancine or a cartocciata filled with fresh mozzarella for a snack.
If you want something a little heartier, U Pacha is your place. Don't leave town without trying their grilled octopus or one of the tasty pizzas on the menu. Treat yourself to a nice glass of wine and enjoy some authentic local food in a charming atmosphere, while watching the world go by.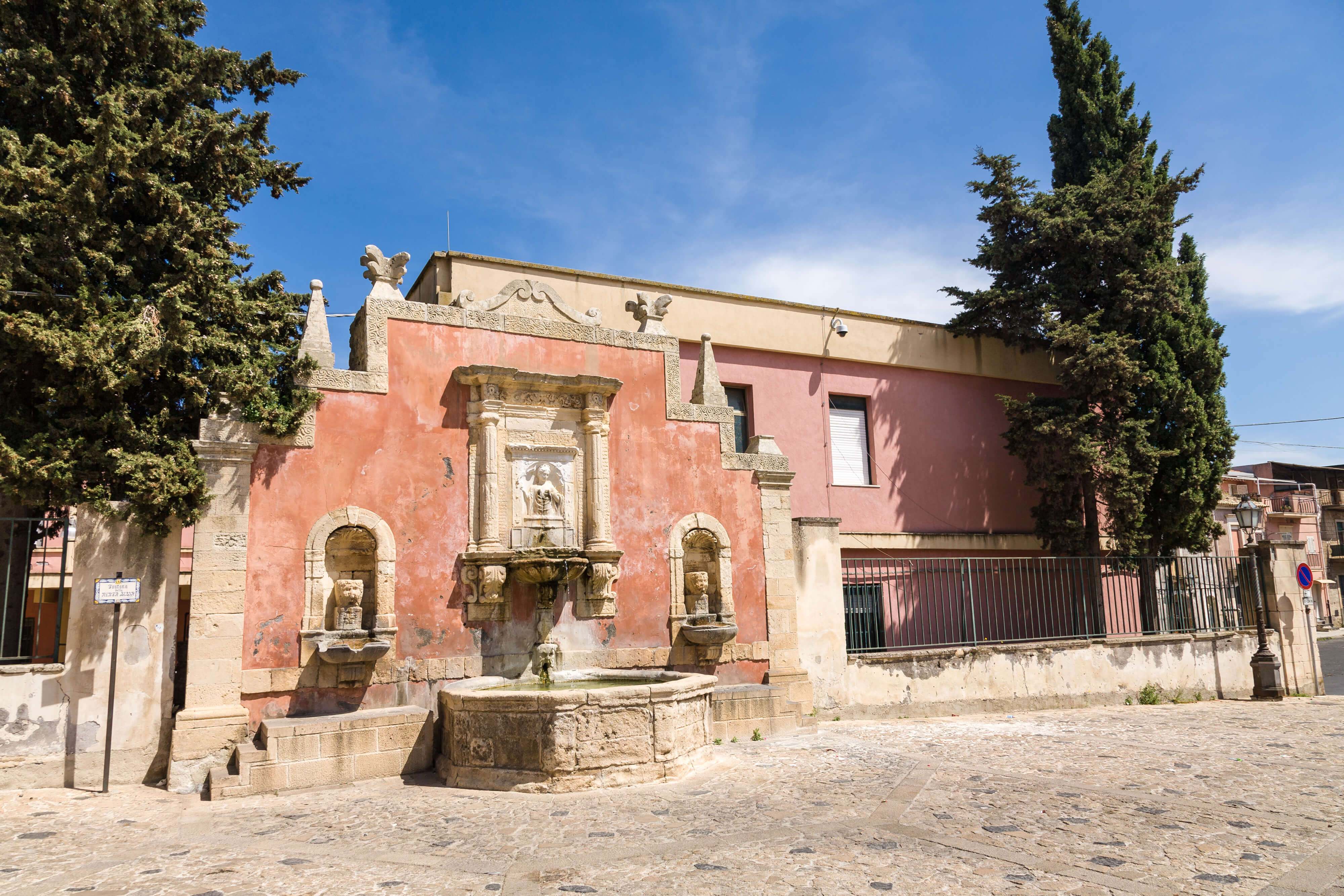 Laid back life on the town square

After replenishing your energy, it's time to take in the sights. Luckily, this town is small so you can see a lot just by walking around. Many of the buildings are beautiful Baroque structures and it seems that around every corner there's another slice of history to feast your eyes upon. First, head to the former Abbey of San Benedetto on Piazza del Municipio, which, behind its pale ochre façade, houses magnificent marble, some faded frescoes and gleaming gold details throughout. Then head to Chiesa Madre di San Nicolo - SS. Salvatore with its pretty bell tower and visit the below-ground Museum of Sacred Art. Continue onwards to the beautiful carved stone of the Madonna della Catena Oratory and gaze at the lapis lazuli-blue arch within the Church of Anime Sante del Purgatorio. The Fontana della Ninfa Zizza is a must-see and is like something out of a fairy tale, or a scene from "Cinema Paradiso", with its crumbling, pink-hued grandeur.

"The pizzas in A Zizza
are out of this world"


The pièce de résistance, though, is the Church of Santa Maria la Vetere, first built in 1090 by the Normans. The stone lions bearing the columns either side of the impressive doorway are one of the highlights here, plus you can see the remains of a necropolis on the site. It's situated on the edge of town, so is very peaceful and you will walk away feeling touched by the history of the place.

At this point in the day, I always find an aperitif is welcome, and you can get one at one of the many kiosks in town. It's the ideal way to round off your day of sightseeing!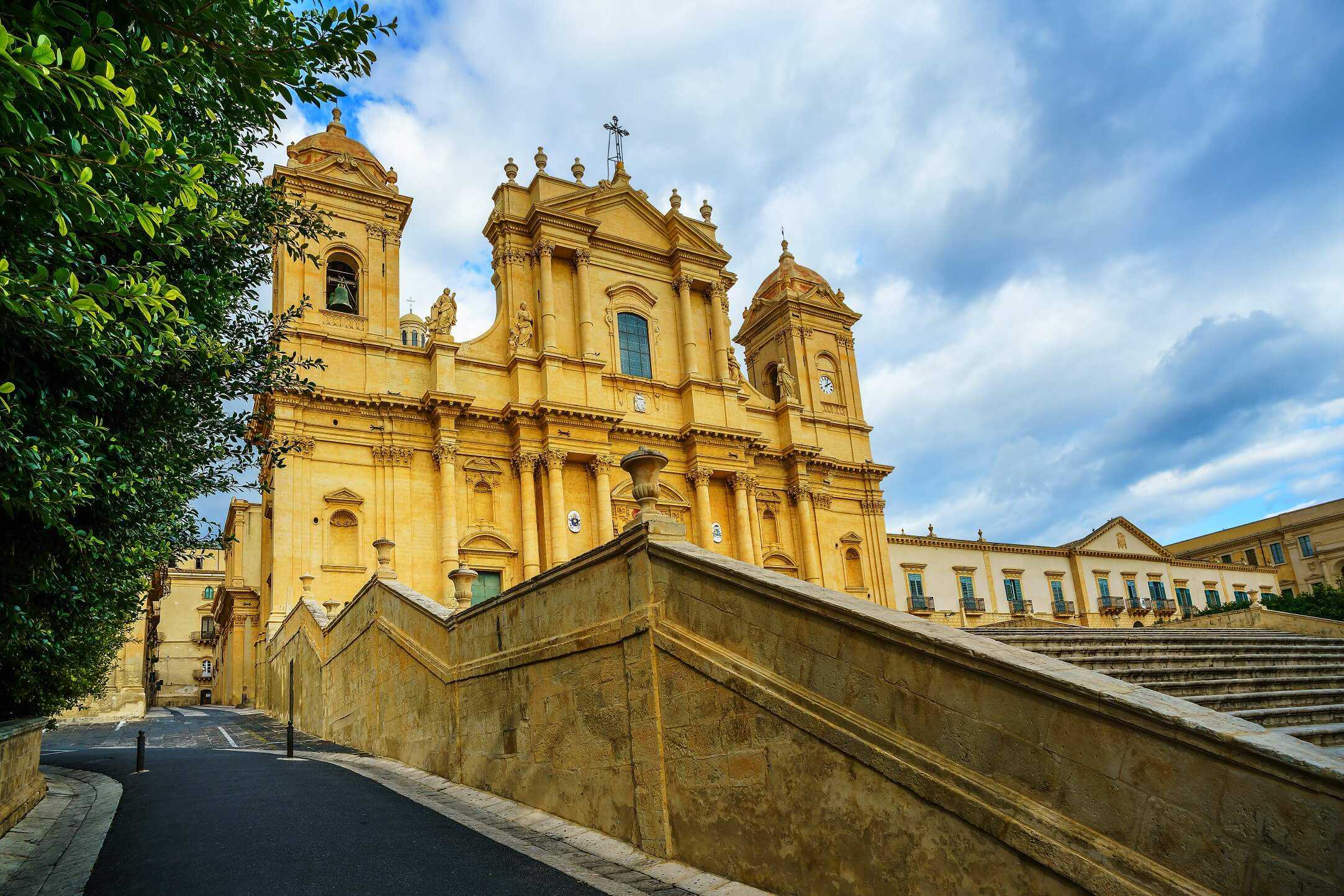 The steps of Chiesa Madre di San Nicolo - SS. Salvatore

Which Militello in Val di Catania restaurants are best for dinner?
For a delicious dinner with friends, my go-to place is A Zizza, in the heart of the historic centre. The pizzas here are out of this world and you can enjoy your food under stone, arched ceilings. If you're tired of pizza, the salads and sandwiches here are also delicious. It goes without saying that the wine is as fantastic as the food – we are in Sicily after all!
You can also spend a lovely evening at one of the outside tables in U Trappitu (site in Italian), where you can feast on delicious fresh seafood dishes, or grab a few drinks at low-key Antonio Caruso Bar, which has a real homey feel to it.

What can we do if the weather's not so good?
When the weather's bad here, it's absolutely not a problem - on the contrary, it's possible to go play a few games of pool or simply chill out at Black & White, a place where you can drink a hot tea and a nice slice of cake. You can also sample one of their cocktails while you shelter from the cold or rain 😊
Alternatively, pop into one of the churches you haven't managed to visit yet. They are all beautiful and provide a calm respite from nasty weather.

"Go for a scenic hike to
Suburban Park Dragon Cave"



Can you recommend any trips outside the town?
You can see the Militello in one or two days and it's the perfect base for discovering the area surrounding the town. In about an hour you can walk to Cascate Oxena (Oxena Waterfall). It's a beautiful spot to take a picnic – you can sit on the surrounding rocks, watching the crystal-clear water cascade down to the pool below, while eating tasty snacks from the market.
Why not explore some caves while you're here? Go for a scenic hike to Suburban Park Dragon Cave, which only takes an hour and 45 minutes. It's possible to enter by yourself, but I recommend taking a guided tour to learn about the flora, flora and fascinating archaeological finds of the area.
By the way, if you don't want to walk, both of these places can be reached in about 20 minutes by car. However, if you do decide to go on foot, remember in the summer months it gets very hot so take plenty of water and head out in the morning before it's sweltering!
Those of you who are ready to face the hustle and bustle of a big city can visit the vibrant city of Catania in just under an hour's drive. Catania was completely destroyed in the 17th century after a volcanic eruption and a subsequent earthquake and rebuilt in the 18th century's baroque style from dark lava rock - hence its epithet, "The Black City".

"Militello in val di Catania is the ideal point
to start your trip around eastern Sicily"


Do you have any other tips or advice for visitors?
Do you feel like doing some shopping? Well, every Tuesday on Viale Regina Margherita they have a market chock full of stuff. From clothes and cosmetics, to delicious food, this place has everything you need – and plenty more!
The best time to come to Militello in val di Catania is summer and it's the ideal point to start your trip around eastern Sicily. There are also tons of festivals held here, the most famous being the feasts of Santissimo Salvatore and the Madonna della Stella, which attract people from all over the world.


In short, Militello in the Val di Catania deserves to be visited and experienced because despite being small, it has so much history and beauty to offer. Plus, as I already mentioned, you can use it as an affordable base to explore beautiful Sicily!
All images: Adobe Stock
Latest posts
Winter weather disruptions at Frankfurt Airport
The onset of severe winter weather has wreaked havoc on flight operations at Frankfurt Airport, causing widespread flight cancellations and flight delays.
Best German Christmas markets
Here's a closer look at some of our picks for the best Christmas markets in Germany.
Best places to visit in December: Winter destinations for every traveler
Whether you seek the adrenaline rush of skiing down snow-clad slopes or the soothing warmth of a tropical beach, there's a winter vacation destination tailored just for you.
About MYFLYRIGHT
MYFLYRIGHT is a legal tech company, specialized in the support of airline passengers affected by flight delays, flight cancellations, denied boarding, delayed or lost luggage and the refund of unused airline tickets. MYFLYRIGHT was founded 2016 in Hamburg, Germany. The company operates out of 3 offices, its headquarter in Hamburg and its branches in Prague, Czech Republic and Zaporizhia, Ukraine. Currently, MYFLYRIGHT employs a team of around 25 people working in Marketing, Operations, Legal, Customer Support and IT. The organization operates across 5 markets – Germany, United Kingdom, Romania, Austria, and Switzerland.
MYFLYRIGHT's goal is to provide access to justice for all aviation passengers who experience irregularities in their flight transportation. Notably, 75% of all compensation requests submitted by passengers get rejected. Whereas, MYFLYRIGHT is able to successfully execute the applicable customer claims in more than 98% of cases at court.
Get up to 600 €* in compensation
Check claim for free