Places to visit in Scotland: Off the Beaten Track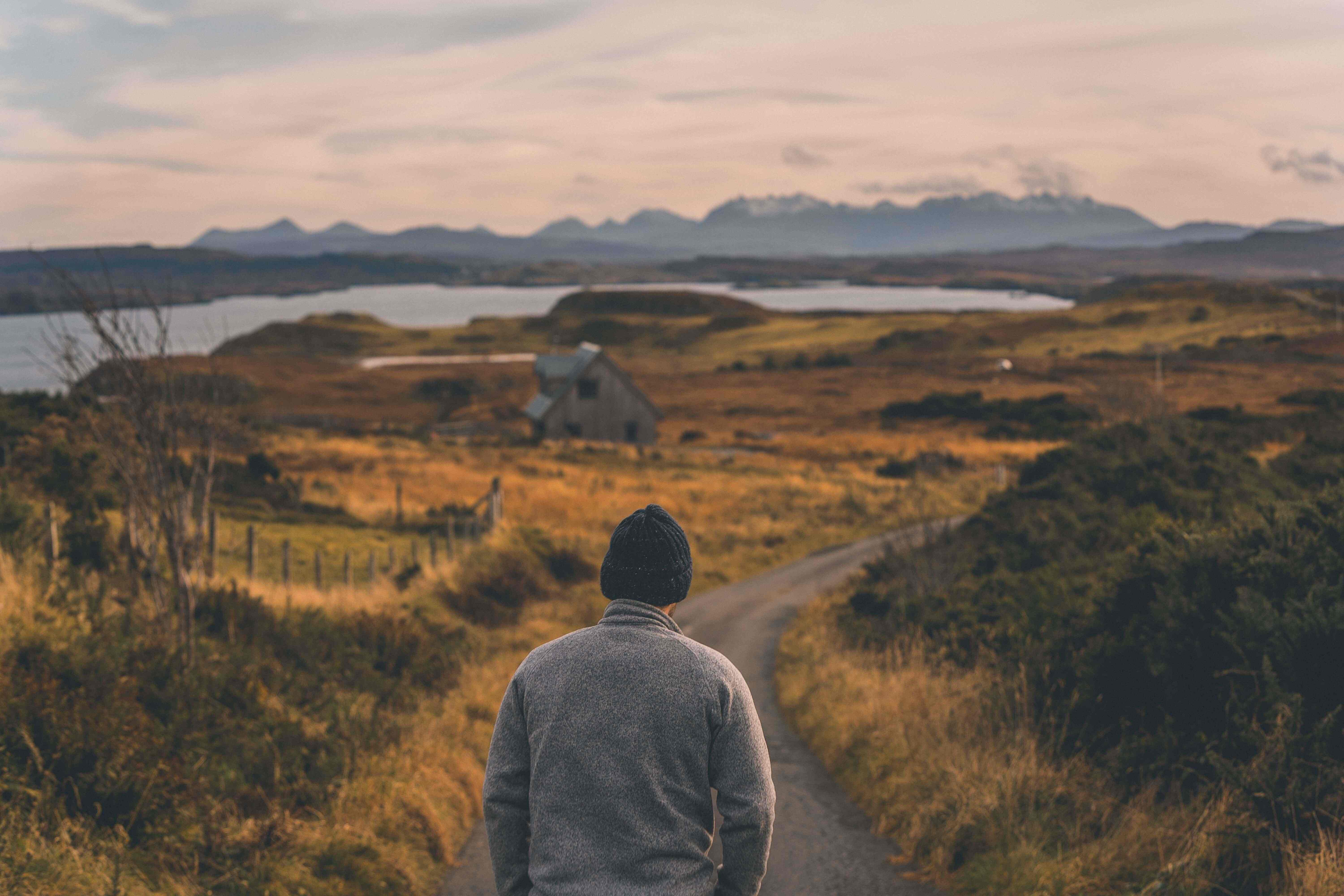 When you think of Scotland, what are the first things that spring to mind? Perhaps Edinburgh Castle, Loch Ness and haggis? Well, there's much more to see in this bonnie country – visit paradise islands with crystal clear sea, stroll the grounds of grand country manors; stay in quaint little B&Bs or a stunning castle. Scotland is the perfect spot to experience a trip with a difference and explore a road less travelled.
Why not let the airline pay for your next adventure? If you've received 250 EUR in flight compensation you can spend it on unique accommodation or a special experience - or both! – during your Scottish holiday.
Take a look at what you could be spending your compensation on and plan your next trip off the beaten track!
Escape to the Scottish Isles
It's easy to get away from the tourist crowds in Scotland – take a boat to an island and you'll discover another side to this beautiful country.
Visit Iona
This lovely little island is only 8.77 km². Its rugged landscape and ancient history make it the perfect escape from the hustle and bustle of everyday life.
Stay…
Iona Pods, 60 EUR/night - Stay in a cute timber pod for a couple of nights, just a short stroll from white sandy beaches with a gorgeous view of the Isle of Mull.
Bishop's House, 104 EUR/night - Clear your mind in this 'retreat house' dating from 1894 and enjoy the community feel you'll experience with like-minded travellers.
Experience…
Fingal's Cave - Take a boat from Iona (35 EUR) to the teeny island of Staffa and visit this cave formed from hexagonal basalt columns of rock. At low tide you can walk inside and wonder at this amazing creation of nature and during summer keep your eyes open for puffins, dolphins and porpoises.
Iona Abbey - Stepping into this building is like going back in time. Thought to be where the famous Book of Kells was created, the Abbey has a serene atmosphere and its graveyard has past Scottish kings buried there. Entry is 9 EUR.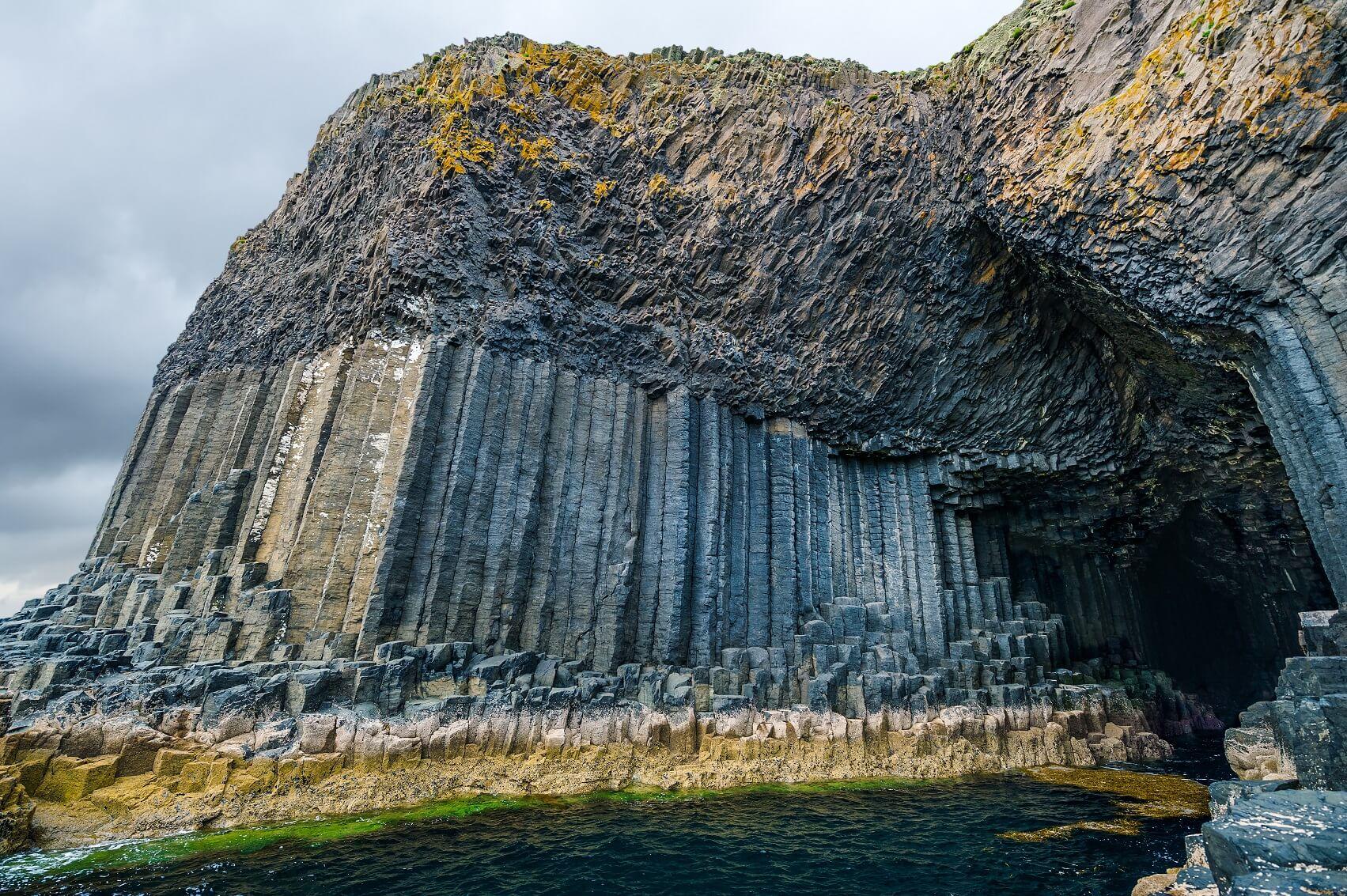 The entrance to Fingal's Cave*
Explore Lewis and Harris Island
They sound like separate islands, but they are actually one. One of the most beautiful places to visit in the country, it has world-renowned beaches, peaks to clamber up and awe-inspiring cliffs.
Stay…
The Crown Inn, 58 EUR/night – this cosy inn is in Stornoway, the largest town on the island and is an excellent base to start exploring from. The breakfast has rave reviews!
Amhuinnsuidhe Castle Estate, from 220 EUR/night – Splurge and feel like royalty! This beautiful estate also offers the opportunity for fishing and hunting, or you can simply take in the stunning surrounding scenery.
Experience…
Luskentyre Sands – consistently named the best beach in the UK, it looks like it belongs in the Maldives. Glittering turquoise sea and pristine white sand will take your breath away.
Gearranan Blackhouse Village – For just under 5 EUR, you can visit a perfectly restored village. Original building methods were used, making each house feel truly authentic. There are even a few houses you can stay in, plus a little shop and café.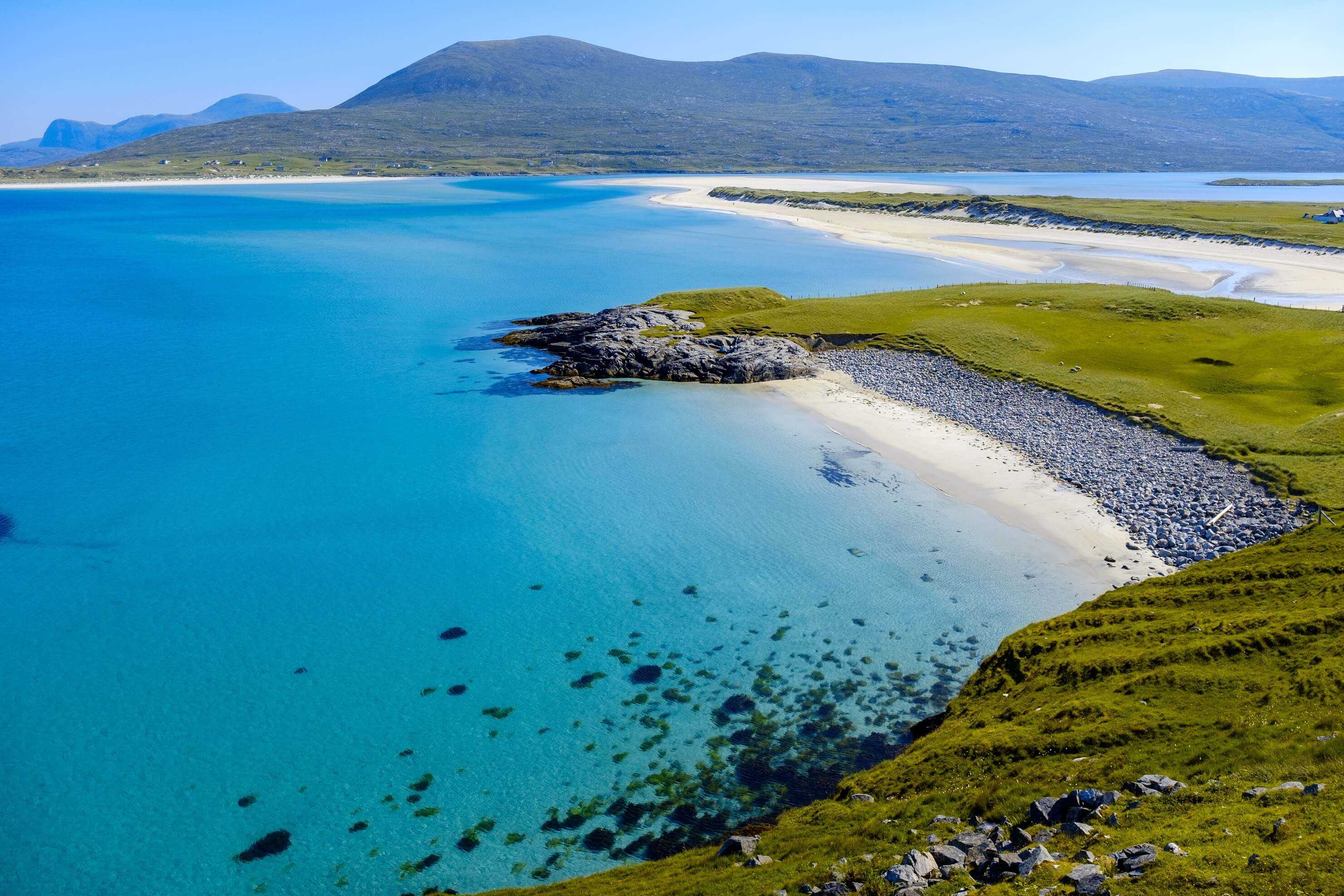 Luskentyre Sands*
Discover Berwickshire
This charming county boasts picturesque harbours, dramatic sea views and unspoiled nature.
Stay…
The Rambleshack, from 65 EUR/night – Go glamping in this adorable little pod with all your creature comforts, located in the pretty coastal village of Coldinghame
The Craw Inn, 70 EUR/night – Stay in a listed building from the 18thcentury, just 40 minutes from Thirlestane Castle. The restaurant serves fresh local food as well as craft beer and fine wine.
Roulotte Retreat, from 136 EUR/night – a romantic getaway or a chance to simply enjoy some 'me time', traditional Romany caravans in a meadow by a loch make for a unique night's stay. You'll feel as if you're in a fairy tale.
Experience…
Thirlestane Castle – Just outside the historic town of Lauder sits this fabulous 16thcentury castle. Admission is from around 11 EUR and you can discover all about the building's history and stroll through the grounds. Just a note – it's closed during winter.
St. Abbs – This gorgeous fishing village is home to a lovely working harbour and is wonderful to stroll around. You can clear the cobwebs away with a walk along the cliffs nearby, visit the lighthouse and spot seals splashing among the waves.
The John Buchan Way – Named after the Scottish novelist, John Buchan, this 21 km walk takes you on a journey over rolling hills and past important historical sights, from the town of Peebles to Broughton village.
*Images: Adobe Stock

Top image: Unsplash
Latest posts
British Airways pilot fired for bragging about flight cocaine use
In September 2023, a British Airways pilot found himself at the center of a scandal that rocked the aviation industry.
Passengers express outrage as flight faces double cancellation
A Brussels Airlines flight originating from Kinshasa, Democratic Republic of Congo, experienced an unexpected and frustrating turn of events when it was postponed twice.
Swiss Air passengers left in disarray as plane lands in Spain without luggage
Passengers, awaiting their belongings at the airport's baggage claim, were met with disappointment as their bags failed to materialize even after a two-hour wait.
About MYFLYRIGHT
MYFLYRIGHT is a legal tech company, specialized in the support of airline passengers affected by flight delays, flight cancellations, denied boarding, delayed or lost luggage and the refund of unused airline tickets. MYFLYRIGHT was founded 2016 in Hamburg, Germany. The company operates out of 3 offices, its headquarter in Hamburg and its branches in Prague, Czech Republic and Zaporizhia, Ukraine. Currently, MYFLYRIGHT employs a team of around 25 people working in Marketing, Operations, Legal, Customer Support and IT. The organization operates across 5 markets – Germany, United Kingdom, Romania, Austria, and Switzerland.
MYFLYRIGHT's goal is to provide access to justice for all aviation passengers who experience irregularities in their flight transportation. Notably, 75% of all compensation requests submitted by passengers get rejected. Whereas, MYFLYRIGHT is able to successfully execute the applicable customer claims in more than 98% of cases at court.
Get up to 600 €* in compensation
Check claim for free