Spend time in La-La Land with a local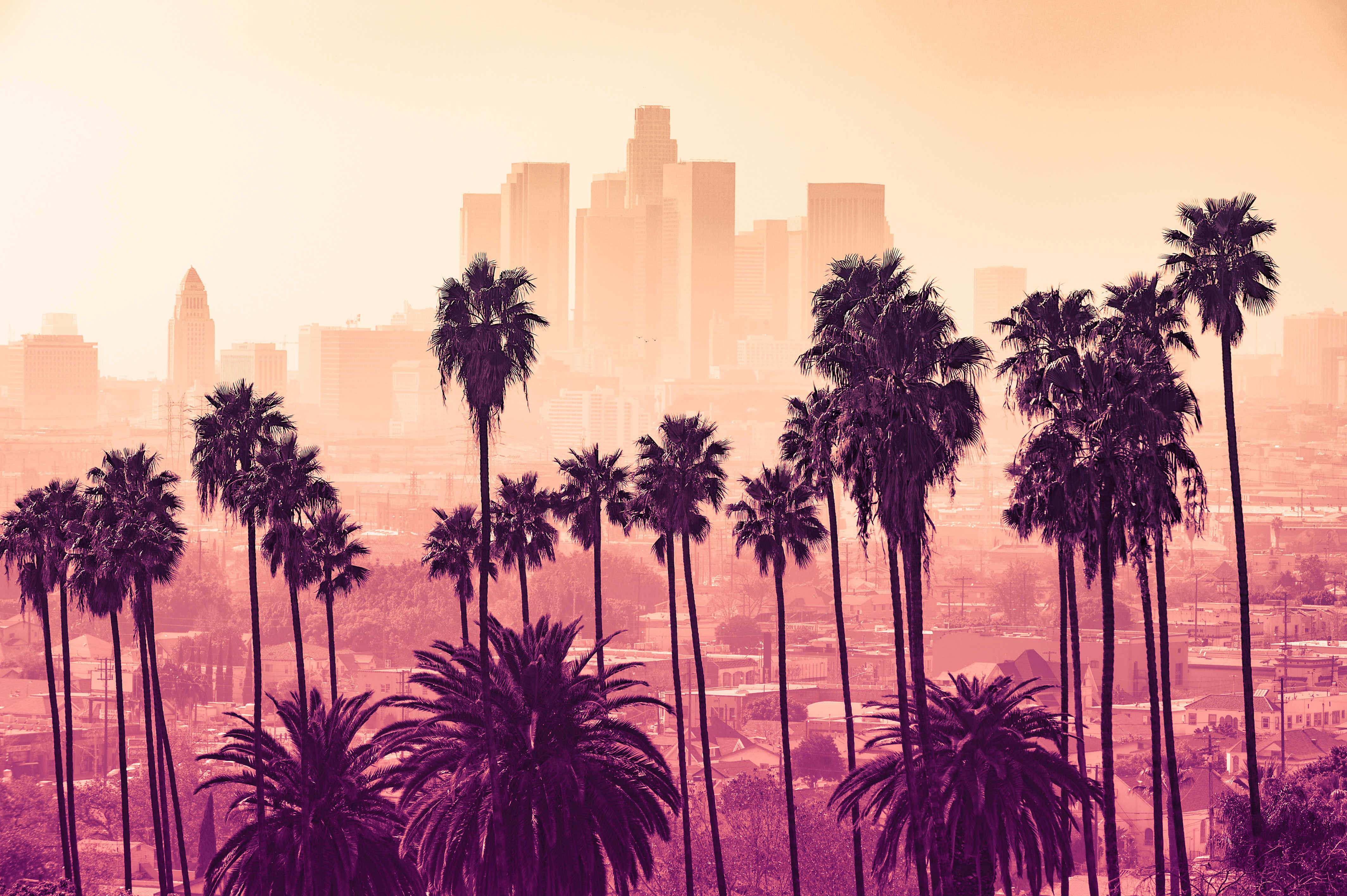 The City of Angels, La-La Land or simply LA – whatever you call it, Los Angeles is a city like no other. The centre of the film industry, LA evokes images of glamour, sunshine and beautiful people. 50 million visitors are drawn to the city every year and it's no wonder – it enjoys around 292 sunny days annually and there seems to be entertainment of every kind on every corner. One thing's for sure, you can never be bored here!
Our local today, the stylish and fashion-forward Malvika Sheth (@stylebymalvika) has the very best local tips to help you choose the top spots for dining, shopping and fun!

"Le Pain Quotidien serves tasty
breakfast classics and healthy dishes"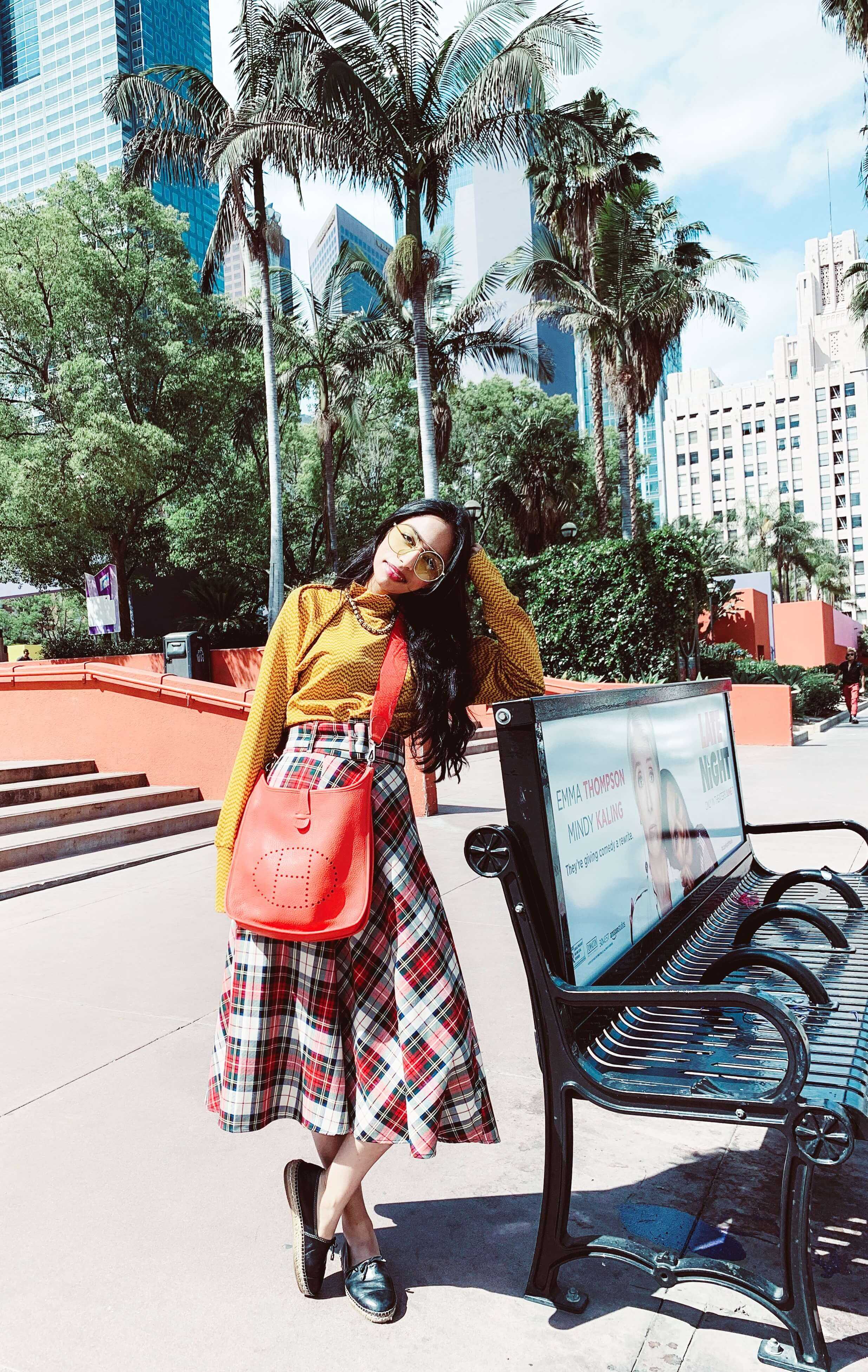 Malvika in LA, image courtesy of Malvika Sheth

Welcome to "Like Locals" Malvika! Can you tell us a little about yourself?
Greetings! I'm the Founder and Digital Fashion Content Creator behind Style by Malvika. 21 years ago, I was born in balmy California and have been raised here my whole life, apart from having spent three years in Boston to complete my undergraduate degree. After graduating recently, I'm back right where I started! I live just outside of Los Angeles, but I like to spend a lot of my time in the city, as well as neighbouring cities, since that's where you truly find the best of the best that Southern California has got to offer.
Can you describe your perfect morning?
My perfect morning routine when I'm in the city is to find my nearest Le Pain Quotidien for breakfast or brunch, which serves tasty breakfast classics like smoked salmon and eggs and healthy dishes like flavoursome smoothie bowls and avocado toast.
On other days, when I'm feeling more in the mood for some specialty food instead of the tried and tested LPQ, I know there are always some wonderful options at Grand Central Market, in the hip Downtown LA area. Here, you can find pretty much every cuisine from around the globe and it's great when you're not quite sure what you're in the mood for – try a little of everything!
After breakfast, I walk the streets of Downtown LA to capture some really wonderful content. There's something about high-rise buildings that really adds an element of "wow" to photos. When you're visiting the city, I recommend you head there too, for some unforgettable vacation snaps.

"Take a ride on the Angels Flight
funicular, a famous LA landmark"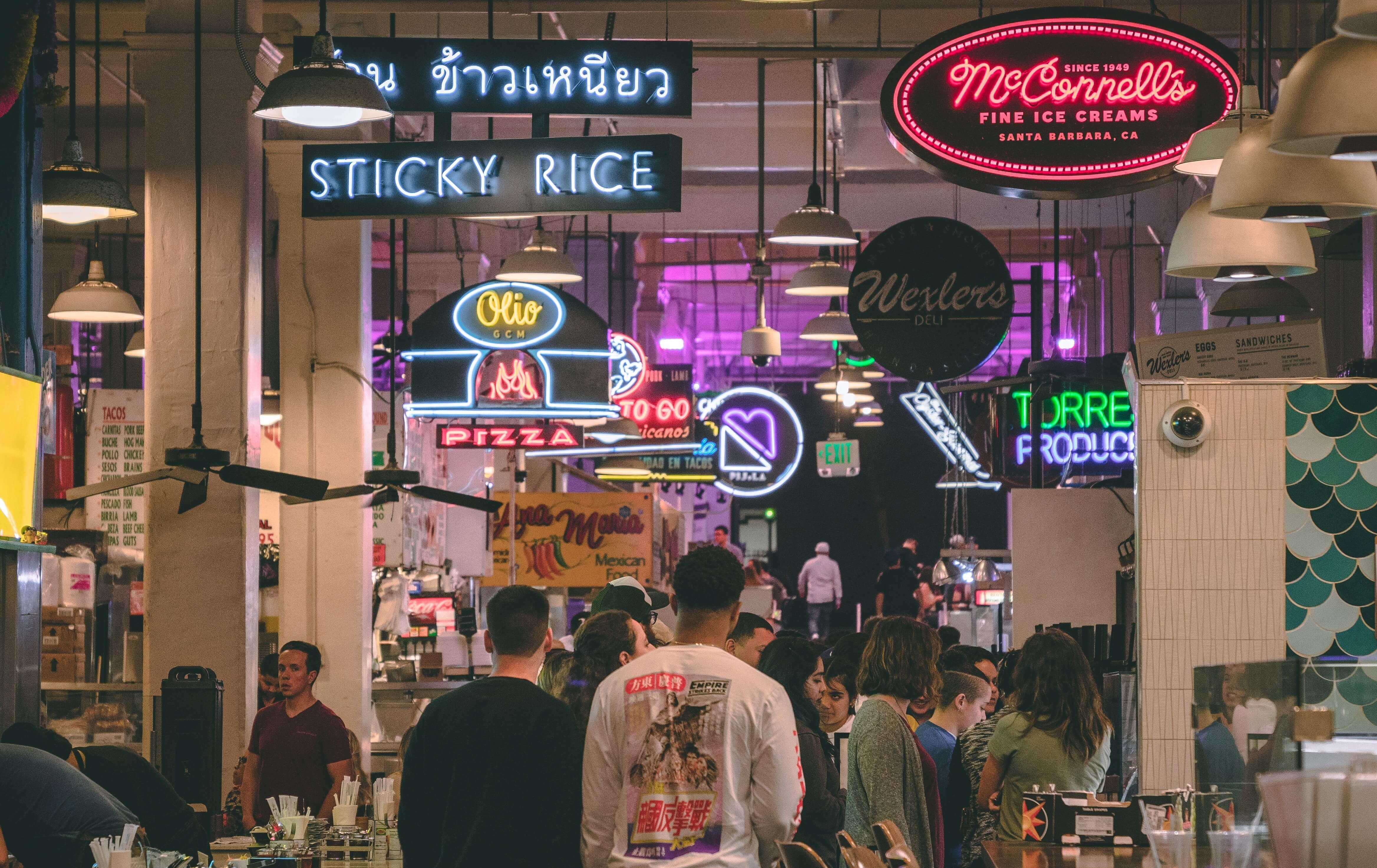 Bustling Grand Central Market*

How should we spend our afternoon in the city?
One lunch place I always enjoy meeting my friends at is Bottega Louie. It's a superb Italian restaurant with all the classics - from crispy margherita pizza to luxurious truffle pasta - but also has some of the best desserts in the city. In fact, as soon as you enter, you're immediately hit with their insane variety of macaron flavours and ornately decorated mini cakes. This is one place that I love just for the ambiance - take note, you'll likely have a bit of a wait, but this time is perfect for browsing their display of sweets.
Just a short walk from Bottega Louie, there are some really neat things to do for first time visitors to the city. OUE Skyspace has an amazing observation deck – the tallest in California – which has a 360° view over LA. But that's not all! You can go down the glass slide on the outside of the building and watch the cityscape below zoom past.
The stunning Millennium Biltmore Hotel is a Los Angeles icon and it's historic legacy is full of the Hollywood glamour that epitomises the city. It's definitely worth taking a look at the gorgeous Renaissance-style architecture or grabbing a cocktail in the elegant bar. Fun fact – the sketch for the first Oscar award was drawn on one of the hotel's napkins back in the day!
Finally, take a ride on the good old Angels Flight funicular from South Hill Street up to California Plaza. The Angels Flight is a famous LA landmark which has the honour of being the world's shortest railway and has been featured in numerous movies, such as "La La Land".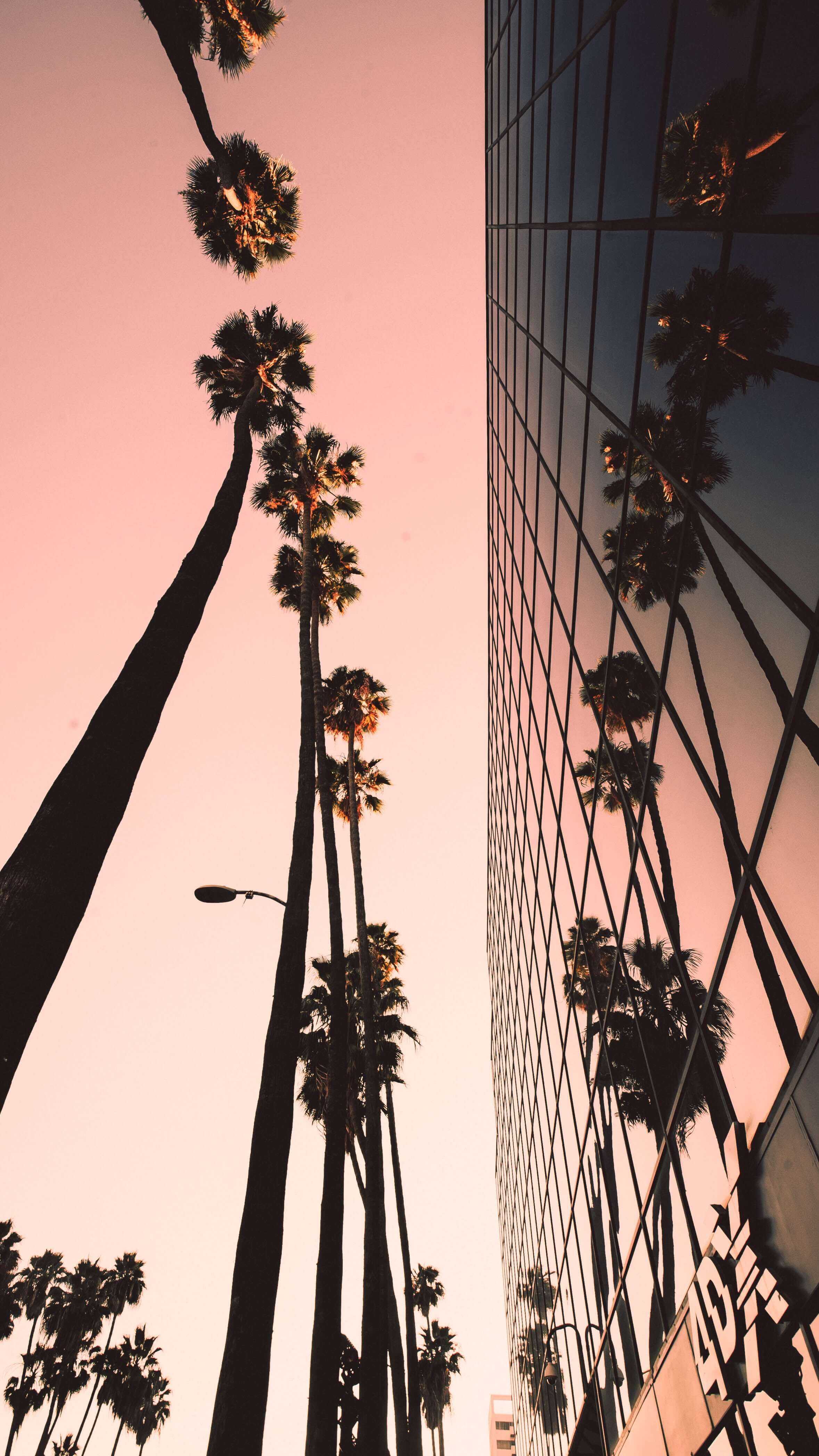 Downtown LA*

Where should we go to experience LA by night?
In Los Angeles, you're simply spoilt for choice – whatever cuisine or ambience you like, or whatever your budget, you'll always find a delicious dinner or a bite to eat. Here are just a few of my favourites:
Oftentimes, my occupation requires me to attend PR or launch events in the late afternoon or evening. These events are usually somewhere in between the cities of Los Angeles, West Hollywood, and Beverly Hills. If I'm in West Hollywood, I'll usually want to stop at Carrera Cafe for coffee, where they do super cute latte art, tasty sandwiches and fresh salads.
As dinner approaches, when I know I'm really just seeking some comfort food after a long day, I'll go straight here and order my favourite dish, the Rusticella Flatbread Pizza.
If you're looking for an unmatched and unique dinner experience, then make sure to head here. This atmospheric, elaborately decorated Spanish tapas place serves food that tastes unbelievably good, and the presentation of the dishes is by far the best I've seen in all of Los Angeles county. Having tried their food several times, it tastes even better than it looks - and that's saying something!
If I'm not in the mood for something quite as decadent, one great area to walk around in the evening is LA Live - you can hop in and out of a few restaurants in this entertainment complex, ordering a few dishes at each, and just imbibe the spirit of LA nightlife.

"Check out new exhibits
at LACMA or MOCA"



What can we do in bad weather in LA?
Poor weather in Los Angeles is really hard to come by - we're truly blessed with the amount of sunshine we get year after year. However, on the occasional rainy day, I always find that it's the perfect opportunity to check out new exhibits at LACMA (Los Angeles County Museum of the Arts) or MOCA (Museum of Contemporary Arts). Stepping into LACMA means experiencing different cities of the world. Their cultural exhibits are impressive, and I always enjoy seeing artwork from such a huge variety of cultures. Be sure to check out their website ahead of time just so you don't miss any special events they might have on. As for MOCA, this is a museum that I love personally, because contemporary art is something I derive a lot of inspiration from when it comes to fashion and styling.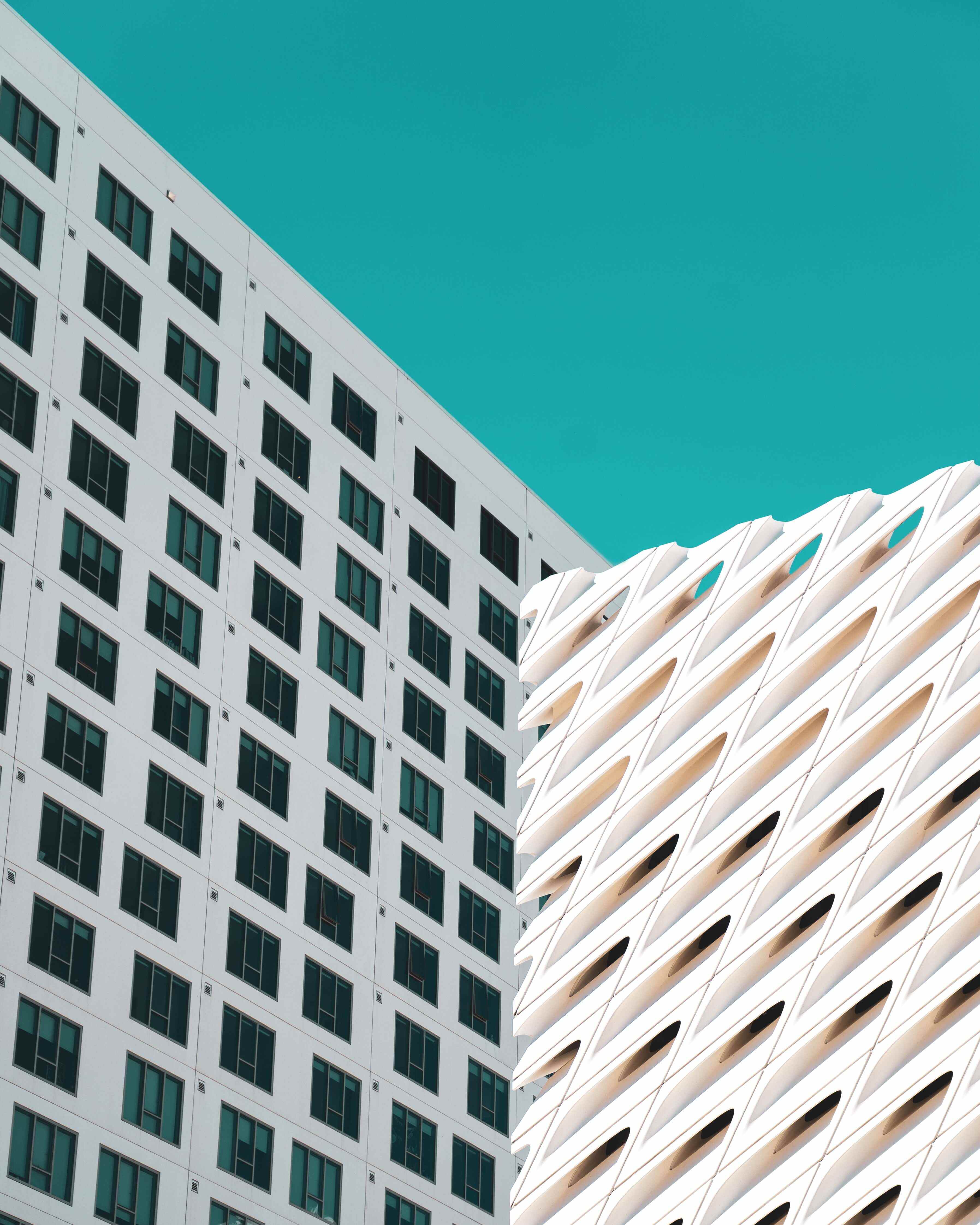 Detail of buildings, Downtown LA*

Can you recommend any day trips from the city?
Whatever time of year you visit, Disneyland is always a great idea, plus it's only a 30-minute drive from the city so it's the perfect day trip! Just use your judgement a little – for example, try and avoid weekends and school holidays. Pick a random weekday, and you'll usually be better off and have a far more enjoyable time.
Even though Los Angeles operates at a relatively slower pace than other cities, especially those on the East Coast, sometimes you do still need a bit of downtime. The best thing to do in this case would be to take the 2-hour drive down to San Diego, check into a hotel or Airbnb, and just enjoy the beach, take a few hikes, and try the wonderfully fresh, local food the city has to offer.

"If you're into luxury vintage, don't
miss The RealReal on Melrose Ave"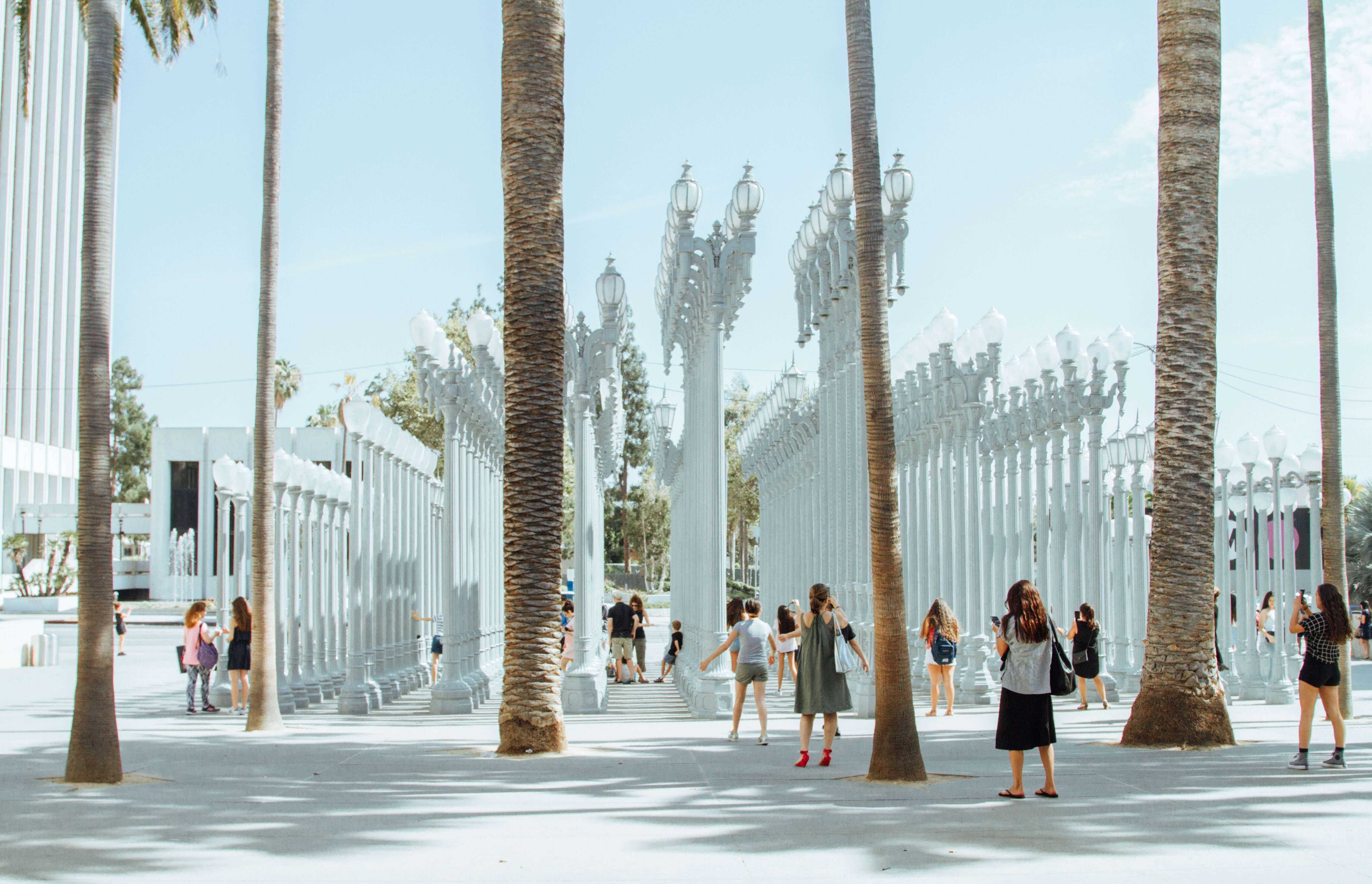 Outside LACMA*

Do you have any other tips for visitors?
Several tourists make the mistake of doing all their shopping on Rodeo Drive. I always say Rodeo Drive is indeed one of the best places to go to, but more for window shopping and taking your touristy pictures.
The best place for high-end shopping, in my opinion, is South Coast Plaza which is located in Costa Mesa, about a 1-hour drive from Los Angeles and if you're into luxury vintage, don't miss The RealReal on Melrose Ave.
If you're visiting during Christmas time, you absolutely have to step into the Beverly Wilshire Hotel on Rodeo Drive as its festive decorations are fabulously over the top. Otherwise, be sure to spend a day at The Americana at Brand, where you can shop, enjoy delicious food, stroll around, take in the Christmas spirit, and end your day with a movie at their theatre!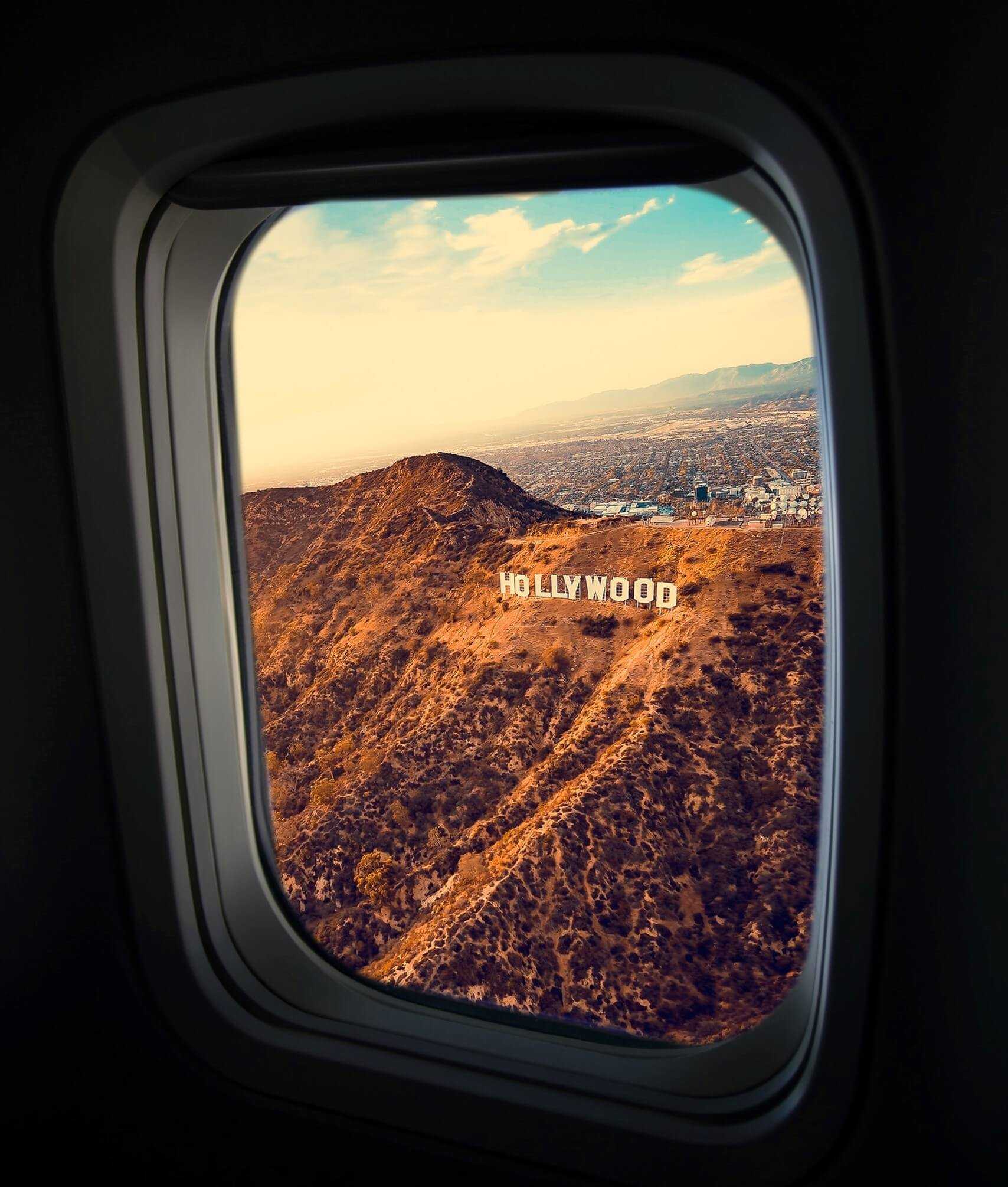 The iconic Hollywood Sign*


*Images: Unsplash
Top image: Adobe Stock
Latest posts
Winter weather disruptions at Frankfurt Airport
The onset of severe winter weather has wreaked havoc on flight operations at Frankfurt Airport, causing widespread flight cancellations and flight delays.
Best German Christmas markets
Here's a closer look at some of our picks for the best Christmas markets in Germany.
Best places to visit in December: Winter destinations for every traveler
Whether you seek the adrenaline rush of skiing down snow-clad slopes or the soothing warmth of a tropical beach, there's a winter vacation destination tailored just for you.
About MYFLYRIGHT
MYFLYRIGHT is a legal tech company, specialized in the support of airline passengers affected by flight delays, flight cancellations, denied boarding, delayed or lost luggage and the refund of unused airline tickets. MYFLYRIGHT was founded 2016 in Hamburg, Germany. The company operates out of 3 offices, its headquarter in Hamburg and its branches in Prague, Czech Republic and Zaporizhia, Ukraine. Currently, MYFLYRIGHT employs a team of around 25 people working in Marketing, Operations, Legal, Customer Support and IT. The organization operates across 5 markets – Germany, United Kingdom, Romania, Austria, and Switzerland.
MYFLYRIGHT's goal is to provide access to justice for all aviation passengers who experience irregularities in their flight transportation. Notably, 75% of all compensation requests submitted by passengers get rejected. Whereas, MYFLYRIGHT is able to successfully execute the applicable customer claims in more than 98% of cases at court.
Get up to 600 €* in compensation
Check claim for free