The perfect city break: Krakow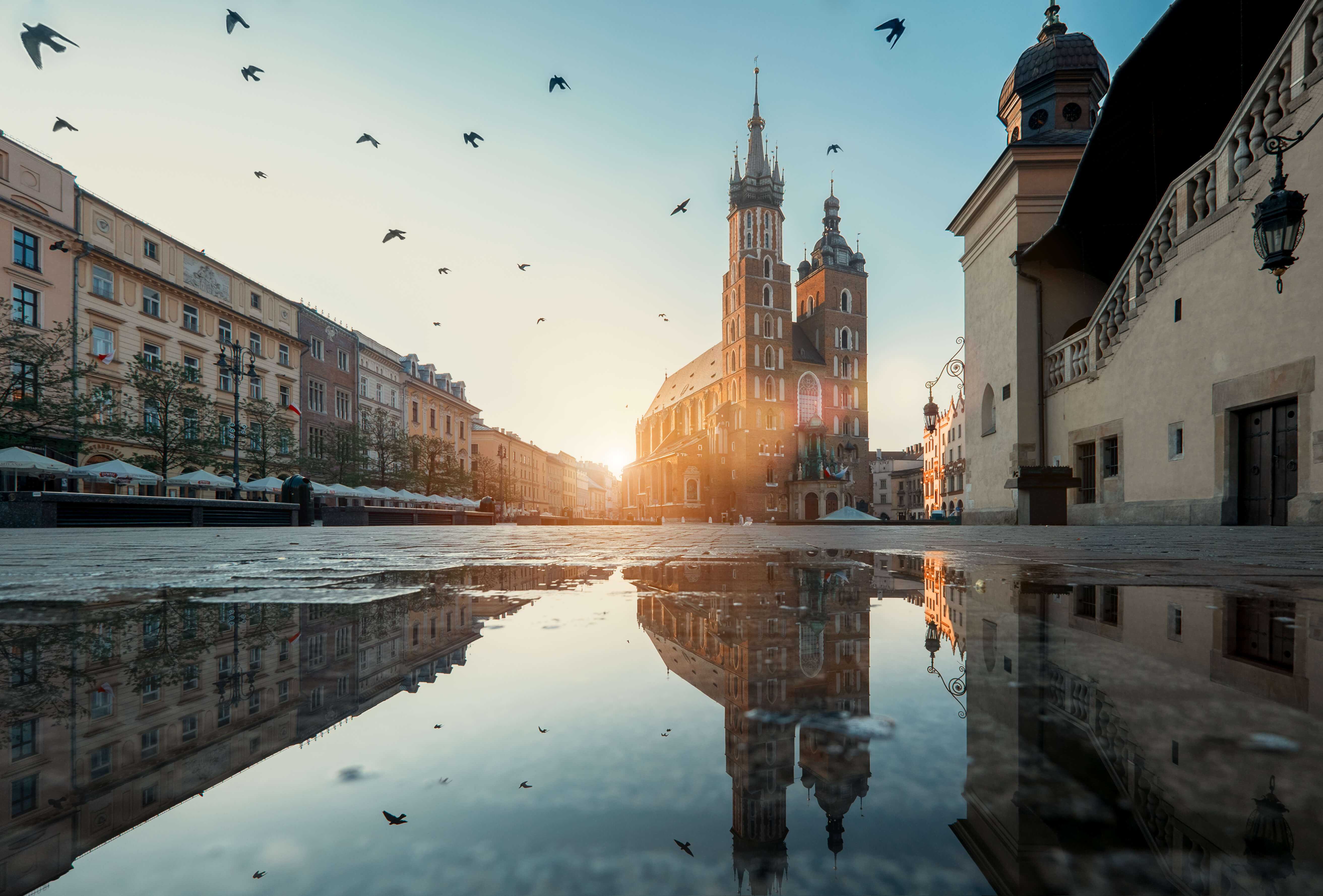 A note from MYFLYRIGHT: We realise that people currently aren't travelling unless absolutely necessary and it's uncertain when things will get back to normal. However, we decided to publish our latest blog on the beautiful city of Krakow to spread a bit of positivity and to give you some inspiration for where to explore when things do finally improve. For now, please enjoy the read 😊

Hi everyone, it's Sopiko again, MYFLYRIGHT's Communications and Online Marketing Specialist. As a travel enthusiast, I try to travel as much as possible, as a student, I try to keep my travel costs as low as I can and as a full-time employee, I try not to take too many days off! When I realized I could check the boxes of all three of these criteria, I decided to plan my trip to Krakow. It is a beautiful town with full history and interesting attractions, it has relatively cheap accommodation, local public transport, food and drink. Plus, it's easily reachable from Prague so on one Thursday I arrived in Krakow ready for my long weekend getaway.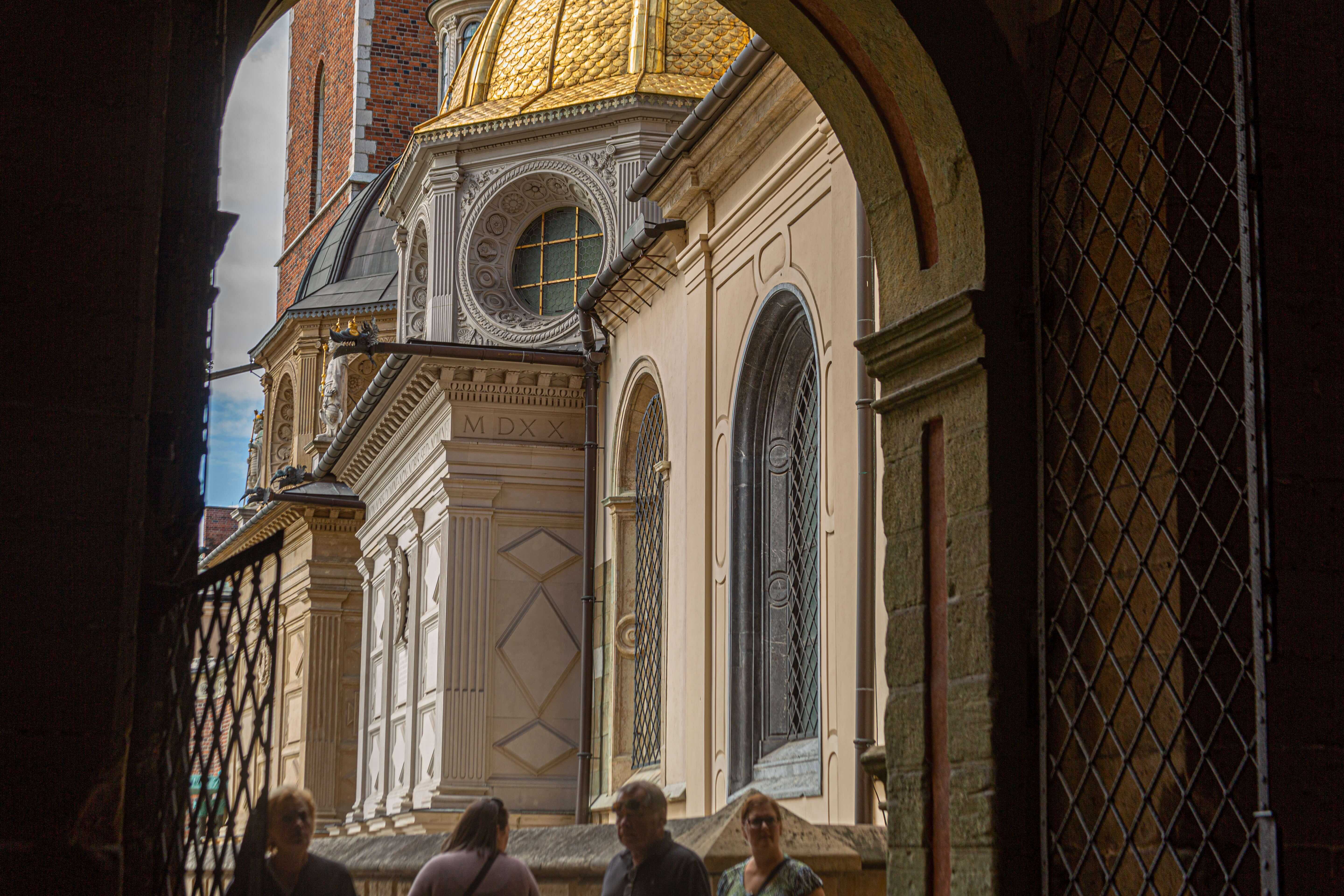 A glimpse into Old Town, image: Unsplash

I arrived at the MDA Bus Station, which is right next to the Main Railway Station. The train station is merged with the largest shopping mall in town, Galeria Krakowska where you could easily spend an entire afternoon if you're into retail therapy. As it was my first time in town, I was eager to explore, so I went on foot to my Airbnb - but I would suggest using apps like Uber or Bolt to get into town if you're not into walking. Everything is within walking distance in the city centre, so splashing out on a transport pass is a bit extra in my opinion 😊! Uber will cost you around the same as a tram ticket if you're feeling a little lazy.
I stayed in a beautiful, spacious apartment just a few minutes from the castle. I really cannot recommend this area enough. The river, Old Town's Main Square and the Castle are easy to reach on foot in around 10 minutes. Just a few blocks away you can choose from numerous of cute cafes and cosy bars in the renovated Jewish Quarter.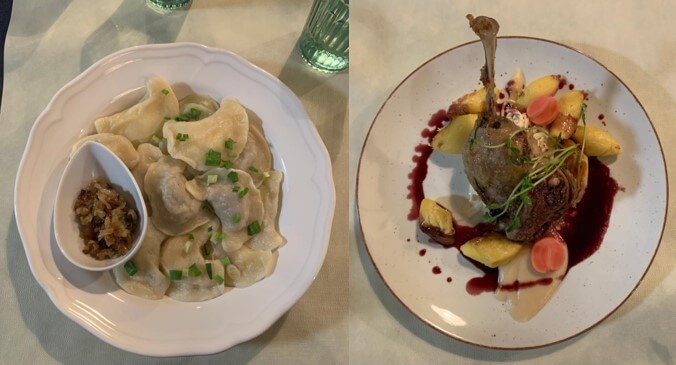 Delicious food at Nakryto

If you are a breakfast person I suggest checking out Cytat cafe. They serve amazing mini pancakes and great coffee. If you are not a breakfast person I still strongly recommend this place as it's an excellent spot to read a book, finish some work on your laptop or simply sit back and enjoy the Harry Potter and Star Wars references in the interior and on the menu.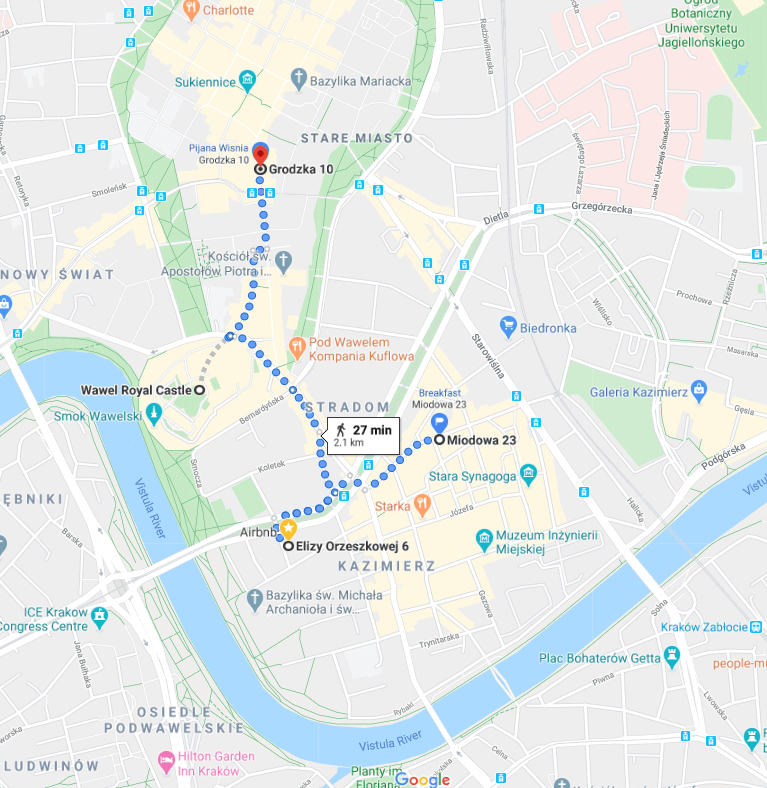 My stroll through Old Town and to the Castle

Trying some local food is always a must for me when on a trip, so in Krakow I stopped by Nakryto. They serve traditional central European and Silesian cuisine with a modern twist. I was certainly not disappointed. Alternatively, I would recommend Kuchnia U Doroty, which has a more a more homey feel and down-to-earth prices. You should also pay a visit to Pijana Wisnia bar, where you can taste traditional cherry liqueur under a beautiful, sparkling chandelier.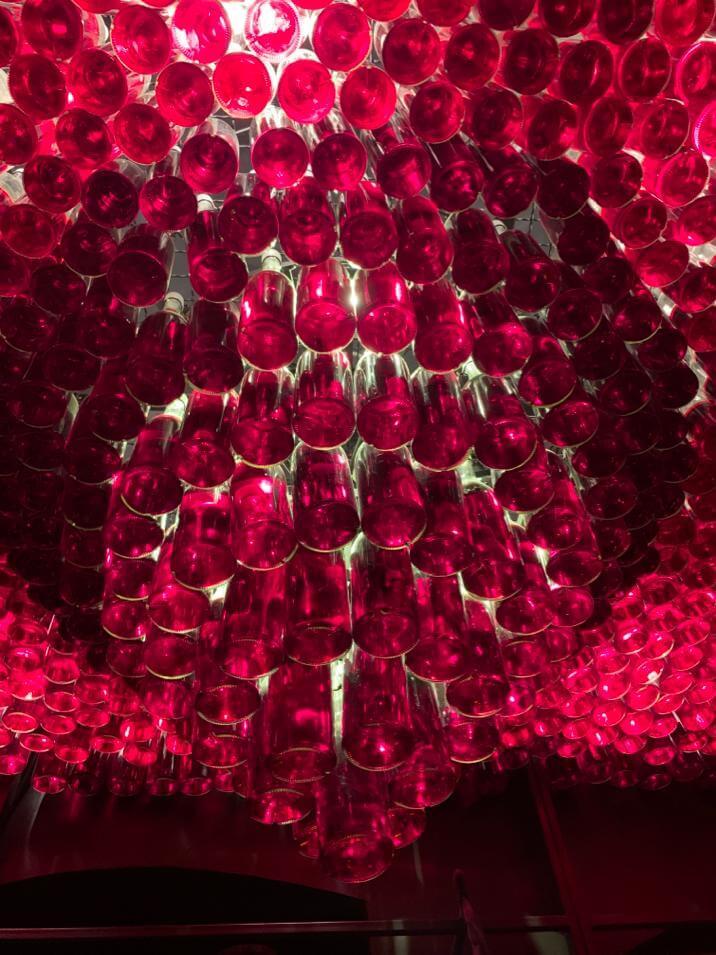 Pijana Wisnia's chandelier

Old Town, Wawel Royal Castle and the Main Market Square are the top attractions in Krakow and can easily be visited in one day. But what also makes Krakow the perfect destination for long weekend trips are the endless opportunities for day trips.
An Auschwitz-Birkenau day trip is probably one of the most popular tours one can take from Krakow. We have all seen this terrible sight on screens and in books, but there is something about going there in real life; the air is just thicker. I would recommend pre-booking your trip in advance online since lines are huge and, if you don't want to be part of a guided tour, entrance is free with an online booking. Getting there is very easy from Krakow bus station, minibuses leave every 20-30 minutes but make sure to buy your ticket ahead of time since this guarantees you seating space. Drivers take cash for the ride, but you might be left standing for this 1-hour ride unless you have a prepaid ticket.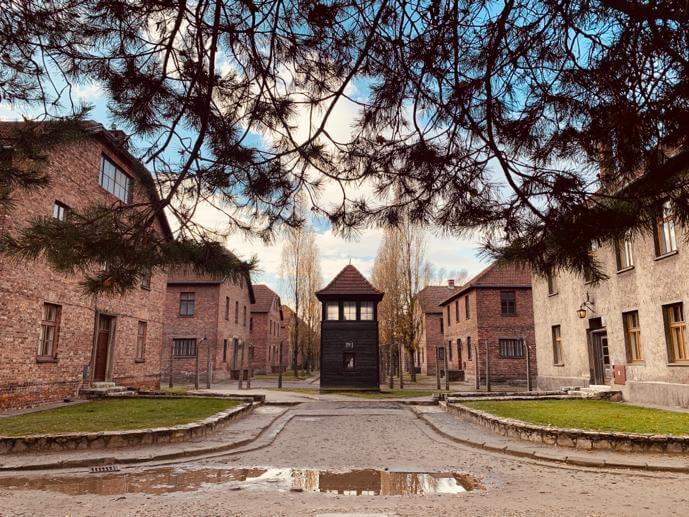 Auschwitz-Birkenau

Another must-see near Krakow is Wieliczka Salt Mine. The mine reaches a depth of over 320 metres and has passages that stretch for over 250 kilometres. It's an entire underground city with restaurants, concert halls, chapels, sleeping chambers and of course industrial salt mining sights. Exploring this subterranean maze is truly unforgettable but I would not recommend for claustrophobes! Getting inside is impossible unless you are part of a guided tour and a reservation has to be made a few weeks in advance as spots sell out quickly. The town of Wieliczka is very well connected to Krakow, local trains run there a few times every hour. It's actually the last station on the Airport line so traveling directly from the mine to the airport is very simple. I took this day trip on my last day in Krakow and went directly to the terminal afterwards to catch my flight. The whole journey from Wieliczka to the airport takes around 40 minutes with a midway stop at Krakow Central Station.

My impressions of Krakow are really positive, I think it is one of the most underrated destinations, but I strongly believe it has the full potential to become one of the top tourist spots in the future. The city has great infrastructure, the food is delicious, locals are friendly, beer is cheap and there's plenty to see. If you haven't been to Krakow yet, start planning your trip!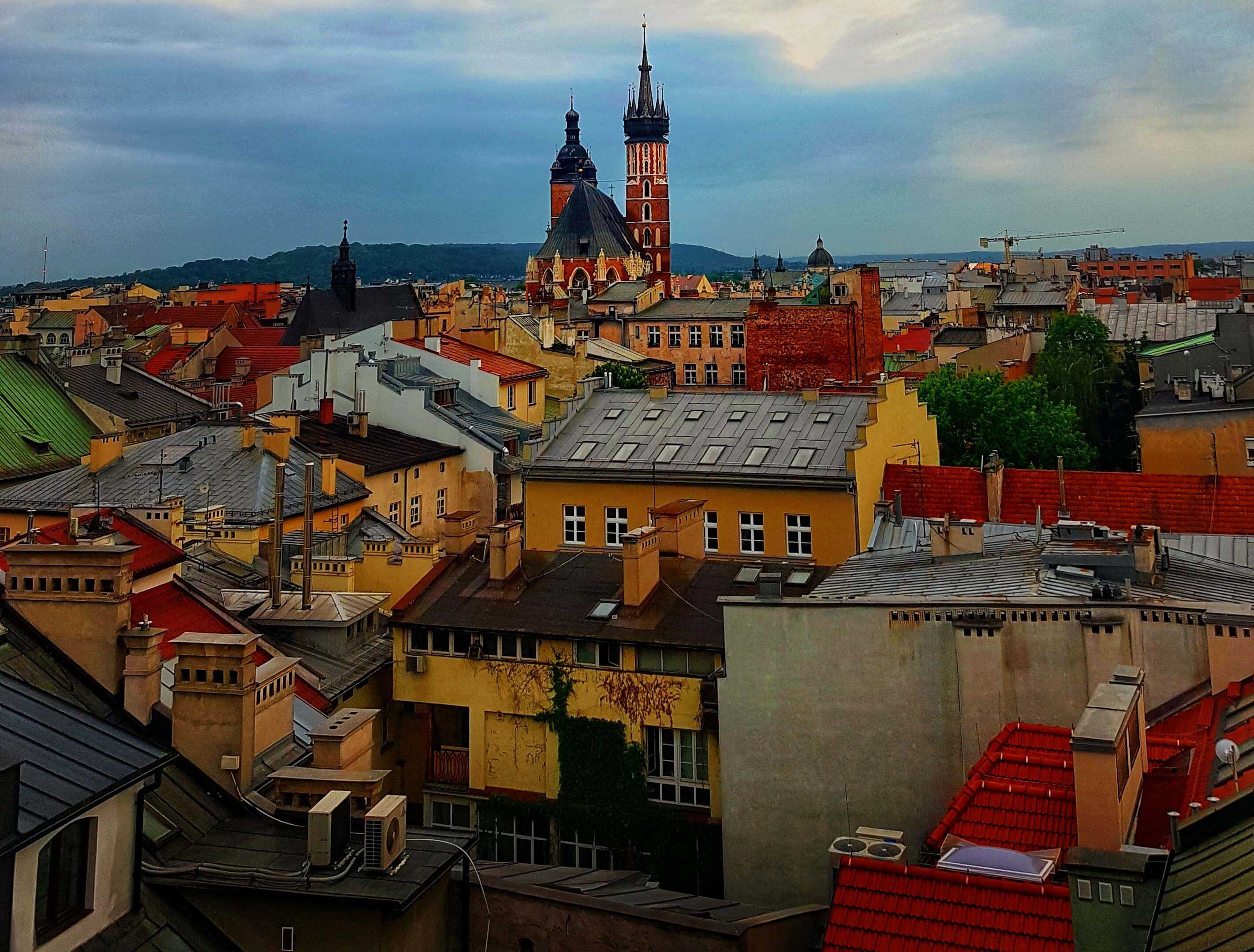 View over Krakow's rooftops, image: Unsplash

All images courtesy of Sopiko Dvalishvili unless otherwise specified

Top image: Adobe Stock
Latest posts
Swiss Air passengers left in disarray as plane lands in Spain without luggage
Passengers, awaiting their belongings at the airport's baggage claim, were met with disappointment as their bags failed to materialize even after a two-hour wait.
Ural Airlines' Airbus A320 forced to make emergency landing in wheat field
An Airbus A320 operated by Ural Airlines was faced with the possibility of running out of fuel, leading its crew to execute an emergency landing in a wheat field.
20 000 sheep take flight to Saudi Arabia
In addition to machinery, textiles, time-sensitive items like medications and food, live animals are often transported by air freight.
About MYFLYRIGHT
MYFLYRIGHT is a legal tech company, specialized in the support of airline passengers affected by flight delays, flight cancellations, denied boarding, delayed or lost luggage and the refund of unused airline tickets. MYFLYRIGHT was founded 2016 in Hamburg, Germany. The company operates out of 3 offices, its headquarter in Hamburg and its branches in Prague, Czech Republic and Zaporizhia, Ukraine. Currently, MYFLYRIGHT employs a team of around 25 people working in Marketing, Operations, Legal, Customer Support and IT. The organization operates across 5 markets – Germany, United Kingdom, Romania, Austria, and Switzerland.
MYFLYRIGHT's goal is to provide access to justice for all aviation passengers who experience irregularities in their flight transportation. Notably, 75% of all compensation requests submitted by passengers get rejected. Whereas, MYFLYRIGHT is able to successfully execute the applicable customer claims in more than 98% of cases at court.
Get up to 600 €* in compensation
Check claim for free