Flight delay over 3 hours? Your passenger rights
The world of air passenger rights can be a confusing one, and when you're stuck in the airport, late to an important event or miss a connecting flight it's understandable that most people panic in the moment. When your flight is delayed it's easy to despair, but you don't have to tackle the situation right then and there. Rest assured, there is help out there and you can receive up to 600 € in compensation, so it really pays to know your rights.
Flight delay: Rules for compensation
When it comes to getting compensation for a flight delay under the EU Passenger Rights Regulation, the magic number is 3. Once your flight is delayed by 3 hours, you become eligible for compensation.
But when is a flight technically considered delayed? Many passengers understandably believe this is the time spent waiting for the flight to depart, but this isn't actually the case. In fact, the delay is calculated at the arrival destination, and the plane has officially landed when at least one door is open, and passengers can disembark. For example, it could happen that the flight departs on time, but due to some technical difficulty after landing, the passengers are on board the plane for 3 hours, unable to exit. In this case, passengers would be entitled to compensation.
If your flight has been delayed by at least 3 hours at your destination, you are well on your way to a successful case. To make sure of this, you also need to check the flight route and distance, which will also affect how much you can claim. Essentially, you can receive between 250 € and 600 € from the airline, to find more details on the rules for flight delay compensation read this article.

Can I claim for flight delay?
One of the trickiest parts of attempting to claim for flight delay compensation is finding out if you actually have a case in the first place. There are two words which will mean your case is invalid: 'extraordinary circumstance'. This is a situation which is unpredictable and sudden (such as a storm or ground personnel strike) and when this is the cause of your delay, you unfortunately cannot claim.
The good news is that, regardless of whether the delay is caused by extraordinary circumstances or not, airlines must still provide you with certain services, even with a flight delay of 2 hours. You should get free meals and refreshments and be given access to free means of communication – so, you may not be entitled to financial compensation, but you can at least receive something in return for the inconvenience.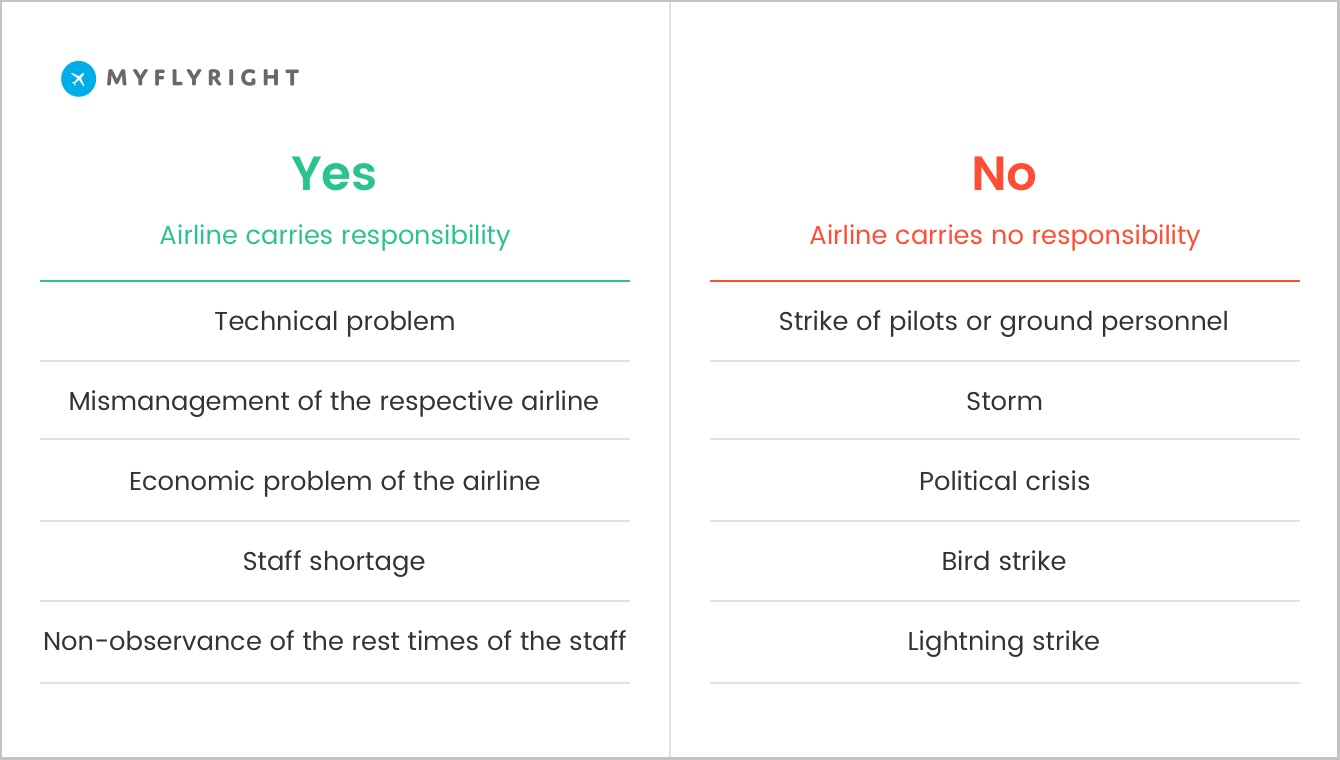 How to claim for flight compensation
Hopefully, if you've experienced a flight delay, after reading this article you feel somewhat assured. Of course, money doesn't save a ruined holiday, but there is some recompense for what you've gone through. This is where MYFLYRIGHT can step in and make the whole claims process straightforward and free of frustration. As you have read, there are several elements which build a successful case and within each one, there are additional factors at play.
However, you can very easily find out whether your claim is valid with our compensation calculator, which assesses information related to your flight incredibly quickly. Once we've established you have a case against the airline, we can process your claim for you – all you need to do is upload the relevant documents, which only takes around 3 minutes, and then you can sit back and relax.
Even with the worst flight experience, you can rest easy by remembering MYFLYRIGHT is here to fight for your passenger rights!
Get up to 600 €* in compensation