Can you claim compensation for a missed connecting flight?
Even a small delay of your first flight can mean that you miss your connecting flight, and you may have to wait for a replacement flight for several hours. A missed connecting flight and waiting at the airport can be particularly annoying, but also could quickly become a financial matter. You should know that in case you do miss your connection, you still have passenger rights, and you are entitled to compensation for your costs. The compensation is based on the flight distance to the destination and is calculated as follows - 600 €, 400 € or 250 €. If the airline offers you an alternative flight in the event of a missed connecting flight and you reach your destination within the delay limit, the compensation amount can be reduced by up to 50%. If you do not wish to take the alternative flight, you will be reimbursed partially for your ticket. Additionally, you are entitled to assistance on the day of your travel. You are entitled to free meals and refreshments and the possibility of using telecommunication means. If your alternative flight does not depart until the next day, you can also count on the airline to pay for your accommodation and transfer from and to the airport.
If you have missed your connecting flight because the transfer time was too short or due to a flight irregularity, MYFLYRIGHT's aviation law experts will be happy to advise you and support you in enforcing your air passenger rights. On our homepage www.myflyright.com you will find a compensation calculator, with which you can check completely free of charge whether there is a possible claim for compensation in your case. If you then wish to make use of our help, we will enforce your right without any cost risk for you. We only charge a commission of 25% plus VAT in case of success. If we have to engage our external lawyers, we charge a surcharge of 10%. For certain cases, an immediate pay-out is provided, where the compensation is sent within 24 hours of us receiving the relevant documentation required for your claim. For these, a 35% commission fee plus VAT is charged.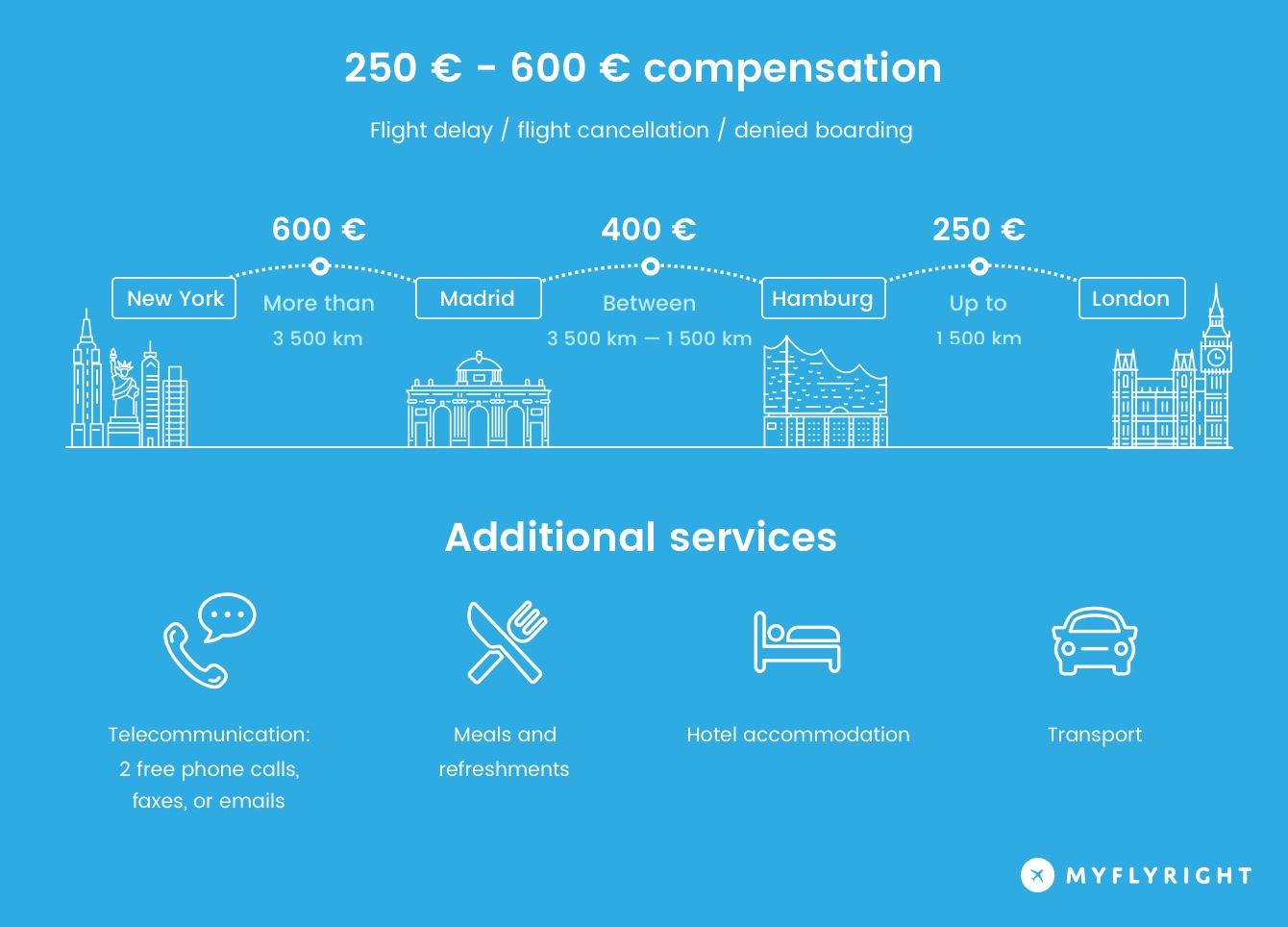 Missed connecting flight – meaning
Whether you travel in your free time or during a business trip, you might experience flight irregularities such as flight delays and flight cancellations. This in turn means that whenever your first flight is delayed, the connecting flight will take off without you. Even if the airline offers a later replacement flight, this does not help passengers with their anger and frustration. Unfortunately, this situation happens more often than you think, but there is often a solution in the event of a missed connecting flight: the EU Air Passenger Rights Regulation. This regulation states that you are also entitled to compensation in the event of a missed connecting flight, possibly due to a delay. Your right to compensation already exists starting from a flight delay of three hours. The amount of compensation depends on your flight distance and can be recognized retroactively for up to three years. One of the prerequisites is that you checked in on time, all booking documents were available and the passengers did not pose any safety or health risks to themselves or other passengers.
Your passenger rights: Missed connecting flight
Under the EU Regulation 261/2004 on air passenger rights, passengers affected by a flight delay, that results in a missed connection flight, are entitled to compensation, additional services such as meals and refreshments, accommodation, and transport. In addition, the airline must offer an alternative means of transportation, or one receives a refund for the ticket. It must also be noted that to enforce your claim, the delay must not have been caused by extraordinary circumstances. When the reason for a flight delay is out of the airline's hands, for example a lightning strike, this is deemed an "extraordinary circumstance" and the airline is exempt from financially compensating passengers in this case.
Missed connecting flight: Compensation rights by route
In order to understand if you have a claim and to calculate the compensation amount, the variables which must be considered are the airline with which you fly, the country of departure and the country of destination. The EU Passenger Rights Regulation protects passengers in case of overbooking if:
The flight is within the EU, whether the airline is headquartered in the EU or not.
The flight departs from an EU country and the destination airport is in a non-EU country, regardless of where the headquarters of the airline are.
The flight departs from a non-EU country and lands in an EU country, providing the airline is headquartered in the EU.
The table below outlines the flight routes which are covered by the EU Regulation.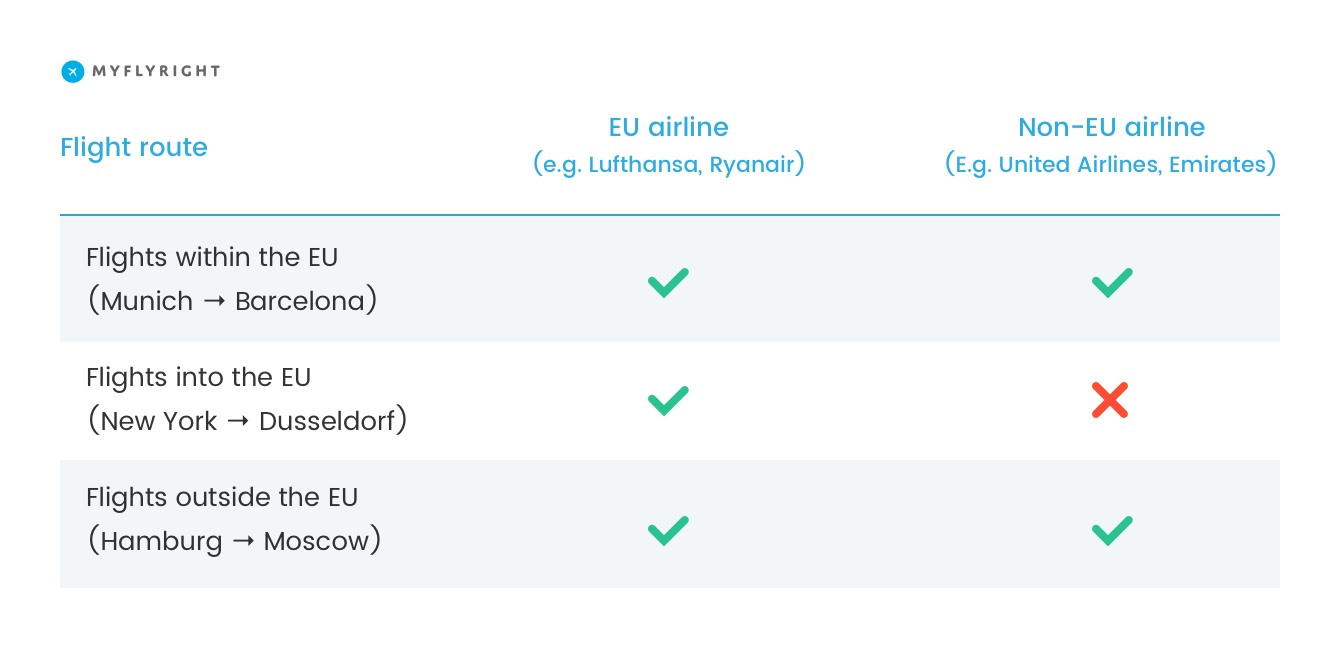 In addition to overbooking, flight delays, cancelled flights and missed connecting flights are also covered by the EU regulation. For more information, please take a look at our articles Flight delay and Flight cancellation. In these cases, there is a right to compensation if one arrives at the destination airport with a delay of at least three hours. You also have the right to compensation if you take an alternative flight provided by the airline. However, the payment amounts previously described will be reduced by 50% if the flight falls within a specific period of time. Below you will find a table which explains this in more detail:

Missed connecting flight: Compensation rules
When connecting flights are made on the same reservation, the airline from which the passengers purchase the tickets is responsible for the entire journey, regardless of whether the connecting flight is with another, non-EU airline. Connecting flights which are departing from and landing in a non-EU country are also covered in this instance. This extension of compensation requirements was ruled by The Court of Justice of the European Union on July 11, 2019. The change to the EU Regulation 261 / 2004 was decided upon according to a case involving passengers travelling from Prague to Bangkok under a single reservation.
The case is as follows:
Flights were purchased from Prague, which is in the EU, via Abu Dhabi, which is in a non-EU country, with a final destination of Bangkok, which is also outside the EU.
The first flight was on Czech Airlines, an EU airline, and the connecting flight was on Etihad, a non-EU airline.
The Czech Airlines flight landed at the scheduled time in Abu Dhabi, whereas the Etihad flight arrived in Bangkok 8 hours late.
Since the tickets were booked under one reservation, the court ruled that Czech Airlines must provide compensation to the affected passengers, even though the first flight was on time. This ruling applies to any connecting flight irregularity, such as denied boarding and delayed or cancelled flights, causing a delay of 3 hours or more at the destination airport, when flights were purchased as a single reservation. This is useful information to have when booking flights, as it broadens the scope in terms of possible compensation for air passengers.
Missed connection compensation: Group travel
If you are affected by a missed connection and would like to file a joint class action with a few other passengers (for example, family or friends traveling with you), this is of course also possible. In addition, you can file a case even if you are not the person who paid for the tickets. You only need to be a passenger on the booking. In that case, you also act as a contact person to your friends and family or the other passengers. It is important to mention that the claimant is only the respective passenger - regardless of who paid for the trip in the end.
Missed connecting flight – additional services
Any passenger affected by flight irregularities is entitled to care services. These include free meals and refreshments as well as two telephone calls, faxes or even e-mails. If you have to wait until the next day for your alternative flight, it is important to know that the airline must also cover the cost of the hotel and a transfer to and from the airport. If it is even necessary to wait longer, then several nights will be paid. The following overview shows the rights and services you are entitled to in case of a flight delay: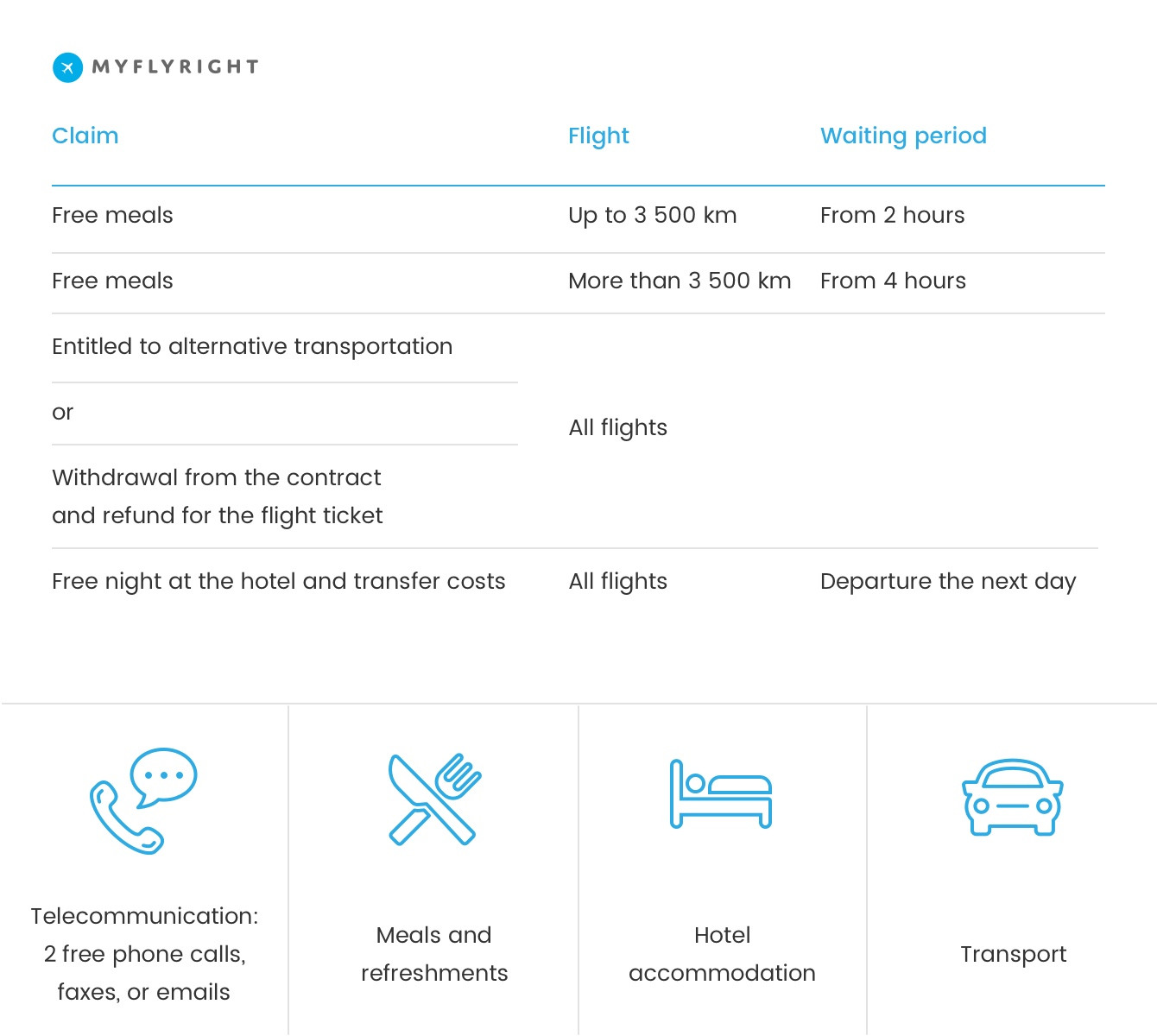 Missed connecting flight: Rights for package travel
When booking a package tour, the flight, accommodation and sometimes travel activities and other services are purchased together. For this type of trip, you are also protected under the EU Passenger Rights Regulation, just like anyone travelling independently, meaning you also have the opportunity of claiming a compensation amount of up to 600 €. Moreover, in case you reach your destination over 4 hours later than the original flight, you have the right to enforce a claim against the tour operator for a price reduction – together with the right to claim against the airline. In this case the Frankfurt Table gives you a guideline on the possible price reductions. The table is a summary of judgements of the District Court of Frankfurt where passengers have experienced flight disruptions and can be used a guideline when enforcing a passenger claim.
Business travel – compensation for missed connecting flight
Business travel is defined as travel for work purposes, usually on behalf of the company. The term applies to both the journey to the destination and the trip back home. In most cases, the business trip to another country involves one or several flights. Even though the flights are paid by the company, the passenger still reserves the right to compensation in most cases of flight irregularities such as flight delay, flight cancellation and denied boarding. The only exception is when the traveler's contract with the company specifies otherwise. Some companies include clauses in the contract that the employees need to waive their right to flight compensation during business trips.
Even in case of missed connecting flight during business travel, passengers have the same rights as individual travelers. The amount of the compensation depends on the flight distance and business travelers might be entitled to either 250 €, 300 €, 400 € or 600 €. The airline must also provide passengers with additional services including free meals, refreshments and accommodation, depending on the length of their delay.
What to do in case of missed connecting flight
First of all, it is important that you immediately visit the ticket counter of the respective airline. There, you will usually be informed about alternative flights. The airlines are obliged to look for a satisfactory solution. In order to make a claim for compensation later, it is advisable to keep your travel documents such as booking confirmation, boarding passes and baggage tags. You can also ask for a confirmation in writing from the staff stating the exact facts of the missed connection. In case your alternative flight departs the next day, and you require a hotel, any meals or transport, it is also of the utmost importance to keep the receipts.
Missed connection – baggage lost
In case, the airline loses or delays your baggage, you are entitled to compensation of up to 1 500 €. You can also be reimbursed for replacement and so-called emergency purchases (such as toiletries and underwear) by the airline, within reason. Excessive expenses such as branded clothes and expensive technology are usually not accepted. It is crucial to note that if your baggage is delayed, you may claim for emergency purchases only, during the time you do not have your baggage. If your suitcase arrives, for instance, 5 days later, you are not allowed to purchase any further hygiene products or clothing at the airline's expense. You can either hire MYFLYRIGHT to enforce your right or contact the airline.
Missed connecting flight - ticket refund
If you miss your next flight, you are able to request a ticket refund from the airline. When contacting the airline about the refund, it is important to know your rights and what you should receive from the airline. In addition to compensation of up to 600 €, you should receive a full ticket refund or a refund for unused legs of the journey and the earliest possible return flight, free of charge, to the original departure airport.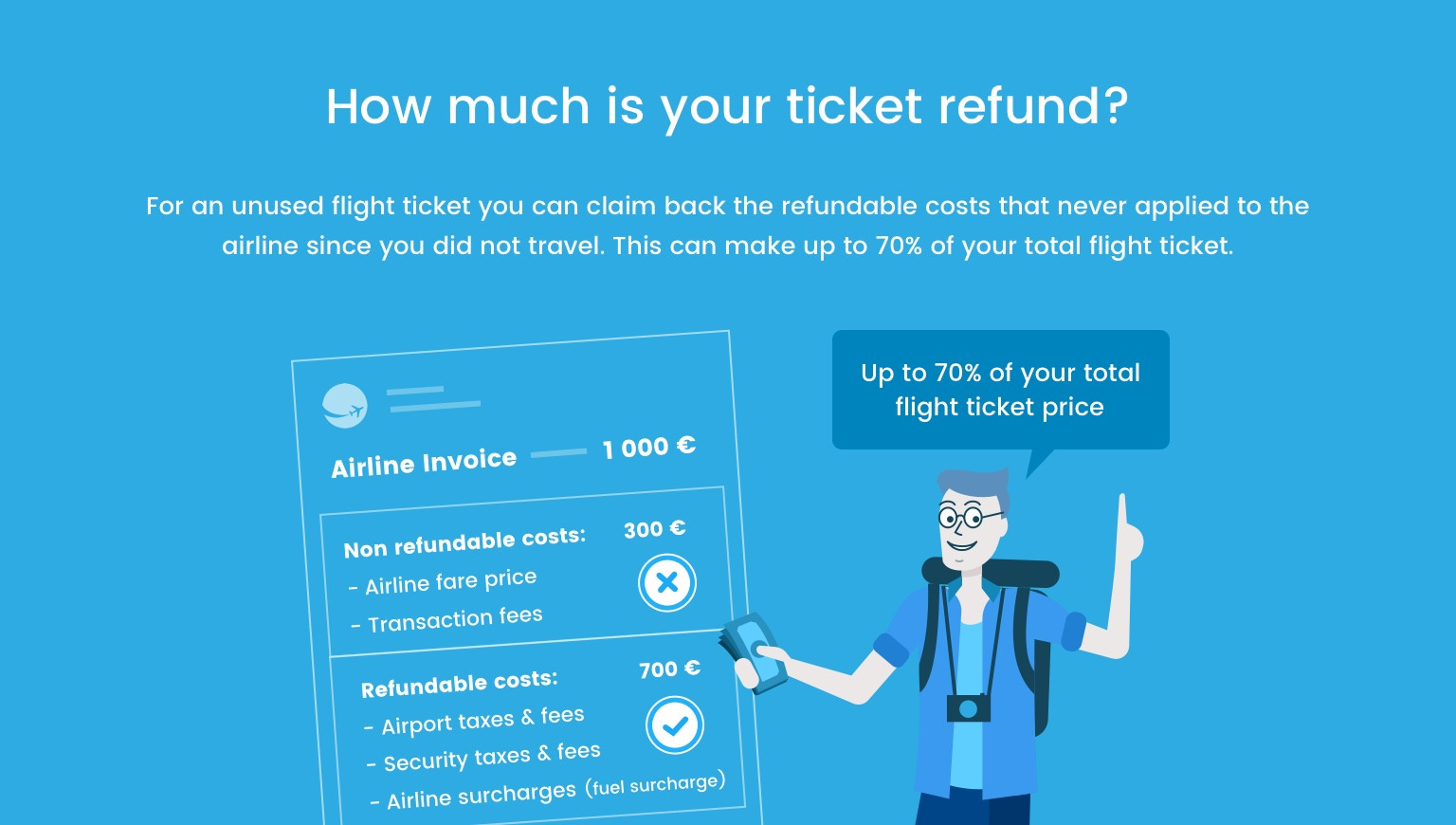 Help from MYFLYRIGHT
If you missed your connecting flight, you could always contact MYFLYRIGHT. To avoid the financial risk, as well as the time-consuming and stressful nature of the process, you can delegate your case to us. We are experts in passenger rights, and we can help you get the compensation you are entitled to. If you wish, MYFLYRIGHT will pursue your case against the airline without any cost risk.
Below you will find a list of the most common cases of missed connecting flights that we have processed.
Ryanair: Missed connecting flight
Easyjet: Missed connecting flight
Wizzair: Missed connecting flight
Lufthansa: Missed connecting flight
Air Europa: Missed connecting flight
Norwegian: Missed connecting flight
British Airways: Missed connecting flight
Air France: Missed connecting flight
Get up to 600 €* in compensation