A Mallorca holiday: Sun, sea & sangria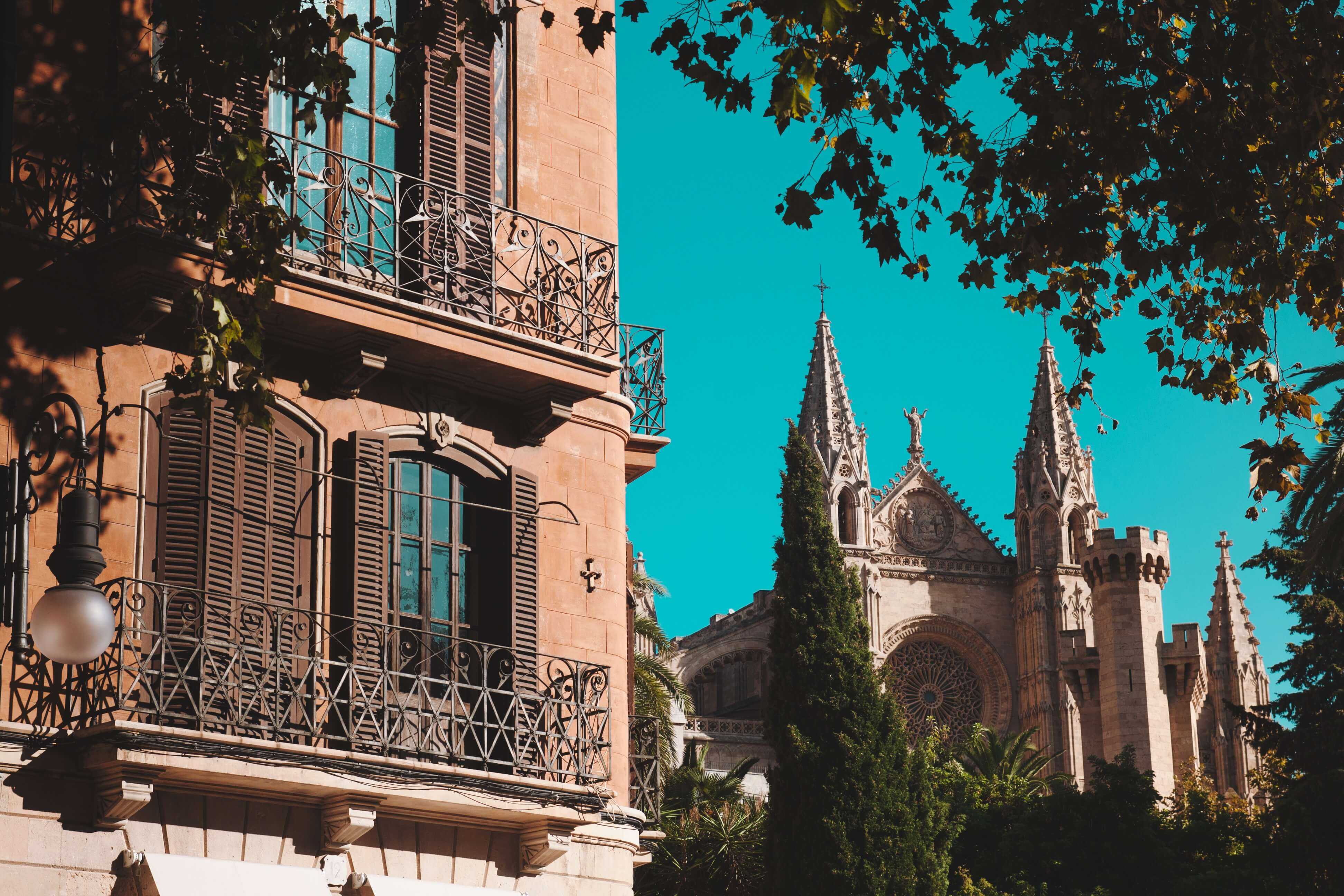 Hello everyone, I'm Sophie, a 22-year-old third culture kid currently based in Prague. I moved to the Czech Republic to study in university back in 2015 and planned on staying only one semester, but four years later I'm still here finishing my B.A. and working. Apart from being beautiful and relatively cheap, Prague is really well connected to the rest of the world. With hundreds of direct flights every week and major bus and rail hubs, this city is an excellent base for any travel enthusiast, and I try to take full advantage of it.
Between my studies and job, I'm always short on time so most of the trips are just a few days long, but I try to compensate for lack of time with the quality of my getaways. Let me take you along on my latest 3-day trip to the island of Mallorca in Spain.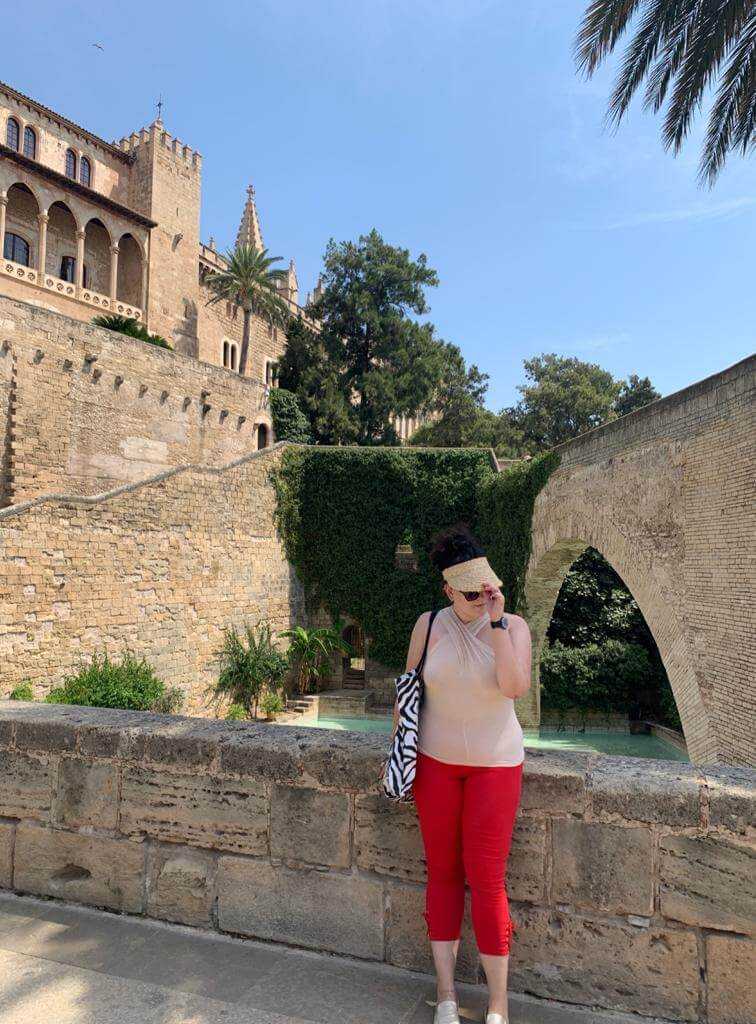 Me by the Cathedral

Arrival:
Unless you own a luxury yacht which happens to be harboured in Ibiza - which is also your departure point - most likely you will arrive at Palma de Mallorca Airport. The airport is massive with endless duty-free stores and coffee shops but hurry up and get out as soon as possible - Mallorca has so much more to offer!
From the airport you can take a taxi for around 40 EUR or a bus. Depending where you are headed, the bus will cost you between 3 and 8 EUR and you can buy a ticket from the driver as long as you have cash on you.

Where to stay?
The town of Palmanova is located just 40 minutes away from Palma and 15 minutes from Magaluf. This is the perfect place to spend a few days. The water is crystal clear and night walks on the beach while enjoying the gulf view are priceless.
I was staying in Sol Lumanar hotel and I cannot recommend this place enough. Perfectly located 5 minutes from Palmanova Beach, the hotel offers a very clean pool area and tidy rooms with balconies. It's a great choice for any traveller and if you want to explore the island, the bus stop is right next to the hotel entrance. If you prefer more passive holidays in peace and quiet, the hotel is big enough for you chill out in and not be disturbed by the outside world.
What to see?
If you're in Mallorca to relax on the beach and don't care about seeing anything else, no judgment, it's your well-deserved holiday! However, if you decide to change out of your swimsuit and head into town you should definitely visit the Royal Palace of La Almudaina. Tickets are 7 EUR and you can pre-book them online to avoid long lines. Apart from raising your cultural awareness, you can take amazing photos here which are sure to boost you Instagram!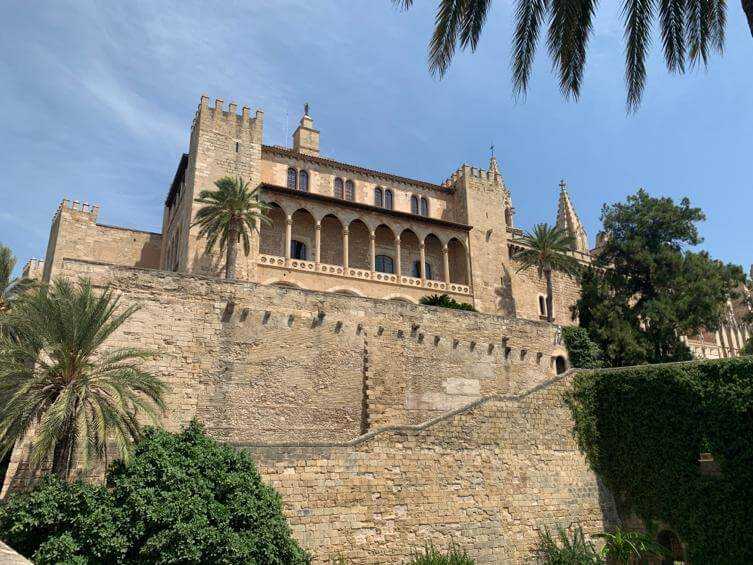 The Royal Palace of La Almudaina

What to eat/drink?
Mallorca is famous for its sweet oranges, so drinking fresh orange juice is a must. Every cafe and beachside lounge bar offer juice so good that it will change your life forever. In my case, the amount of juice that I was drinking on a daily basis was not sustainable with cafe prices, so I used juicers in supermarkets which give you a whole bottle of fresh juice for 2.50 EUR. It tastes just as delicious as the juice in cafes, plus you can take it with you to the pool or beach.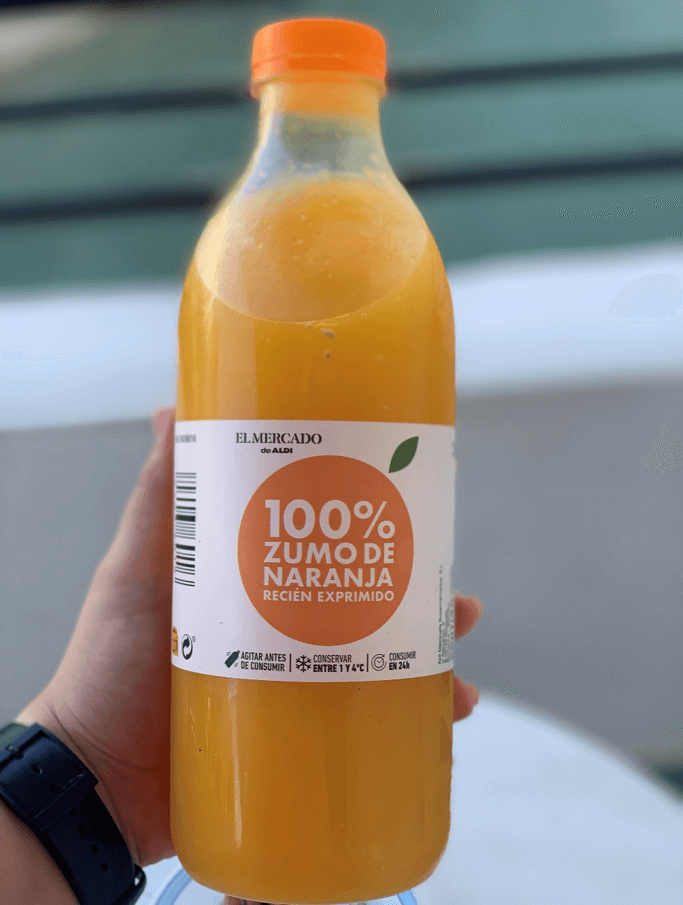 Delicious freshly squeezed orange juice

Now let's talk sangria. Mallorca is in Spain after all and there's no better excuse to treat yourself to sangria than while on a Spanish holiday. Sangria is like pizza, even if it's not so great, it's still good enough so go ahead and experiment with it. Keep ordering until you find your perfect match! I found my favourite just outside of the cathedral.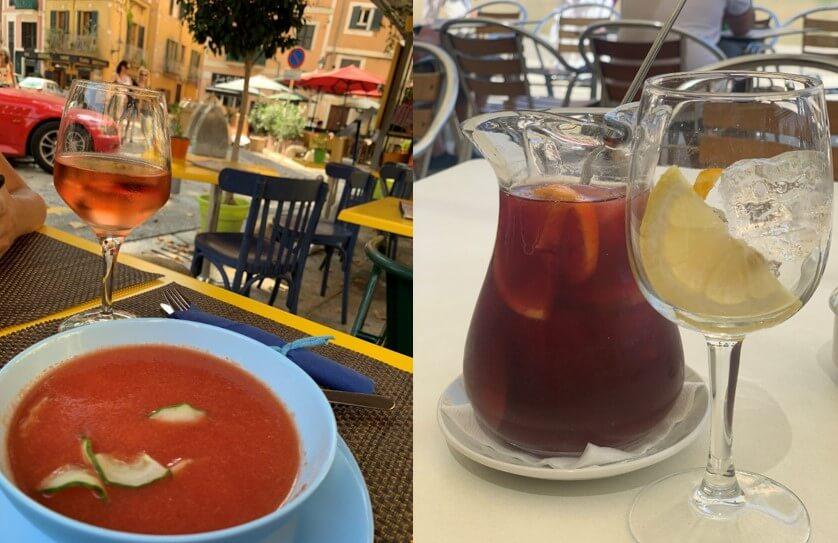 Gazpacho, rosé and sangria in the perfect setting

Another place I'm excited to recommend is a bar called ES3. Their refreshing gazpacho and homemade rosé will make your day. Located within walking distance of the Cathedral, this bar offers charming outdoor seating space and tapas to compliment your drink of choice.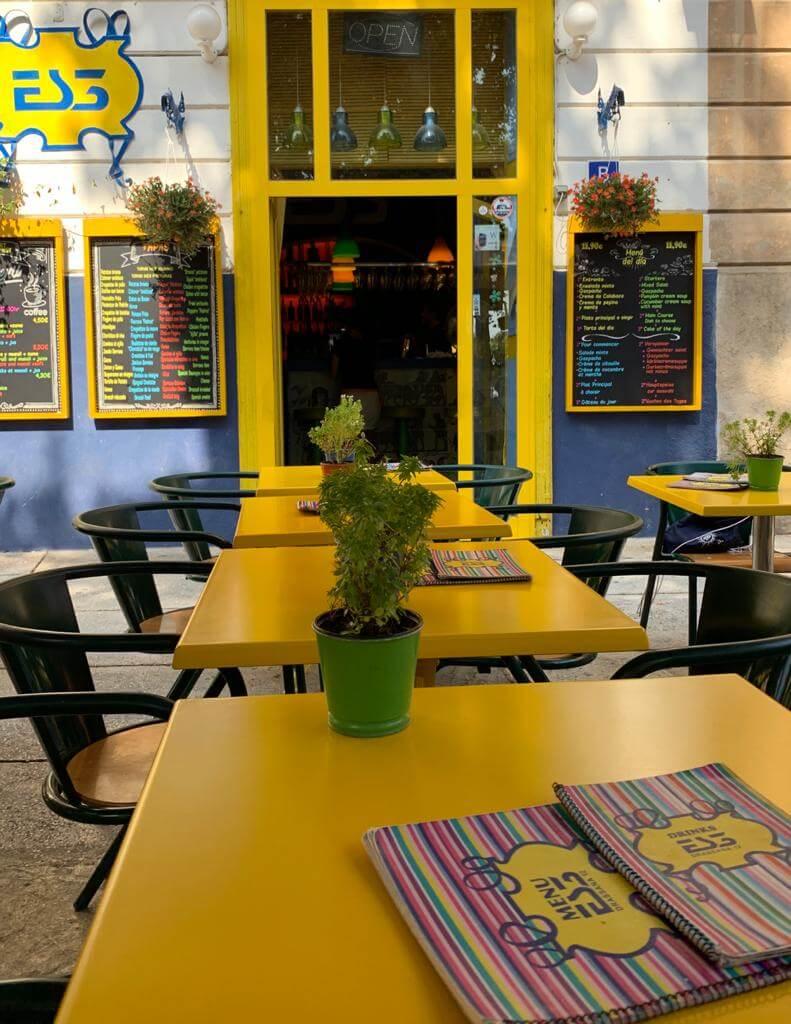 Colourful ES3 on Placa de la Drassana

ES3 is located on the pretty Placa de la Drassana, which is only a 3-minute walk from the shore and has an amazing view of the port. I loved strolling around that area and taking in the beautiful view of ships larger than buildings approaching Mallorca.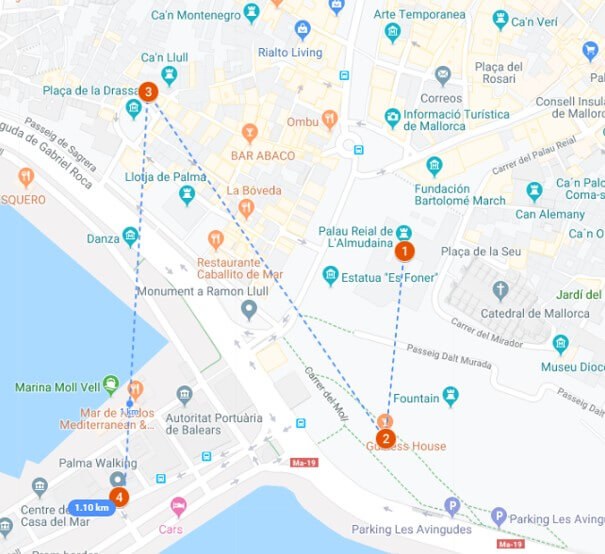 My walking route to the port

Overall, I'm very happy with my trip. Even though it was 3 days short I managed to enjoy sunny beaches, swim in crystal clear water, taste the best of Spanish cuisine and even do some sightseeing.
Gracias Mallorca, I will surely be back!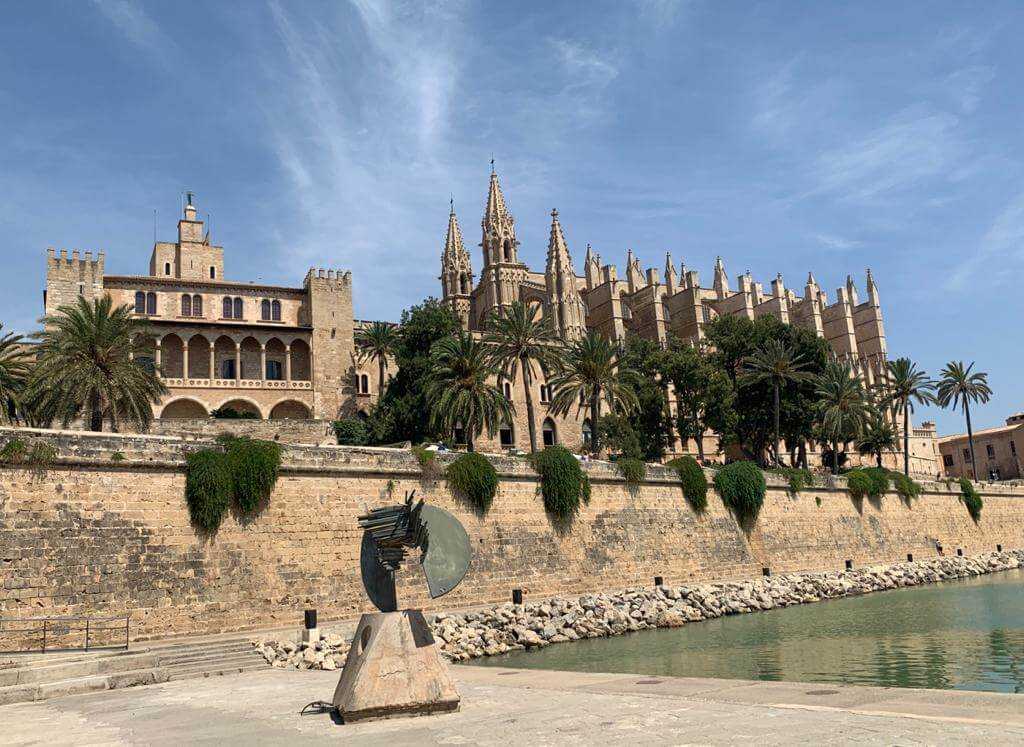 The Cathedral & Palace


All images courtesy of Sopiko Dvalishvili unless otherwise specified

Top image: Unsplash
Latest posts
Swiss Air passengers left in disarray as plane lands in Spain without luggage
Passengers, awaiting their belongings at the airport's baggage claim, were met with disappointment as their bags failed to materialize even after a two-hour wait.
Ural Airlines' Airbus A320 forced to make emergency landing in wheat field
An Airbus A320 operated by Ural Airlines was faced with the possibility of running out of fuel, leading its crew to execute an emergency landing in a wheat field.
20 000 sheep take flight to Saudi Arabia
In addition to machinery, textiles, time-sensitive items like medications and food, live animals are often transported by air freight.
About MYFLYRIGHT
MYFLYRIGHT is a legal tech company, specialized in the support of airline passengers affected by flight delays, flight cancellations, denied boarding, delayed or lost luggage and the refund of unused airline tickets. MYFLYRIGHT was founded 2016 in Hamburg, Germany. The company operates out of 3 offices, its headquarter in Hamburg and its branches in Prague, Czech Republic and Zaporizhia, Ukraine. Currently, MYFLYRIGHT employs a team of around 25 people working in Marketing, Operations, Legal, Customer Support and IT. The organization operates across 5 markets – Germany, United Kingdom, Romania, Austria, and Switzerland.
MYFLYRIGHT's goal is to provide access to justice for all aviation passengers who experience irregularities in their flight transportation. Notably, 75% of all compensation requests submitted by passengers get rejected. Whereas, MYFLYRIGHT is able to successfully execute the applicable customer claims in more than 98% of cases at court.
Get up to 600 €* in compensation
Check claim for free