A Viennese journey of music, art & cuisine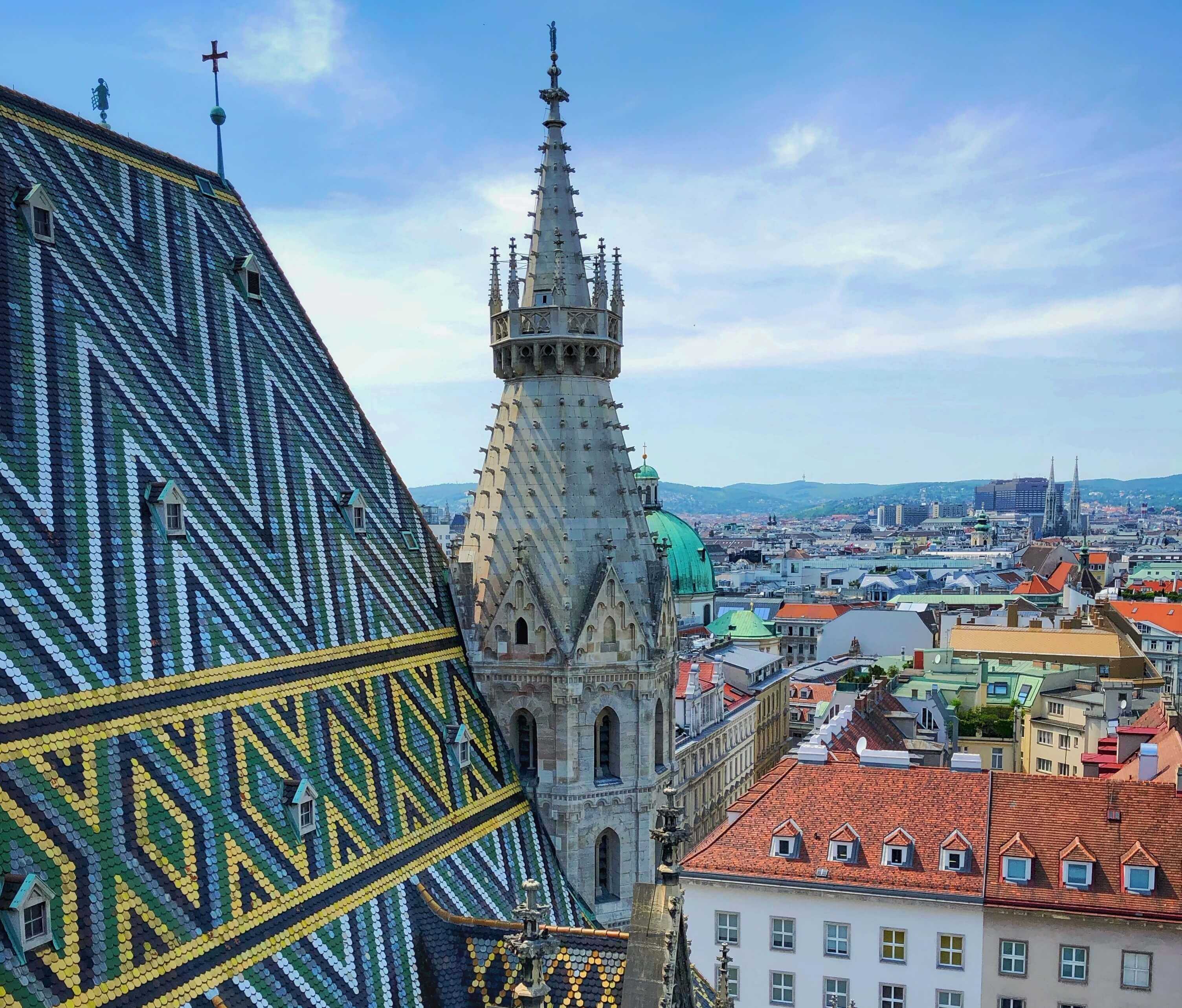 A note from MYFLYRIGHT: We realise that people currently aren't travelling due to the coronavirus and it's uncertain when things will get back to normal. However, we decided to publish our latest blog on the wonderful city of Vienna so you can get some great ideas for where to explore when things do finally improve. For now, please enjoy the read 😊


Ah, Vienna…just the name evokes images of elegant cobbled streets, nights at the opera and sophisticated coffee houses. Often hailed as the world capital of music, the city has inspired over 3000 songs and was the adoptive home to both Beethoven and Mozart. Vienna has a myriad of stunning Baroque, Art Nouveau and Gothic architectural sights and you could spend your entire visit just exploring its amazing array of galleries and museums. Once you've soaked up your fill of its rich culture, discover mouth-watering cuisine – both international and local – in interiors ranging from atmospheric old-world to cutting-edge contemporary.
Our MYFLYRIGHT Prague team are lucky enough to live just 4 ½ hours away from the capital of Austria, so we decided to put our heads together to give you tips based on our very own experiences of visiting Vienna!

Vienna coffee houses, brunch & breakfast spots
Vienna is world-famous for its coffee houses. There are plenty of charming, traditional spots to start your day in, as well as hip cafes offering fantastic brunches and the latest healthy breakfast trends.
Ulrich – Read any list of top breakfast places in Vienna and chances are, you'll find Ulrich. And there's a very good reason for this – with the fresh bread, variety of healthy options and breakfast classics on offer here, as well as a sunny terrace in the warmer months, this place is a delight.
Gerstner K. u. K. Hofzuckerbäcker – This coffee house is right in front of the Vienna State Opera. On the ground floor there's a shop selling all sorts of sweet treats you can take home with you, while the café itself is furnished in gorgeous colourful brocade wallpaper and velvet chairs. You may have to queue to get in but it's well worth the wait. Enjoy a glass of Champagne and a slice of Sachertorte with a beautiful view.
Das Bootshaus – It may be a bit far from the city centre, on the other side of the river, but Das Bootshaus has an amazing outside seating area for sunny days. Sit back with some smoked salmon or a buttered brioche with marmalade while watching the river flow by.

"On sunny days, there's
no better place
than Danube Island"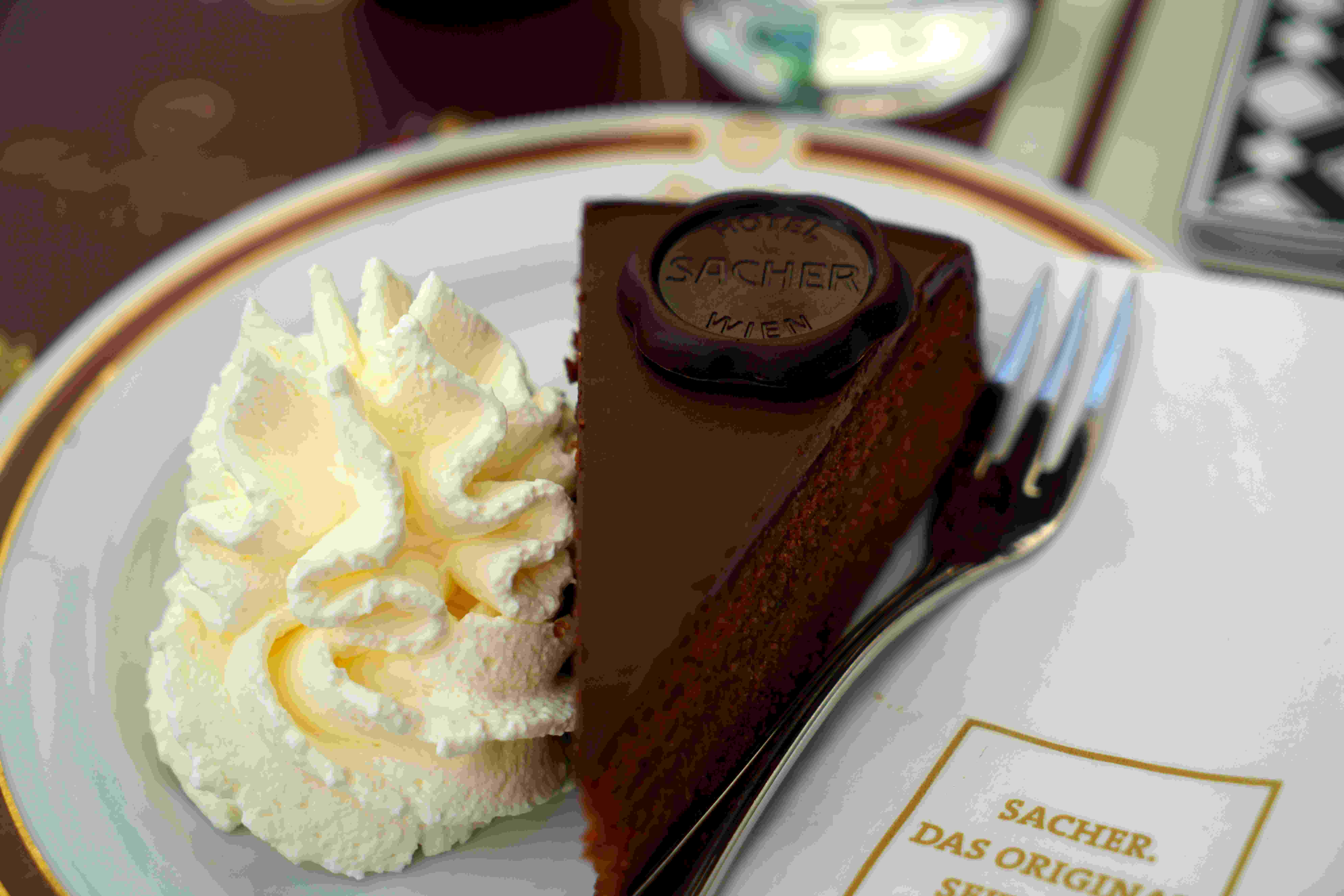 Sachertorte

What to do in Vienna and where to go for lunch
Vienna's a city, like most, which is best explored on foot. The centre isn't huge, so it's manageable to see all the main sights in a day. A great way to see many of the city's most beautiful buildings is walk the Ringstrasse, built in 1857 to connect the outskirts of the city to it's centre. A stroll along this boulevard will take you past the Hofburg Palace, Vienna State Opera, Kunsthistorisches Museum, Rathaus (City Hall) and the Parliament.
One of the city's most unique sights is the Hundertwasser House, the first piece of architecture by artist Friedensreich Hundertwasser, who created it with the architect Joseph Krawina in 1985. It's an apartment building, but what makes it so special is the playful blocks of colour, bright patches of mosaic tiles and the numerous trees and plants on the grounds and sprouting from the balconies. It's a place that is sure to put a smile on your face and you'll come away with some of the best photos of your trip!
You should also stop by the awe-inspiring Gothic St. Stephen's Cathedral, situated in the heart of Vienna on Stephansplatz. It's colourful tiled roof and soaring spires make it one of the most popular attractions in the city.
Neubau is the neighbourhood to head to for quirky thrift store finds, laid back cafés and an eclectic mix of cuisines from around the world. It's definitely worth exploring this hip corner of the city, where you will stumble across plenty of street art adorning the walls and you can pop into one of the many little art galleries along the way.

"VERANDA serves Modern
Austrian cuisine and is one
of the best restaurants in Vienna"


On sunny days, there's no better place than Danube Island, which stretches for 21 km. Take a refreshing dip in the water, go for an invigorating run along one of the trails, chill with a picnic – or there's even the world's biggest floating trampoline centre, for those with extra energy to burn off. Visit in June for the Danube Island Festival, one of the largest open-air parties in Europe.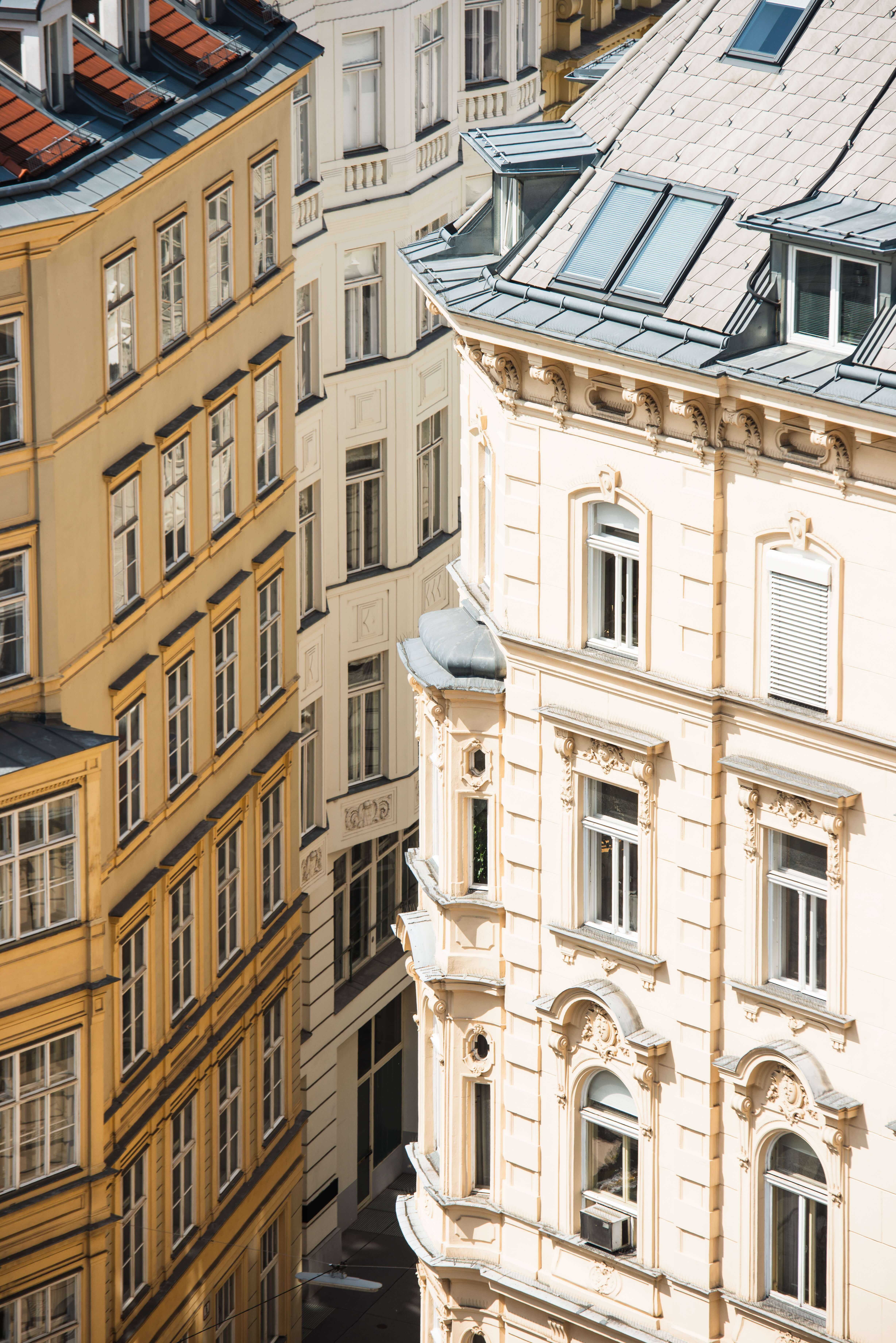 Vienna architecture

Naschmarkt consistently makes the top of must-see lists for the city. This market has been running since the 16th century and these days serves a dizzying choice of cuisines, whether you want to just snack or find somewhere to rest your sightseeing legs for a while. But it's not only delicious food which is on offer; come on a Saturday and wonder through the flea market where you're sure to find some treasure to remember your trip by.
Here's a few of our other recommendations for lunch spots in Vienna:
Restaurant Salzamt – The place to head when you want to taste delicious traditional Schnitzel. Situated in the heart of Vienna's 'Bermuda Triangle' (party area which is easy to get lost in!), fill up on Viennese cuisine served by friendly staff.
Palmenhaus – For a unique lunch experience, transport yourself to the tropics in this restaurant in a botanical glasshouse. The menu is Austrian-meets-Mediterranean cuisine.
Neni Am Naschmarkt – Family-owned place serving Tel Aviv-style food, this place is fantastic! As it's located in the bustling Naschmarkt, the atmosphere and cuisine here make for the perfect spot to spend a couple of hours and recharge your batteries.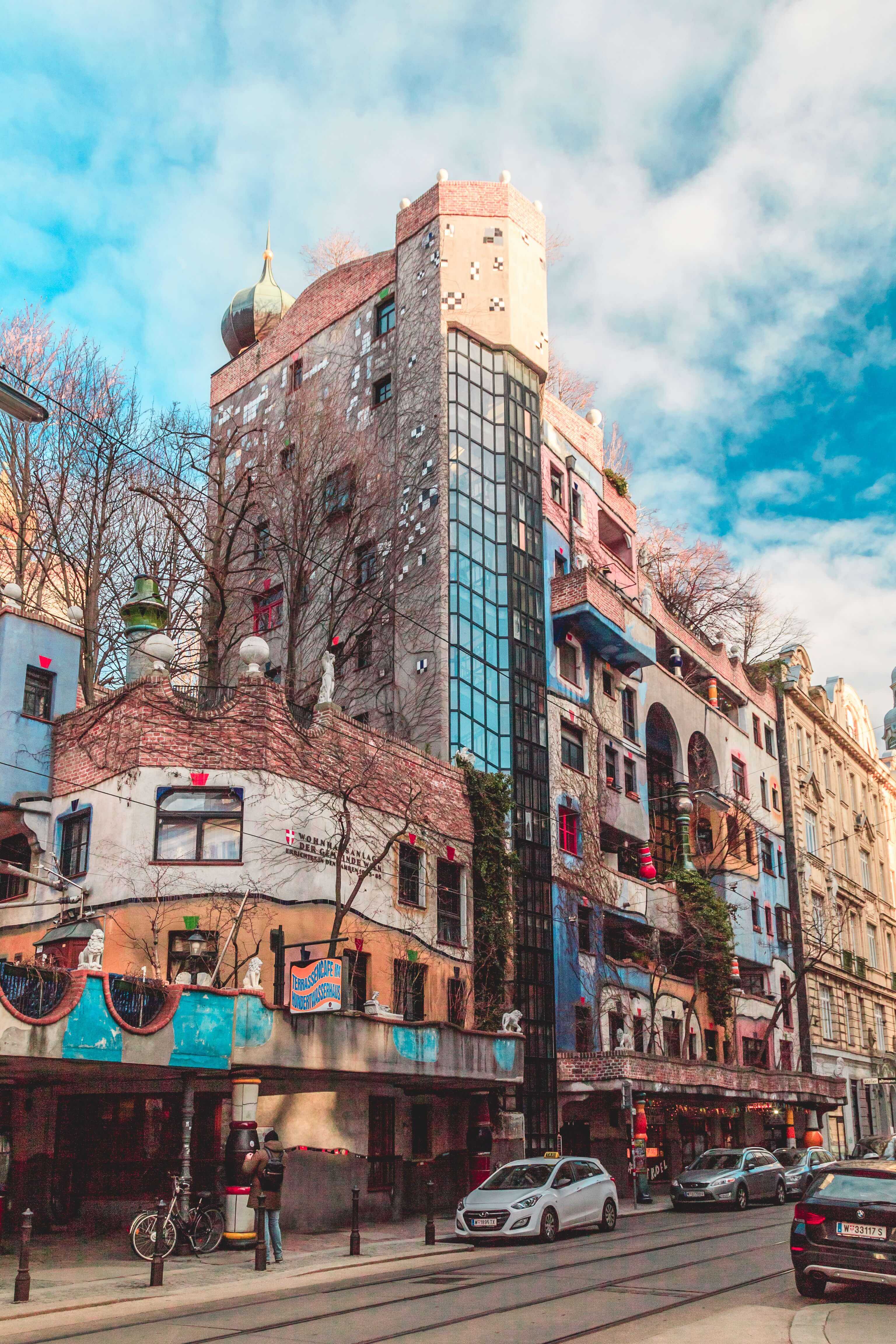 Hundertwasser House

Vienna nightlife and dinner highlights
Thanks to its mix of cultures, Vienna offers a massive choice of cuisines and it's easy to find something to suit your taste buds. These three are our top picks:
Mama Liu & Sons – Low-key, cool spot for divine dim sum, scrumptious noodles and sizzling hot pots. You have the option of ordering a vegan hot pot or gluten free noodles and their cocktails are the perfect complement to an excellent meal.
VERANDA – 'Modern Austrian' cuisine with outstanding service, VERANDA is our upscale option and one of the best restaurants in Vienna. Go here to treat yourself to Beef Tartare with Quails' Egg, Homemade Gnocchi with Jerusalem Artichoke or go all out with a 4 or 5 course menu.
Woracziczky – If you're looking for simple local food and wine served in a homey atmosphere, look no further than this cosy spot. If you're unsure what to order, go with the recommendations from the friendly waitstaff – they know their stuff!

"View Klimt's most famous
work, 'The Kiss', at
the Upper Belvedere Palace"

In Vienna, whether you're dying to try local craft beer or sip an elaborate cocktail, you're bound to find something you like. Here's some of our favourites:
The Vienna wine bar
MAST Weinbistro – A more modern wine bar than you'll usually find in the city, but this is part of its appeal. The owners themselves are sommeliers - so you're in good hands – and their passion for natural, organic wines shines through in this charming little bistro.
The Vienna beer spot
AmmutsØn Craft Beer Dive – Amazing, ever-changing selection of beers on tap as well as a great choice of bottled brews, AmmutsØn is a rare find. Enjoy your IPA or Lambic in this laid-back joint with super friendly and knowledgeable staff.
The Vienna rooftop bar
LAMÉE ROOFTOP Bar– This may be one of the most popular rooftop bars in the city, so it can get a little crowded, but it's still worth a visit as it has a stunning view of St. Stephen's Cathedral. A lovely place to watch the sunset while sipping on a refreshing cocktail.
The Vienna club / bar
Elektro Gönner – Cool, minimalist bar/club located in a former electrical supply store, with regular DJ sets where you can dance the night away to electro, jazz, hip hop or techno, depending on the day. There's also an outdoor area where you can enjoy balmy summer evenings.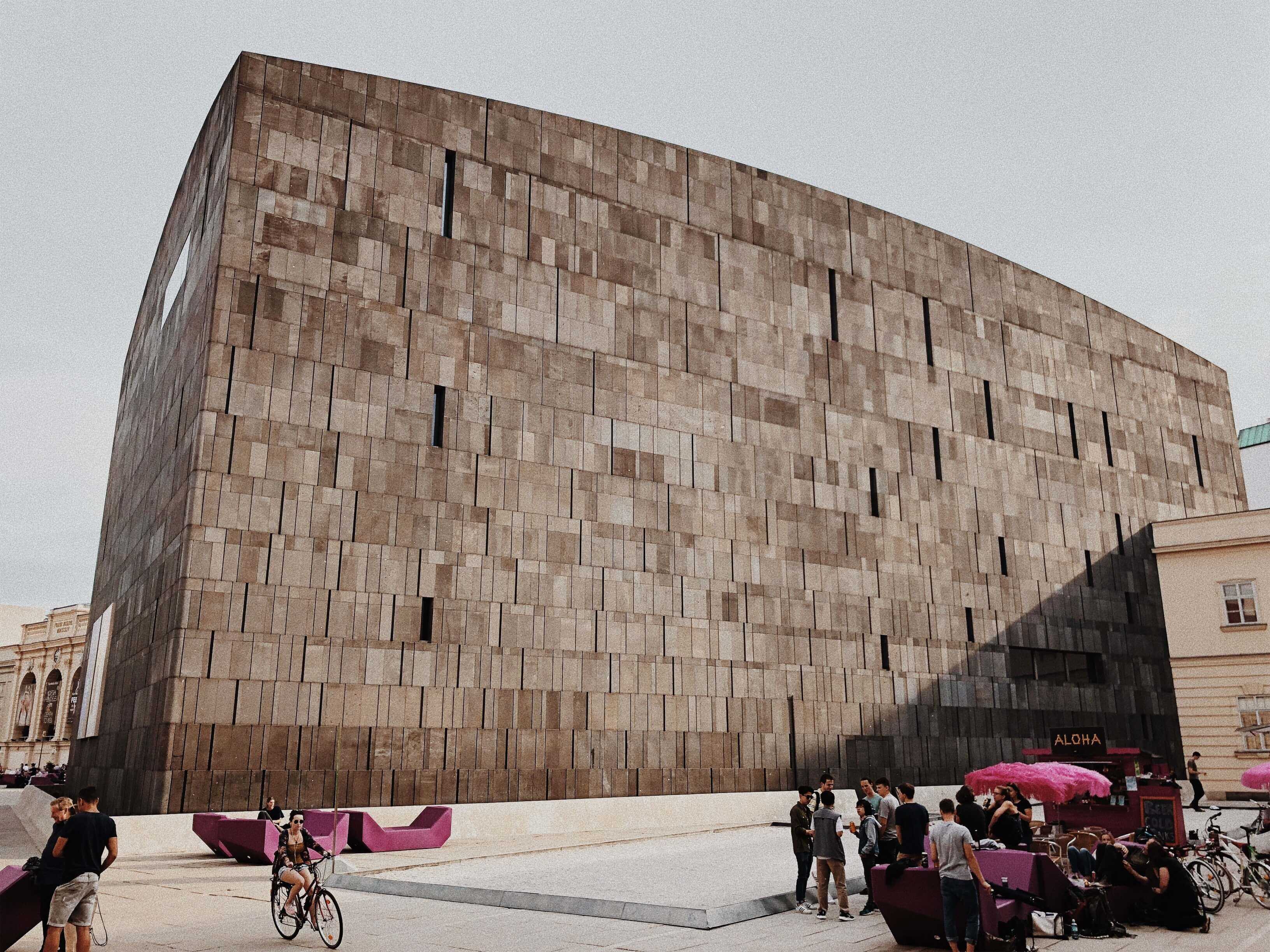 MuseumsQuartier

If you're looking for some entertainment beyond heading to a bar, why not do the quintessential Vienna evening? Take in a performance at the world-renowned Vienna State Opera. The Renaissance Revival building itself is something to be admired, and the grand gilt and red interior is the perfect setting to watch the stage come alive. A tip – if you're on a budget, enquire on the day of the performance about standing tickets, as these go for about €4-6 each. If you're looking for something a little less formal, visit the Volksoper (People's Opera), which is known for putting on less well known operas, with a more modern approach to the performances.
For something a little more adventurous, a trip to Prater theme park is a real treat. Take a ride in a cabin on the Wiener Riesenrad – Vienna's giant Ferris wheel – at night for a beautiful view of the city's lights sparkling below. Not only is this a great experience, you can check this off your list of must-see sights as the Wiener Riesenrad was built back in 1897 and is one of the city's most beloved landmarks.

"If you're a wine lover, exploring
the UNESCO-listed Wachau Valley
is not to be missed"

What to do when weather in Vienna's not so good
If the weather's bad, this is the perfect opportunity to lose yourself in one of Vienna's amazing galleries and museums.
The MuseumsQuartier includes 60 cultural institutions – visit the Leopold Museum, where you can see the largest collection of Egon Schiele's work in the world, Klimt's masterpieces and many more Austrian modern artworks. For contemporary art, go to mumok – the Museum of Modern Art – or Kunsthalle Wien. If the weather clears up, the courtyard has cool, angular seating where you can chill and enjoy a bit of people-watching.
You can also view Klimt's most famous work – and actually one of the most famous paintings in the world - 'The Kiss' at the Upper Belvedere Palace. To see the jewel tones amid glinting gold, silver and bronze encompassing the lovers' embrace in person is a memory that will stay with you forever.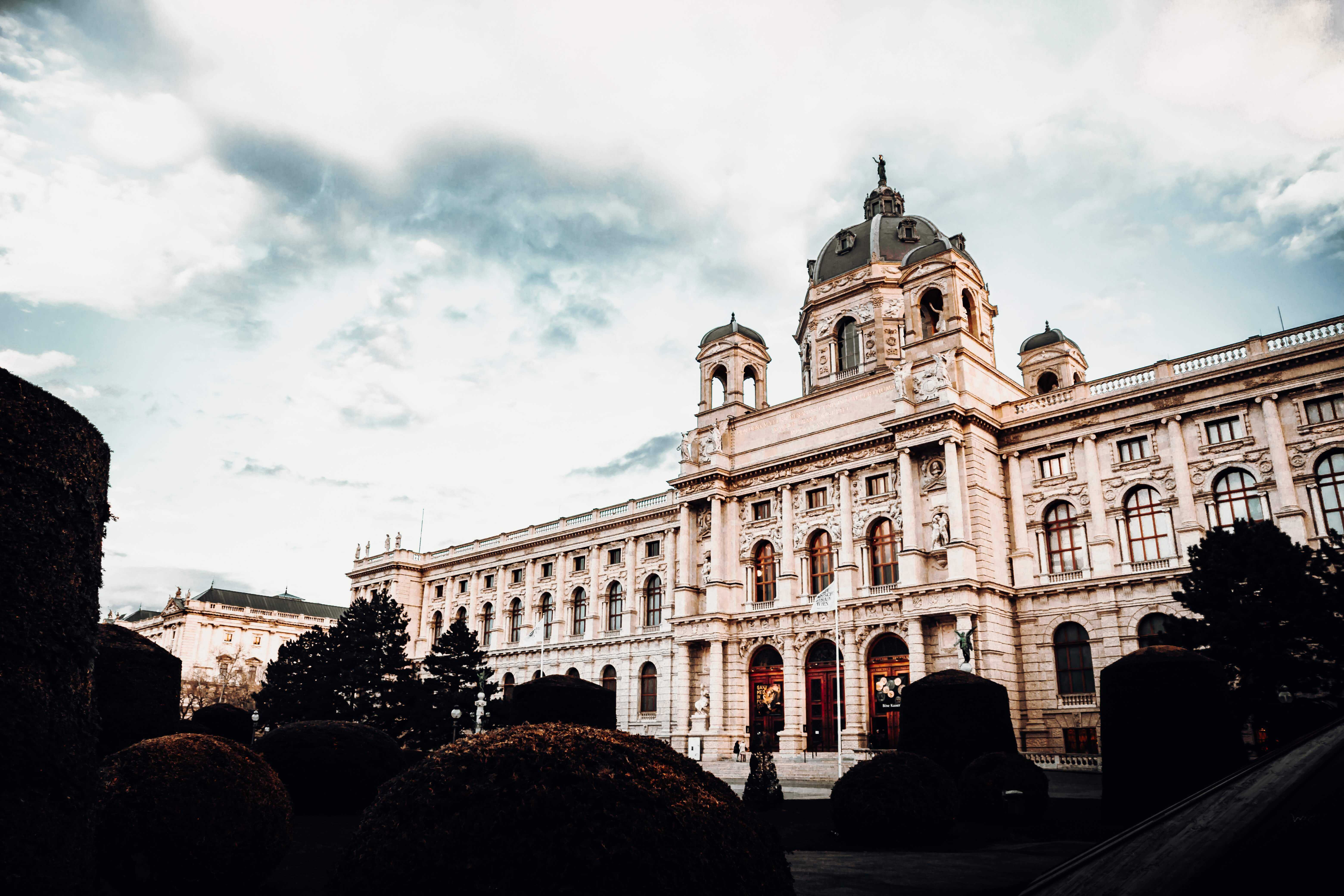 Kunsthistorisches Museum

Day trips from Vienna
If you visit for a few more days, and you're a wine lover, then exploring the nearby UNESCO-listed Wachau Valley is something not to be missed. When the weather's good, the best way to explore the region is by bike. There are numerous tours offering full-day excursions which include wine tasting, a visit to Dürnstein Castle and pretty cycling routes past terraced vineyards, picturesque villages and lush green countryside.

Where to stay in Vienna
We've chosen three options – budget, mid-range and luxury – to give you a good idea of where you could be staying when you visit Vienna:
Budget
Zum Goldenen Kegel – affordable boutique hostel within walking distance of the city centre. If visiting in colder months you can enjoy the heated floors!
Mid-range
25hours Hotel Wien beim MuseumsQuartier – stay in bright, modern rooms with hip décor, very close to the city centre. Enjoy a drink on the rooftop terrace with a gorgeous view over Vienna's rooftops.
Luxury
Hotel Sacher Wien – Stay in this Vienna icon - where Sachertorte was first created – and feel like royalty in stunning rooms decorated in classic, elegant style. Luxuriate in the spa and taste fabulous cuisine in the restaurant – you'll never want to leave!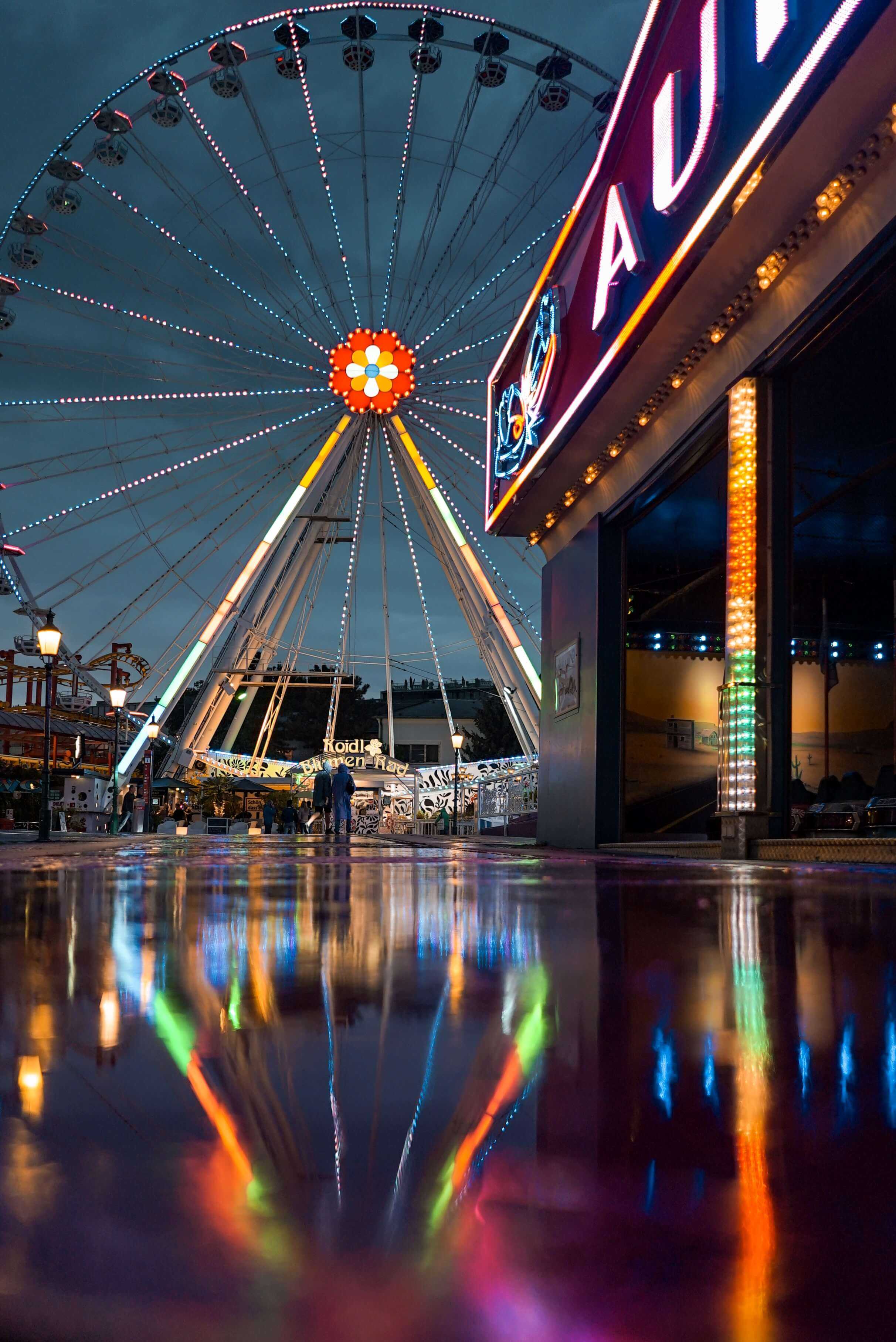 Wiener Riesenrad

Other tips for when you visit Vienna
Of course, Vienna is world-famous for its music. If you're a classical fan, check out CLASSICTIC when planning your trip – maybe you can schedule it around a concert or performance you've always wanted to see.
For a more general idea of what's going on Vienna's official site is amazing. Head to their events page to see what exhibitions, shows, festivals – well, everything! – that's coming up.
Finally, get the Vienna Pass or the Vienna City Card to save money on transport and attractions. The Pass is better for those who want to pack as much sightseeing into their trip as possible because over 60 attractions are free with it. The City Card is ideal when you know you'll be using public transport a lot as it gives you unlimited access, plus it also provides discounts for certain attractions, shops and restaurants.
Hopefully MYFLYRIGHT's team here in Prague have given you some ideas on what you'll do when you visit Vienna in the future! It's certainly been a treat for us all to reminisce on our past trips to this wonderful city 😊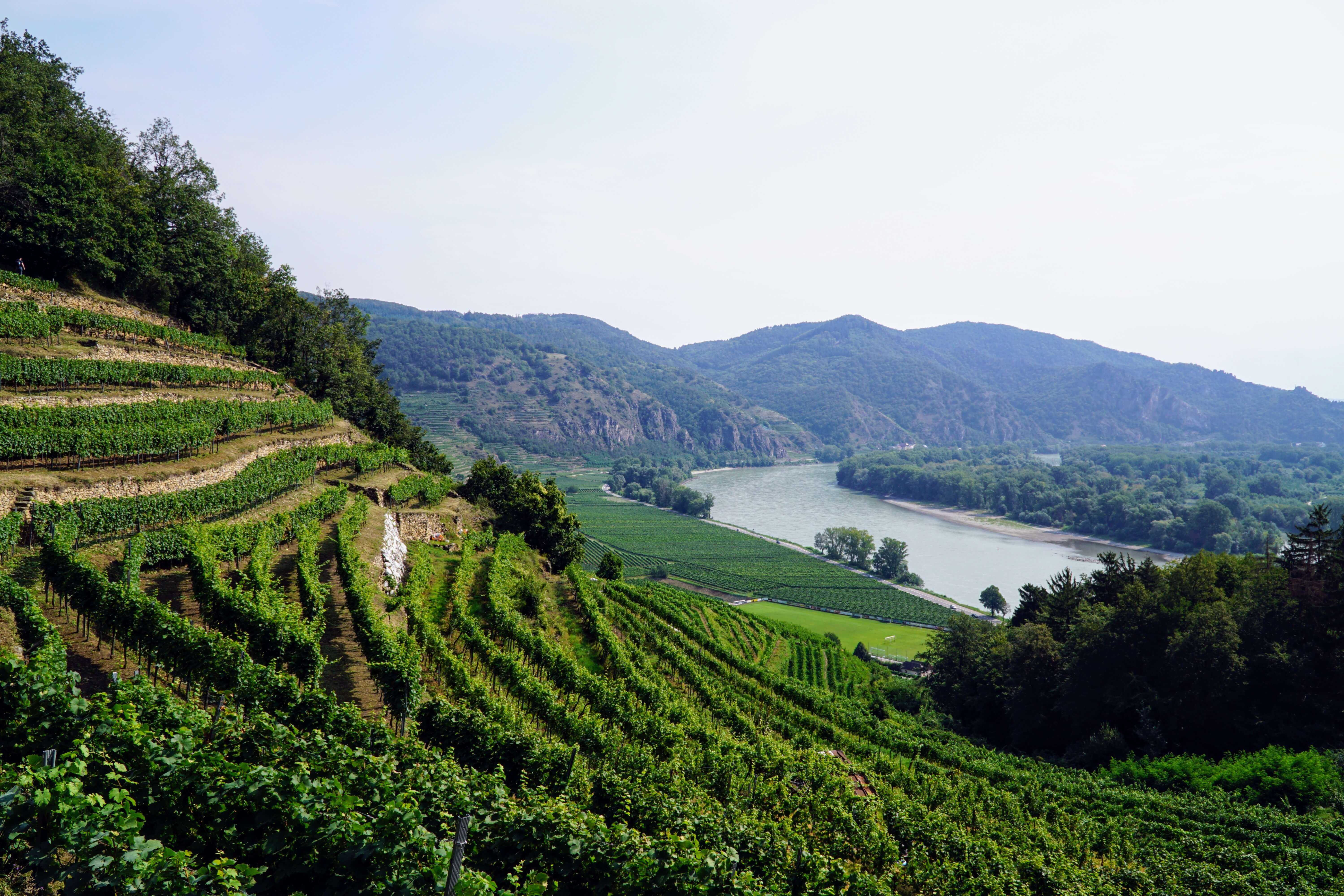 Wachau Valley

All images: Unsplash
Latest posts
Winter weather disruptions at Frankfurt Airport
The onset of severe winter weather has wreaked havoc on flight operations at Frankfurt Airport, causing widespread flight cancellations and flight delays.
Best German Christmas markets
Here's a closer look at some of our picks for the best Christmas markets in Germany.
Best places to visit in December: Winter destinations for every traveler
Whether you seek the adrenaline rush of skiing down snow-clad slopes or the soothing warmth of a tropical beach, there's a winter vacation destination tailored just for you.
About MYFLYRIGHT
MYFLYRIGHT is a legal tech company, specialized in the support of airline passengers affected by flight delays, flight cancellations, denied boarding, delayed or lost luggage and the refund of unused airline tickets. MYFLYRIGHT was founded 2016 in Hamburg, Germany. The company operates out of 3 offices, its headquarter in Hamburg and its branches in Prague, Czech Republic and Zaporizhia, Ukraine. Currently, MYFLYRIGHT employs a team of around 25 people working in Marketing, Operations, Legal, Customer Support and IT. The organization operates across 5 markets – Germany, United Kingdom, Romania, Austria, and Switzerland.
MYFLYRIGHT's goal is to provide access to justice for all aviation passengers who experience irregularities in their flight transportation. Notably, 75% of all compensation requests submitted by passengers get rejected. Whereas, MYFLYRIGHT is able to successfully execute the applicable customer claims in more than 98% of cases at court.
Get up to 600 €* in compensation
Check claim for free