Explore the unique Isle of Man


A note from MYFLYRIGHT: We realise that people currently aren't travelling and it's uncertain when things will get back to normal. However, we decided to publish our latest blog on the wonderful Isle of Man to spread a bit of positivity, lift those spirits and to give you some inspiration for where to explore when things do finally improve. For now, please enjoy the read 😊


Hello, I'm Sandra, the German Content Writer here at MYFLYRIGHT. After living in Munich and Berlin, I left Germany around the turn of the millennium to explore my dream country, Australia. As it turned out, fate wanted me to meet my dream man here - however, he's not an Australian, but comes from the Isle of Man. This is a strange little island, which I knew next to nothing about back then. That was about to change, though, because after our Australian work visas expired, we moved there for two years to get our Teaching Certificates at the local college.
The Isle of Man is really something special. This elliptical island lies between England and Ireland and is an autonomous British Crown dependency but isn't part of the United Kingdom. The political system that still exists today is the Tynwald, incidentally the oldest continuously existing parliament in the world. The largest town, Douglas, has a ferry port and is located approximately in the middle of the east coast. If you continue to drive south in a clockwise direction past the airport, you reach the picturesque coastal towns of Port Erin and Port St. Mary via historic Castletown. Peel is the largest and most interesting place on the west coast and the northern area is sparsely populated. The second largest town on the island, Ramsey, is on the northeast coast, and from here all (i.e. both!) roads lead back to Douglas.
In this article I not only tell you where to eat, drink and hike, but also where the fairies live and why wallabies are native animals in this intriguing part of the world!

"Laxey Wheel is the largest
of its kind in the world"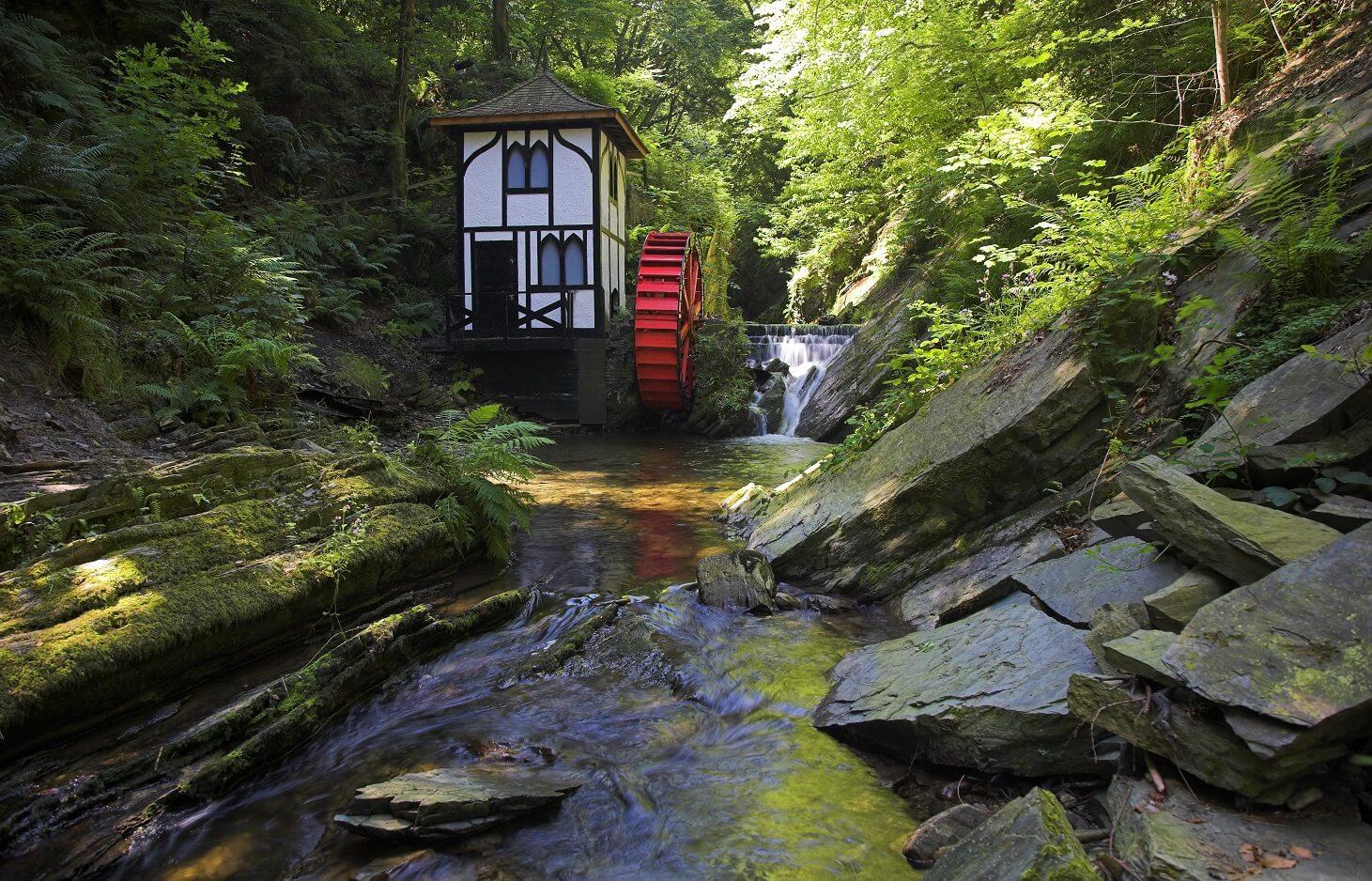 Groudle Glen

Nature on the Isle of Man: Walks & hiking
The Isle of Man isn't exactly crowded with tourists. It only gets really lively here during the first week of June, when motorcycle fans from all over the world gather to take part in the famous Isle of Man TT motorcycle race. It's an ideal place to breathe in the fresh sea breeze and take long hikes over rugged rocks and through evergreen valleys, commonly known as glens. It is these glens that shape the Isle of Man landscape, and each has its own distinctive charm.
I picked my three favourite glens for you:
Groudle Glen is 2.5 miles north of Douglas. A narrow path, lined with moss-covered beeches and larches, meanders along a quietly babbling brook. The atmosphere here is enchanting, especially in autumn, when pale sun rays shine through the treetops.
Glen Maye is less than 5 km south of Peel. The path leads through a beautiful valley, where ferns, moss and ivy hang like curtains on the rock walls. Wooden bridges lead over the clear stream that flows into the sea at the end of the glens. If you like, you can continue your hike on the coastal path.
After your visit to Laxey, take a detour to Ballaglass Glen. It is the most popular and most visited, but also one of the most charming and photogenic glens on the Isle of Man. It's most beautiful here in spring when the bluebells are in bloom and cover the forest floor like a sapphire carpet.

Isle of Man holiday highlights
The Isle of Man is best explored by car, but there are also a number of typical red double-decker buses that connect the towns. The one-hour trip on the Isle of Man Steam Railway, which leads from Port Erin to Douglas and whose stops are close to many historical sights, is highly recommended.
From Douglas you can hop on the old electric tram (Manx Electric Railway) and head to Laxey to admire the Laxey Wheel. It was built in 1854 to pump water from the adjacent mine and, with a diameter of 22 m, is the world's largest still-functioning water wheel of its kind.

"Castle Rushen is one of the best-preserved
medieval castles on the British Isles"

In the summer months, Peel Castle, originally built in the 11th century by Vikings, is accessible. You can also take a boat tour from Peel Harbour and with a bit of luck, you'll see basking sharks that roam open-mouthed through the local plankton-rich waters.
If you want to see how people lived on the Isle of Man in the 19th century, you can visit Cregneash Museum in the southwest. On the way there, keep your eyes peeled for tailless Manx cats and four-horned Manx Loaghtan sheep!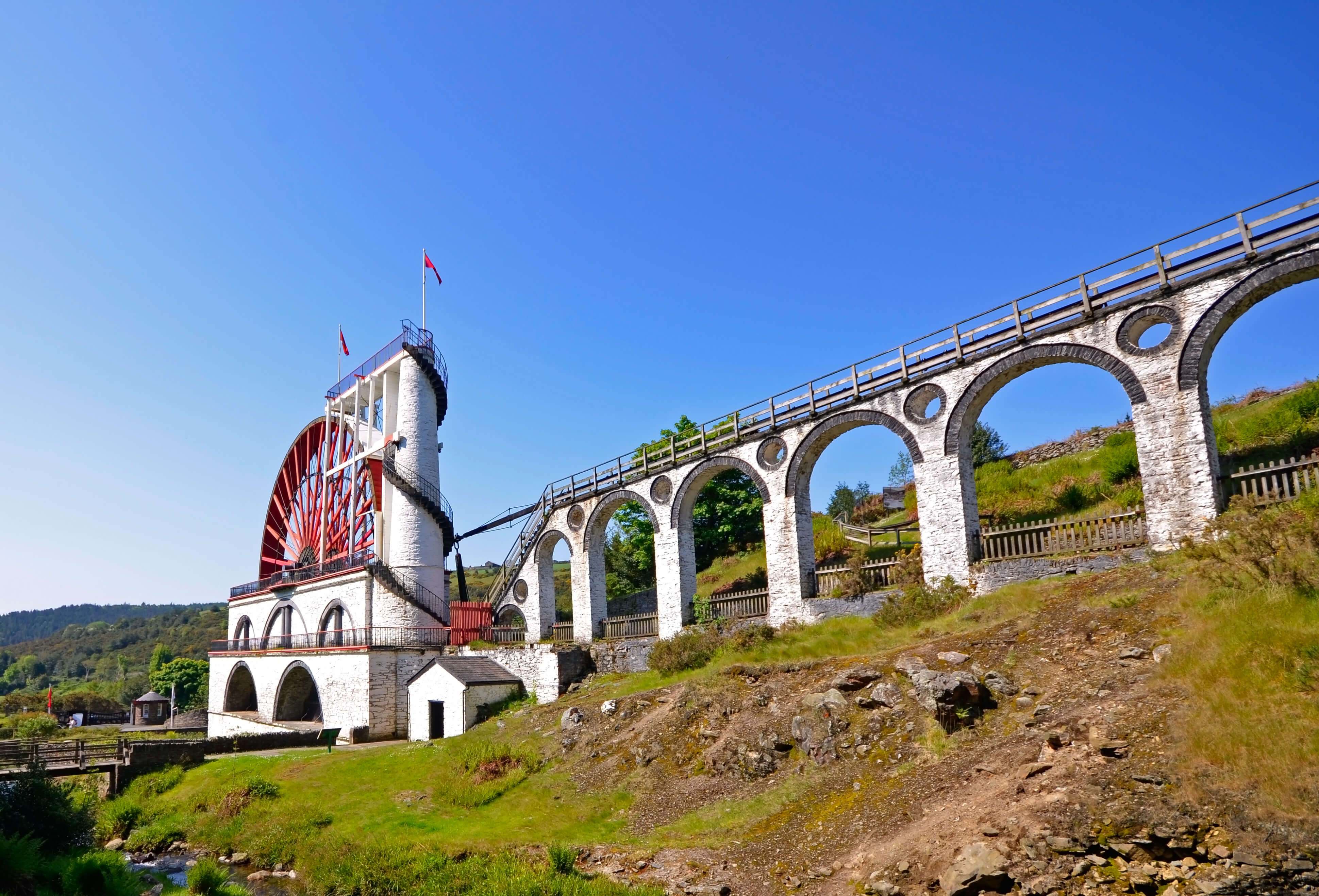 Laxey Wheel

Isle of Man weather forecast is bad? No problem!
Since it is an island, a strong wind usually blows here. The weather can change several times during the day: blue sky and sunshine in the morning and heavy rain showers in the afternoon are not uncommon here. The islanders are used to it and don't mind, but tourists can use rainy, days to visit the Isle of Man's museums.
Jurby in the northeast is a barren area, but has one highlight worth visiting: The Isle of Man Motor Museum, opened in May 2015 by the enthusiastic father-and-son team Denis and Darren Cunningham, presents over 300 on 6500 square metres full of vehicles, including curiosities like the ten-door International Harvester Travelall.

"Manx Queenies were officially declared
the island's national dish in 2018"

For those who are less enthusiastic about cars, the Manx Museum in Douglas may be more interesting. Here you can find out everything worth knowing about the history of the island - which goes back 10,000 years -, visit exhibitions in the art gallery, buy some souvenirs in the museum shop and then fortify yourself with cake and coffee in the museum café.
As the name suggests, Castletown is home to Castle Rushen, which is one of the best-preserved medieval castles on the British Isles and still serves as a courthouse, museum and educational centre. An interesting sight for all Game of Thrones fans among you 😊.

The best of: Isle of Man restaurants & cafes
The Isle of Man is traditionally known for its delicious freshly caught fish and shellfish used by local chefs as well as across the UK and Europe. Manx Queenies (the local queen scallops) were officially declared the island's national dish at the Isle of Man Food and Drink Festival in 2018, closely followed by Cheese, Chips and Gravy and Kipper (smoked herring). The meat of the Manx Loaghtan sheep is also a local delicacy.
It was really hard to choose between the many good restaurants, cafes and pubs, but here's a few of the best:
This family business is more than just a bakery where fresh bread is baked from sourdough. There is also an in-house coffee roaster and the menu is full of delicious dishes created from the best local products.
Excellent food in a chic environment. A traditional British roast (including Yorkshire pudding) is served on Sundays. Afterwards you can treat yourself to a masterfully mixed cocktail at the bar. Heavenly.
I recommend this café because of its location in the manor house in the middle of the beautiful Milntown Gardens. The menu comes with a large selection of seasonal dishes, light lunches and homemade cakes.
Undeterred by the harsh climatic conditions, the founders of Foraging Vintners are committed to the production of sparkling wine. Of course, vines do not thrive here, so instead rhubarb, apples and elder are used. Small wine bar with great views of Port Erin Bay.
Freshly caught fish is always served here - and of course Manx Queenies. Then you can stroll down the street and have a beer in the cosy Bay Hotel. The best pints are from the local brewery, Bushy's - how about a Nörseman Craft Lager or an Old Bushy Tail? I can't think of a better way to end the day!

Isle of Man: accommodation for all budgets
There are no hostels on the Isle of Man, but there are plenty of hotels, Airbnb places and bed and breakfasts. I have selected one budget, a mid-range and a luxury option so that you can get an idea of where you can stay during your visit:
Budget: If you want to be close to nature while saving pennies, pitch your tent on one of the island's campsites. Glenlough Campsite is one of the nicest and cleanest. A camp site costs 9 EUR, an overnight stay in one of the wooden camping pods 55 EUR.
Mid-range: If you can or want to spend a bit more, you can stay in a cosy cottage. The Stables @ The Forge Cronk Y Voddy has everything you need for a comfortable stay, including a garden and grill. From 96 EUR per night.
Luxury: I chose Seascape as the most decadent option (from 224 EUR per night). It offers a magnificent view of the sea, a sumptuous breakfast and an in-house spa with various beauty treatments. What more could you ask for?

Curiosities of The Isle of Man
I would like to introduce you to a few unique features of the island:
Some of the people here are superstitious. One example of this is you must never say the word "rat", because that brings bad luck! Instead, "longtail" is used. Like the people of Ireland or Iceland, some Manx believe in magical beings. The Old Fairy Bridge is a place where you can leave your wishes to fairies.
Wild wallabies are not only found in Australia, but also on the Isle of Man. How is that possible? In the 1960s, a breeding pair escaped from Curraghs Wildlife Park, the only small zoo on the island. They found a new home in the neighbouring Ballaugh Curraghs area and the population grew rapidly. Today about 120 of these cute creatures live in the area and are best observed at sunrise and sunset when they graze in open areas.
If you are driving from Port Erin to Castletown by car and see a stone with the words "Magnetic Hill" on it, put your car in neutral and apply the handbrake. You'll be surprised to see that your car seems to roll backwards up the hill. Black magic? I'm afraid not - according to scientists, it's simply an optical illusion.

I hope you enjoyed my article and it gave you a little inspiration for your next trip 😊.
As the Manx would say: Slane Ihiu and Cair vie!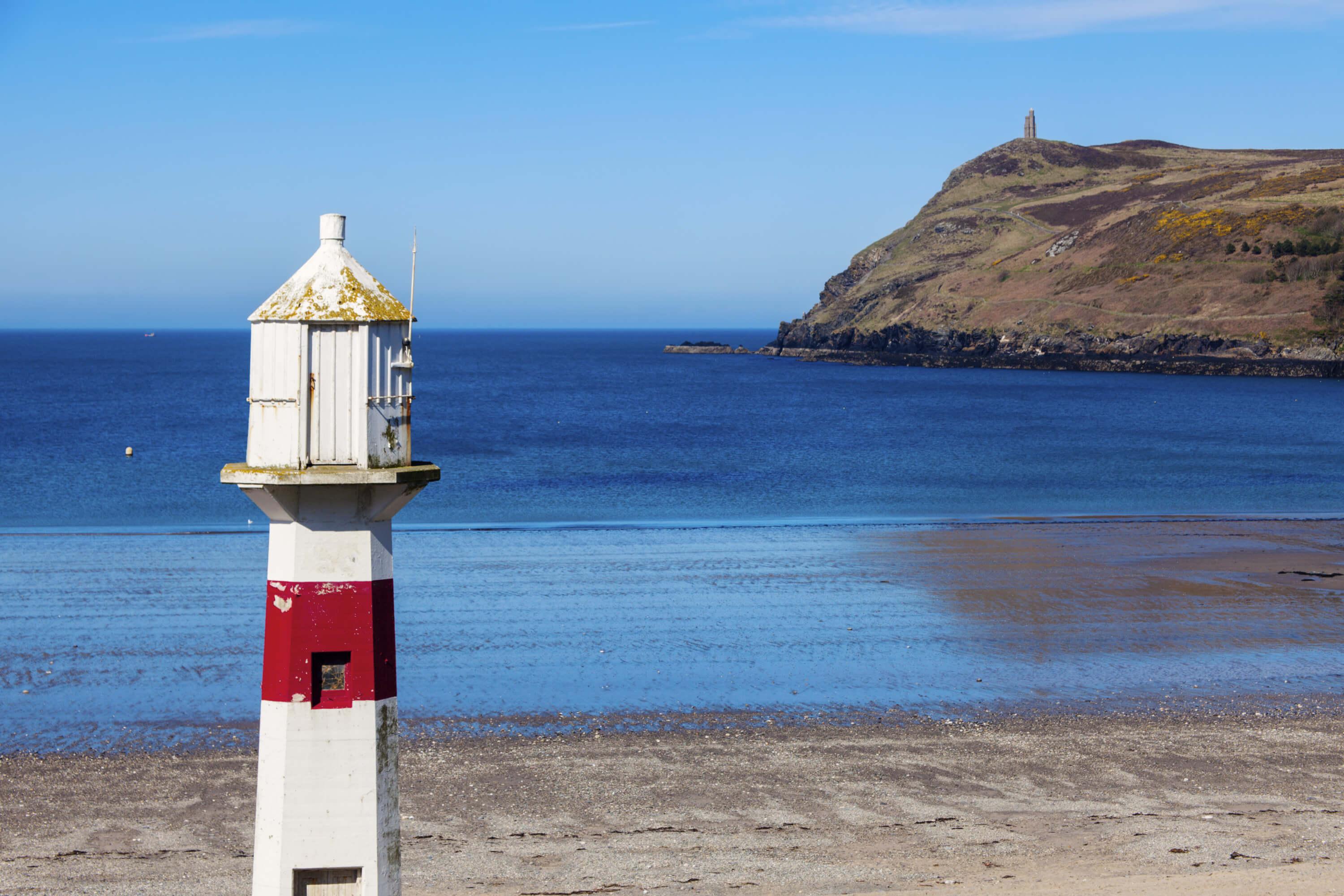 Port Erin

All images: Adobe Stock
Latest posts
Swiss Air passengers left in disarray as plane lands in Spain without luggage
Passengers, awaiting their belongings at the airport's baggage claim, were met with disappointment as their bags failed to materialize even after a two-hour wait.
Ural Airlines' Airbus A320 forced to make emergency landing in wheat field
An Airbus A320 operated by Ural Airlines was faced with the possibility of running out of fuel, leading its crew to execute an emergency landing in a wheat field.
20 000 sheep take flight to Saudi Arabia
In addition to machinery, textiles, time-sensitive items like medications and food, live animals are often transported by air freight.
About MYFLYRIGHT
MYFLYRIGHT is a legal tech company, specialized in the support of airline passengers affected by flight delays, flight cancellations, denied boarding, delayed or lost luggage and the refund of unused airline tickets. MYFLYRIGHT was founded 2016 in Hamburg, Germany. The company operates out of 3 offices, its headquarter in Hamburg and its branches in Prague, Czech Republic and Zaporizhia, Ukraine. Currently, MYFLYRIGHT employs a team of around 25 people working in Marketing, Operations, Legal, Customer Support and IT. The organization operates across 5 markets – Germany, United Kingdom, Romania, Austria, and Switzerland.
MYFLYRIGHT's goal is to provide access to justice for all aviation passengers who experience irregularities in their flight transportation. Notably, 75% of all compensation requests submitted by passengers get rejected. Whereas, MYFLYRIGHT is able to successfully execute the applicable customer claims in more than 98% of cases at court.
Get up to 600 €* in compensation
Check claim for free