Find your happy place in Germany's east


Today we're sharing our top tips for travellers to Eastern Germany. While Berlin is the main tourist hotspot, the east has so much more to offer, so we've decided to show you the must-sees of this stunning part of the country.
Most visitors to eastern Germany begin their trip in Berlin by flying to Berlin Tegel Airport (TXL) or Berlin Schönefeld Airport (SXF). With its excellent train connections, the capital is the ideal starting point. And once the still-unfinished Berlin-Brandenburg Airport (BER) opens its gates, getting to Berlin should become even more convenient.
With a bit of luck you can find a cheap flight to Dresden Airport (DRS) or Leipzig / Halle (LEJ) if you want to explore the south east. All of these airports are serviced by Lufthansa (LH), Air Berlin (AB), and many other budget airlines from all over Europe.
The land of a thousand lakes
The northern region on the Baltic coast, Mecklenburg-Vorpommern, is a fantastic place for nature lovers and to begin your journey through eastern Germany. The coast has much to offer - the white chalk cliffs and the famous Sellin Pier on Rügen Island, Warnemünde Lighthouse close to the city of Rostock, the island of Usedom and many small and beautiful towns along the shore. The Baltic sea with its low level of salt, flat waters, and endless dunes has its very own natural charm you will not find elsewhere. Zempin, Koserow, and Uckeritz, for example, are cute small towns that are nearly completely surrounded by water with the sea on one side and a huge lagoon situated inland.
Water plays an important role in this pretty part of the country – there's a reason it has the nickname 'Land of a Thousand Lakes'! In fact, there are exactly 1117 lakes that make up the largest water sports area in Europe. The province's capital of Schwerin attracts visitors with its splendid castle, which is like something out of a fairy tale.
This is a great place to spend a whole summer chilling out and getting back to nature, plus it's very affordable compared with other tourist destinations.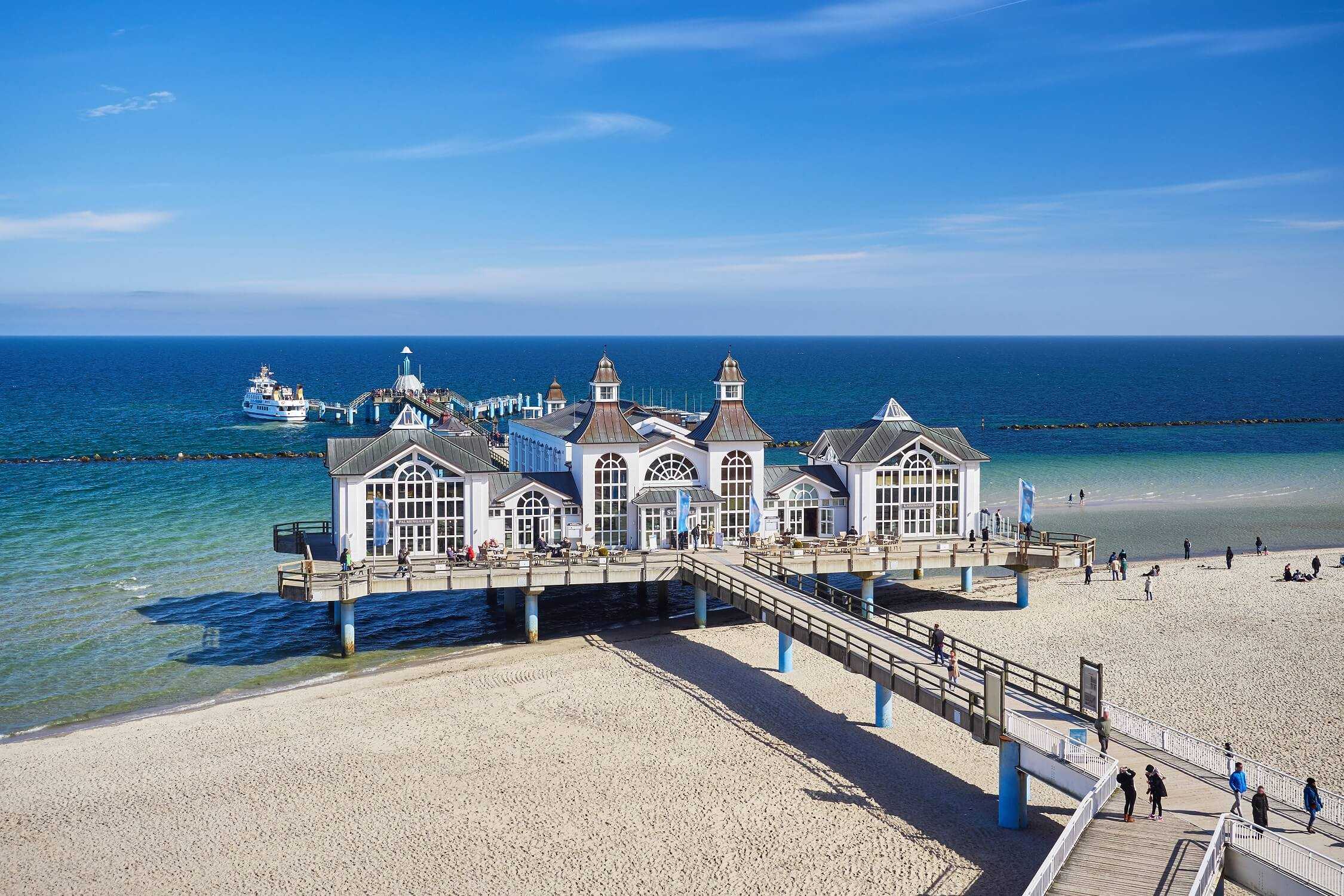 Rügen. Image: Adobe Stock

If you are visiting Brandenburg from Berlin, a good starting point might be Potsdam with its famous Sanssouci castle. Getting there from the capital takes less than thirty minutes. Other must-sees in Brandenburg are the Spreewald UNESCO Biosphere Reserve with its Alder forests and old farms located in wetlands, as well as the regions of Havelland, and Uckermark. Brandenburg also has many historic towns such as Bad Belzig, Jüterborg, Perleberg, Cottbus, Templin or Rheinsberg you might want to explore.
Mecklenburg-Vorpommern (capital: Schwerin) - population: 1,609,675 (2019); area: 23,174 km²

Berlin: population: 3,723,914 (2019)

Brandenburg (capital: Potsdam) - population: 2,511,917 (2019); area: 29,479 km²

Saxony-Anhalt (capital: Magdeburg) - population: 2,208,321 (2019); area: 20,452 km²

Thuringia (capital: Erfurt) - population: 2,143,145 (2019); area: 16,171 km²

Saxony - (capital: Dresden) - population: 4,077,937 (2019); area: 18,416 km²
Explore Saxony-Anhalt's stunning scenery
Saxony-Anhalt, with its mountainous geography, is quite distinct from what can be found in the north. Harz National Park and Brocken mountain offer excellent hiking trails and amazing views over the widespread green forests Germany is famous for.

The capital, Magdeburg, boasts the oldest gothic building in Germany, Magdeburg Cathedral. Hundertwasser's "Green Citadel" is a fascinating modern architectural contrast. An hour's drive away is the "cultural capital" of Saxony-Anhalt, Halle, which has one of the oldest universities in Germany.
The region of Saxony-Anhalt is also the home of four UNESCO World Heritage Sites that offer great historical insight into Germany´s culture you shouldn´t miss: The famous Bauhaus art school in Dessau, the Garden Kingdom of Dessau-Wörlitz (which is one of the first and largest English parks in Germany and continental Europe), the Luther Memorials Eisleben and Wittenberg, and the historic town of Quedlinburg.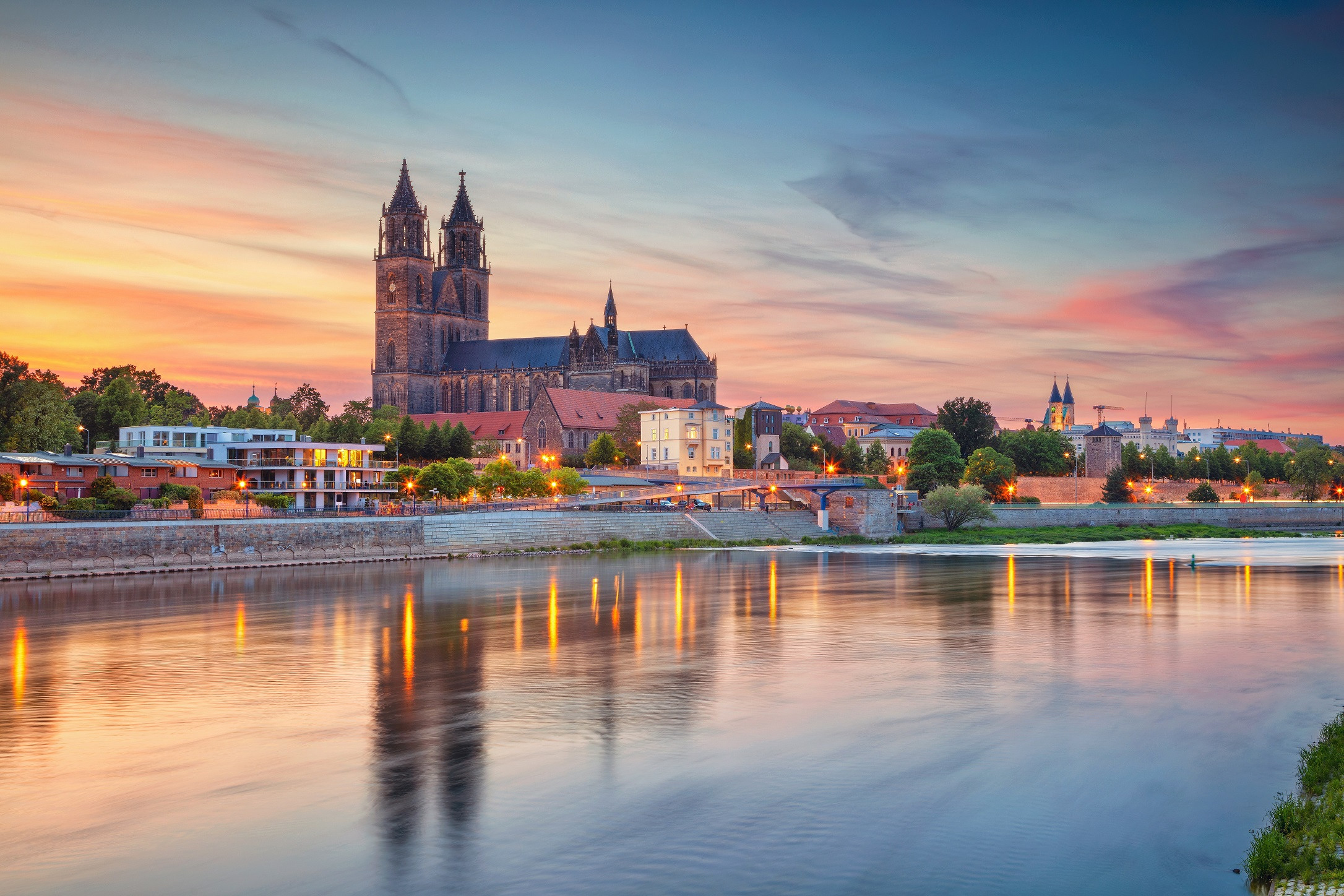 Magdeburg. Image: Adobe Stock
Thuringia and Saxony, Germany's medieval gems
Thuringia is home to many sites of historical significance for the whole of Germany. The city centre of the medieval city of Erfurt, for example, has one of the most beautiful and largest surviving historic city centres in the country. In the romantic town of Weimar, you can walk in the footsteps of important German poets, artists, and philosophers such as Goethe, Herder, Wieland and Schiller.
Thuringia is also the home of many fortresses and castles. Often located in mountainous and idyllic green areas, they are perfect destinations for short day trips for anyone into nature. Particularly beautiful are the romantic Hanstein Castle ruins, Heidecksburg, Creuzburg near Eisenach, Friedenstein, and the Dornburg Palaces which were built in Rococo style, near Jena.
Places to see and things to do in Dresden
In Saxony, of course, the rebuilt historic centre of Dresden, which was heavily bombed during the Second World War, is a must for every visitor. In a huge effort combining public and private donations, many of its beautiful sights were restored and can be visited again: The famous Dresden Frauenkirche in the heart of the city and surrounding Neumarkt, the Fürstenzug – a 101-meter-long mural made of Meissen porcelain tiles -, Dresden Castle, the famous Semperoper opera house, and the Zwinger – a baroque palace and museum complex. And with all that, the list of historic architectural highlights you can visit in Dresden is still far from complete. As you can see this is one of the most impressive cities to visit in Germany.
Discover Saxon Switzerland
Nature lovers get their money's worth in Germany's only national park in Saxon Switzerland. World famous is the Bastei rock formation with a breath-taking panoramic view of other sights, such as the striking mountain, Lilienstein, or the majestic Königstein Fortress. Numerous hiking trails lead through the impressive, heavily rugged rock landscape with many gorges, table mountains and rocky areas. Afterwards, you can relax in the Toskana Therme in Bad Schandau.
Images: Adobe Stock
Latest posts
Swiss Air passengers left in disarray as plane lands in Spain without luggage
Passengers, awaiting their belongings at the airport's baggage claim, were met with disappointment as their bags failed to materialize even after a two-hour wait.
Ural Airlines' Airbus A320 forced to make emergency landing in wheat field
An Airbus A320 operated by Ural Airlines was faced with the possibility of running out of fuel, leading its crew to execute an emergency landing in a wheat field.
20 000 sheep take flight to Saudi Arabia
In addition to machinery, textiles, time-sensitive items like medications and food, live animals are often transported by air freight.
About MYFLYRIGHT
MYFLYRIGHT is a legal tech company, specialized in the support of airline passengers affected by flight delays, flight cancellations, denied boarding, delayed or lost luggage and the refund of unused airline tickets. MYFLYRIGHT was founded 2016 in Hamburg, Germany. The company operates out of 3 offices, its headquarter in Hamburg and its branches in Prague, Czech Republic and Zaporizhia, Ukraine. Currently, MYFLYRIGHT employs a team of around 25 people working in Marketing, Operations, Legal, Customer Support and IT. The organization operates across 5 markets – Germany, United Kingdom, Romania, Austria, and Switzerland.
MYFLYRIGHT's goal is to provide access to justice for all aviation passengers who experience irregularities in their flight transportation. Notably, 75% of all compensation requests submitted by passengers get rejected. Whereas, MYFLYRIGHT is able to successfully execute the applicable customer claims in more than 98% of cases at court.
Get up to 600 €* in compensation
Check claim for free