Groningen: The city that never sleeps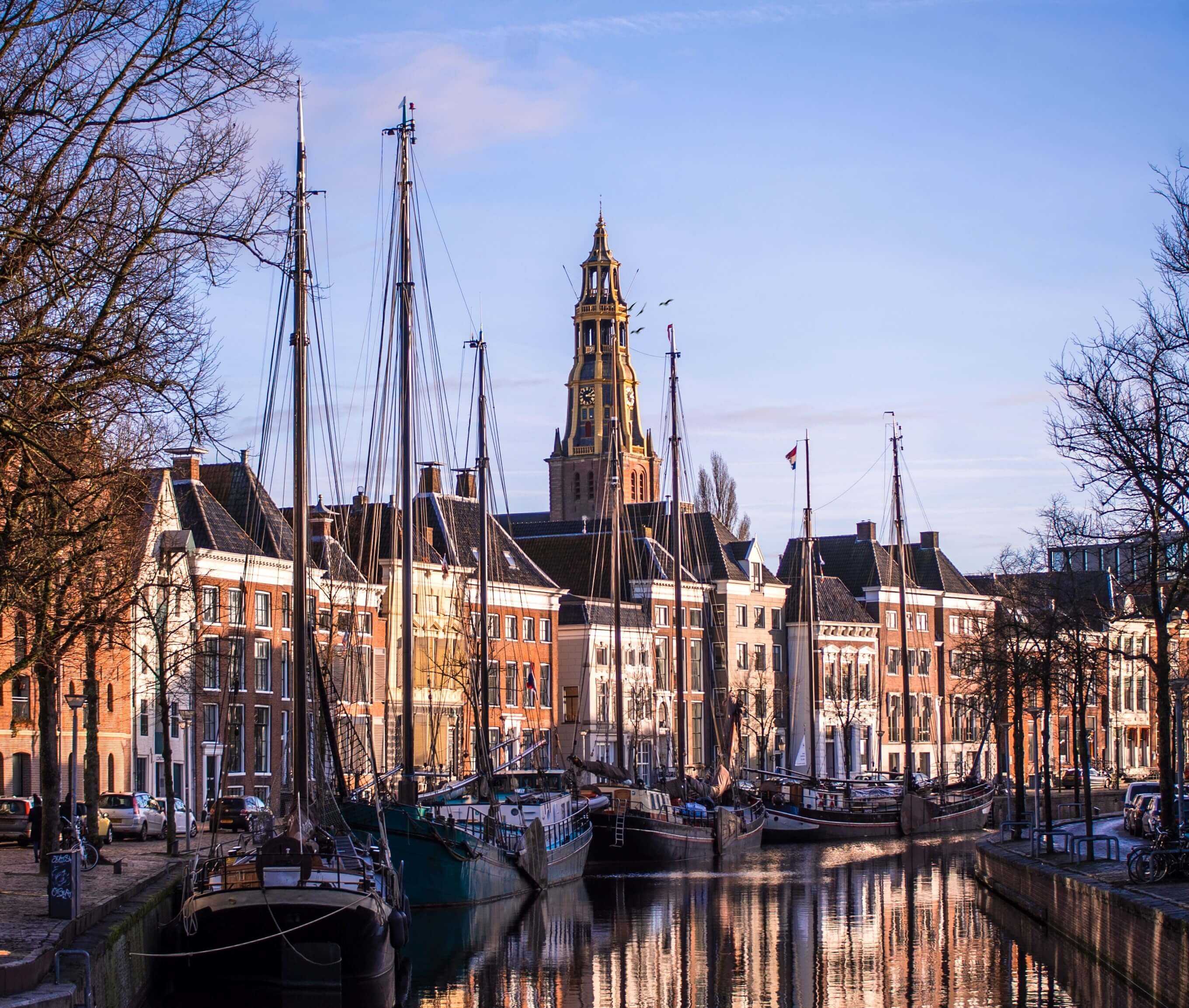 A note from MYFLYRIGHT: We realise that people currently aren't travelling and it's uncertain when things will get back to normal. However, we decided to post our latest blog by Yoanna about the gorgeous city of Groningen to spread a bit of positivity, lift some spirits and to give you some inspiration for where to explore when things do finally improve. For now, please enjoy the read 😊

Hey everyone, it's me again – Yoanna! Today I'm telling you all about a town that's very close to my heart. The beautiful Groningen is located in the north of the Netherlands and is a university city with approximately 60 000 students. It's lively, with a younger-than-average population and you can always find plenty of fun things to do there. As I finished my master studies in Groningen, it became my second home and I was lucky enough to explore every corner of the city.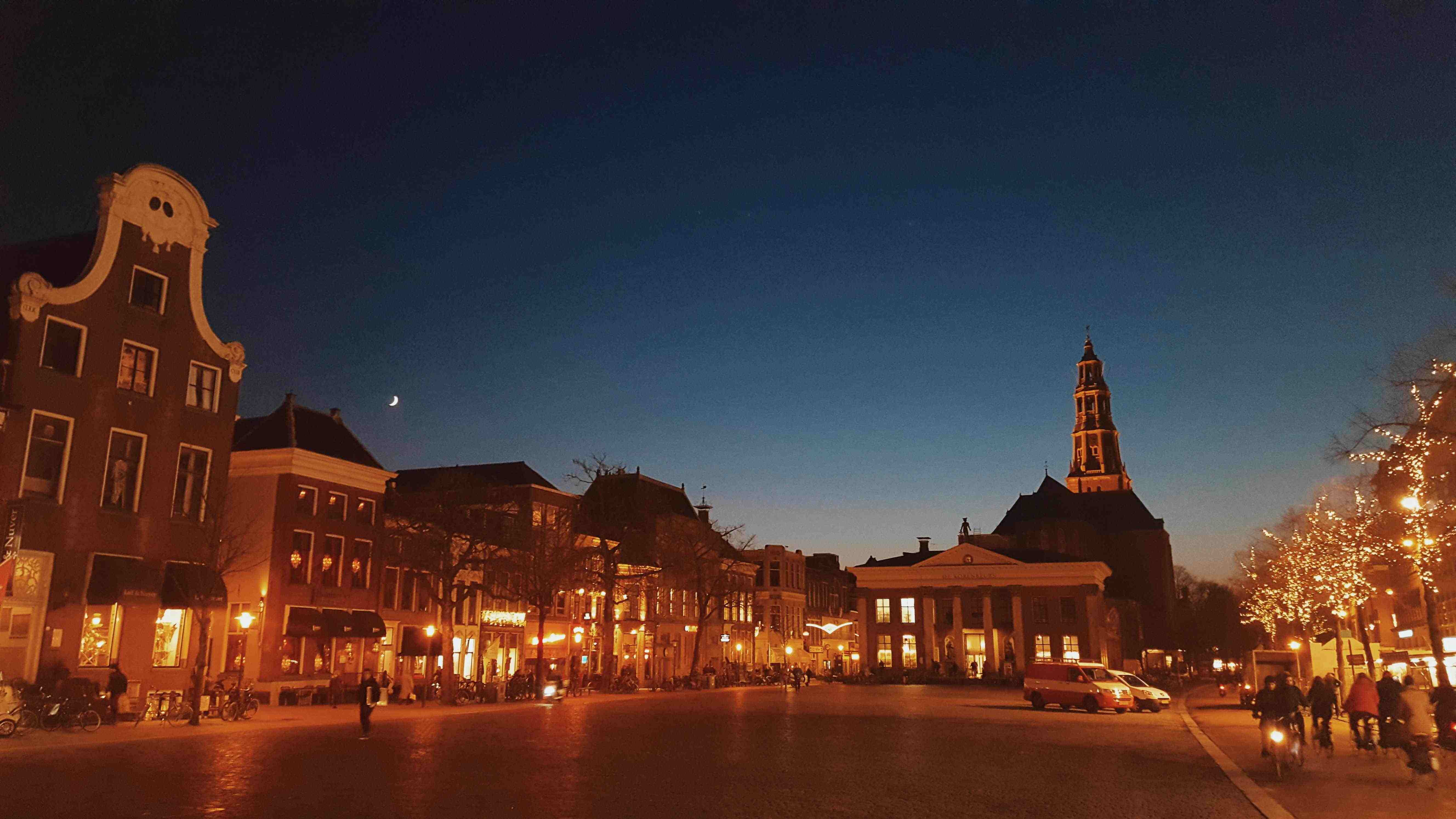 Vismarkt at night

When it comes to sights worth visiting, my number 1 is definitely the beautiful main university building in the city centre, opposite the library (where we used to spend countless hours 😄). The University of Groningen (Rijksuniversiteit Groningen) has a rich academic tradition that dates back to 1614. After the University of Leiden, it is the second oldest Dutch university. The building reflects the architectural style in Groningen which, in general, is typically Dutch and picturesque.
A note for when you visit: Watch out for cyclists! The city is full of bikes as it's the most popular mode of transport so newcomers and visitors should make sure they always look carefully before crossing the street.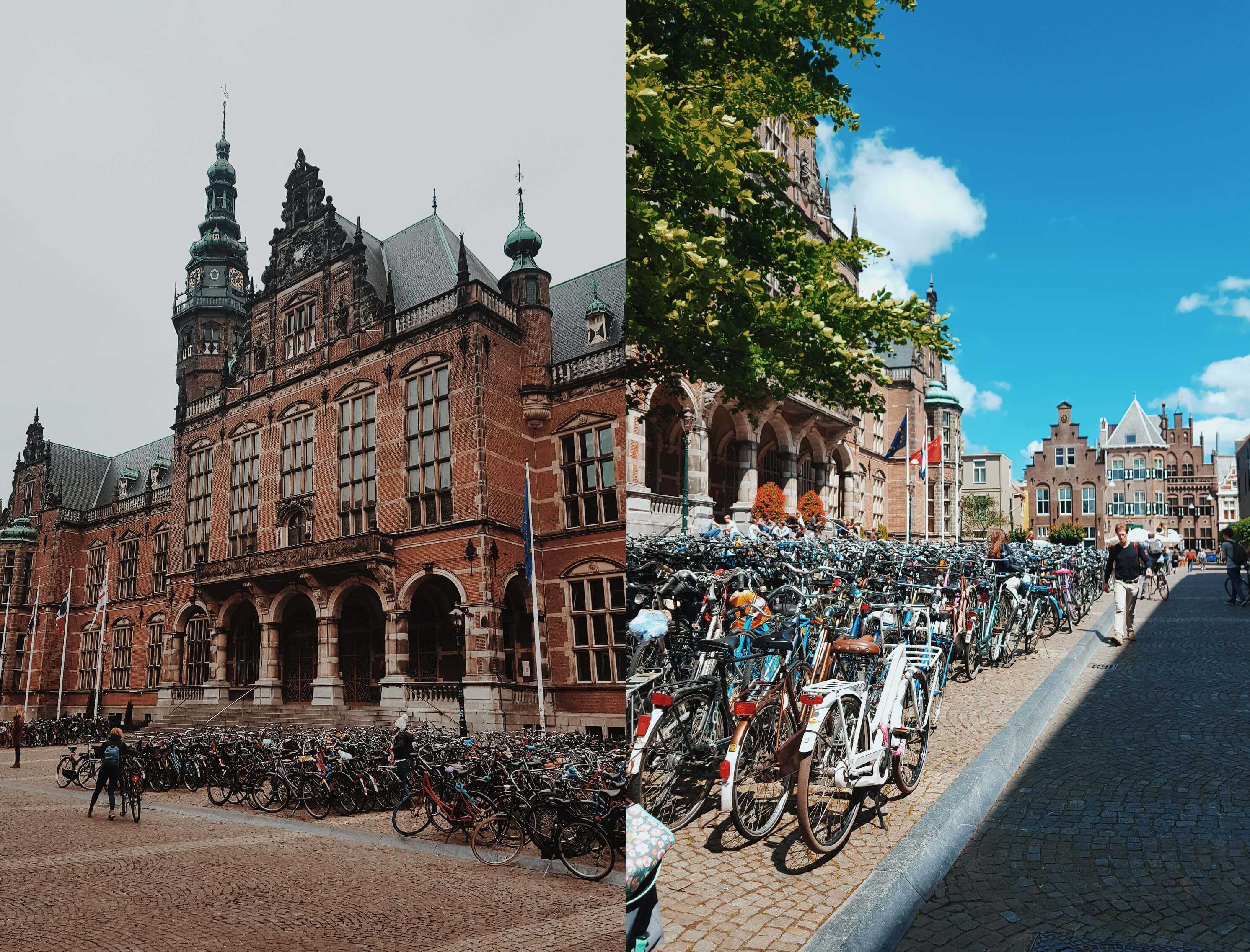 University of Groningen, main building

Groningen railway station (Hoofdstation) is also worth a look. It was designed by Izaak Gosschalk and combines neo-Gothic and neo-Renaissance elements. Directly opposite, you'll find the Groninger Museum. It features interesting exhibits of modern and contemporary art, as well as fantastic temporary exhibitions of well-known artists such as the sculptor, Rodin. I'm sure you're familiar with his famous pieces "The Thinker" and "The Kiss". Students of Groningen are granted free entrance, otherwise it's quite pricey (15 € per person), but definitely worth a visit!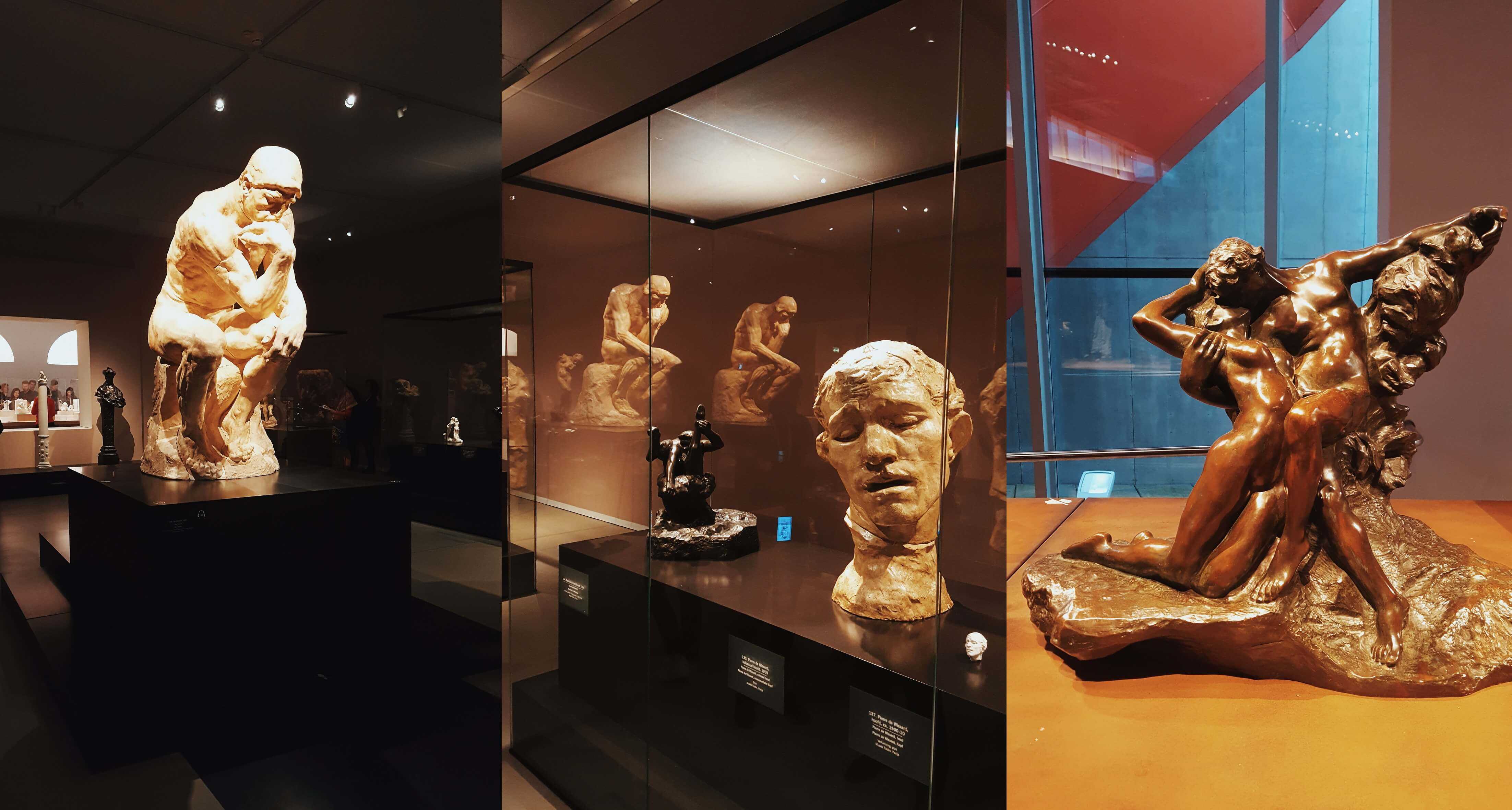 Groninger Museum: famous works by Rodin – "The Thinker" and "Eternal Springtime"

Westerhaven is a lovely part of Groningen – with its countless canals and bridges it's the perfect place for taking pictures! In December the neighbourhood is very festive and many of the buildings and bridges are decorated with twinkling Christmas lights. An awesome Christmastime treat are pepernoten. A pepernoot is a Dutch cookie-like confectionery, traditionally associated with the early December Saint Nicholas holiday in the Netherlands. They're so yummy I'd happily eat them all year round!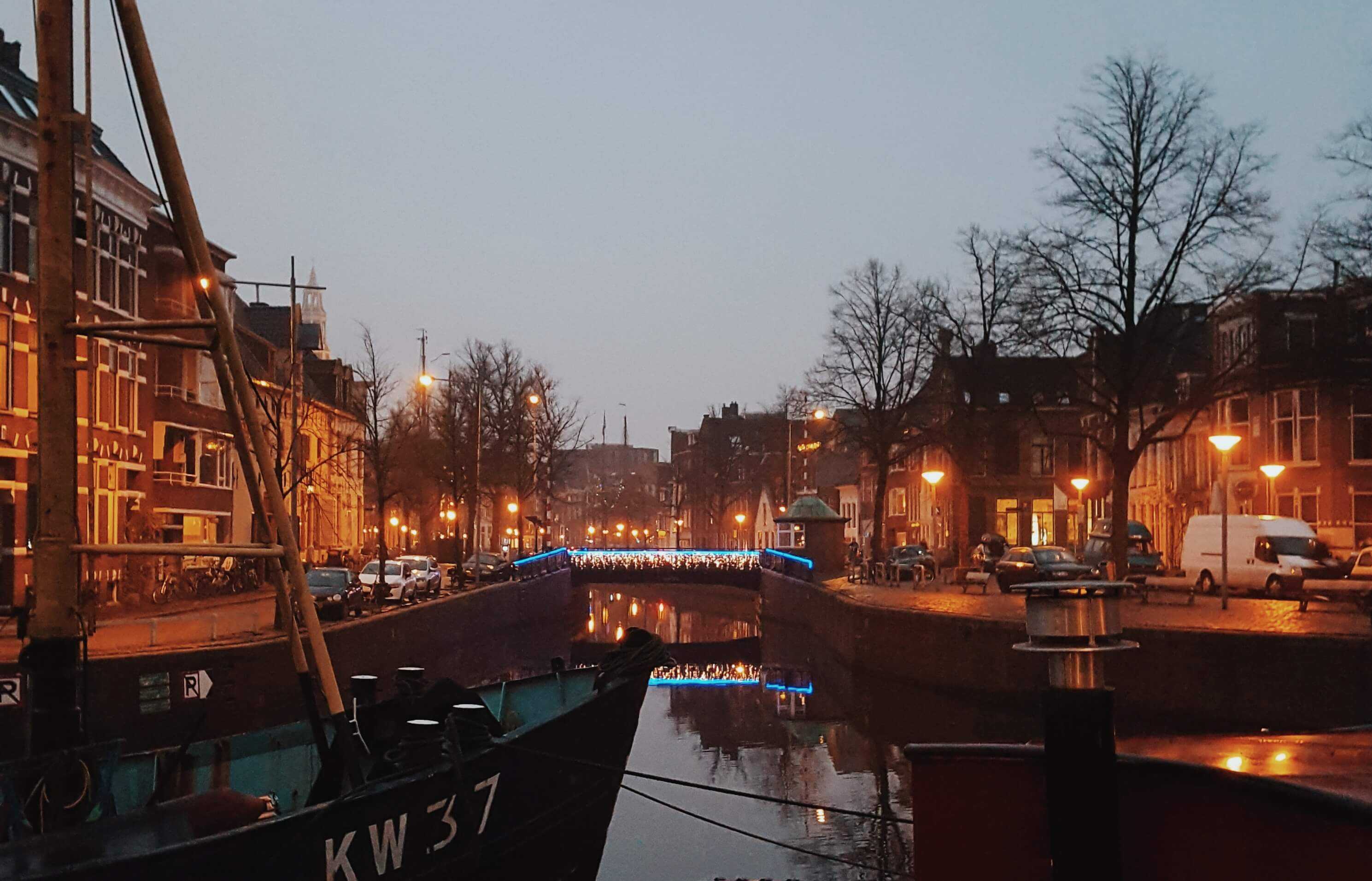 Groningen in winter

My favourite park in the city is Noorderplantsoen – perfect for a jog, playing volleyball or basketball or simply hanging out with your friends and having a picnic. Every year a number of events take place here, the most famous being the Noorderzon Festival in August, which shows live music and theatre performances. There are also countless food stalls with interesting snacks and international cuisine from all over the world. Another well-known event in the park is the Plantsoenloop, an annual run in November which attracts about 500 participants.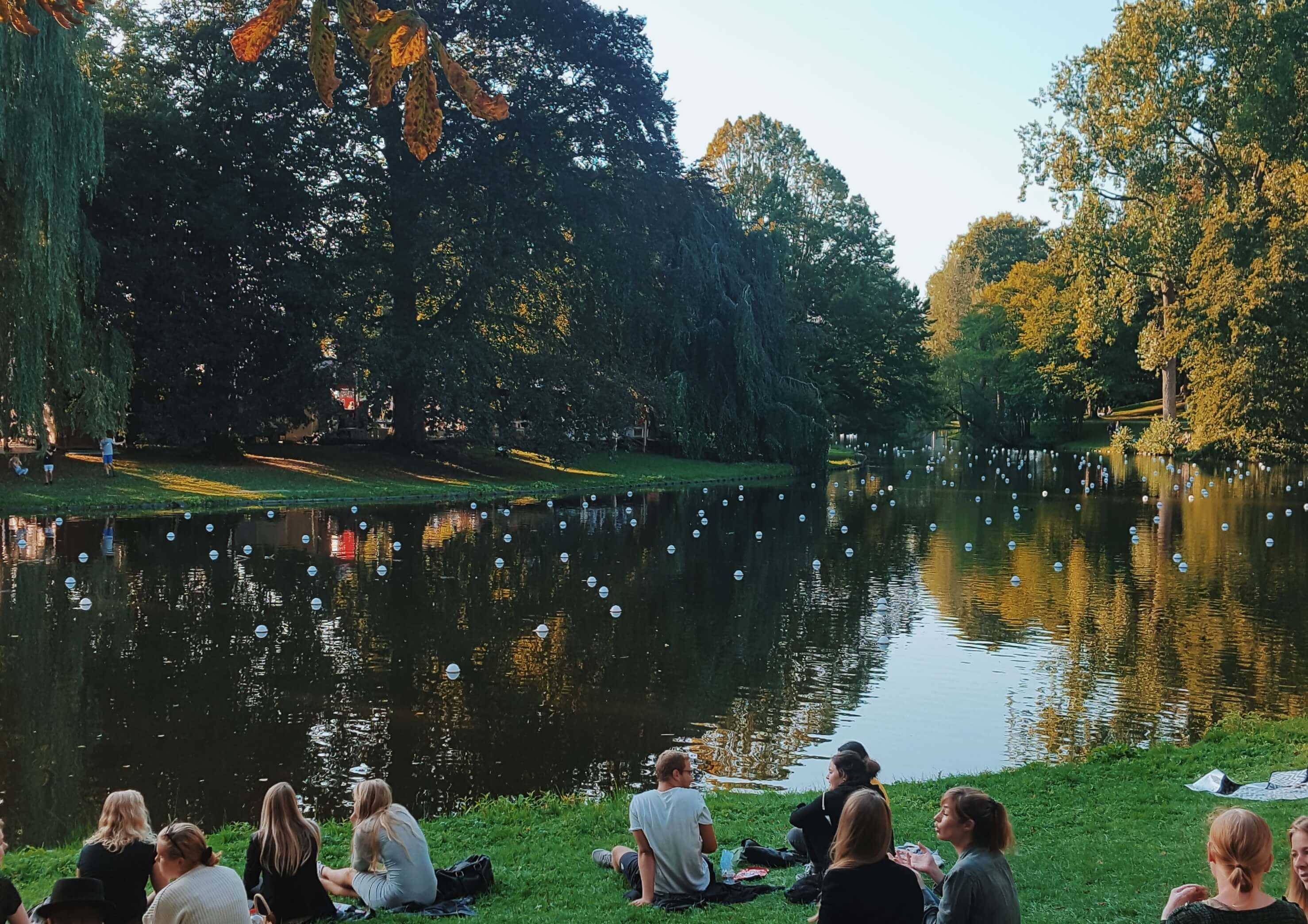 Noorderplantsoen

Anyone who knows anything about Groningen will tell you that De Drie Gezusters is the most popular spot in town. It's a café that offers a variety of food, snacks and drinks and it's located very centrally on Grote Markt (the Main Square). When I go there with my friends, I always order my favourite Dutch drink - Chocomel. It's a type of chocolate milk that you can drink both warm and cold with whipped cream on top. In addition we usually order the typical Dutch snacks - bitterballen & kroketten, deep-fried balls filled with a meat or vegetable ragout, usually served with mustard for dipping. If you're craving something sweet on the other hand, I'd recommend the stroopwafels. They are thin, round waffles, filled with syrup. You can buy them fresh at the market or packaged in supermarkets.
As my campus was located a bit further away from the city centre, I usually took the bus or, on several occasions, walked there and explored that part of the city on foot. On the way to the campus, you can see the famous colourful houses in Reitdiephaven, which is a beautiful neighbourhood and a marina on the outskirts of the city. The buildings on the Zernike Campus are also worth seeing, with their unique angular shapes and bold colours.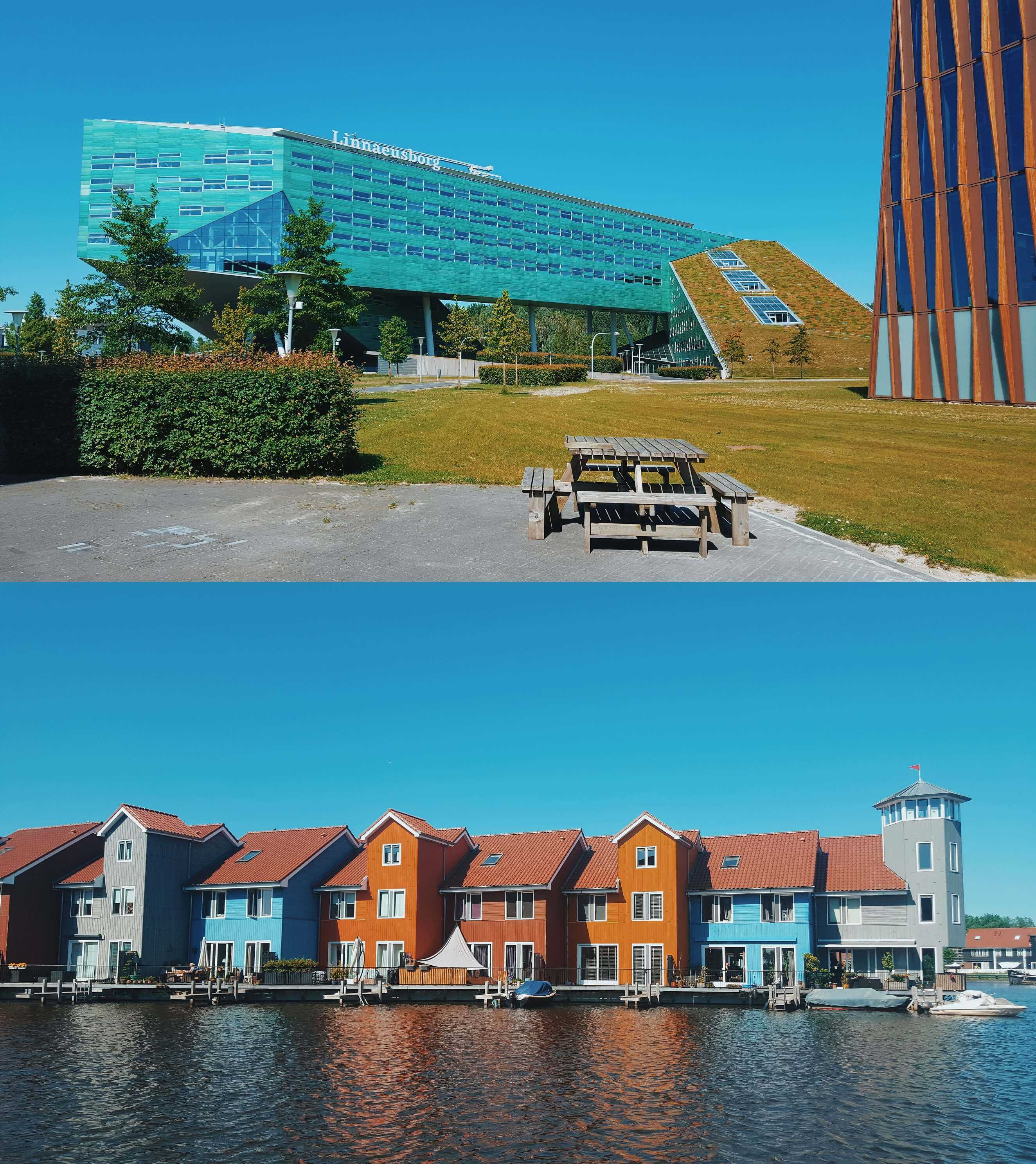 Zernike Campus & Reitdiephaven

If you want to grab a coffee or a glass of wine, I would recommend Cappuvino (see what they did there? Some nice wordplay for coffee and wine 😊). We loved hanging out here, they offer delicious fresh pastries and tarts, and an exquisite assortment of tea. The atmosphere is lovely, with a beautiful view over the Vismarkt. On weekends we would usually have brunch or late breakfast at Bakker Bart, where they serve a huge variety of sandwiches, wraps, pizzas, focaccia, salads, and sweet pastries.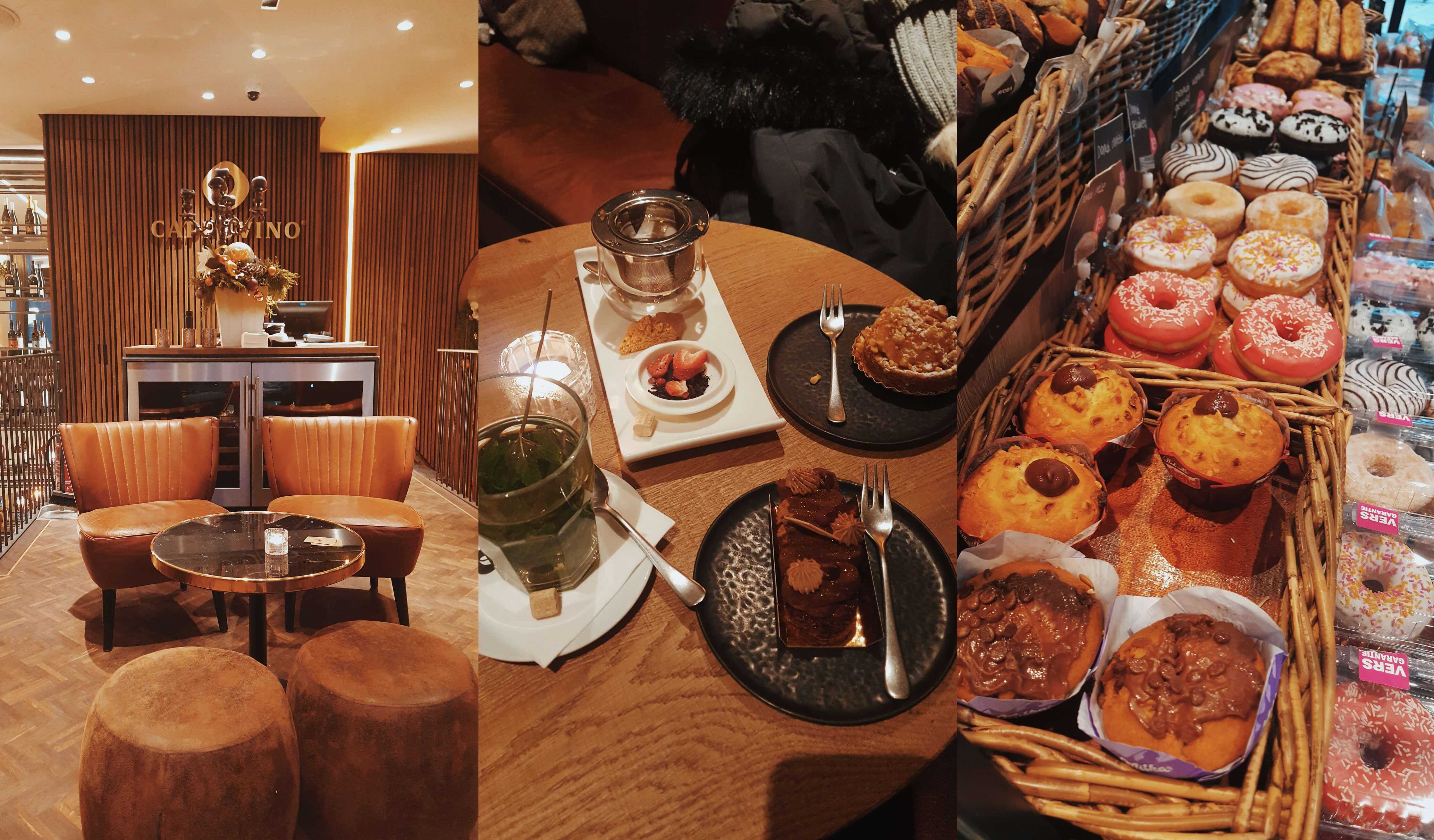 Cappuvino: interior & snacks; Bakker Bart: muffins & donuts

Another great spot in Groningen is the cat café, Op z'n Kop, which as you can probably guess is inhabited by several feline creatures. If you are a cat lover, a visit to here is a must! They put on weekly events such as cat yoga, cat movie night and cat bingo and you can also play board games like "Crazy Cat Lady". The cats are lovingly cared for and the staff is super friendly. Another favourite place of mine is the café Little Lovely Living. This is a place for true unicorn fans and lovers of all things sweet. The interior is mostly pink and light blue, covered in rainbows, unicorns and toys, all of which are for sale.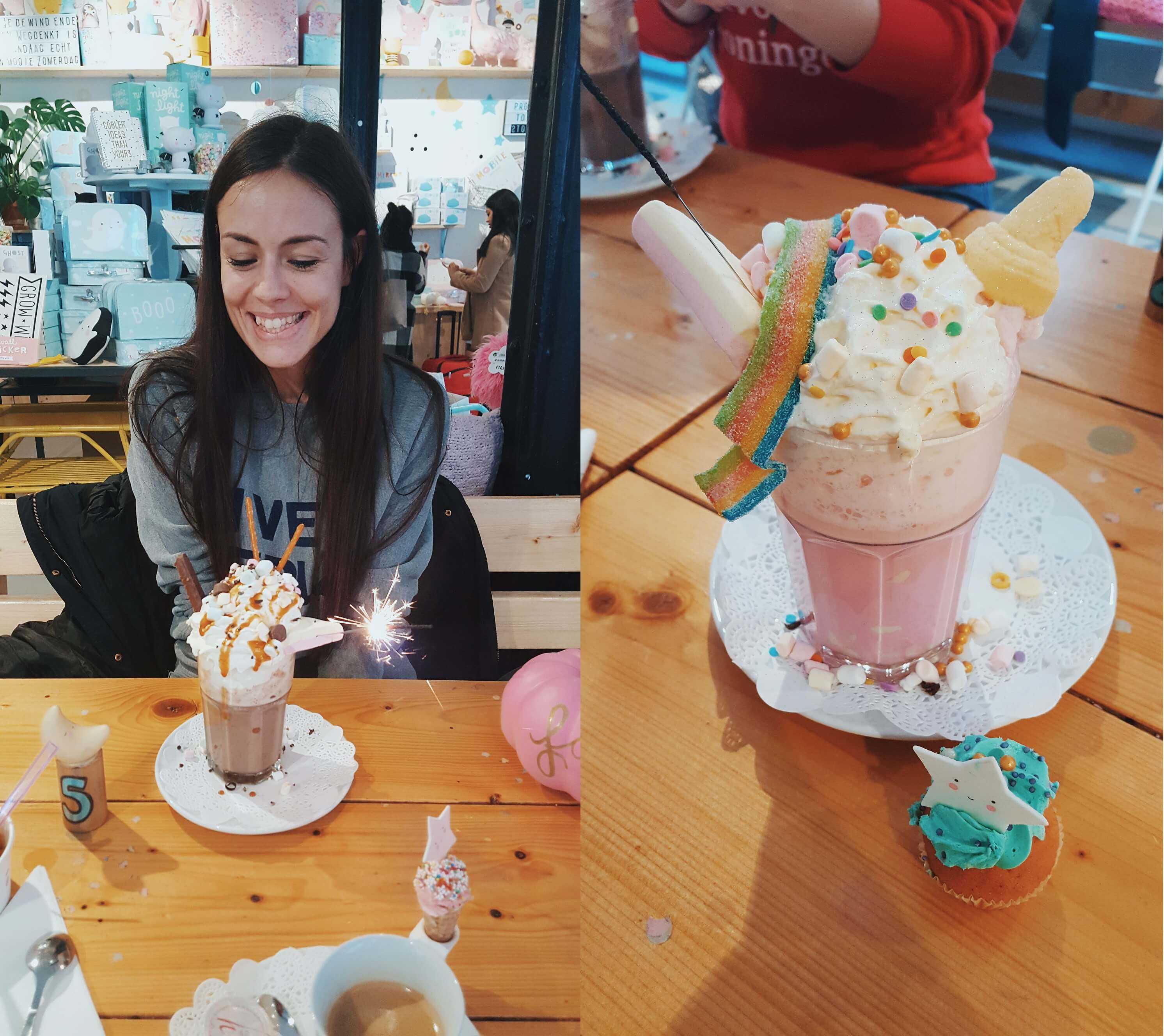 Little Lovely Living

A huge attraction for both children and adults is 't Pannekoekschip (Pancake Ship). It's a boat restaurant on the canal which is famous for its very special pancakes. I highly recommend going there if you're hungry, because the portions are massive and there's a huge variety to choose from, both sweet and savoury. My favourite is the salmon, zucchini and sour cream pancake.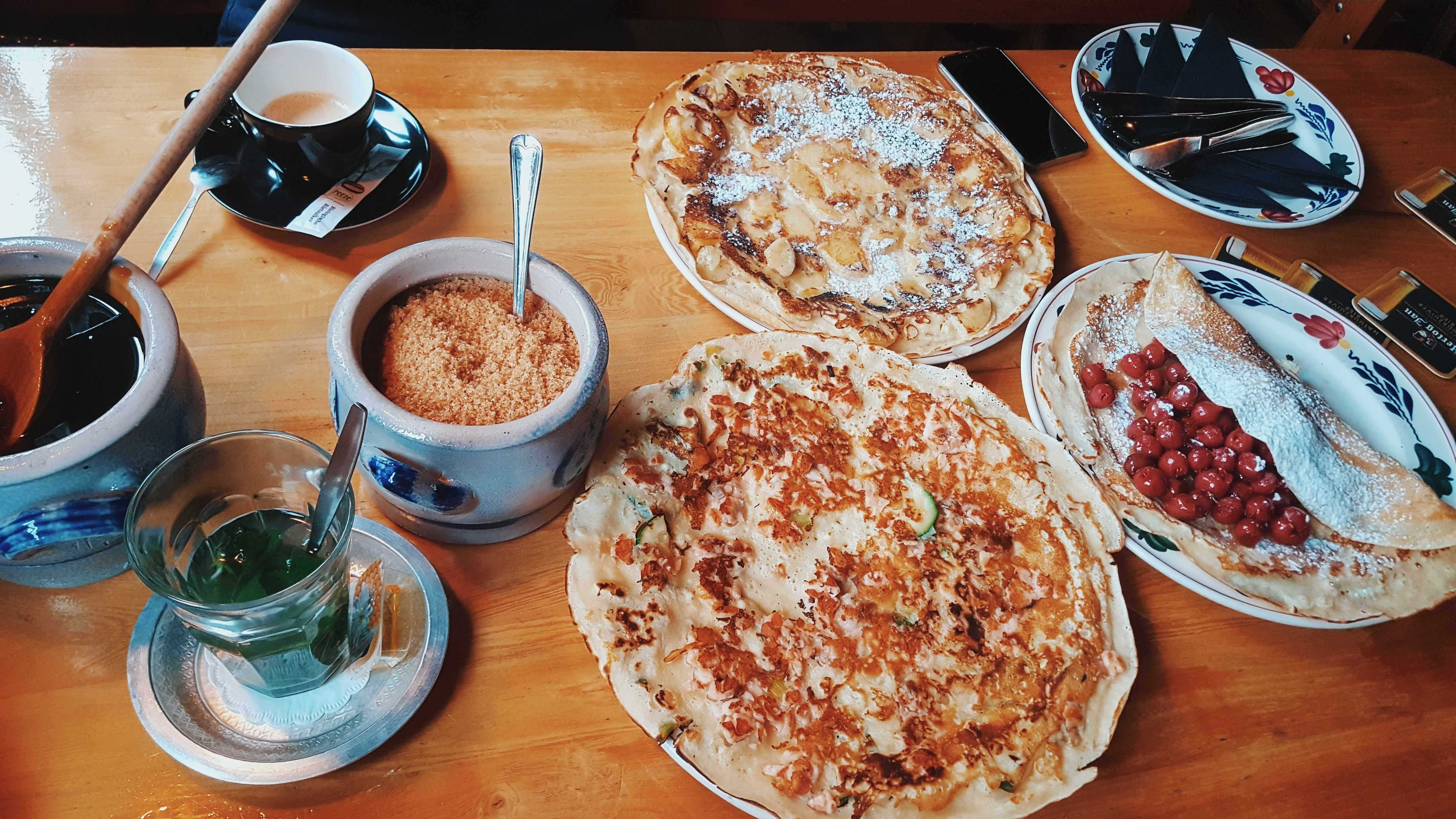 't Pannekoekschip: salmon and zucchini, cherries and powdered sugar, apple sauce and honey

As quite a few tourists mostly visit the Netherlands for certain other 'herbal' purposes, I can also give you a couple of suggestions for coffee shops where you can try out some magic cupcakes and brownies. The Clown and The Flying Dutchman are the most famous coffee shops in town. There is also a red-light district, much smaller than the one in Amsterdam, but still interesting for tourists. It's located on the Niewstad, which extends from Schoolholm to Pelsterstraat.
Nightlife in Groningen is pretty wild and people party every night of the week - even during exam period, you'll find the city full of revellers. My personal favourite club is Copas. It's a trendy place with delicious cocktails and drinks, a lot of reggaeton and international Latin music. It always has a great atmosphere and you get to meet people from all over the world. We also loved going to the karaoke bars The End Karaoke and Sing along.
Sunny beach is also a lot of fun, I enjoy the music there – it's mostly mainstream tunes that everyone can sing along and dance to. The name of the club is the same as the Bulgarian resort Sunny Beach, which is close to my hometown, plus some of the staff there are Bulgarian, so it was always nice to meet people from my home country on a night out. There is also the shot bar, Chupitos, that offers more than 150 types of shots. Sometimes they set the bar on fire and you can roast your own marshmallows on it!
It was great for me to reminisce about this city, which was home for me during my student days. I hope these tips are helpful to you and I've given you a little inspiration for your next holiday. Safe travels and enjoy Groningen when you visit 😊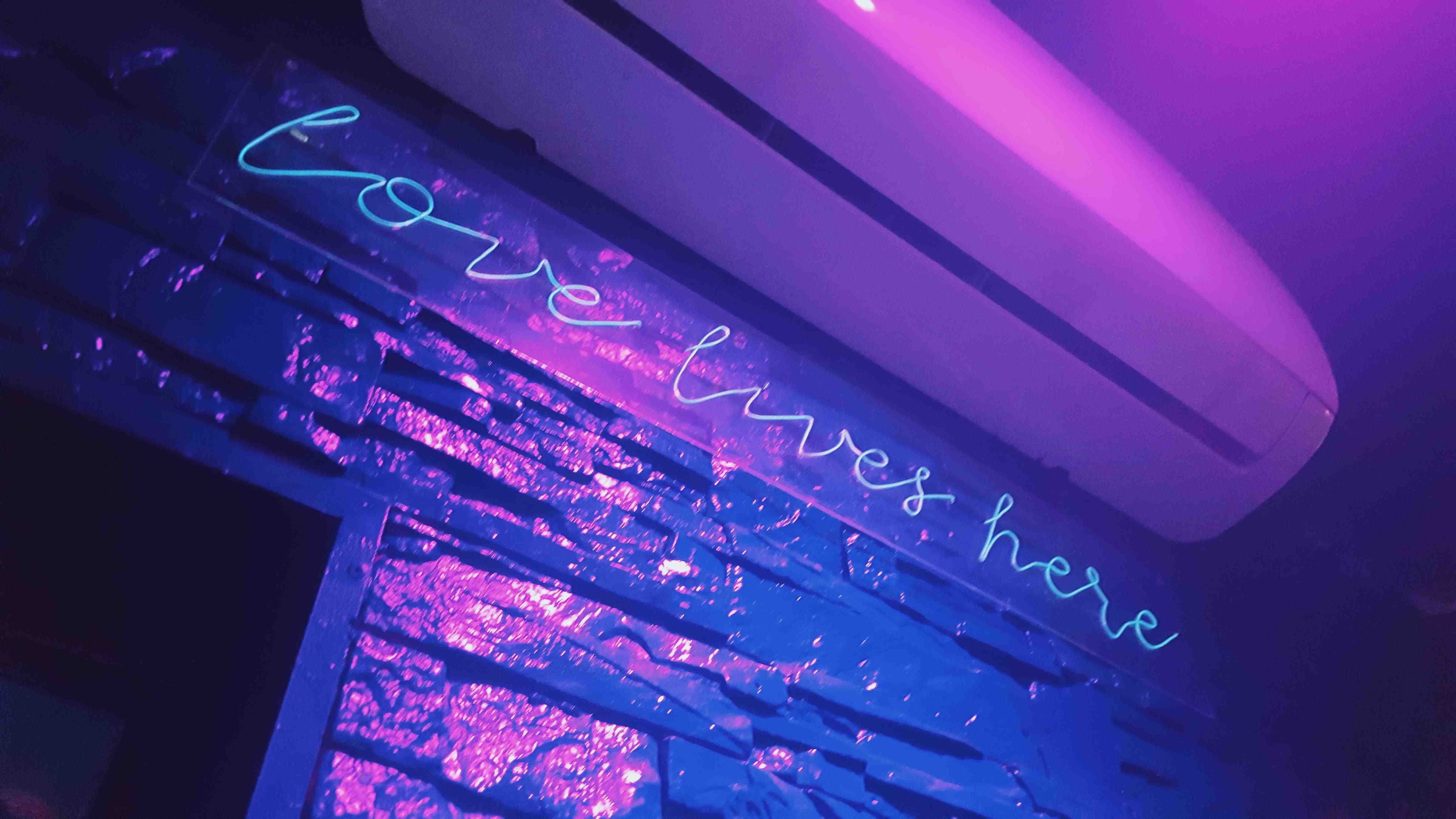 Groningen nightlife


All images within article courtesy of Yoanna
Top image: Unsplash

Latest posts
British Airways pilot fired for bragging about flight cocaine use
In September 2023, a British Airways pilot found himself at the center of a scandal that rocked the aviation industry.
Passengers express outrage as flight faces double cancellation
A Brussels Airlines flight originating from Kinshasa, Democratic Republic of Congo, experienced an unexpected and frustrating turn of events when it was postponed twice.
Swiss Air passengers left in disarray as plane lands in Spain without luggage
Passengers, awaiting their belongings at the airport's baggage claim, were met with disappointment as their bags failed to materialize even after a two-hour wait.
About MYFLYRIGHT
MYFLYRIGHT is a legal tech company, specialized in the support of airline passengers affected by flight delays, flight cancellations, denied boarding, delayed or lost luggage and the refund of unused airline tickets. MYFLYRIGHT was founded 2016 in Hamburg, Germany. The company operates out of 3 offices, its headquarter in Hamburg and its branches in Prague, Czech Republic and Zaporizhia, Ukraine. Currently, MYFLYRIGHT employs a team of around 25 people working in Marketing, Operations, Legal, Customer Support and IT. The organization operates across 5 markets – Germany, United Kingdom, Romania, Austria, and Switzerland.
MYFLYRIGHT's goal is to provide access to justice for all aviation passengers who experience irregularities in their flight transportation. Notably, 75% of all compensation requests submitted by passengers get rejected. Whereas, MYFLYRIGHT is able to successfully execute the applicable customer claims in more than 98% of cases at court.
Get up to 600 €* in compensation
Check claim for free