Isla Mujeres: Local guide for your dream holiday


Just off the Yucatán Peninsula across from Cancún, lies the serene Isla Mujeres. Boasting an abundance of stunning vistas, this Mexican island is the perfect place to get away from it all. There's local cuisine bursting with flavour, soft sandy beaches lapped by bright turquoise sea and atmospheric Mayan ruins. Although much calmer than it's more famous neighbour, Isla Mujeres has plenty of activities to keep you entertained – so whether you're looking for a relaxing beach holiday or you want to scuba dive with local marine life, there's something for everyone.
Today's "Like Locals" guest, Joey (@joeypetrila), has a fascinating story behind how his family arrived on this slice of paradise and gives us his insider tips on what to do, see and – most importantly! – eat, on Isla Mujeres.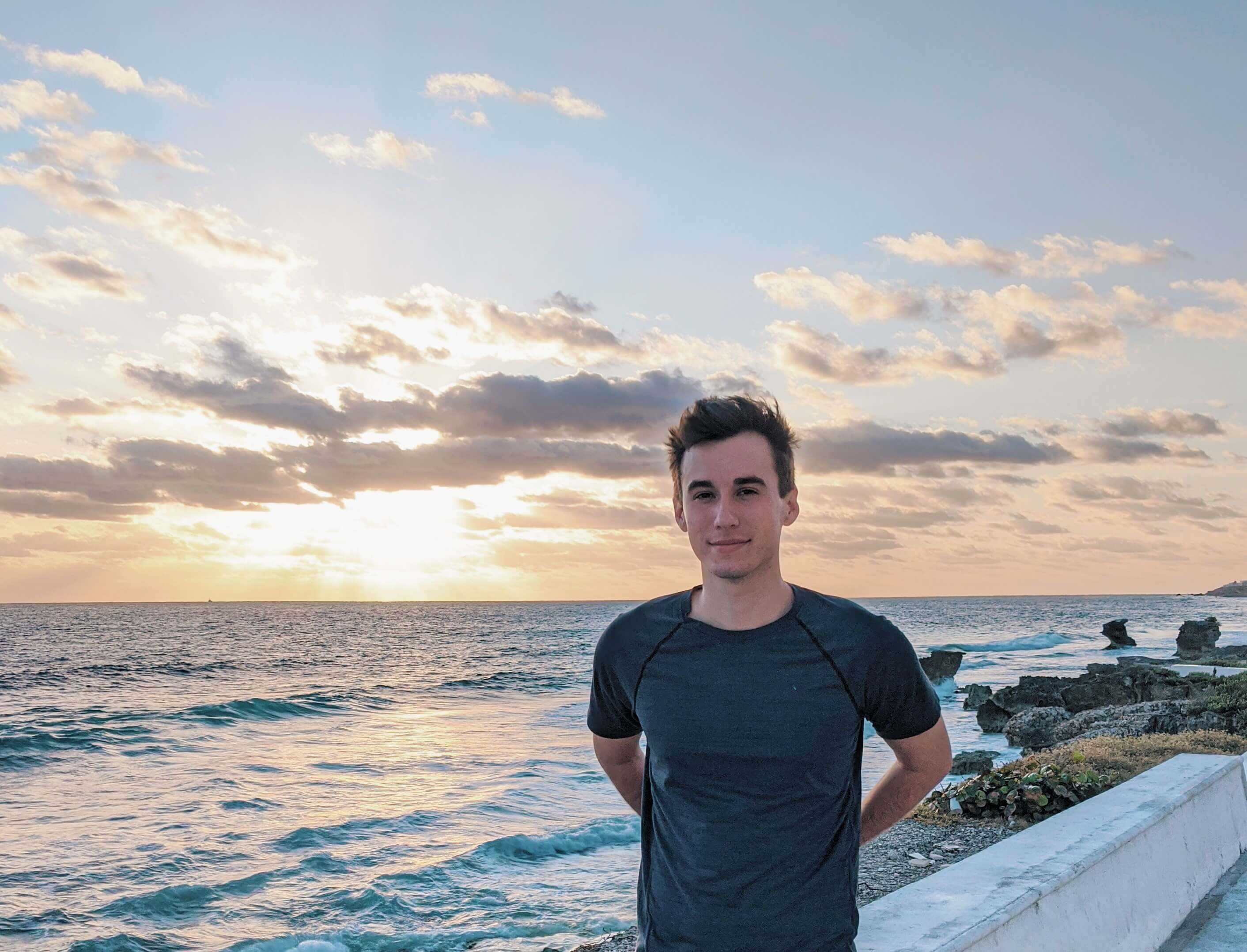 Joey Petrila, image courtesy of Joey

Welcome to "Like Locals" Joey! Can you tell us a little about yourself?
Hi! I'm an Outreach Coordinator for a Research Institute in the Czech Republic as I complete my BA in International Politics and Society at a local university. While I'm American born, I moved to Isla Mujeres, Mexico, when I was 9 years old with my family while living on a sailboat. Long story short: we were sailing down to Panama when we stopped on this 7km-long island for gas and decided to stay. I studied at a local school and my parents found work there, and since I've moved away, I visit every year to see family and childhood friends. The only way to reach Isla Mujeres is via a ferry that runs every 30 minutes from Cancún. Once you've made it there, it's easy to figure out why the island has become a home away from home to so many foreigners!

Can you describe your perfect morning?
Living on an island that's only a mile wide means it's a short trek from one side to the other for a zen-filled morning watching the sun rise over the ocean. While I'm far from the athletic type, a morning jog or walk along the Mundaca, a stretch of pavement that weaves along the shoreline for about a mile, gives a great view of the crashing waves below. If the warm salty breeze isn't incentive enough, I'll quickly be basking in the first rays of sunshine to touch Mexico, as Isla Mujeres is the most western part of the country.

"Playa Norte is listed as one of
the best beaches in the world"

Once I've finished trying to forget all the Sols (watery national beer, also known as Corona's ugly step-sister) I drank the night before to motivate myself to run that extra mile, I'll walk inland to the local streets to find a fresh juice store. Litre juices in unmarked plastic bottles boast vibrant colours, from the electric purple of dragon fruit to the boisterous gold of an orange and carrot concoction. It's hard to recommend just one juice shop as they're all fantastic and easy to find – there's pretty much one on every corner.
The only occasion to surpass an inevitably delicious lunch on a Caribbean island is brunch. As well as juice shops, the north side of the island that's known as El Centro also has a variety of restaurants offering healthy (and some not-so-healthy) twists on breakfast dishes. Lola Valentina serves plenty of refreshing dishes using tropical ingredients like fresh coconut shavings in Greek yogurt, shrimp and lobster omelettes, plus a huge variety of tasty salsas to wake up your taste buds.

What are the best things to do during the day?
In the afternoon, it can be boiling out in the sun so there's no better time to rent a rusty bicycle for about 3 euros for the day and go exploring. Keep in mind you can do an entire circle around the island in just a few hours, although the hills towards Punta Sur, the southern-most tip, are daunting. As you ride, you'll spot beautiful vacation homes and sea-side restaurants, and if you make it to Punta Sur you can pay a small fee to see centuries-old Mayan ruins.
Late afternoon is the perfect time for the beach, and there's no place like Playa Norte to grant even the biggest beach bum's wishes. Listed as one of the best beaches in the world by CNN, its soft sand that blends into shallow water means you can rest in the sun before simply strolling into the ocean to cool off. It's not surprising to see little grey fish the size of a pinkie toe swim by, and a pro-tip for those less skittish about our scaly friends is to grab a fistful of sand and throw it up in the water. They'll adorably think this is food and are quick to swarm in packs of a dozen or more - just don't get scared if you feel a little nibble on your feet!

"Alexis & Giovanni Loncheria is my favourite
restaurant for authentic Mexican food"
For a true local experience for lunch, around the corner from Hidalgo street (the main drag), you'll find a market plaza with a line-up of the best cheap, genuine Mexican food places on the island. It can be confusing at first, as the restaurants only have simple kitchens separated by concrete walls. A mix of cheap plastic tables and chairs seamlessly combine, and it's sometimes hard to tell which kitchen is making your food. But its places like this, where fresh corn tortillas and more humble dishes are served, where you get a real taste of the culture. Alexis & Giovanni Loncheria is my favourite restaurant for authentic Mexican cuisine, although my entire life I've never been able to figure out which of the elderly women who run it is Alexis or Giovanna.
Snacks to get you through the day are tamales, corn-based veggie or meat pockets steamed in palm leaves, or for something more refreshing there is always a travelling coconut vendor who'll give you fresh coconut as well as water to keep you hydrated.

"refreshing Mexican
ceviche is a must try!"

What's the best way to spend an evening on the island?
Once dinner time rolls around, it's time to brace yourself for the loud and never-ending nightlife of Isla Mujeres.
This bustling spot boasts bars and restaurants that constantly pulse with live music, and as my own father played music at these bars, I'm not unfamiliar on where you'll want to practice your salsa moves after a few Margaritas!
This place, located on Hidalgo Street, is an island staple - local bands that play there are revered like The Beatles – and it serves amazingly fresh seafood, as well as a variety of meat dishes.
North Garden is great for any meal, but their dinner meu is to die for. It's open-air, with a laid-back atmosphere and whatever you order – from the melt-in-your-mouth empanadas, to the fresh catch of the day cooked on the grill – is delicious.
Mexico is of course well-known for its tasty cuisine and there are some traditional dishes you can't leave the island without trying:
Arrachera steak & tacos de pollo
Perfect for the meat eaters out there, mouth-watering arrachera (skirt steak) is perfectly marinated and tender, while tacos de pollo (chicken tacos) are always served with a generous helping of addictive Pico de Gallo.
Pico de Gallo salsa
While literally meaning "The Chicken's Beak", Pico de Gallo is a topping made from onion, coriander, lime, and tomato and is served with almost any dish you buy. Refreshing Mexican ceviche is a must try! The citrus in Pico de Gallo cures the raw seafood in this dish, which is perfect as an appetizer or entree. There's nothing like chewing on an occasional octopus tentacle to satisfy your hunger!

"Isla Mujeres holiday-goers can zipline
over the sea or dive with whale sharks."

Is there ever bad weather on Isla Mujeres?
Even if your trip ends up being during one of the infamous Nortes, the nasty rainstorms that tend to hit the island, you have nothing to worry about. As the entire island is used to its streets flooding, all the restaurants will stay open, giving you plenty of opportunities to go out and explore. While there are no movie theatres or malls, there are bars with pool tables, arcades, and of course souvenir shops to provide a dry sanctuary.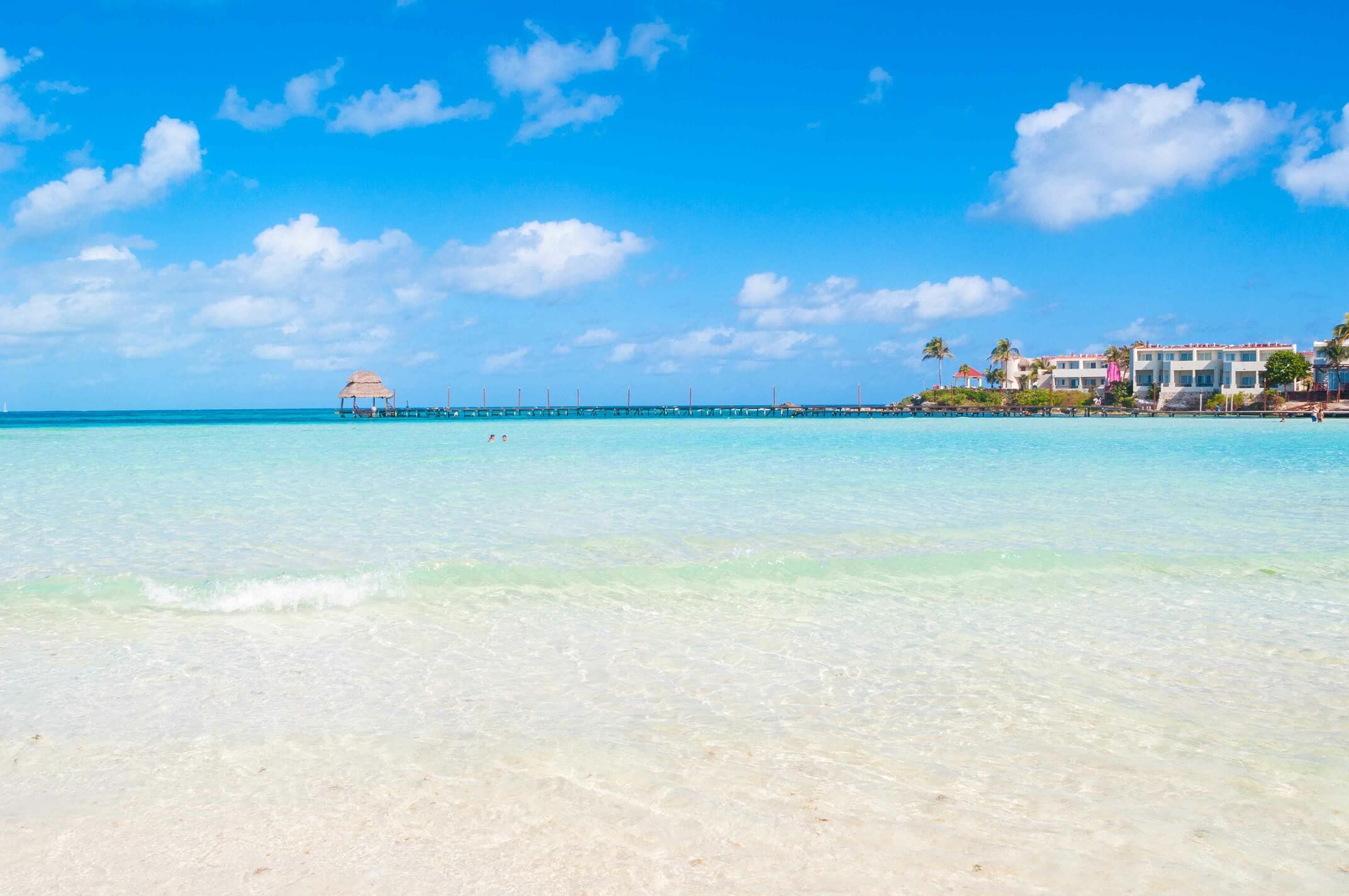 View of the horizon from Playa Norte*

Do you have any other tips for visitors?
When shopping for your souvenirs you need to visit the gaggle of shops by Poc-Na Hostel on the western side of Centro – avoid the overpriced places on Hidalgo at all costs (literally). Just make sure your Spanish is good enough to haggle, as all prices are negotiable, and you shouldn't be satisfied with the price until it's at least a quarter less than when you first asked. You'll gain the respect of the shop owner and keep your wallet a bit fuller as a result.
Another way to keep your wallet filled is to make sure you exchange your money at a trusted exchange place. Sadly, this can be as hard to find as a unicorn, so get ready to check the official exchange rate on your phone to be able to negotiate. As they say, nothing worth having comes easily!
Adventurous Isla Mujeres holiday-goers can zipline over the sea in Garrafon Park, go scuba diving, swim with dolphins, take a snorkelling tour or dive with whale sharks.
Isla Mujeres translates to "Island of Women" and is a gem that is quickly becoming discovered. Over 10 years the number of visitors has grown exponentially, and with it the local community continues to face rising living costs. In another decade there might not be an authentic local community to speak of, even though they make Isla Mujeres the enchanting island it is. If you decide to visit, make sure to go soon and be respectful of those who live there; your vacation place is also where families have lived for generations.
With that said, Isla Mujeres should definitely be on everyone's bucket list!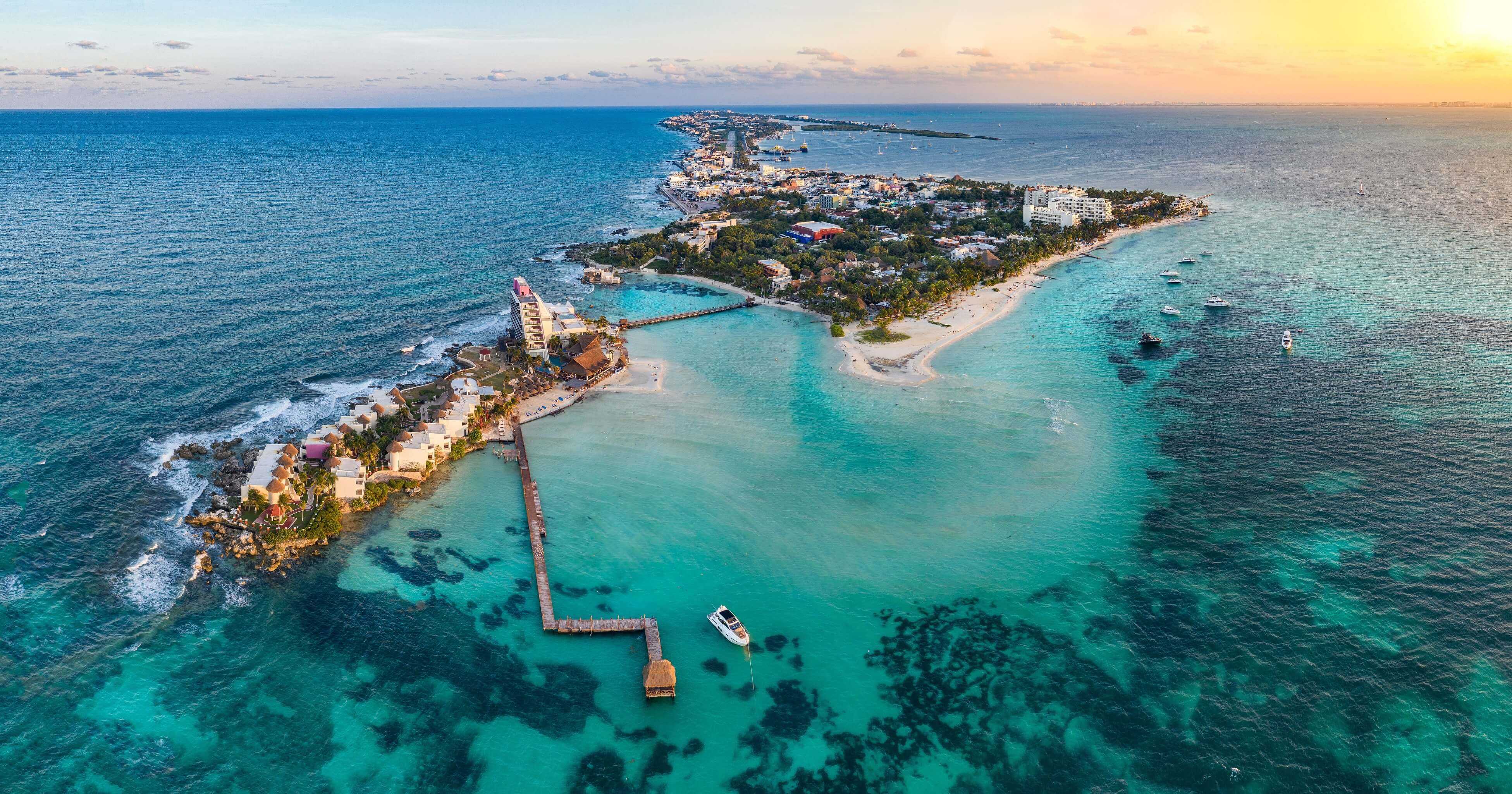 Welcome to Isla Mujeres*


*images: Adobe Stock

Top image: Adobe Stock
Latest posts
Winter weather disruptions at Frankfurt Airport
The onset of severe winter weather has wreaked havoc on flight operations at Frankfurt Airport, causing widespread flight cancellations and flight delays.
Best German Christmas markets
Here's a closer look at some of our picks for the best Christmas markets in Germany.
Best places to visit in December: Winter destinations for every traveler
Whether you seek the adrenaline rush of skiing down snow-clad slopes or the soothing warmth of a tropical beach, there's a winter vacation destination tailored just for you.
About MYFLYRIGHT
MYFLYRIGHT is a legal tech company, specialized in the support of airline passengers affected by flight delays, flight cancellations, denied boarding, delayed or lost luggage and the refund of unused airline tickets. MYFLYRIGHT was founded 2016 in Hamburg, Germany. The company operates out of 3 offices, its headquarter in Hamburg and its branches in Prague, Czech Republic and Zaporizhia, Ukraine. Currently, MYFLYRIGHT employs a team of around 25 people working in Marketing, Operations, Legal, Customer Support and IT. The organization operates across 5 markets – Germany, United Kingdom, Romania, Austria, and Switzerland.
MYFLYRIGHT's goal is to provide access to justice for all aviation passengers who experience irregularities in their flight transportation. Notably, 75% of all compensation requests submitted by passengers get rejected. Whereas, MYFLYRIGHT is able to successfully execute the applicable customer claims in more than 98% of cases at court.
Get up to 600 €* in compensation
Check claim for free