A magical Northern Lights holiday in Iceland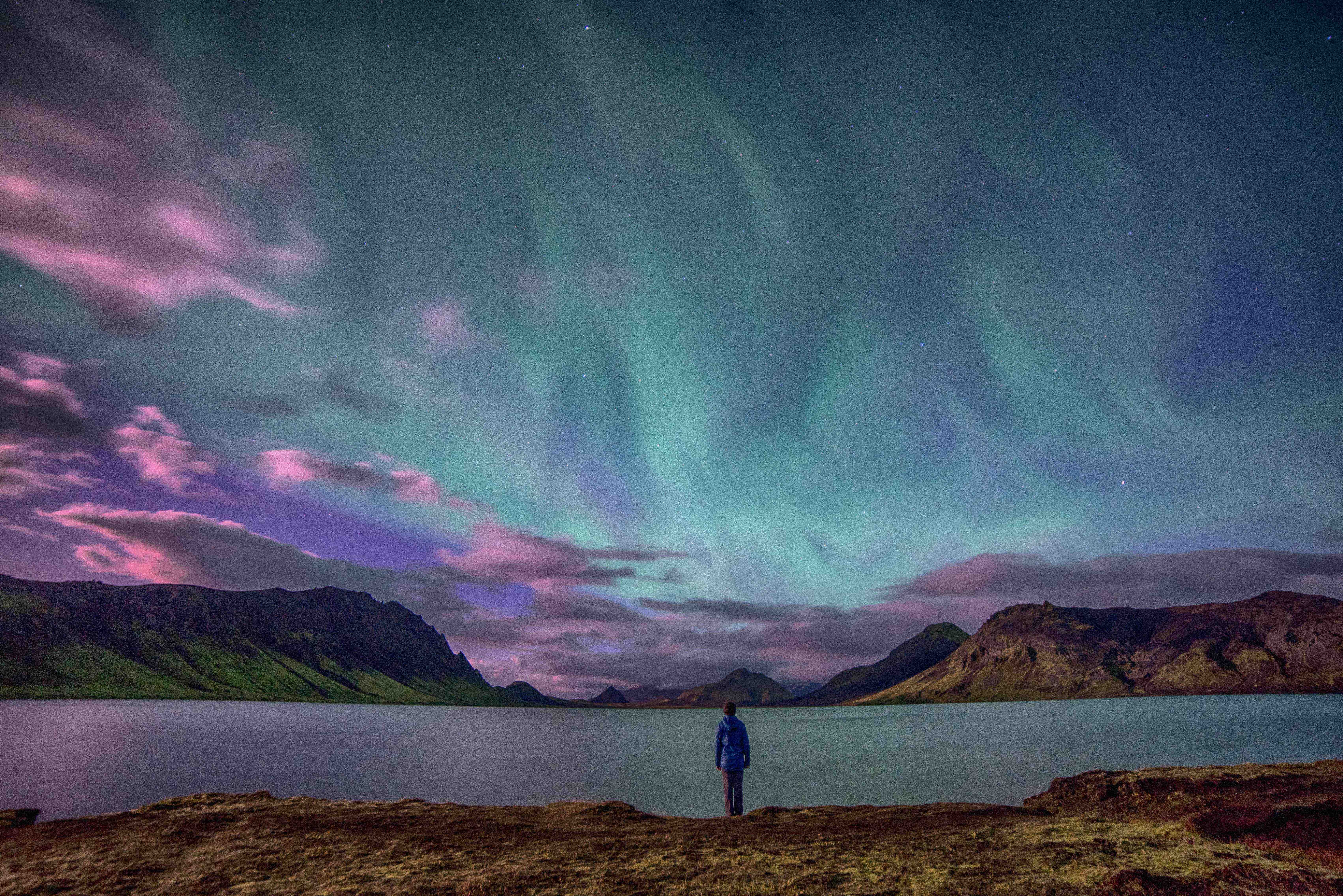 As if out of nowhere, colourful lights appear in the dark, flickering across the night sky like flames. Who wouldn't want to see this bewitching natural spectacle with their own eyes? The best spots to catch the Northern Lights are in Scandinavian countries and if you've experienced a flight irregularity and received compensation of 400 EUR why not spend it on a trip of a lifetime?
One of the most alluring places to watch the aurora borealis is Iceland, with its unique landscape and vast open skies. Even in the cool capital, Reykjavik, you can view this wondrous light display – take a look at the best places for you to see the Northern Lights in and around the city and get ready for a holiday you'll never forget!
The best time to see Northern Lights in Iceland
In Iceland, the Northern Lights can be seen from around the beginning of September until the end of March or beginning of April. During summer it's not possible to see them at all because of the white nights – they're only visible in a dark, cloudless sky.
The Lights are temperamental and there's unfortunately never a 100 % guarantee that you'll spot them. To increase your chances though, make sure to follow weather predictions or download an app which is specially designed to help you track them.
Where to see the Reykjavik Northern Lights
Almost all international flights land at Keflavík Airport, 50 km from the capital, Reykjavík, so if you only come to Iceland for a few days, this is probably where you'll be.
Contrary to popular belief, there is actually a very good chance of seeing the Lights within Reykjavik itself and nearby. These are our top picks:
Grotta Lighthouse – Situated on the north-western tip of Reykjavik, far enough from light pollution and yet easy to reach from the city centre by bus, car or even on foot.
Perlan Restaurant on Öskjuhlíð hill - Fine dining while enjoying a breath-taking panoramic view can be enjoyed in this unique revolving restaurant. A 3-course meal costs 57 EUR, with paired wines an additional 33 EUR for each course. Watching the aurora borealis dance across the sky while sipping on a good glass of wine - what more could you want?
Reykjavík Sightseeing - Of course you also have the option of hiring an experienced tour guide. They know the best spots and only take you when there is a really high probability of seeing the Northern Lights. Reykjavík Sightseeing offers a 3-hour tour for 40 EUR.
Áróra at the Perlan Planetarium - The day of your journey home is creeping closer and closer and you still haven't seen the Northern Lights? You can still enjoy a feast for your eyes with this award-winning 22-minute show that comes closest to the real deal. An adult ticket is available for 19.50 EUR.

Reykjavík hotels, glamping and B&Bs
From compact wooden huts to a luxurious hotel – we've come up with the best accommodation for you, whatever your style!
Blue House B&B Iceland - This charming little B&B is really close to Grotta Lighthouse and is really affordable – pretty twin rooms including breakfast start from 43 EUR per night. The friendly team will gladly help you book tours.
Fossatún Camping Pods - Cute, rounded wooden huts with shared bathroom, whirlpool and kitchen for 45 EUR per night. You have a stunning view of the landscape from your cosy abode. Fossatún is 90 km from Reykjavík and is best reached by car.
Reykjavik Domes - Glamping at its finest: romantic, yurt-like dwellings with their own fireplace. The deluxe version also has its own kitchen and bathroom and a whirlpool right outside the door. Prices range from 225 EUR per night for a standard dome, to 295 EUR for the deluxe option.
Hotel Rangá - 1 ½ hour's drive from Reykjavík to the south is this luxury hotel with its own observatory and lovingly furnished rooms. Upon request, staff can wake you up when the Northern Lights appear in the sky. A standard room with its own whirlpool bath and breakfast costs 320 EUR per night.

Reykjavík restaurants for the best Icelandic food
Icelandic specialties include not only the popular yogurt-like Skyr, or the dreaded fermented shark, but also delicious lamb and fish dishes. Restaurants in Iceland generally aren't cheap, but there are a few options for those on a budget too:
3Frakkar - If you like to try local specialties on your travels, you've come to the right place. You'll be spoiled for choice between hákarl (that fermented shark!), smoked puffin breast and whale steak. Starters start at 9 EUR, main courses cost around 28 EUR.
Café Loki - From lamb soup to gratinated fish, this place serves up classic Icelandic dishes, as the site says, "just like our mom and their moms used to make it." Try the unique dessert - rye bread ice cream! Prices range from 3 EUR (for sweet pastries) to 21 EUR (for a main course).
Baejarins Beztu Pylsur - People have been lining up for Icelandic hot dogs in front of this humble snack bar for almost 80 years. Even Bill Clinton had a sausage here! Grab this tasty snack slathered in ketchup, sweet mustard, tartar sauce and onions for a mere 4 EUR.

Iceland is a fairy-tale destination in itself, but when you add the light show of the aurora borealis to this other-worldly landscape, it's simply unbeatable.
Thankfully, you can experience this wondrous sight using your 600 EUR compensation and there's accommodation, tours and food to suit every budget in this beautiful country.
Happy Northern Lights hunting fellow travellers!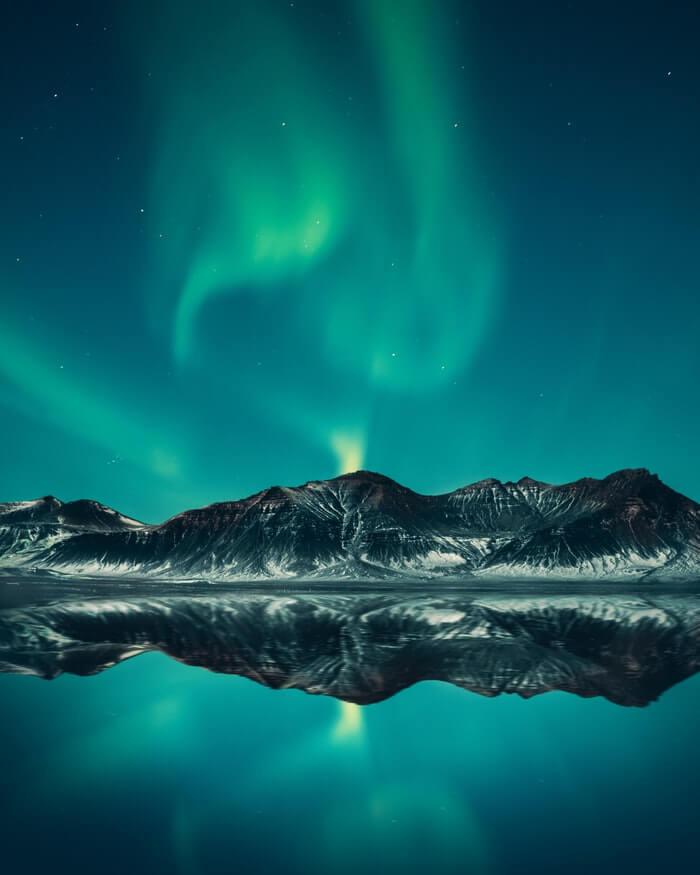 Image: Unsplash

Top image: Unsplash
Latest posts
British Airways pilot fired for bragging about flight cocaine use
In September 2023, a British Airways pilot found himself at the center of a scandal that rocked the aviation industry.
Passengers express outrage as flight faces double cancellation
A Brussels Airlines flight originating from Kinshasa, Democratic Republic of Congo, experienced an unexpected and frustrating turn of events when it was postponed twice.
Swiss Air passengers left in disarray as plane lands in Spain without luggage
Passengers, awaiting their belongings at the airport's baggage claim, were met with disappointment as their bags failed to materialize even after a two-hour wait.
About MYFLYRIGHT
MYFLYRIGHT is a legal tech company, specialized in the support of airline passengers affected by flight delays, flight cancellations, denied boarding, delayed or lost luggage and the refund of unused airline tickets. MYFLYRIGHT was founded 2016 in Hamburg, Germany. The company operates out of 3 offices, its headquarter in Hamburg and its branches in Prague, Czech Republic and Zaporizhia, Ukraine. Currently, MYFLYRIGHT employs a team of around 25 people working in Marketing, Operations, Legal, Customer Support and IT. The organization operates across 5 markets – Germany, United Kingdom, Romania, Austria, and Switzerland.
MYFLYRIGHT's goal is to provide access to justice for all aviation passengers who experience irregularities in their flight transportation. Notably, 75% of all compensation requests submitted by passengers get rejected. Whereas, MYFLYRIGHT is able to successfully execute the applicable customer claims in more than 98% of cases at court.
Get up to 600 €* in compensation
Check claim for free