Take a tour of Bordeaux, wine capital of the world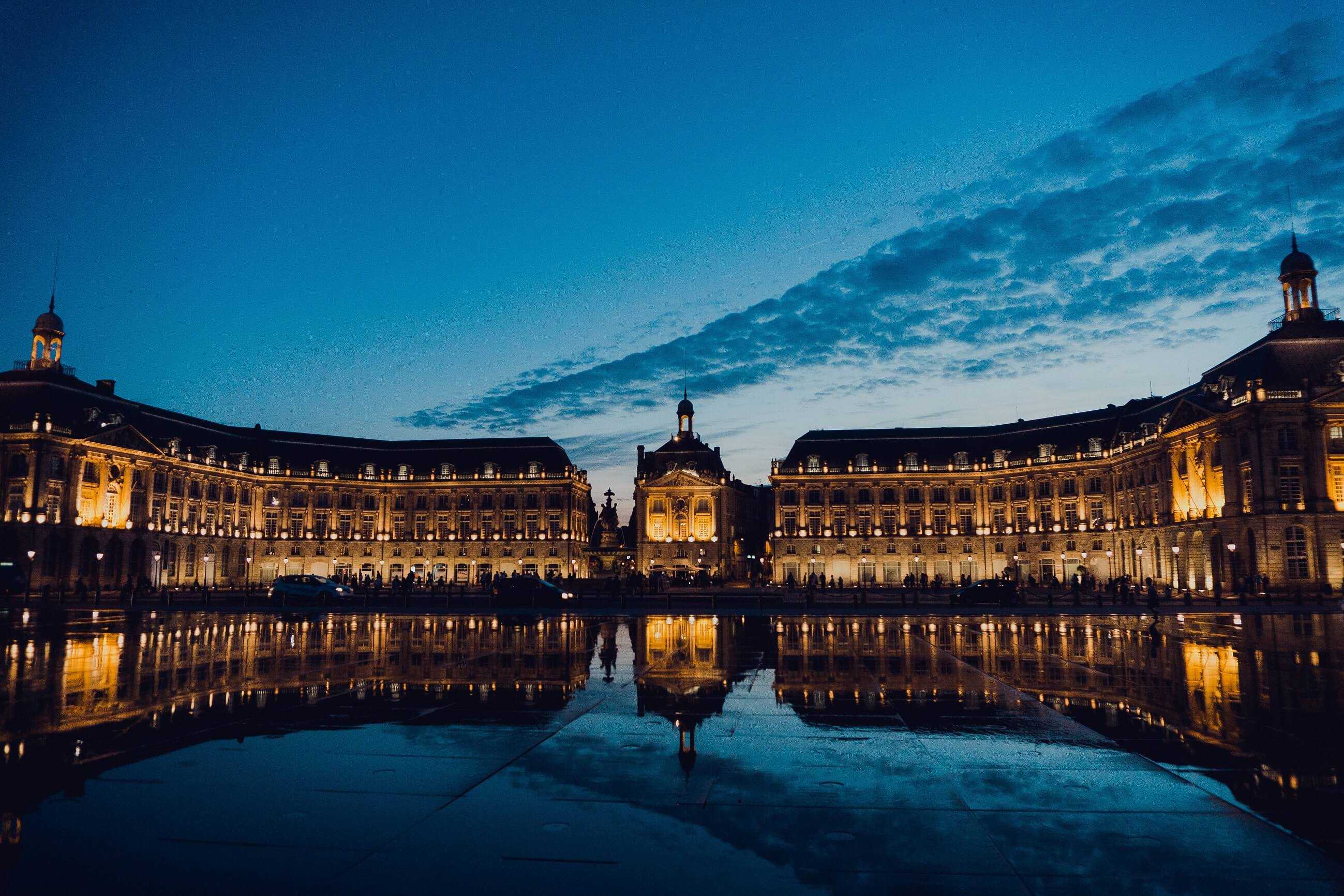 A note from MYFLYRIGHT: We realise that people currently aren't travelling unless necessary and it's uncertain when things will get back to normal. However, we're publishing our latest blog by Anastassiya on the beautiful city of Bordeaux to spread a bit of positivity, lift some spirits and to give you some inspiration for where to explore when things do finally improve. For now, please enjoy the read 😊
I love France, I've travelled there many times and spent three summers in language camp in the country when I was a teenager and of course I'm always happy to return. Last year I bought tickets for my mum and I for Elton John's farewell tour concert in Bordeaux. I want to share my experiences and notes from our amazing weekend trip to this beautiful city.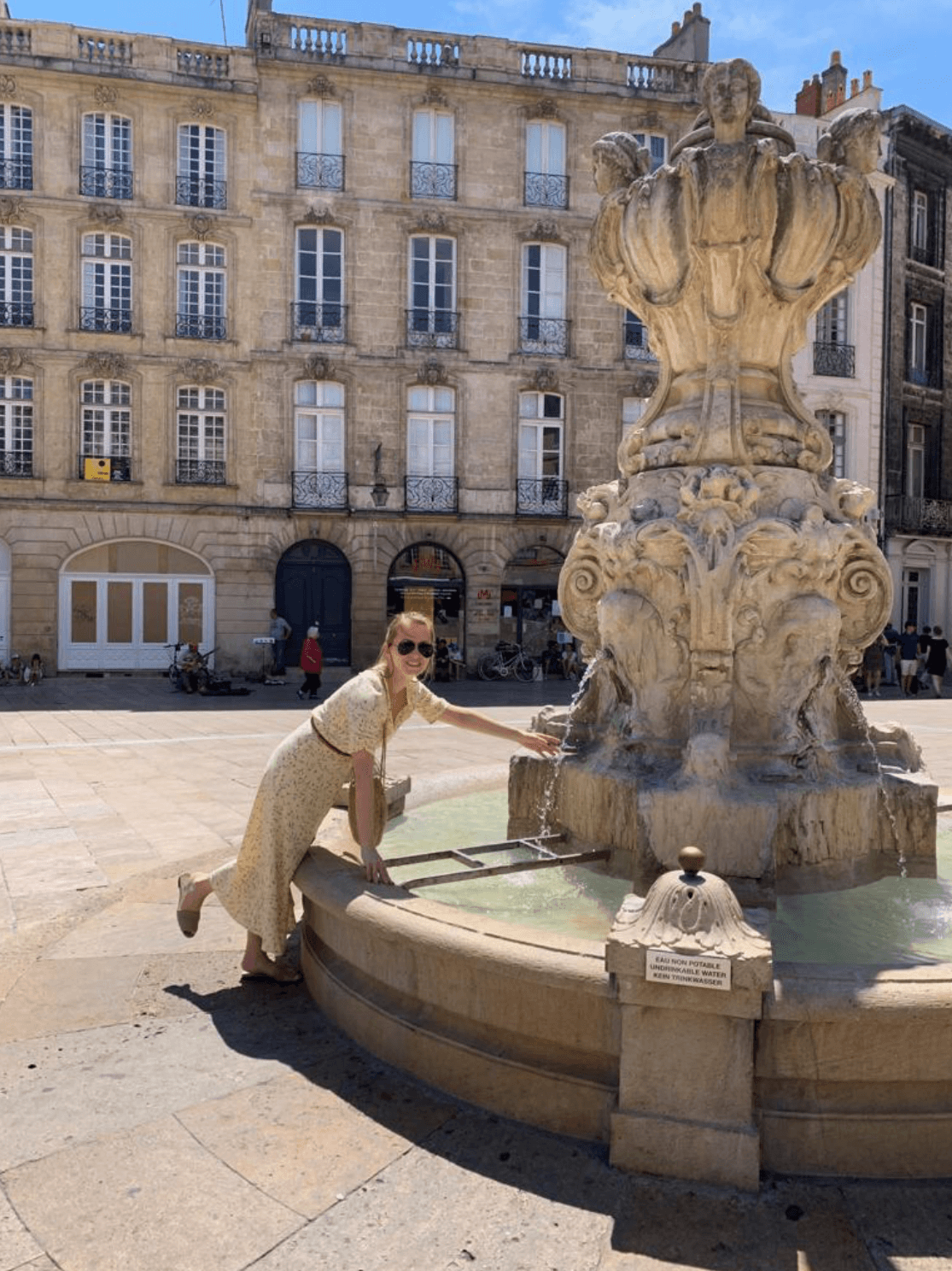 Me exploring the city*

Bordeaux accommodation
We stayed in a small chain hotel close to the city centre called Hôtel ibis Bordeaux Centre Meriadeck, an affordable option in walking distance of almost all the city's top sightseeing spots.
Here are some other great options for accommodation:
Eklo Bordeaux Centre Bastide – budget option in the eastern part of the city
Aparthotel Adagio Bordeaux Centre Gambetta – another budget option with very good location in the heart of the city.
Best Western Premier HBEO Bordeaux Centre – a more luxurious hotel in the historic centre.
Hôtel Le Palais Gallien – stunning 5-star accommodation
Yndo Hôtel – stay in a beautiful 19thcentury mansion.

Bordeaux restaurants & cafes
Breakfast
You will always find a wonderful bakery or patisserie with fresh bread and croissants for breakfast – in fact, it's more difficult not to find one! If you want a place where you can sit down to enjoy the most important meal of the day, here are my favourites:
Black List Café – A nice small place with fantastic smoothies, great coffees and a delicious brunch menu.
Café Français – Classic French style breakfasts with outdoor facing right in front of the Cathedral.
Canelés Baillardran - Don't miss trying a canelé, Bordeaux's traditional pastry, at one of this company's many locations. The rum and vanilla flavour will wake up your taste buds!
Lunch
For lunch I would suggest going to Parliament Square,a pretty area with a fountain and plenty of places for a tasty meal. We tried the best ever mussels with local wine in L'Arbousier. Another fantastic place which specialises in seafood is Le Petit Commerce. If you want to try something very local then I suggest the onion soup and pâté in Chez Les Ploucs, a cosy and atmospheric place with hearty, traditional cuisine. Head to La Brasserie Bordelaisefor some of the best entrecôte in the city and more tasty, traditional cuisine of the region.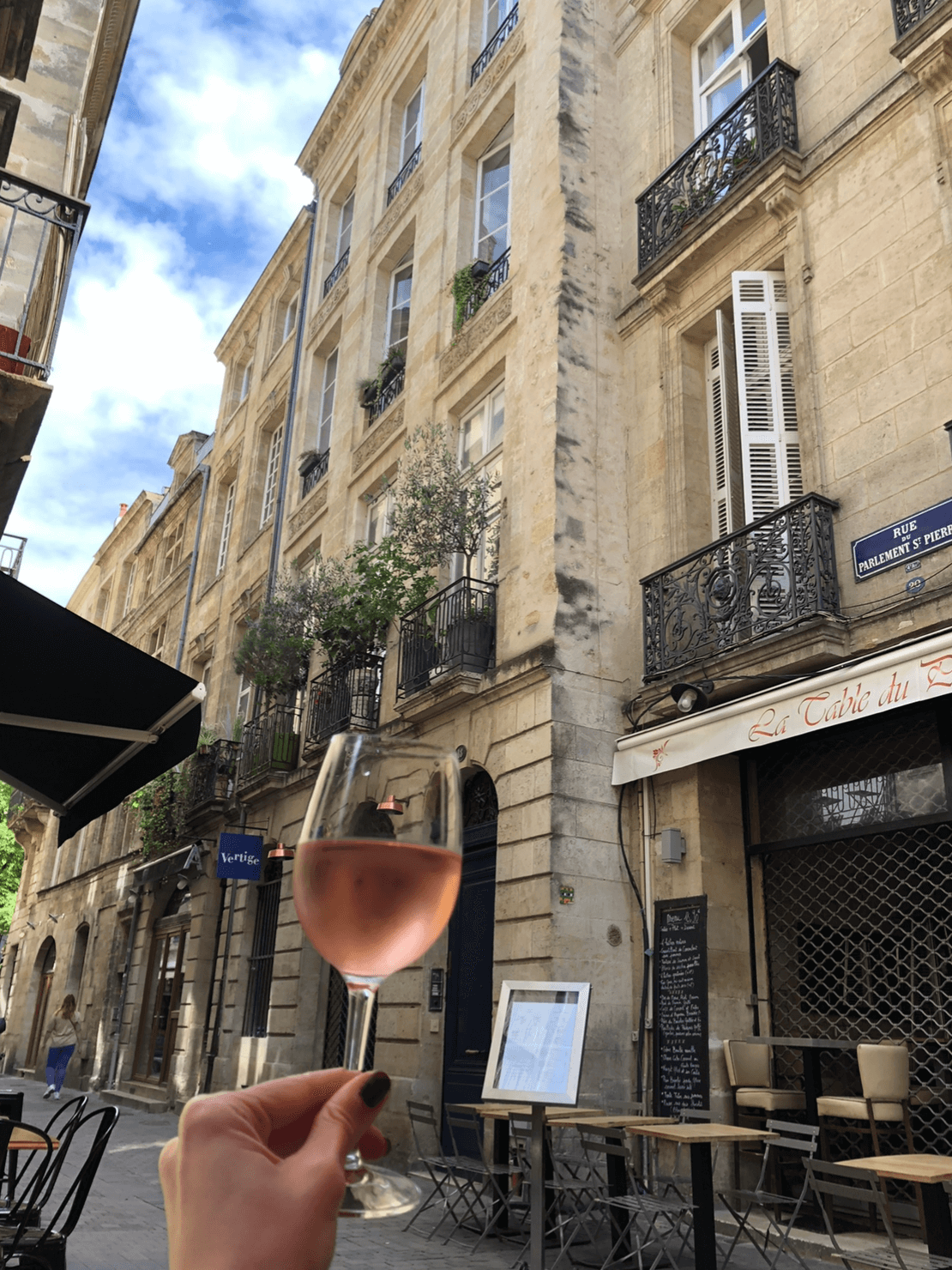 Enjoying some rosé in the sun*

Dinner
Instead of heading out for a regular meal, I recommend replacing dinner with a bottle of good French wine and a cheese plate. As with everything to do with gastronomy and wine in this city, it's rare to be disappointed:
Voilà! Bar à vins du monde – a cosy spot with tables on the street – the perfect place for people watching as you sip your Bordeaux beverage of choice!
Julo – Get a charcuterie plate to go with your wine in this little place. Simple, no-nonsense and absolutely delicious.
Le Bar à Vin – Located in the beautiful Maison du Vin de Bordeaux building, you can unwind in sumptuous surroundings and enjoy tasty local delicacies.
These are of course just a few of my suggestions – you will plenty of lovely spots all over the city, Bordeaux is the wine capital of France after all!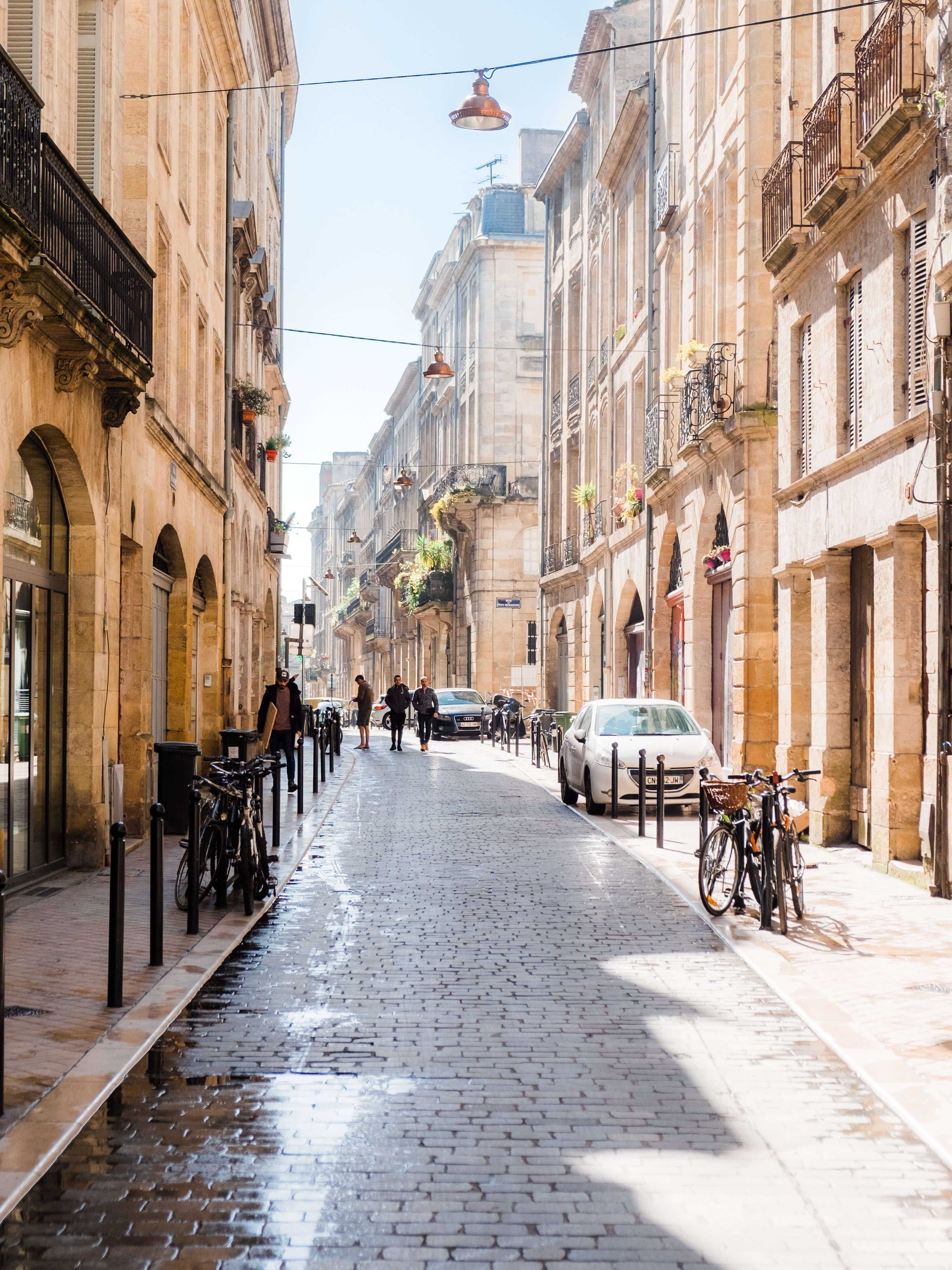 Stroll through the pretty Bordeaux streets

What to do in Bordeaux
Start exploring the city from the charming neighbourhood of Quartier Saint-Michel. The most popular sightseeing spot in Bordeaux is the Miroir d'Eau, the largest reflecting pool in the world. Also, I would suggest going up the Pey Berland Tower to enjoy the view over the city and visiting Bordeaux Cathedral very close by. When you approach the river, don't forget to take a look at the Pont de Pierre stone bridge, which was built by order of Napoleon I and has 17 arches to represent the number of letters in his full name, Napoleon Bonaparte.
If you are in the mood for some shopping then head to Rue Sainte Catherine, which is lined with well-known and local shops, including the biggest department store in Bordeaux, Galeries Lafayette.
If you come in the summertime, then take a beautiful cruise along the River Garonne. You can choose from several options – I highly recommend the one with lunch and wine tasting!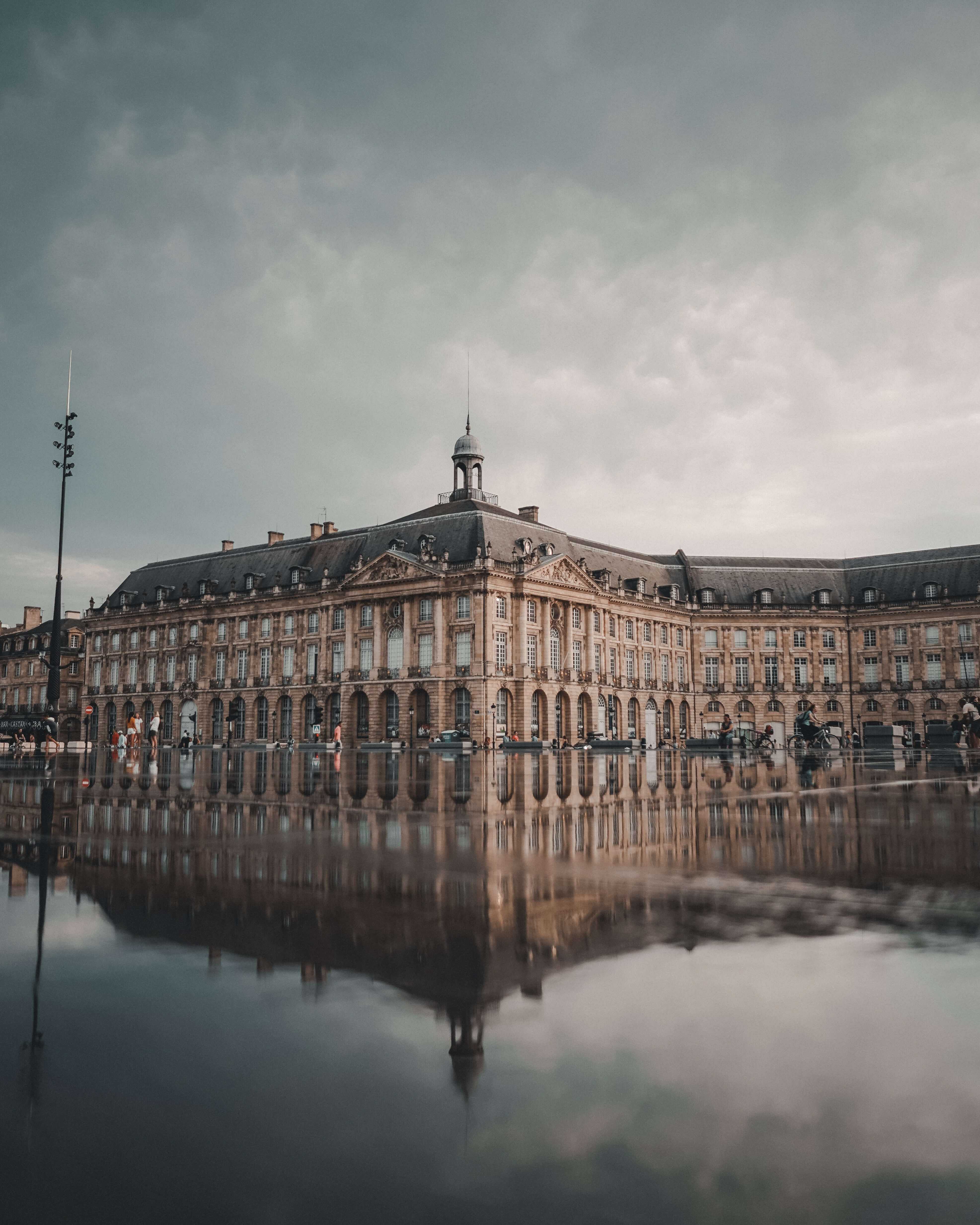 Miroir d'Eau

Bordeaux wineries
If you visit Bordeaux for more than two days, it is an absolute must to visit some wineries nearby. You can take a tour to visit one or two places in the same day or simply rent a car to make your own customized trip.
Château Haut-Brion, 4km away – Make sure to book well in advance for your private tour of this beautiful property and its wines. Vines have been grown here for 600 years!
Château Pape Clément, 7km away – A variety of tours are available at this gorgeous neo-Gothic chateau, plus you can visit its glasshouse built by Gustave Eiffel.
Chateau Smith Haut Lafitte - 15 km away – Learn all about the perfect wine and food pairings and round off the day with some Vinotherapie in the spa.
Château Larrivet Haut-Brion - 15 km away – Taste classic wines surrounded by beautiful Bordeaux countryside - Gold Winner of the Best of Wine Tourism Great Wine Capitals 2020.
Château d'Agassac – 22 km away – Located on a medieval mound, this chateau is like something out of a fairy tale. You can even take your own 'treasure hunt' tour of the estate.
Chateau Lanessan Haut Medoc– 48 km away – As well as wine tours and tastings, explore the gorgeous gardens, the stables and horse museum
To sum up, Bordeaux is the perfect city break. Of course, you can visit just to sample the world-class wine and local cuisine and you'd be perfectly happy. But there's so much more to see here – with its elegant architecture and beautiful surrounding countryside it has everything you could wish for. I'll definitely return in the future to discover more – watch this space!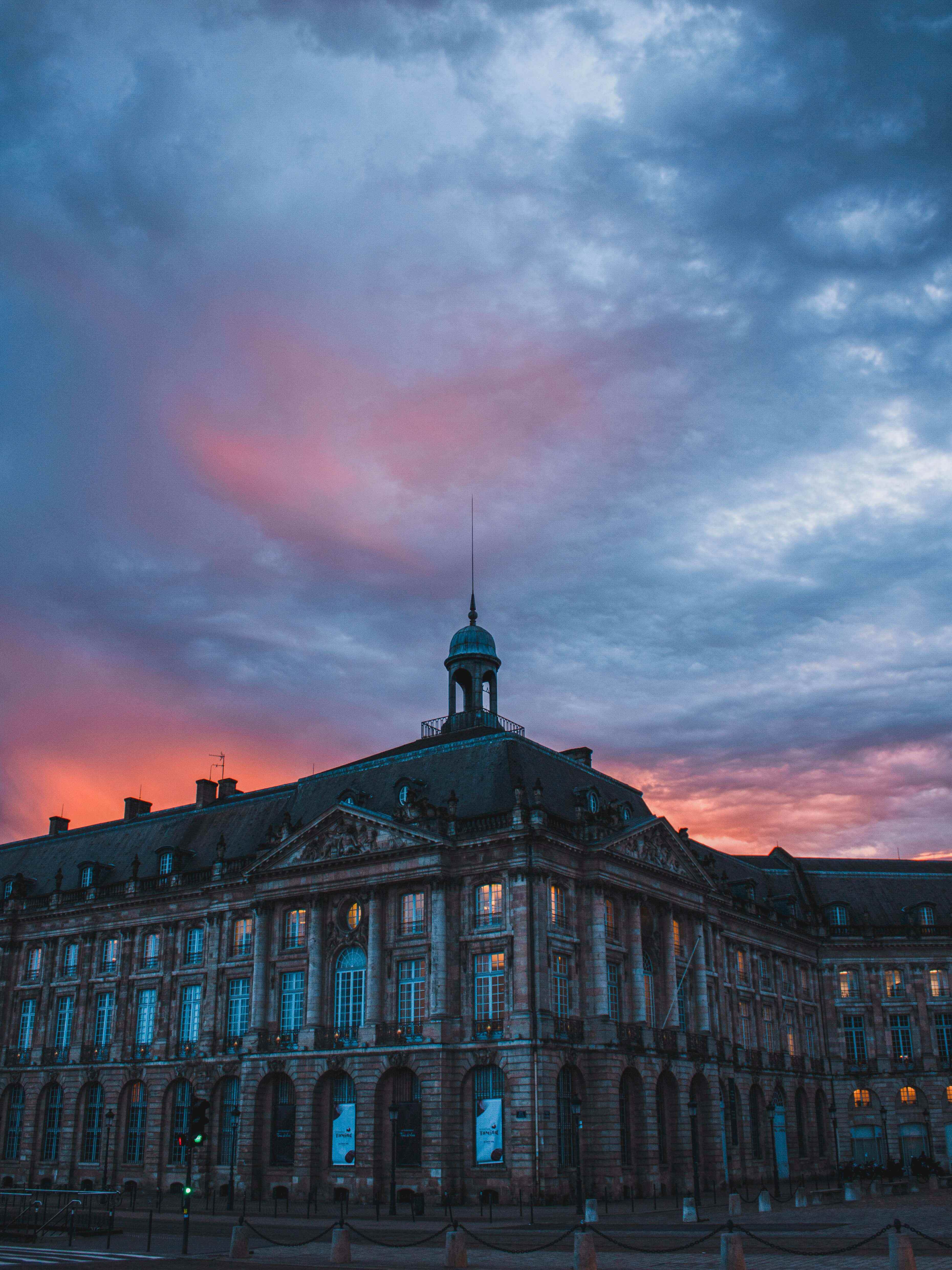 Sunset on Place de la Bourse
*Images courtesy of Anastassiya Yershova
All other images within article: Unsplash
Top image: Adobe Stock


Latest posts
Winter weather disruptions at Frankfurt Airport
The onset of severe winter weather has wreaked havoc on flight operations at Frankfurt Airport, causing widespread flight cancellations and flight delays.
Best German Christmas markets
Here's a closer look at some of our picks for the best Christmas markets in Germany.
Best places to visit in December: Winter destinations for every traveler
Whether you seek the adrenaline rush of skiing down snow-clad slopes or the soothing warmth of a tropical beach, there's a winter vacation destination tailored just for you.
About MYFLYRIGHT
MYFLYRIGHT is a legal tech company, specialized in the support of airline passengers affected by flight delays, flight cancellations, denied boarding, delayed or lost luggage and the refund of unused airline tickets. MYFLYRIGHT was founded 2016 in Hamburg, Germany. The company operates out of 3 offices, its headquarter in Hamburg and its branches in Prague, Czech Republic and Zaporizhia, Ukraine. Currently, MYFLYRIGHT employs a team of around 25 people working in Marketing, Operations, Legal, Customer Support and IT. The organization operates across 5 markets – Germany, United Kingdom, Romania, Austria, and Switzerland.
MYFLYRIGHT's goal is to provide access to justice for all aviation passengers who experience irregularities in their flight transportation. Notably, 75% of all compensation requests submitted by passengers get rejected. Whereas, MYFLYRIGHT is able to successfully execute the applicable customer claims in more than 98% of cases at court.
Get up to 600 €* in compensation
Check claim for free