Valencia: Things to do and see, with a local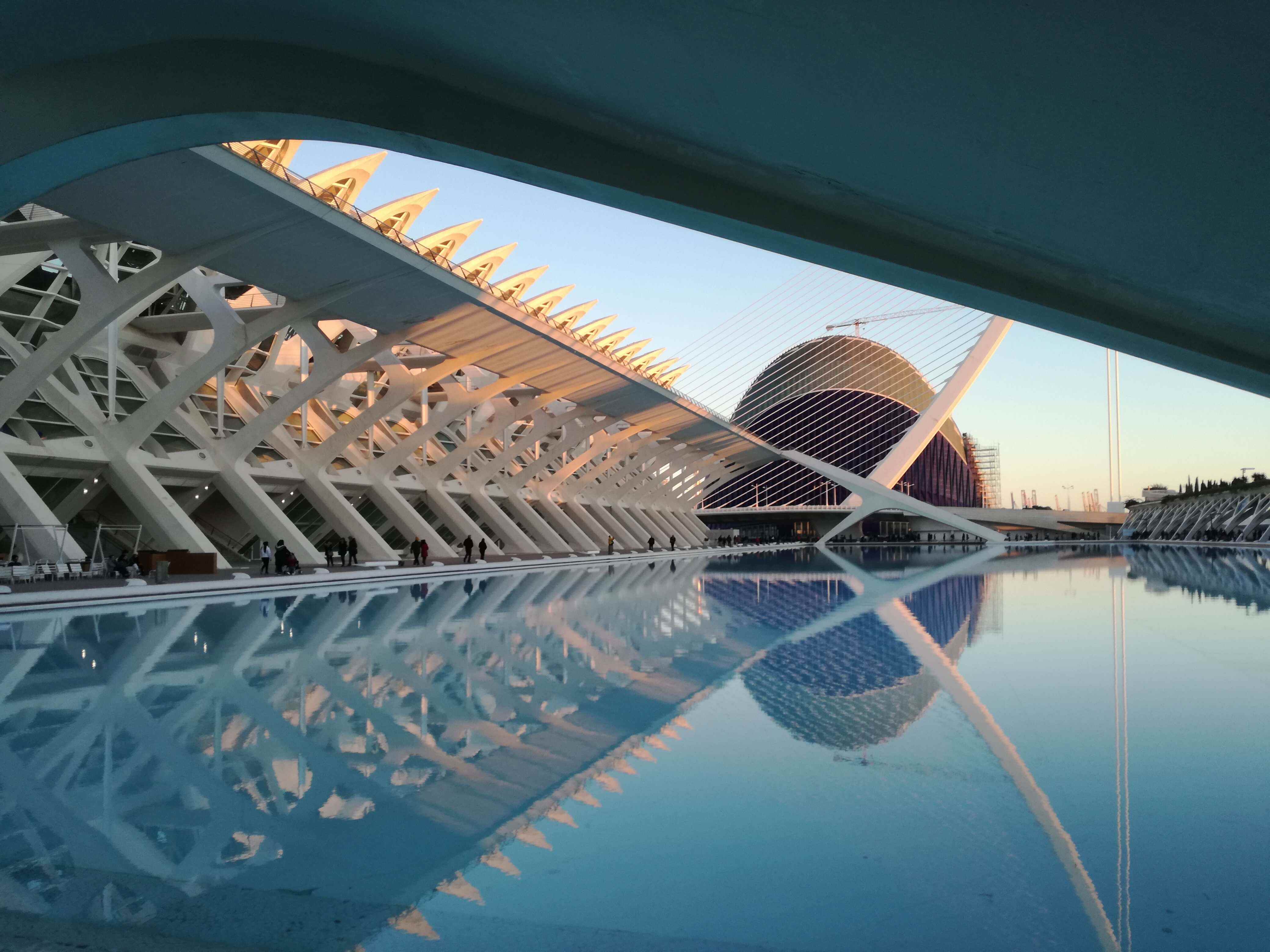 Today in "Like Locals", we're talking about the vibrant city of Valencia. This city has far more to offer than the famous delicious oranges and is a cultural as well as culinary delight that effortlessly combines ancient history with the avant-garde.
Talking to us today is Lucille Gras, a new Valencian, who will give us all the tips to make sure we see the very best spots in this fascinating city.
Hi Lucille, thank you for being our guest today. Can you tell us a little about yourself?
Hi! I'm originally from France and I'm into art, bouldering and travelling. As a translator, I have the freedom to work where I please, which has taken me to many interesting corners of the world – I have lived in Chengdu, Prague and Tainan. I was drawn to Valencia because I want to improve my Spanish, plus the greenery and beautiful architecture appealed to me immediately.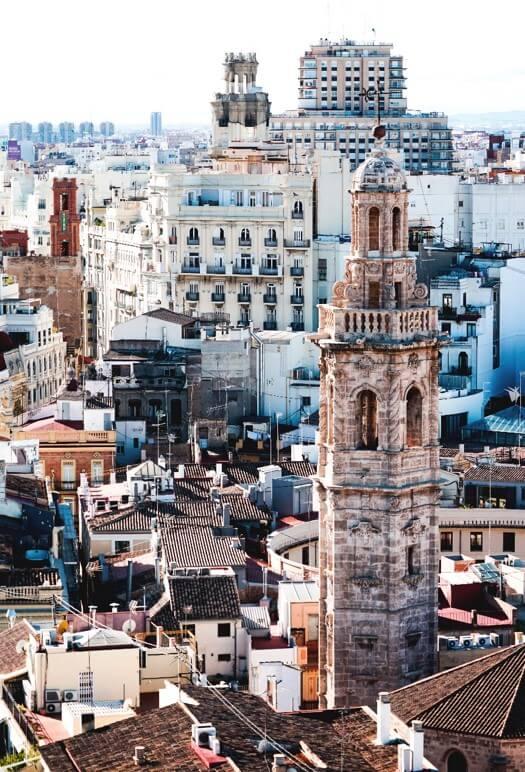 View over Valencia rooftops, image: unsplash
What's your ideal morning in Valencia?
The Turia Gardens is a huge park which runs like a green ribbon through the city and is ideal for jogging, cycling and going for a relaxing stroll. I like to practice yoga some mornings in the shade of the trees there. Then it's time to get ready for the day with some tasty food.
"One of the top things to do in Valencia is
visit the City of Arts and Sciences"
I love eating a leisurely brunch by the chilled-out Patacona Beach, situated in the nearby small town of Alboraya, which is easy to get to using public transport and is only 3 kilometres north of Valencia. La Girafe is one of my favourite places to eat there – it not only has a cool interior and a gorgeous garden, but also real Breton crêpes & galettes on the menu. If I really want to spoil myself, I go for a huge piece of cake at La Más Bonita, which has two locations – one by Patacona Beach and one in Valencia's city centre.
"The signature dish of Valencia
city is paella."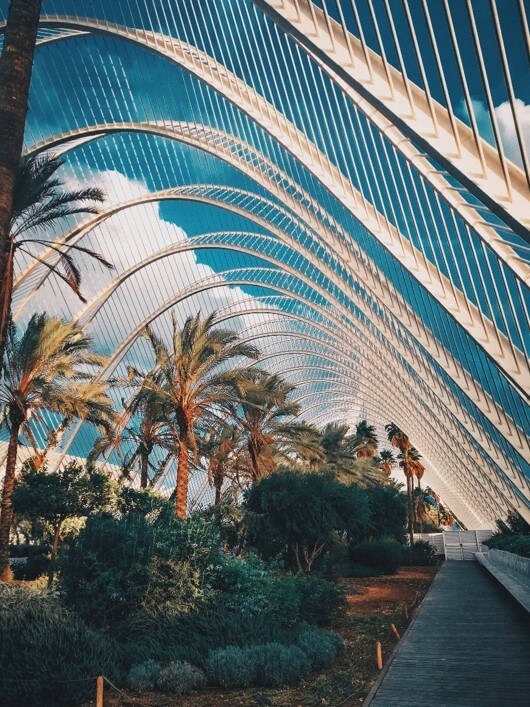 The Umbracle at The City of Arts and Sciences, image: unsplash
Patacona Beach, which I mentioned before, is the ideal place to unwind. The water is crystal clear and it's a little more laid back and less crowded than Malvarrosa Beach, which is the main one in the city.
When it comes to lunch, Valencia also has a lot to offer. Of course, the closer you get to the old town, the higher the price, but there are options for any budget. The signature dish of Valencia city is paella. Wherever you go, you will find small shops selling this delicious meal to go. You can find paella to suit all tastes, from meat and snails, to seafood or vegetables and it's the perfect meal to give you some extra energy for sightseeing!
"the quirky fishing district of Cabanyal –
this is the heart of Valencia nightlife."
Outside the historic centre, away from the tourist crowds, you will find even more culinary delights. El Aprendiz de Tapas is located in the quirky, laid back district of Benimaclet and is definitely worth the detour. The tapas are delicious, and they have a way of incorporating other cuisines into traditional Spanish flavours that is totally unique, such as Thai ribs, dim sum and sashimi.
What should we do if the weather in Valencia is bad?
As well as the fabulous Ciudad de las Artes y las Ciencias, Valencia has many more places for anyone into culture which are perfect for when the sun's not shining. My first recommendation is the Museum of Fine Arts, which is Spain's second-largest art gallery. Its collection includes works of famous Spanish artists such as Velázquez and Goya and it's totally free! Another place to escape bad weather is the huge covered Central Market, the largest fresh produce market in Europe, which is in a spectacular Art Nouveau building. If you don't feel like walking around, take a seat with a glass of wine and some snacks right outside the market, in Escalones de la Lonja. This charming place has a terrace where you can enjoy your tapas outside, plus it's right next to Lonja de la Seda, the gorgeous Gothic former silk exchange building, which is one of the architectural highlights of Valencia.
"day trips from Valencia to nearby natural
pools or waterfalls are a must."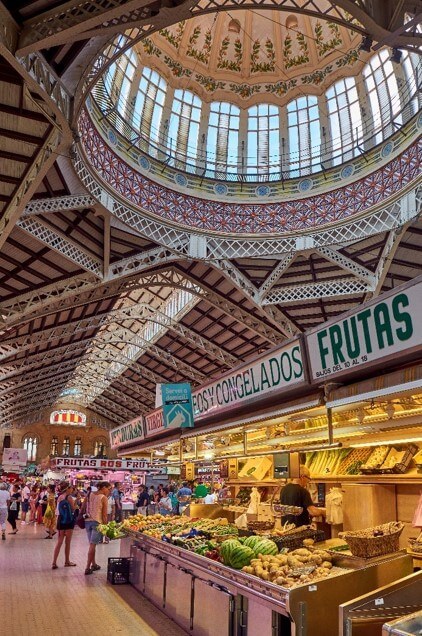 Central Market, image: unsplash
Where would you head for dinner and a night out?
There are so many great places for food in Valencia, here are my top four:
Restaurante Yuso II: A huge variety of paella dishes.
Situated on the Placa del Carmen in the heart of the historic centre, this is always a safe bet; their food is fantastic, and the staff are lovely.
Nuns lived and worked there until 2007. It was opened to the public last year and inside there are street food stalls selling all sorts of delicacies, which you can enjoy at a table in the large garden.
Offers a great chic atmosphere and flavoursome dishes. I recommend the duck paella, which I haven't seen anywhere else so far.
For a choice of the freshest seafood dishes, this is just perfect, plus it's in Ruzafa, one of the city's most artistic and unique neighbourhoods.

Take an evening walk through the quirky fishing district of Cabanyal – this is the heart of Valencia nightlife. Next to the beach you will find La Fabrica de Hielo a cultural space with art exhibitions, excellent food and music. The name means 'ice factory' in English, which was the building's original purpose and the renovations have retained the unique feel of the space. Radio City, right in the heart of the old town, is a great place to dance the night away, with live music events and jam nights.
Are there any day trips you would recommend?
I visited Xàtiva and was thrilled! This historic, medium-sized city is easy to reach and only 40 minutes by train from Valencia. The old town, with its colourful painted houses and narrow streets, is really picturesque. Walking up to the castle is not easy, but definitely worth it. From the top you have a stunning view of the city and the romantic landscape surrounding it.
If you plan on renting a car, day trips from Valencia to nearby natural swimming pools or waterfalls are a must. These are two of my favourites:
Legend says a couple wanted to prove their love to each other by jumping over the waterfall without touching the water, that the girl fell, and the boy followed her. Some say you can hear their sad sighs at night and that the waterfall weeps for them.
Do you have any other tips for when we visit Valencia?
My top tip is to rent a bike to get around, rather than buying multiple public transport tickets when you arrive, as many tourists do. The city is mostly flat, so cycling is very easy and thanks to the Turia Gardens you can see much more of the city than if you were just travelling by bus or metro.
Come and visit Valencia, you're sure to have fun!
Top image: unsplash
Latest posts
British Airways pilot fired for bragging about flight cocaine use
In September 2023, a British Airways pilot found himself at the center of a scandal that rocked the aviation industry.
Passengers express outrage as flight faces double cancellation
A Brussels Airlines flight originating from Kinshasa, Democratic Republic of Congo, experienced an unexpected and frustrating turn of events when it was postponed twice.
Swiss Air passengers left in disarray as plane lands in Spain without luggage
Passengers, awaiting their belongings at the airport's baggage claim, were met with disappointment as their bags failed to materialize even after a two-hour wait.
About MYFLYRIGHT
MYFLYRIGHT is a legal tech company, specialized in the support of airline passengers affected by flight delays, flight cancellations, denied boarding, delayed or lost luggage and the refund of unused airline tickets. MYFLYRIGHT was founded 2016 in Hamburg, Germany. The company operates out of 3 offices, its headquarter in Hamburg and its branches in Prague, Czech Republic and Zaporizhia, Ukraine. Currently, MYFLYRIGHT employs a team of around 25 people working in Marketing, Operations, Legal, Customer Support and IT. The organization operates across 5 markets – Germany, United Kingdom, Romania, Austria, and Switzerland.
MYFLYRIGHT's goal is to provide access to justice for all aviation passengers who experience irregularities in their flight transportation. Notably, 75% of all compensation requests submitted by passengers get rejected. Whereas, MYFLYRIGHT is able to successfully execute the applicable customer claims in more than 98% of cases at court.
Get up to 600 €* in compensation
Check claim for free