Welcome to Moscow, the city of culture


A note from MYFLYRIGHT: We realise that people currently aren't travelling due to the coronavirus and it's uncertain when things will get back to normal. However, we decided to publish our latest blog on the inspiring city of Moscow so you can get some great ideas for where to explore when things do finally improve. For now, please enjoy the read 😊

Moscow is one of those cities that, once visited, will stay in your memory and heart forever. Between its grandiose architecture, captivating history and rich culture, there seems no end to the Russian capital's appeal.
The most populous city in the country and among the largest in the world, Moscow is a vibrant, buzzing feast for the senses. In one day, you can watch a ballet at the Bolshoi Theatre, stand on the imposing Red Square and taste the finest cuisine from around the globe.
The city is so packed full of things to see and do that we decided to give you a helping hand. So, where to head for the most delicious blinis? Which spot has the best panoramic view? And what sights should you simply not miss? Read on to find out!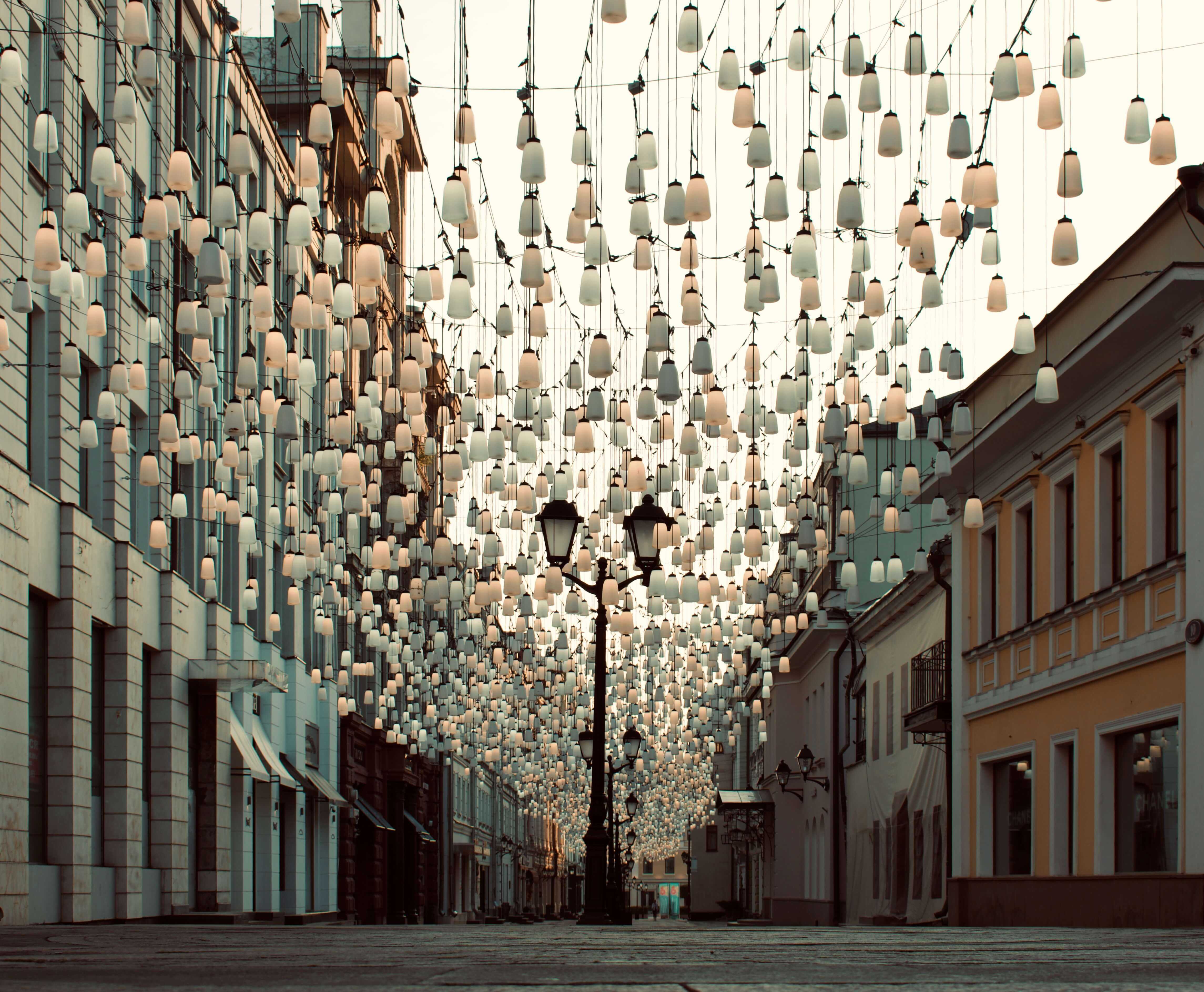 Nikolskaya Street

The best breakfast spots
Get some energy before setting off to see all the sights Moscow has to offer – here's a few of the best:
A must-visit for a decadent breakfast with champagne and the most stunning view over Manezhnaya Square and the Kremlin.
Cook'kareku, Moscow – food from all over the world
Creative spot which serves breakfasts from every corner of the world. If you're not an early riser, not to worry, it's served all day!
Café Pushkin – Deluxe start to the day
Traditional Russian cuisine in a luxurious setting – think caviar and pancakes or blinis rolled with veal, paired with a freshly squeezed juice or cocktail of your choice.

"Impressive Red Square
is one of the most
famous in the world"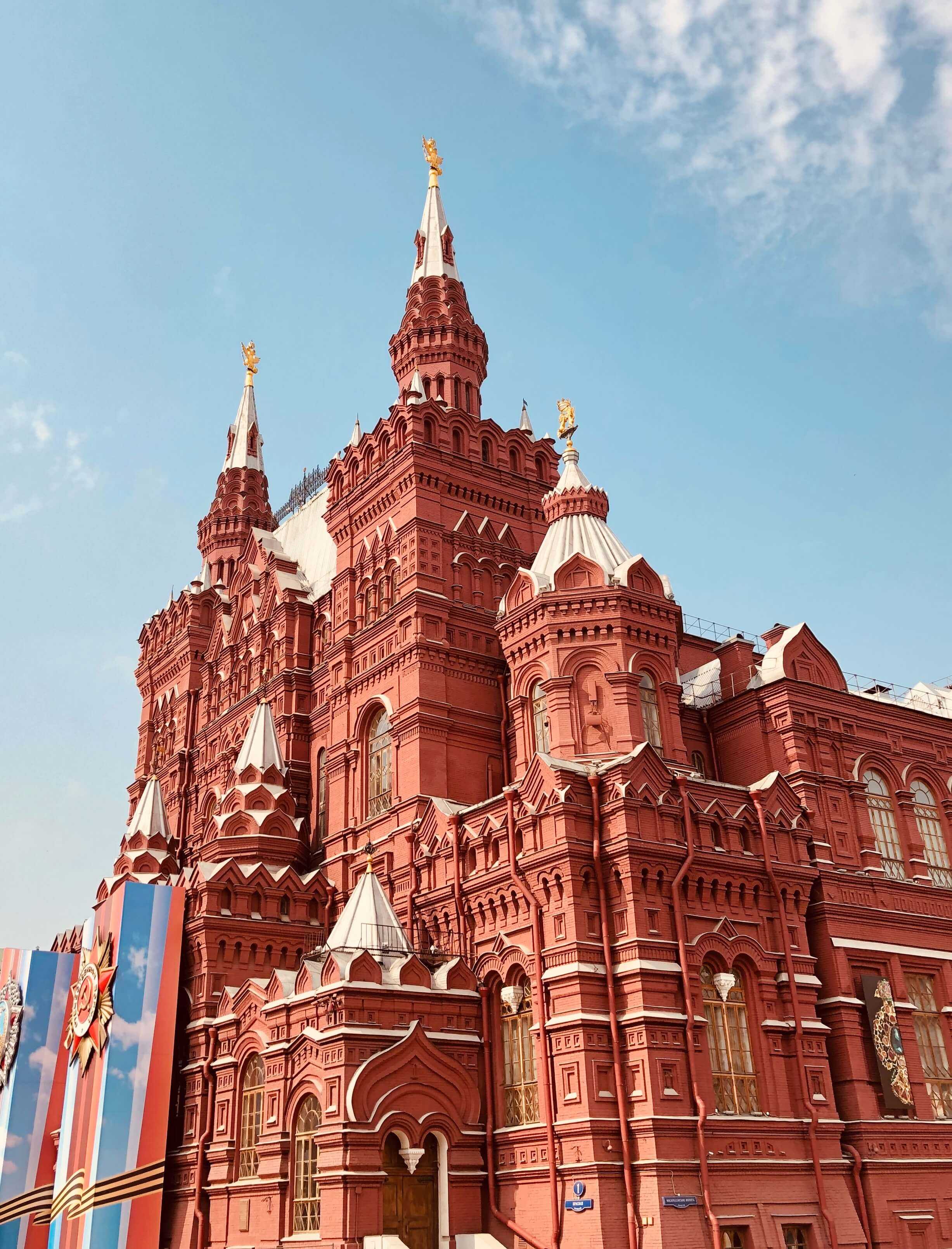 Russian State Historical Museum

Top things to do in Moscow
If you're wanting to spend some time outside and the weather's fine, simply walk around the city centre, along the of Moskva River embankment and through the old city streets. A side note: avoid the Hop on Hop off bus, as most of the time you'll just be stuck in a traffic jam!
Impressive Red Square is one of the most famous squares in the world and is where much of the major historical events in the city have occurred. Here, you can see the iconic St Basil's Cathedral, with its multiple domes in a myriad of colours and patterns, which is a symbol of not only Moscow, but the of the whole country. Fun fact: the cathedral was originally commissioned by Ivan the Terrible in celebration of a victory. You'll also see the Kremlin and the bright red Russian State Historical Museum on the square and you can even visit Lenin's embalmed body in Lenin's Mausoleum.
Don't miss Gorky Park, which is especially beautiful during summertime. While you're there, it's worth stopping by the All-Russian Exhibition Center. After its renovation in 2014, it has become one of the top places to visit in the city. It was originally created to celebrate the country's successes during Soviet times and these days you can admire the numerous monuments and fountains, take an art class or simply enjoy a stroll among the trees.
For lunch, head to Patriarch Ponds, a beautiful area in the city centre with a variety of great places to eat. Margarita Bistro has the perfect terrace to chill out on in summer and Cutfish serves mouth-watering modern Asian cuisine. There are also plenty of bars there to sip an Aperol Spritz while sitting outside, such as Keanu Bar, where you're sure to find something tasty to eat as well.

"the beautiful Bolshoi Theatre
is by far one of the
best experiences in Moscow"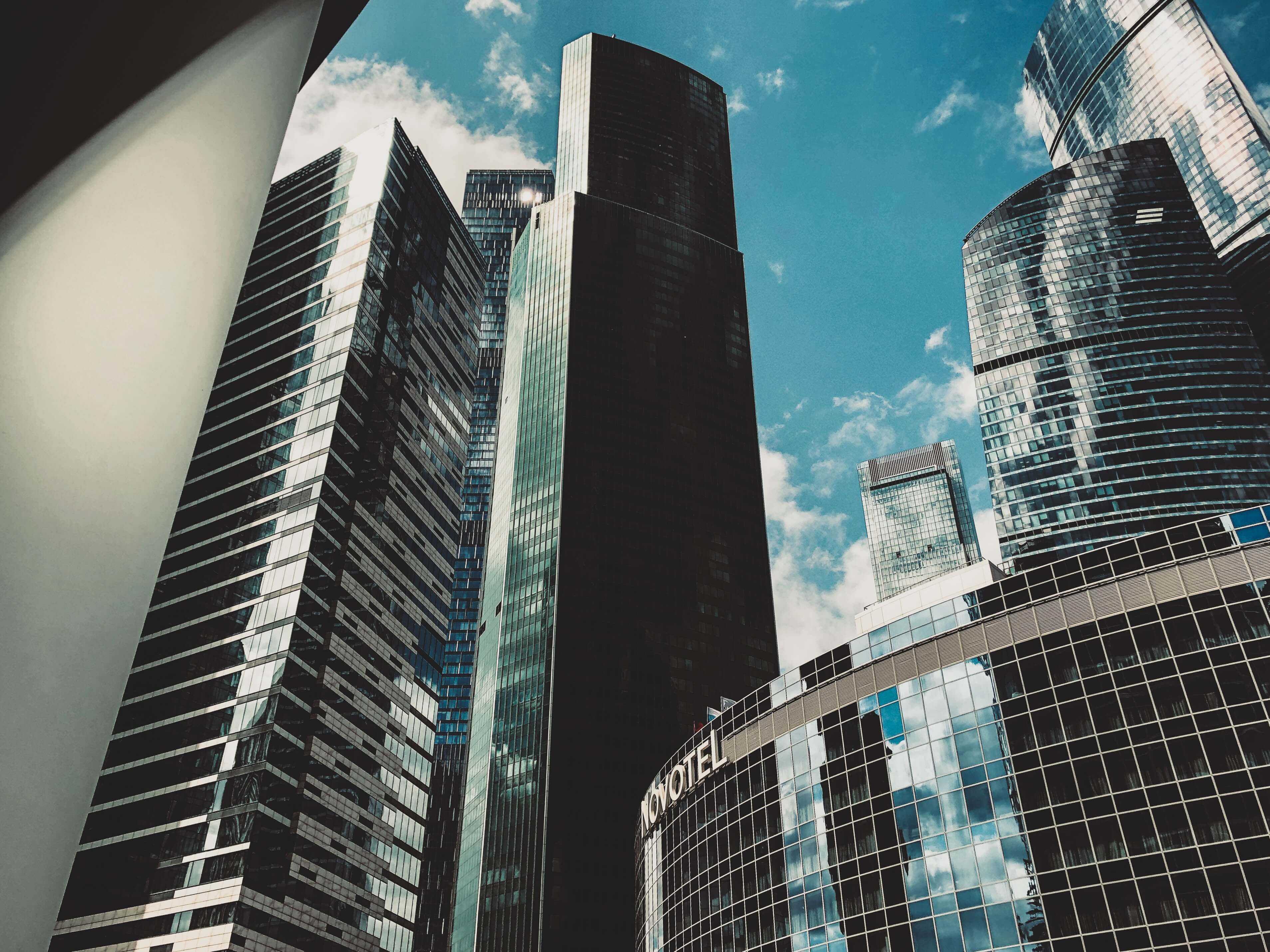 Downtown Moscow

What to do when weather in Moscow's not good
There are so many museums and galleries in Moscow that you could literally spend your entire trip exploring them. So, when you need to shelter from the rain or cold, there's always somewhere to keep you entertained.
One of the most fascinating sights in the city has to be the Kremlin. This vast complex is situated on the banks of the Moskva River and dominates Red Square. Once inside, you can visit the Armoury Chamber (displaying over 4000 artefacts), as well as several cathedrals and churches. To get the full experience, plan a half day for the tour.
One of the largest art galleries in the country, Tretyakov Gallery consists of two grand buildings and houses artworks by renowned Russian artists spanning from the 11th to early 20th century. You'll see everything from sculpture and applied arts to paintings and icons here.
As well as the permanent exhibition they always have interesting one-off collections to show, like Armenian Impressionism for example. What's more, the building is a renovated factory, giving the whole space a really cool, modern feel.
Garage: Art for contemporary art lovers
You'll find this creative hub in Gorky Park and the contemporary architecture is a great contrast to the greenery surrounding it. Interestingly, it was transformed from a massive restaurant from the Soviet era and still has some of the original elements, such as murals, today. Anyone into modern art has to pay Garage a visit.

"Moscow metro stations
are among the most
beautiful in the world"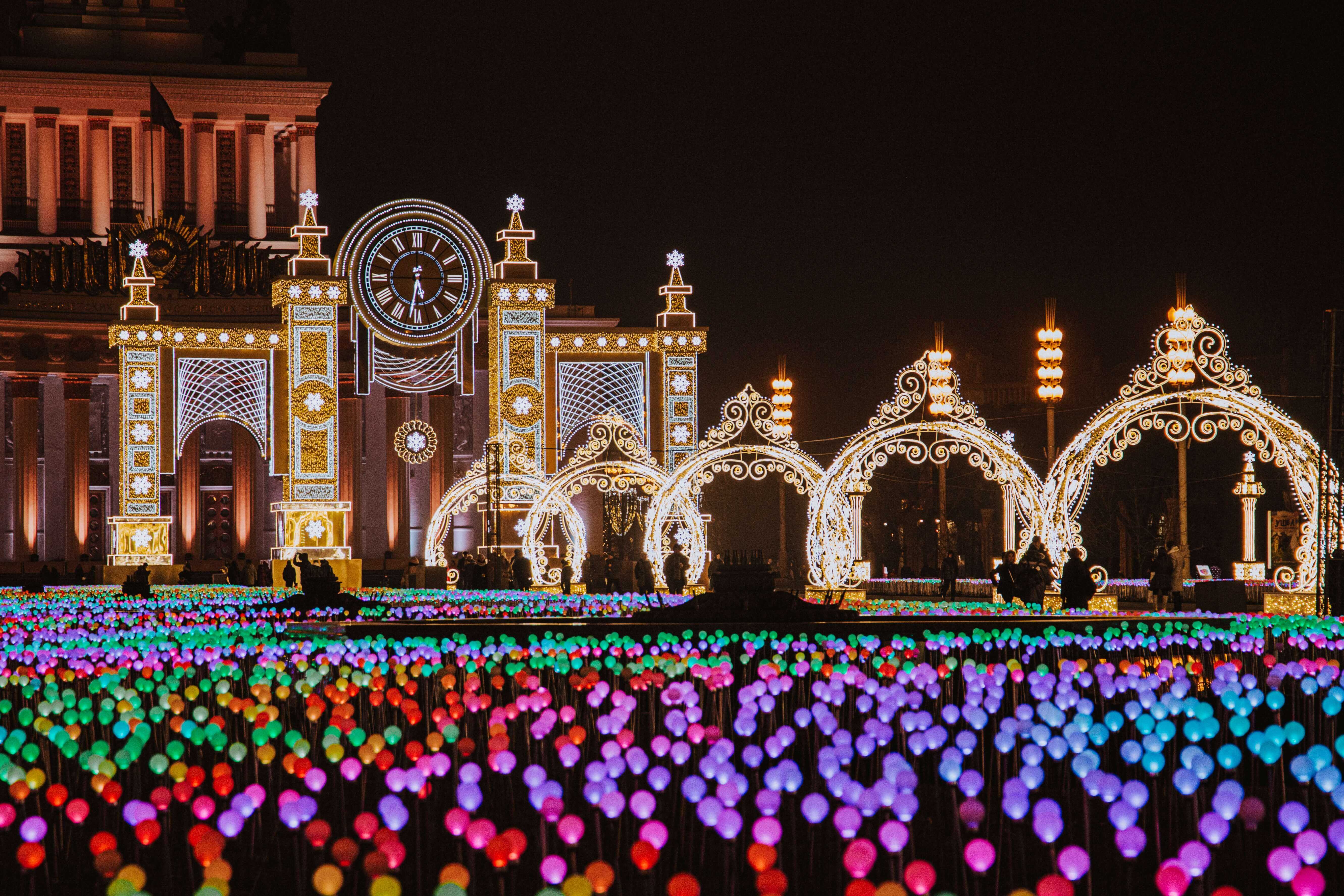 All-Russian Exhibition Center

Where to go for dinner
One of the best spots for dinner is Ruski in downtown Moscow, where you'll find delicious Russian cuisine with a modern twist. But beyond the food, this place is an experience in itself – situated on the 85th floor, you'll have a breath-taking, panoramic view of Moscow at night.
Another fantastic place serving local dishes is Bolshoi. Beautifully designed with excellent service, it's close to the Bolshoi Theatre, so it's the perfect choice if you're planning to take in a performance.
A meal at Wine and Crab is always a treat. The name is pretty self-explanatory, but you can also try plenty of other seafood to go with your wine of choice. It's situated in an area close to the pretty pedestrian Nikolskaya Street, that lead downs to Red Square. So, after dinner you can have a lovely walk in the heart of the city.

Day trips from Russia's capital
When you come for more than a couple of days, take the opportunity to visit some of the famous homesteads in the countryside surrounding Moscow, like Arkhangelskoye Palace, Tsaritsyno Museum-Reserve or Kolomenskoye. Not only will you see a variety of different, interesting architectural styles, a stroll among the stately grounds and parks is a wonderful escape from the hustle and bustle of the city. They are all not far from Moscow, you can take an Uber, public transport, or another option is to download the carsharing app BelkaCar as they offer a good quality service and allow foreigners to rent cars.

"Head to Flacon for a
taste of contemporary
culture in Moscow city"



Our favourite Moscow hotels
We've split our recommendations into 3 segments – budget, mid-range and luxury – to help you find the perfect accommodation for your trip.
Budget
Urban Jedi Hostel – The ideal hostel if you want to socialise while travelling. It's conveniently located right in the city centre, has friendly staff and a hip, modern vibe.
Capsule Hotel Botanist – Situated next to the Botanical Garden, Botanist is a serene home away from home. Beautifully decorated in greenery in keeping with the theme and there's also a rooftop bar serving signature cocktails.
Mid-range
MOSS Boutique Hotel – Close to all the main city sights, rooms here are stylish and contemporary, and the breakfast is delicious. You even get to choose your own toiletries for that extra personal touch.
PR Myasnitsky Boutique Hotel – Stunning hotel in a 19th century building. The blend of present-day interior design and the original historical features make each room a joy to stay in. Impeccable service and fantastic breakfast.
Luxury
Ritz Carlton - Lives up to its reputation and then some! Gorgeous accommodation with Moscow on your doorstep - relax in the full-service spa, choose from three restaurants to dine in and take in the view over the city from the rooftop bar.
Four Seasons – Located just steps from Red Square, the Four Seasons is a place where you can pamper yourself in the spa, chill by the pool and taste world-class cuisine in one of the signature restaurants. Really, what more could you want?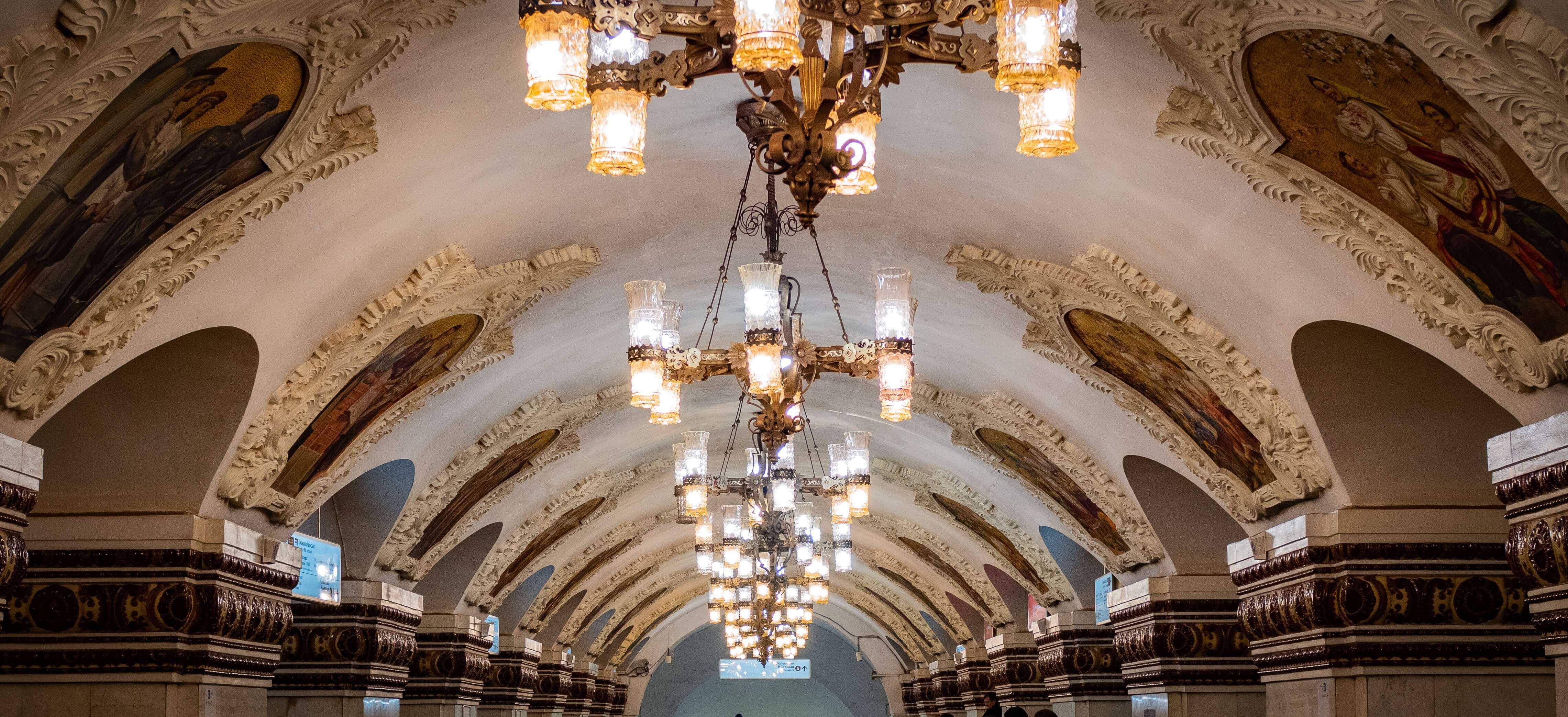 Kiyevskaya Metro Station

Some extra tips…
It's definitely worth seeing an opera or ballet during your trip and the beautiful Bolshoi Theatre is by far one of the best experiences in Moscow. For an overview of all upcoming performances around the city, check out this useful site.
Moscow metro stations are among the most beautiful in the world. Go on a guided tour to learn more about the history, or simply take a ride and step off wherever you fancy!
Why not go for a true Russian spa experience? Head to Sanduny banya, choose between communal and personal and get your circulation going by getting hit by a besom and soaking up the hot steam – honestly, you'll feel all the better for it!
Head to the 'design factory' Flacon for a taste of contemporary culture in Moscow city. Housed in the red brick buildings of a former factory, this laid-back spot away from the tourist crowds has shops selling locally designed clothing, cafes, restaurants, graffiti, art workshops and often hosts interesting events and performances.
To sum up, Moscow is a destination full of surprises and a city you'll never forget. Hopefully our recommendations have given you some food for thought for where to stop by when you visit Russia's amazing capital!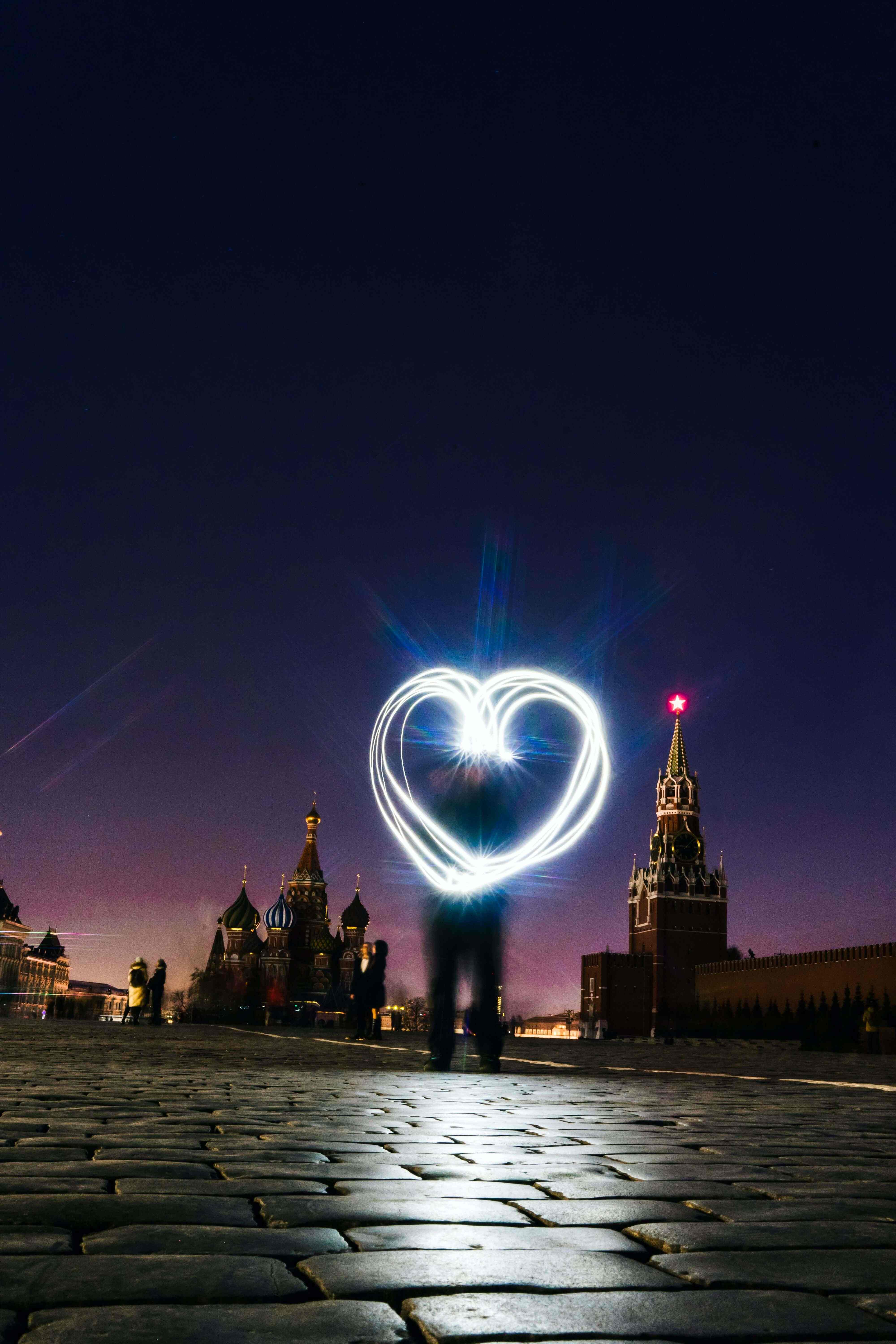 From Moscow with love


All images: Unsplash unless otherwise specified
Top image: Adobe Stock
Latest posts
Swiss Air passengers left in disarray as plane lands in Spain without luggage
Passengers, awaiting their belongings at the airport's baggage claim, were met with disappointment as their bags failed to materialize even after a two-hour wait.
Ural Airlines' Airbus A320 forced to make emergency landing in wheat field
An Airbus A320 operated by Ural Airlines was faced with the possibility of running out of fuel, leading its crew to execute an emergency landing in a wheat field.
20 000 sheep take flight to Saudi Arabia
In addition to machinery, textiles, time-sensitive items like medications and food, live animals are often transported by air freight.
About MYFLYRIGHT
MYFLYRIGHT is a legal tech company, specialized in the support of airline passengers affected by flight delays, flight cancellations, denied boarding, delayed or lost luggage and the refund of unused airline tickets. MYFLYRIGHT was founded 2016 in Hamburg, Germany. The company operates out of 3 offices, its headquarter in Hamburg and its branches in Prague, Czech Republic and Zaporizhia, Ukraine. Currently, MYFLYRIGHT employs a team of around 25 people working in Marketing, Operations, Legal, Customer Support and IT. The organization operates across 5 markets – Germany, United Kingdom, Romania, Austria, and Switzerland.
MYFLYRIGHT's goal is to provide access to justice for all aviation passengers who experience irregularities in their flight transportation. Notably, 75% of all compensation requests submitted by passengers get rejected. Whereas, MYFLYRIGHT is able to successfully execute the applicable customer claims in more than 98% of cases at court.
Get up to 600 €* in compensation
Check claim for free