What happens in Vegas…with a local!


Las Vegas means 'The Meadows' in Spanish but is more commonly dubbed Sin City or The Entertainment Capital of the World. Located in a valley in the Mojave Desert, the city attracts over 40 million visitors per year, many coming for the casinos, live performances and the feeling that here, more than anywhere else in the world, you can really let your hair down and go wild!
But there's more to Vegas than gambling and the Strip – the landscape encompassing the city is home to stunning rock formations, a large array of wildlife and numerous hiking trails. Vegas' history is also fascinating – the Mob connections, glamour, and the birth of its world-renowned casinos all combine to give this city a seductive allure.
Our local today, Daria (@thediscoverynut), is a passionate blogger who shares her love of travel with readers all over world and is here to give us a glimpse of Las Vegas beyond the Strip, her favourite vegan eateries and the top sights to check out in this one-of-a-kind city.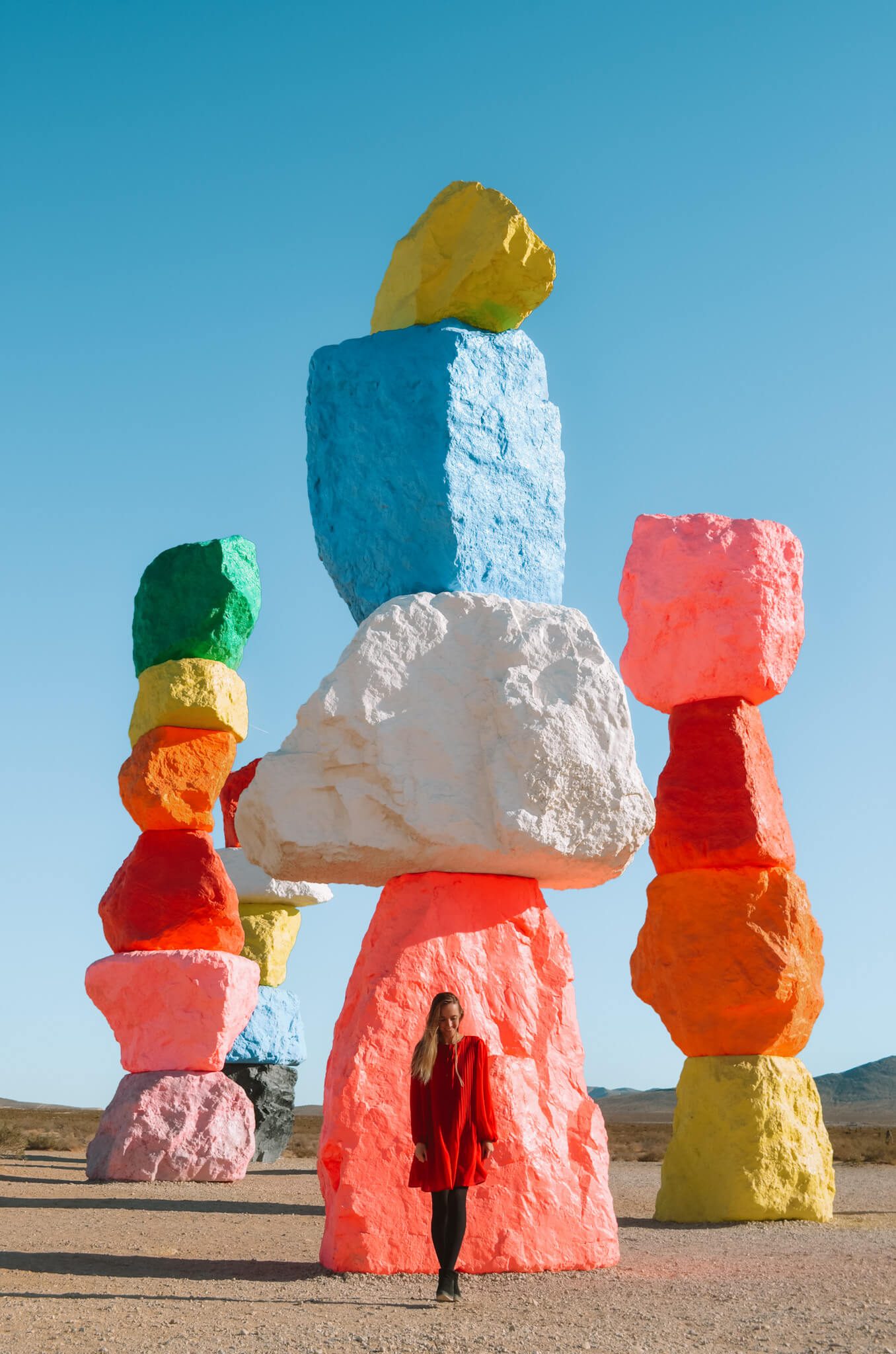 Daria at Seven Magic Mountains, image courtesy of Daria

Welcome to "Like Locals" Daria! Can you tell us a little about yourself?
Hello! I run a blog called The Discovery Nut, which is focused on adventure and sustainability. Las Vegas is one of the cities that I cover in my blog because many travellers have no idea that this place has so much more to offer than just the Vegas Strip and casinos! I hope to help them plan their itinerary and give my insider tips on the best places to visit in the city.

"Red Rock Canyon boasts
colourful, other-worldly scenery"

How should we spend our morning in the city?
Start your day at Vegano's Kitchen, a fantastic eatery on North Rancho Boulevard. This vegan Mexican restaurant offers beyond meat burgers, quesadillas, burritos, and many other vegan options. After eating a delicious meal, it's time to burn some calories and get out to nature. A lot of visitors don't realise this, but Las Vegas has tons of cool hiking trails – in fact, you might have a hard time picking just one!
One of the most popular places for hiking is Red Rock Canyon, which is about 25 minutes away from the Las Vegas Strip. It boasts colourful, other-worldly scenery and is a photographer's dream. It's best to start early during summer as it gets really hot there, so head out right after breakfast and aim to finish at around 11 am before it gets sweltering. You can read some more tips about Red Rock hiking in my blog.

"You can't visit this city without
seeing the famous Las Vegas sign!"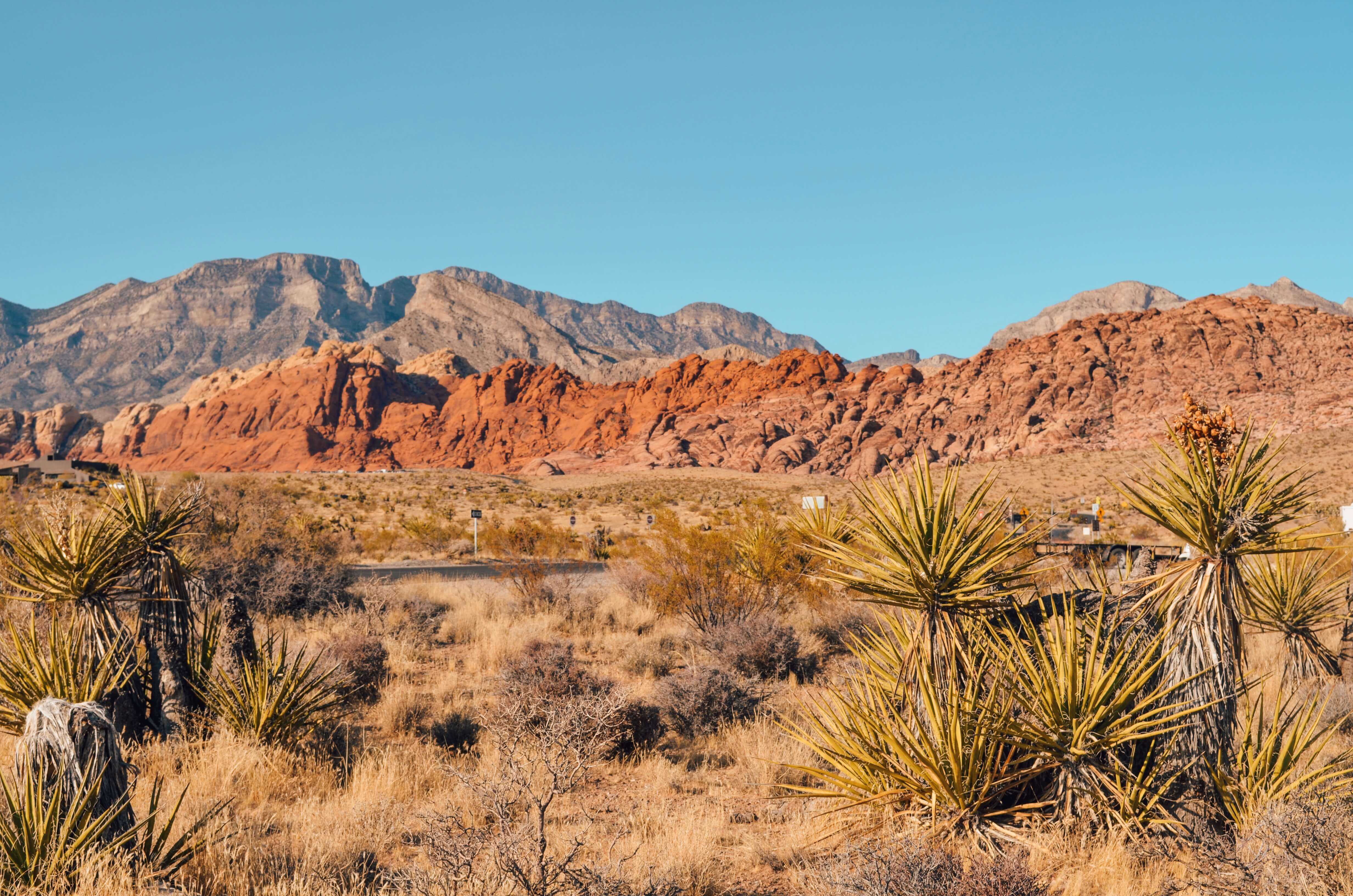 Red Rock Canyon, image courtesy of Daria

What are the best things to do during the day?
After exploring the beautiful desert scenery, its time do some sightseeing. Head to the strip, where you can visit Venice and Paris – ride a Gondola at The Venetian or go up the Eiffel Tower at Paris Las Vegas. You can even take a zipline and glide 12 storeys above the street at The LINQ!
If you want to take cool photos, check out Seven Magic Mountains, the colourful art installation along Interstate-15 that has become one of the top places for tourists to visit in recent years. Created by Swiss artist Ugo Rondinone, Seven Magic Mountains consists of seven towers of brightly coloured boulders stacked on top of each other. As it's over 32km from the Strip and in the middle of the desert, you will need to drive there, or take an Uber or Lyft.
Of course, you can't visit this city without seeing the famous "Welcome to the Fabulous Las Vegas" sign on the Las Vegas Boulevard! During the day, it's not uncommon to wait in line to take a picture in front of it – be patient, it's worth it 😊
For lunch, you're spoilt for choice and, even as a vegan, I have so many options from a huge variety of cuisines:
This spot, on Tropicana, offers an impressive selection of Mexican vegan dishes. You can try all the classics and everything is super fresh and authentic.
For something a little different, try the only Egyptian restaurant in the city. The street food, falafel, baba ghanoush – well, everything! – is cooked with love by the chef-owner Iman Haggag.

"From the High Roller you'll see a
gorgeous panorama of Las Vegas"
Thankfully, this place now has a brick and mortar location – the former pop-up has satisfied demand for it's amazing Pulled NoPork Sandwich, Aloha NoRibs Sandwich and all those tasty plant-based deli bites!
Chef Kenny's Asian Vegan Cuisine
It's tempting to try everything on this menu – the sushi, ramen and pho are so good that whether you're vegan or not, you'll want to keep coming back for more.

The Mob Museum, which is situated right downtown, is not only a good place to get a break from the Vegas heat, but you'll also enjoy several exhibits on the history of organized crime in the States. Anyone into true crime will love it – you can do a crime lab tour and play at being detective - and you'll get a real feel of living in the Prohibition Era in the Speakeasy Bar.
After that, head to the Neon Museum, an outdoor spot where over 200 vintage signs from Las Vegas casinos, hotels and businesses have come to retire. Stroll through the 'Boneyard' and admire the relics of yesteryear with their pops of colour and retro graphics. At sunset, they are all illuminated so it's a beautiful way to end your afternoon.

"When Las Vegas temperatures
soar, head to the Brooklyn Bowl"



Where can we experience the famous Las Vegas nightlife?
For dinner, visit VegeNation which is downtown, close to both the Mob and Neon Museums. The menu is amazing and covers a wide range of cuisines – you can try dumplings, tamales, hummus, risotto and pot pie all in one sitting!
Something a little different – why not try dining in the dark? Experience a taste sensation at BLACKOUT, where guests choose from sweet, spicy or savoury flavour profiles and the meal is served in total darkness. By the way, they don't actually tell you the food is plant-based until the meal is over, so if you go with someone else keep it as a surprise!
Of course, you have to take a walk down famous Fremont Street to take in all the bright lights and watch some street performers.
If you're not into clubbing, there are some really cool bars in the city. These 3 really epitomise the more laid-back Vegas vibe:
This downtown spot serves cocktails that are works of art, with wildly creative ingredients like squid ink, pistachio crumble or orange-infused coffee.
For an off-beat tropical night, this is the place for you – recline on clashing prints surrounded by bamboo and shrunken head dolls while sipping on delightfully bright, sweet concoctions!
Retro heaven – Starboard Tack is a Vegas institution which has been around since the 70s. The 2017 renovation didn't take away from the original feel of the place and, although it's a little out of the way, it's well worth the detour.
Now, for those who do want to head out to the clubs, the more upscale options are Omnia or Hakkasan on the Strip. Both have world-class DJs, and you can party the night away dancing to top tunes in an unforgettably glamourous atmosphere.

"Take a trip to the
awesome Valley of Fire"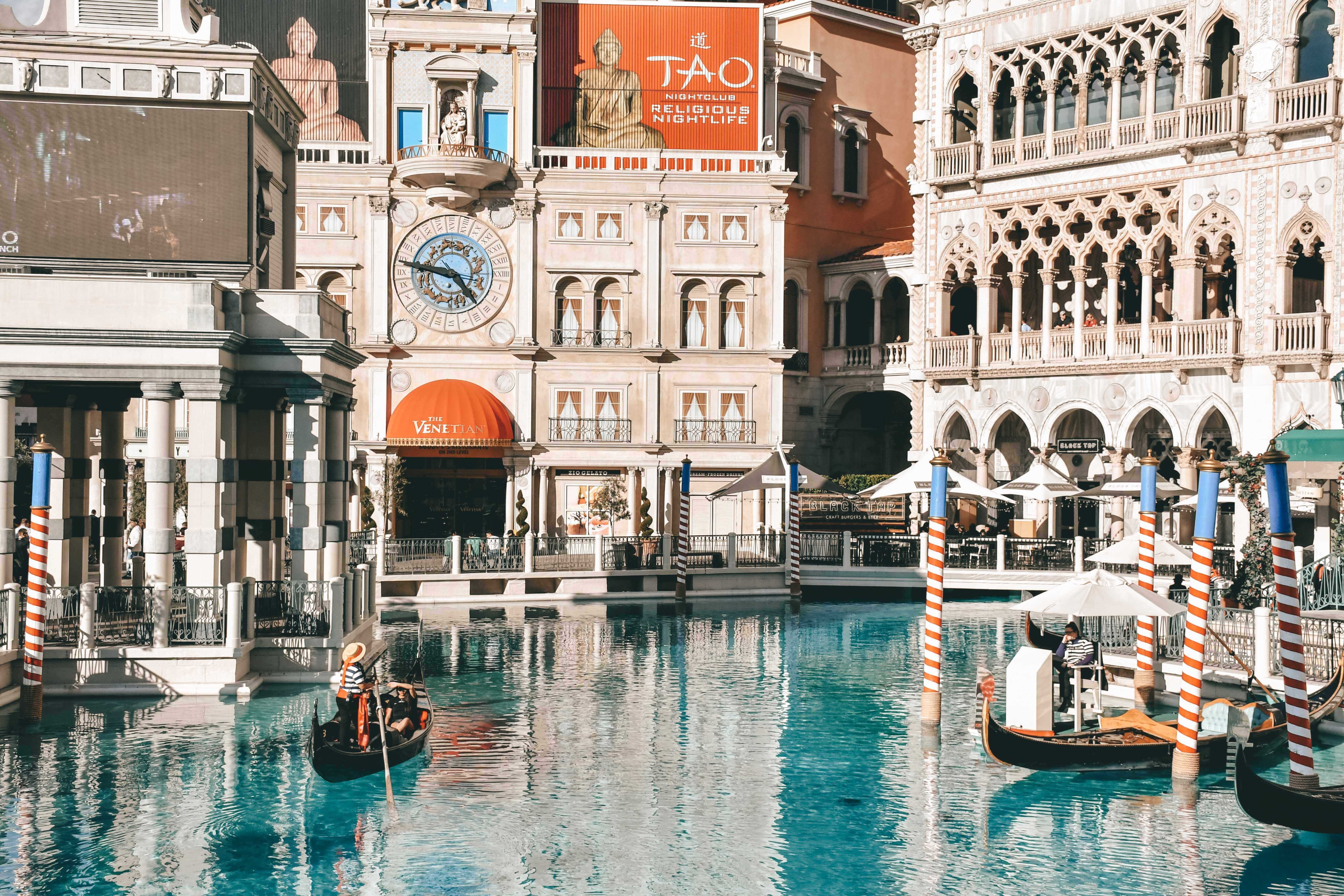 The canals at The Venetian, image courtesy of Daria

What if the temperature in Las Vegas gets too hot to handle?
When Las Vegas temperatures soar, head to the Brooklyn Bowl, a huge venue with bowling, live music and restaurants on the Strip. It's a cool place to relax and have fun without spending a lot of money.
Nearby, you can ride the Las Vegas Observation Wheel, more commonly known as the High Roller, which holds the title of the tallest observation wheel in the world. From it, you'll see a gorgeous panorama of Las Vegas spread out beneath you and each ride lasts around 30 minutes. It's air conditioned so you'll chill out in no time. A note – it's more expensive at night - $37 rather than $25 - so you pay a little more to see the city lit up in all its glory.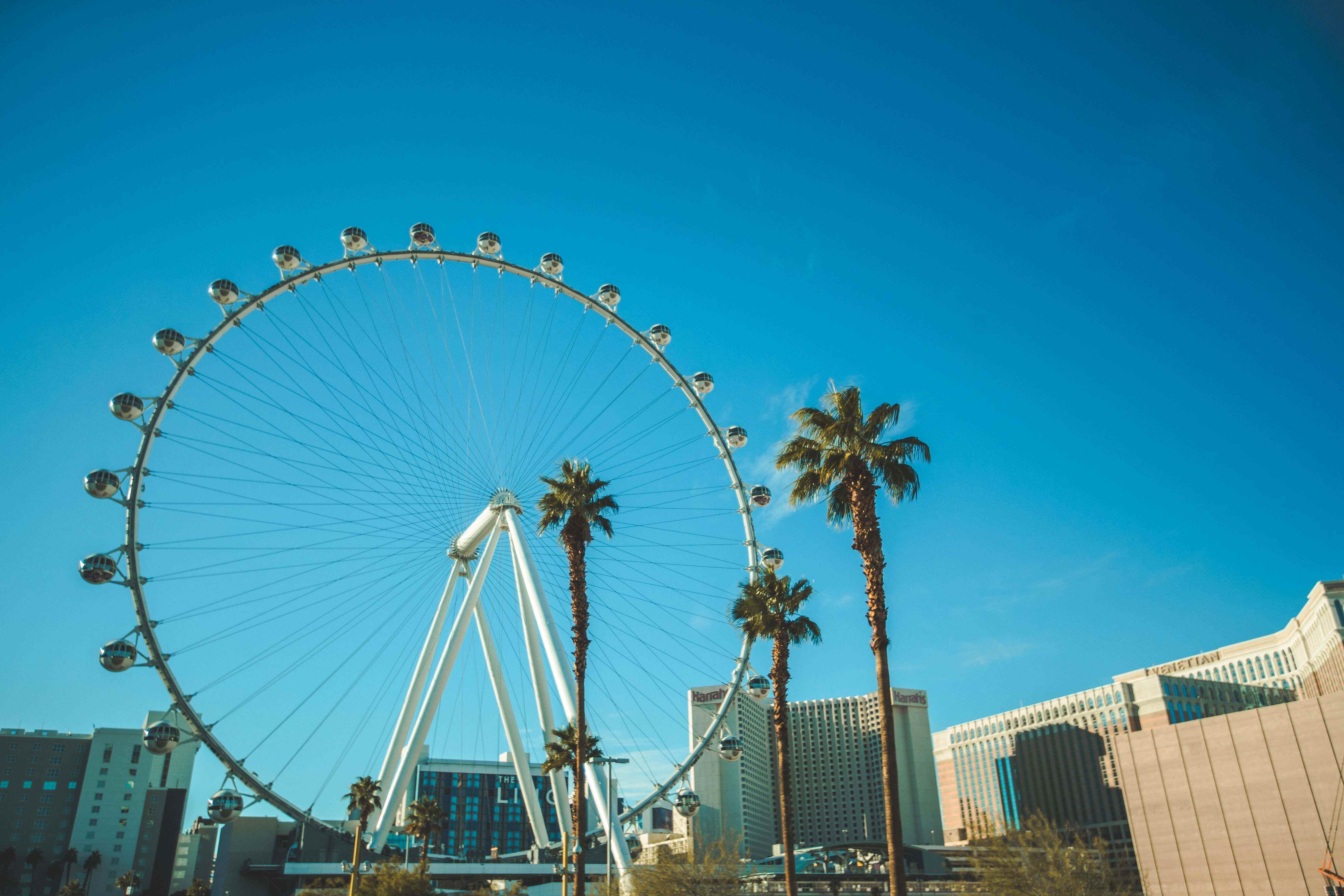 Take in the view from the High Roller*

Are there any good day trips from Las Vegas?
There are tons of cool day trips you can take from the city. Spend a day roaming around the dramatic landscape of Death Valley in California or take a shorter trip to the awesome Valley of Fire in Nevada, so-called because of its fiery-red sandstone rocks. Zion National Park in Utah, which has dramatic cliffs and canyons, is also worth a visit. All these places are between 1 and 2.5 hours away from Las Vegas and boast incredible scenery and hiking trails for all levels. I suggest you take at least one of these road trips during your stay in the city.
Do you have any other tips for visitors?
The busiest time in Las Vegas is summer when temperatures reach 43° C on a typical day. If you're not a fan of hot weather and don't want to overpay for hotels because of the high demand, consider visiting Las Vegas in the off-season that lasts from mid-October through mid-March. This is also a lovely time to enjoy the surrounding hiking trails as the sun is more forgiving and you don't have to worry about seeking the respite of air conditioning before lunchtime!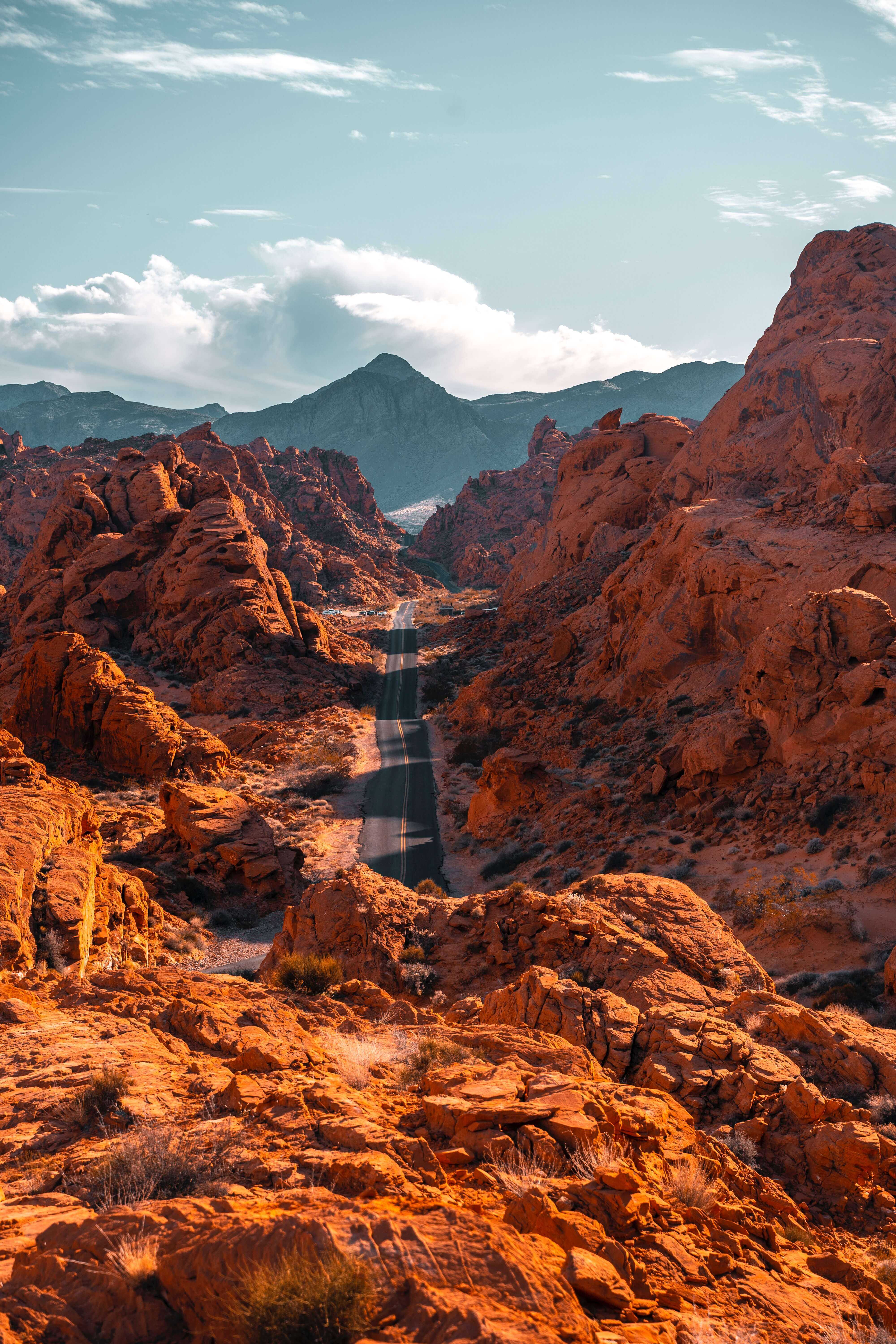 Nevada's Valley of Fire*


*Images: Unsplash
Top image: Adobe Stock
Latest posts
Winter weather disruptions at Frankfurt Airport
The onset of severe winter weather has wreaked havoc on flight operations at Frankfurt Airport, causing widespread flight cancellations and flight delays.
Best German Christmas markets
Here's a closer look at some of our picks for the best Christmas markets in Germany.
Best places to visit in December: Winter destinations for every traveler
Whether you seek the adrenaline rush of skiing down snow-clad slopes or the soothing warmth of a tropical beach, there's a winter vacation destination tailored just for you.
About MYFLYRIGHT
MYFLYRIGHT is a legal tech company, specialized in the support of airline passengers affected by flight delays, flight cancellations, denied boarding, delayed or lost luggage and the refund of unused airline tickets. MYFLYRIGHT was founded 2016 in Hamburg, Germany. The company operates out of 3 offices, its headquarter in Hamburg and its branches in Prague, Czech Republic and Zaporizhia, Ukraine. Currently, MYFLYRIGHT employs a team of around 25 people working in Marketing, Operations, Legal, Customer Support and IT. The organization operates across 5 markets – Germany, United Kingdom, Romania, Austria, and Switzerland.
MYFLYRIGHT's goal is to provide access to justice for all aviation passengers who experience irregularities in their flight transportation. Notably, 75% of all compensation requests submitted by passengers get rejected. Whereas, MYFLYRIGHT is able to successfully execute the applicable customer claims in more than 98% of cases at court.
Get up to 600 €* in compensation
Check claim for free