What's on Barcelona? A local tour of the city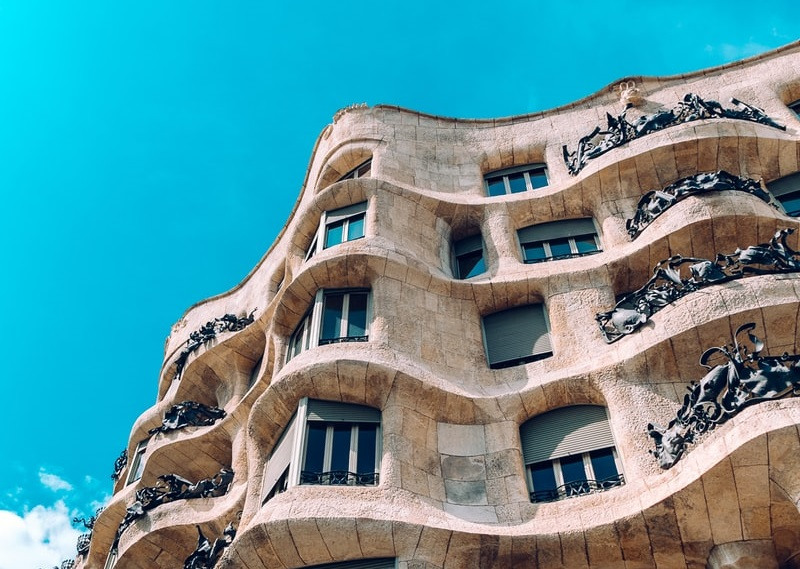 This time in "Like Locals", you'll find a story about a city which is richly diverse, chilled out and saturated with history - Barcelona.

The author of this guide is Kateryna Kharchenko – the future art manager to be, who's been enjoying life in Barcelona for 4 years after living in an international environment for a long time.
With Katy we'll talk about a lot of different places for different tastes and why she ended up in Barcelona and fell in love with the city. So, what are we waiting for? Let's start!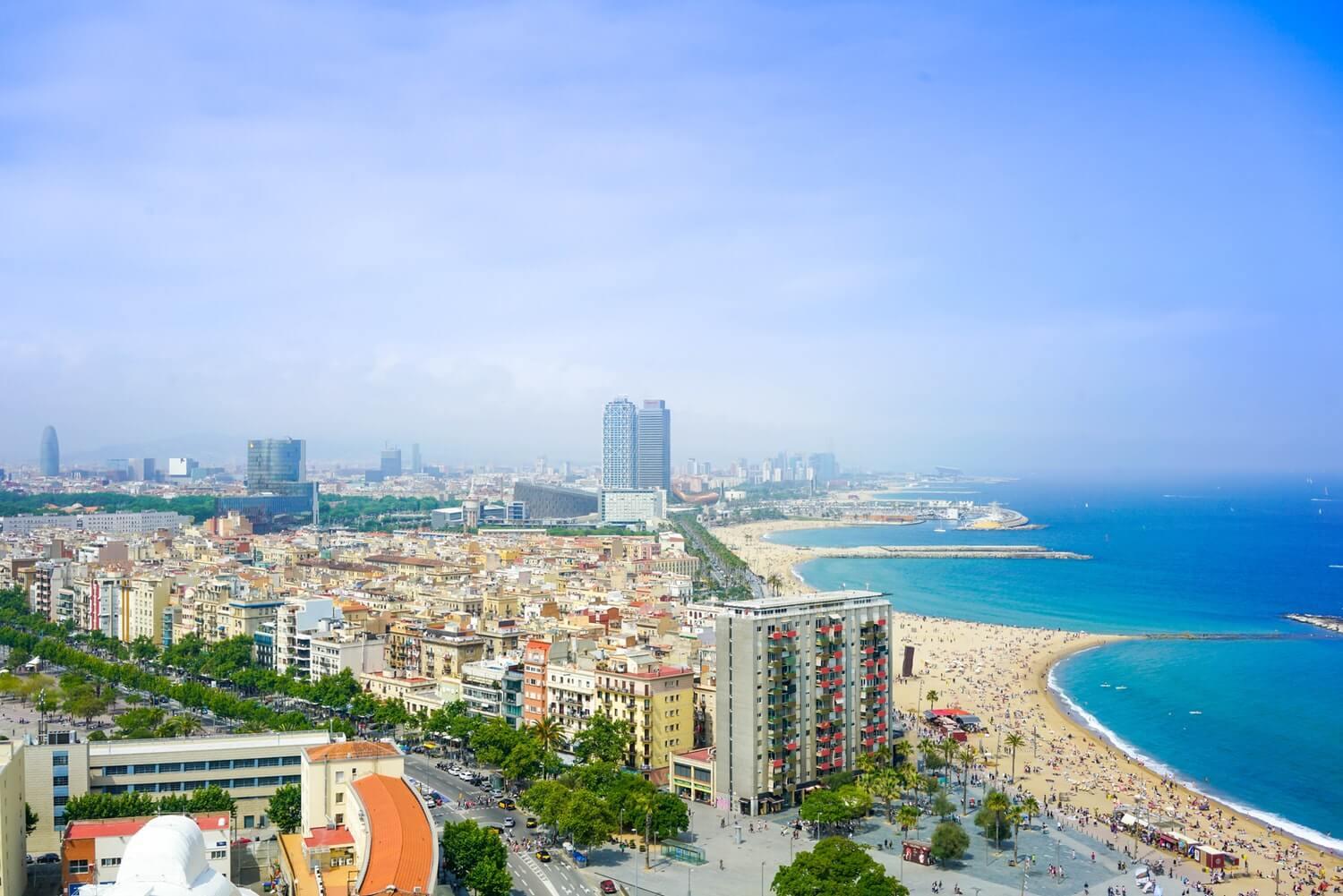 Barcelona*
Hi Kateryna! Can you tell us a little more about yourself?
Hi! I'm originally from Ukraine. I came here to study Public Relations and Communications at university, but my real passion is art and this year I'm starting my master's degree in Art and Cultural Management at The International University of Catalunya.
Currently, I'm doing an internship at Galleria Maxo, which has three locations around Barcelona and really represents the spirit and atmosphere of the city. It should definitely be on your must-visit list when you come to Barcelona!
Can you describe your perfect morning and where to go for breakfast in Barcelona?
My perfect morning routine is to have a cup of coffee on my balcony in the sunshine, with a view of the courtyard.
"The best breakfast in Barcelona
is Brunch & Cake"
The district I live in, El Raval, is one of the oldest districts in Barcelona and is full of creative people, skaters, local design shops and street art. My apartment is just a 5-minute walk from MACBA (the Museum of Contemporary Art). For me, it is perfect.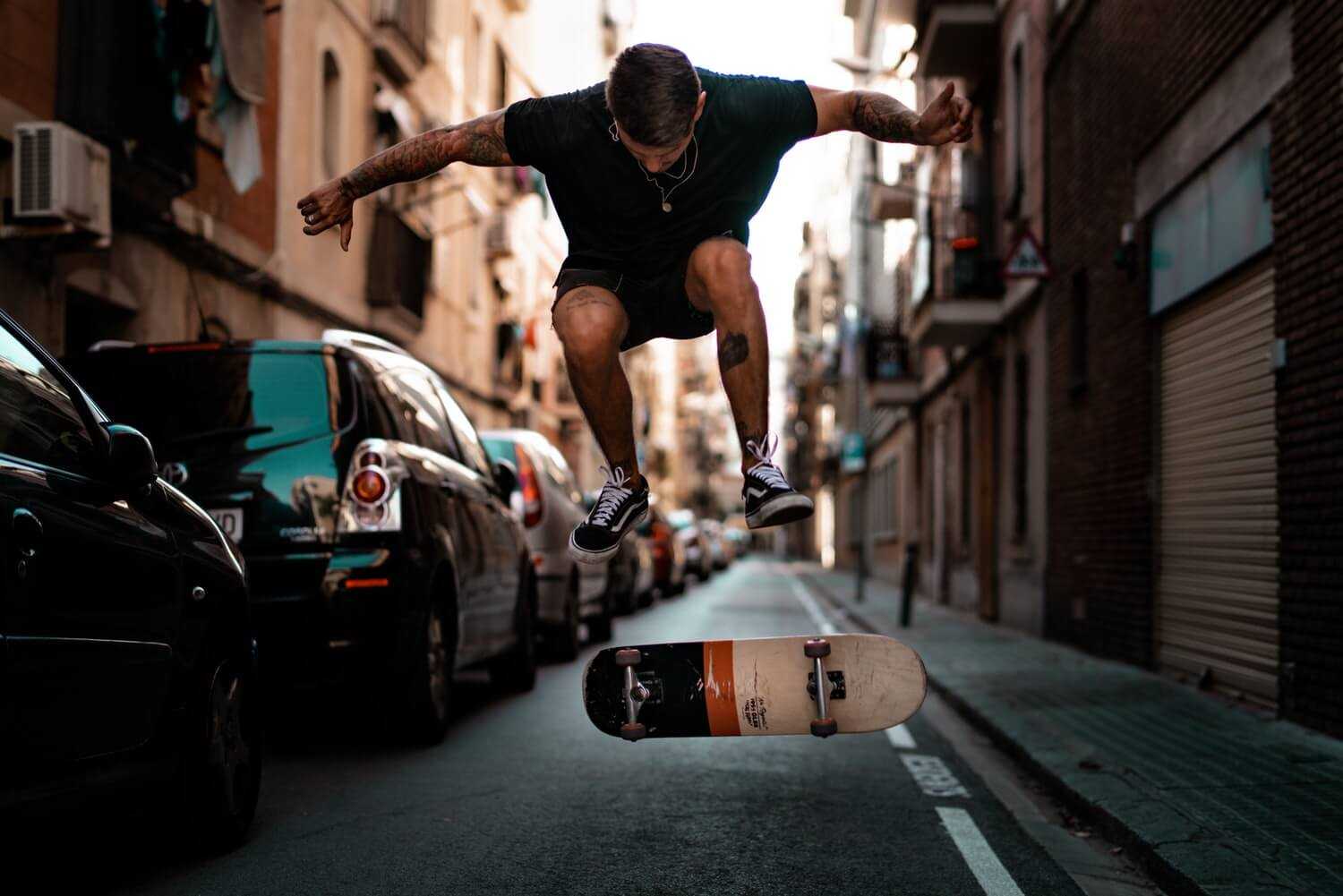 If I don't have work in the morning, I go for breakfast or brunch with my friends. There is a huge food culture in Barcelona, so there are plenty of places to choose from.
"From Carmel Bunkers, you have
a 360° view of Barcelona city"

Probably the best place for brunch in Barcelona is Brunch & Cake, the way they serve dishes is truly amazing and their focus is on delicious, healthy food
What are your top things to do in Barcelona during the day?
Barcelona is the most chilled city to live in, not only due to the Spanish culture, but also because of the weather and people. Nobody rushes anywhere and everyone has time during lunch to relax with a glass of wine and talk about life.

The city has a lot of great hiking spots, such as Montjuïc Hill. If you don't feel like hiking, you can go up by funicular, which goes from the port. Another fascinating place is MUHBA Turó de la Rovira. At the top of this hill, you can visit The Carmel Bunkers, where the movie "Three Steps Above Heaven" was shot. From here, you have a stunning 360° view of the city and surroundings.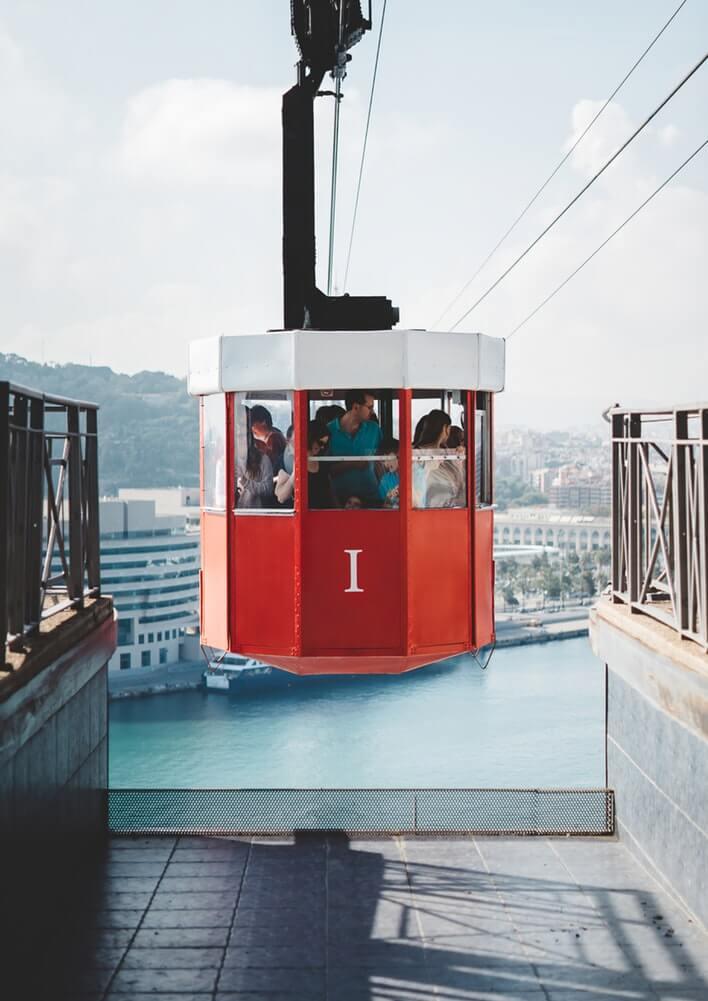 The funicular at the top of Montjuïc Hill*
Barcelona has a tons of skaters, so if you're one of them, you can skate all the way along the beach, to Forùm, a spot away from down-town and a haven for all skaters.
You can also go to the food markets - La Boqueria and Sant Antoni Market are my favourites - and experience the heavenly scents and flavours.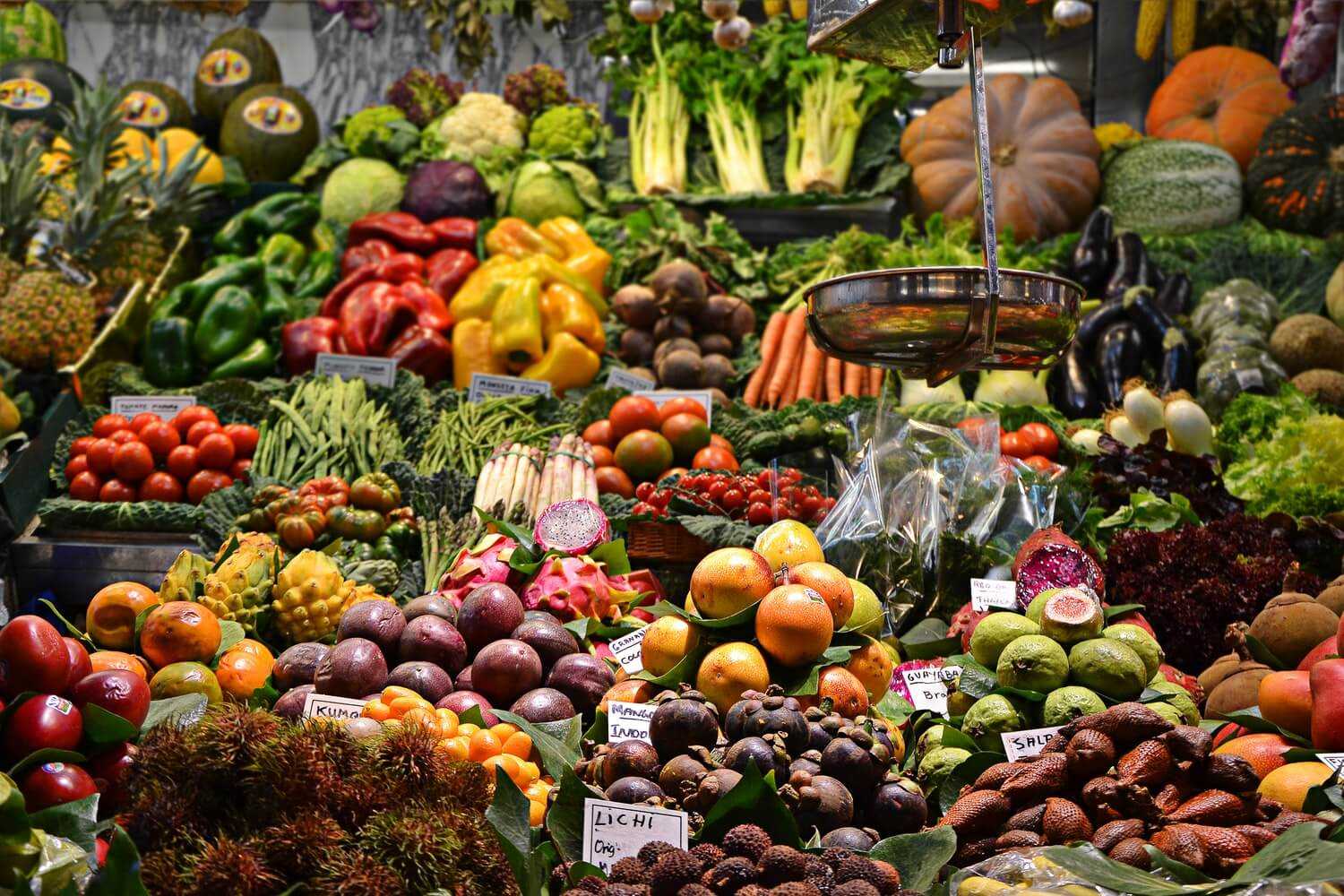 Can you recommend what to do in Barcelona in bad weather?
Many people think that it's always sunny in Barcelona, unfortunately not! If the weather's not so good, check out some museums - like MACBA (the Museum of Contemporary Art) or the Picasso Museum, which is located in El Born, a district with a huge variety of restaurants, so there's something for everyone. The Picasso Museum has a lot of pieces from Picasso's early period and the collection is superb. The temporary exhibitions here are also always a must-see.
"Barcelona is a totally different
city when the sun goes down"
You can also go shopping to escape bad weather. Spain is well known for high street shops like Zara and Bershka but if you're on the look-out for luxury, go to Passeig de Gracia, where you'll find Chanel, Dior and many other designer brands. For a bargain, visit La Roca Village, an outlet just outside the city.
For street style lovers I recommend visiting Limited Editions, which also has a sneaker store, where you will be able to find all the latest styles.
However, for me, the weather is not a limitation for doing the things you usually do.
What are the best things to do in Barcelona at night?
Barcelona is a totally different city when the sun goes down. For dinner, there are all sorts of restaurants to choose from. I recommend:
Feroz: elevated Spanish cuisine
El Nacional: traditional Iberian food
Boca Grande: sophisticated local cuisine
All three are super popular, so remember to book a table. You can then move on to Boca Chica for some fancy cocktails in a beautiful atmosphere.
"Take the tourist bus to see the
top Barcelona attractions"
Barcelona has a huge variety of nightclubs. The most famous ones are in Port Olimpic. If you love techno and electronic music, Red58 and Macarena are for you. Also take a look at Checkpoint - this is an organization which combines music and art at their parties. They always have cool locations for their events, which are really popular with the locals.
What about trips outside Barcelona? Landmarks, sightseeing, nature?
The city is surrounded by beautiful towns and villages. Here are my favourite day trips:
PortAventura is perfect for amusement park fans.
It is in Figueres, which is a couple hours north of Barcelona.
For hiking go to Montserrat Mountain.
It's famous for its 11th century monastery and you will find some of the best sightseeing in the area.
Visit Sitges to see traditional Spanish life.
Only 40 km from Barcelona, this pretty coastal town has amazing beaches and seafood.
Any other local tips for the city of Barcelona?
In the afternoon not all places are open at the time we are used to as they are closed for siesta, usually from 2 pm till 4 pm, some even till 8pm!
Generally, you can go to any local restaurant and the food will be amazing, but my advice is to avoid the more touristy places on La Rambla, the famous boulevard in Barcelona.
Definitely take the tourist bus to see the top Barcelona attractions, it will give you a complete picture of the city.
Watch a football match at Camp Nou Stadium, it doesn't matter who's playing, you'll enjoy it! If you're visiting Barcelona in summer, my advice is to take the train from Placa Catalunya and explore the beaches outside the city, they're less crowded, the water's cleaner, and it's not a long journey.
For me, Barcelona is completely "my city". I feel its atmosphere every day and I just enjoy walking around the city, exploring small streets. The first time I fell in love with Barcelona was when I was walking at night through the Gothic quarter, surrounded by all the old buildings, and I just felt complete happiness. I really advise anyone who visits to just get lost in it, go wherever the city leads you, explore every corner, soak up the atmosphere and you'll fall in love with Barcelona, just like I did.
* All images: Unsplash

Top image: unsplash
Latest posts
Winter weather disruptions at Frankfurt Airport
The onset of severe winter weather has wreaked havoc on flight operations at Frankfurt Airport, causing widespread flight cancellations and flight delays.
Best German Christmas markets
Here's a closer look at some of our picks for the best Christmas markets in Germany.
Best places to visit in December: Winter destinations for every traveler
Whether you seek the adrenaline rush of skiing down snow-clad slopes or the soothing warmth of a tropical beach, there's a winter vacation destination tailored just for you.
About MYFLYRIGHT
MYFLYRIGHT is a legal tech company, specialized in the support of airline passengers affected by flight delays, flight cancellations, denied boarding, delayed or lost luggage and the refund of unused airline tickets. MYFLYRIGHT was founded 2016 in Hamburg, Germany. The company operates out of 3 offices, its headquarter in Hamburg and its branches in Prague, Czech Republic and Zaporizhia, Ukraine. Currently, MYFLYRIGHT employs a team of around 25 people working in Marketing, Operations, Legal, Customer Support and IT. The organization operates across 5 markets – Germany, United Kingdom, Romania, Austria, and Switzerland.
MYFLYRIGHT's goal is to provide access to justice for all aviation passengers who experience irregularities in their flight transportation. Notably, 75% of all compensation requests submitted by passengers get rejected. Whereas, MYFLYRIGHT is able to successfully execute the applicable customer claims in more than 98% of cases at court.
Get up to 600 €* in compensation
Check claim for free