Was your flight changed or moved forward?
A flight change refers to a change by the airline to the originally scheduled departure or arrival city and/or departure or arrival time of a flight. This can happen, for example, due to bad weather, technical problems, strikes or other unforeseen events. A flight change may mean changes to passengers' travel plans that may affect them, but in some cases the airline may offer alternative transportation options to ensure passengers reach their destinations.
Flight brought forward - am I entitled to compensation?
Airlines often change their flight times. If your flight is moved forward or the flight time is changed, you are entitled to compensation of 600 €, 400 €, 300 € or 250 €, depending on the flight distance to the destination. If your flight is rescheduled to a different date or time up to 14 days before departure, you are entitled under EU Air Passenger Rights Regulation 261/2004 to compensation and additional benefits such as meals and refreshments, accommodation and transport if your replacement flight departs the next day. However, if the airline offers you alternative transportation and you reach your destination within a reasonable delay, the compensation payment may be reduced by up to 50%. The compensation is independent of the ticket price and was introduced for reasons of consumer protection so that travelers can plan with certainty and airlines do not adjust their flight schedules arbitrarily.
If your flight has been moved forward, the aviation law experts at MYFLYRIGHT are on hand to help you assert your air passenger rights. On their homepage www.myflyright.com you can check for free with a compensation calculator whether you are entitled to compensation. If you need assistance, MYFLYRIGHT will enforce your rights for you and there will be no cost risk for you. In case of success, only a commission of 25% plus VAT will be charged. If we have to engage our external lawyers, we charge a surcharge of 10%.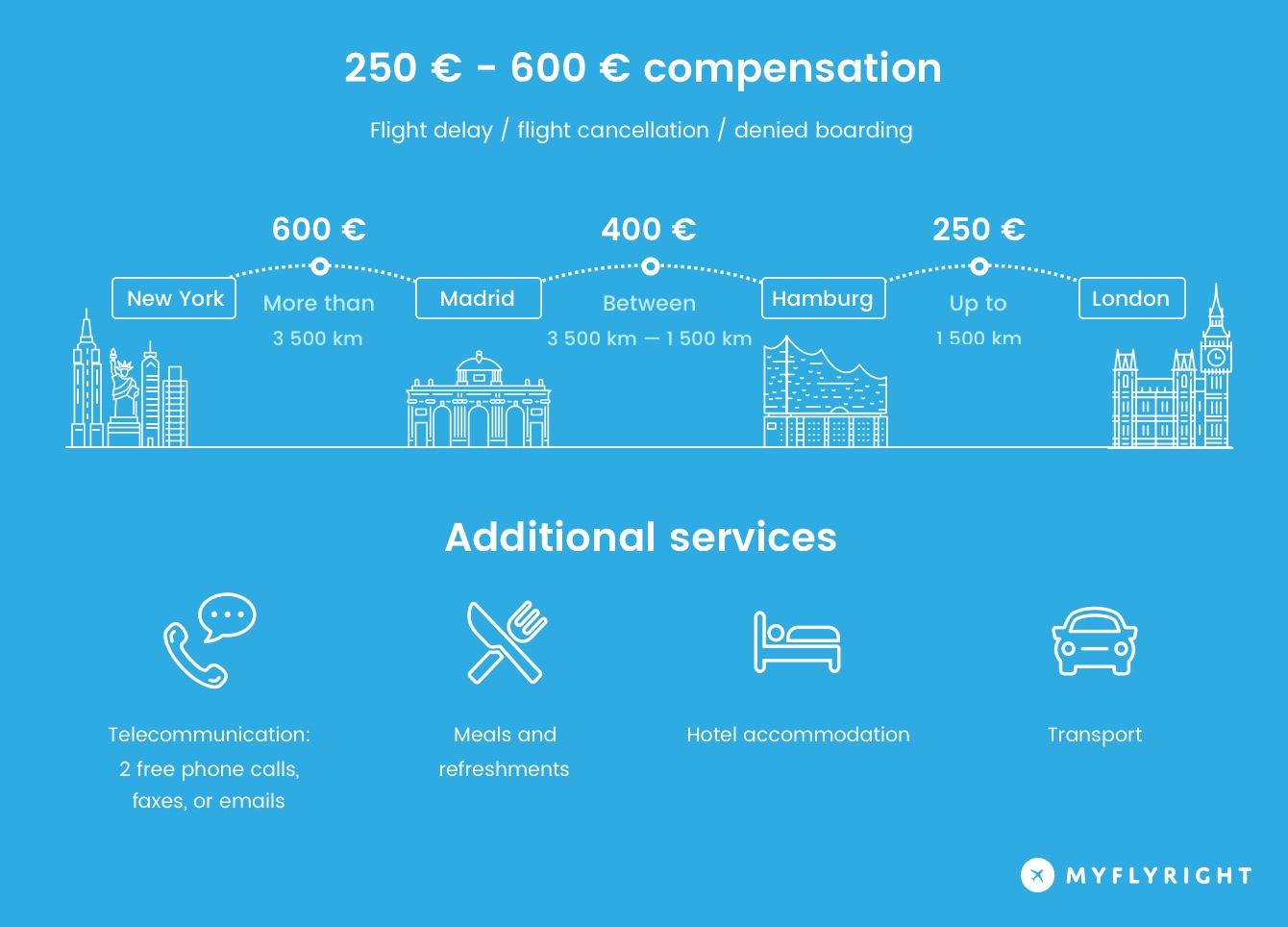 How can I avoid a flight change?
Careful planning and early booking of travel can avoid flight rescheduling in many cases. If you are concerned that your travel plans may change, you should choose an airline that offers flexible rebooking options. It is important to review the terms and policies of the various airlines to make the best choice. Additionally, it is advisable to purchase trip cancellation insurance to be covered in case of unforeseen events such as illness or injury.
Compensation rights by route in case of flight time change
To find out if you are entitled to compensation and to calculate the amount of compensation, the following variables must be considered: the airline you are flying with, the country of departure and the country of destination. There are certain criteria that must be met, according to the EU Air Passenger Rights Regulation, in order to be able to invoke it for compensation claims. The scope for EU passenger rights under EC Regulation 261/2004 includes the following cases:
The flight is within the EU, whether the airline is headquartered in the EU or not.
The flight departs from an EU country and the destination airport is in a non-EU country, regardless of where the headquarters of the airline are.
The flight departs from a non-EU country and lands in an EU country, providing the airline is headquartered in the EU.
The table below outlines the flight routes which are covered by the EU Regulation: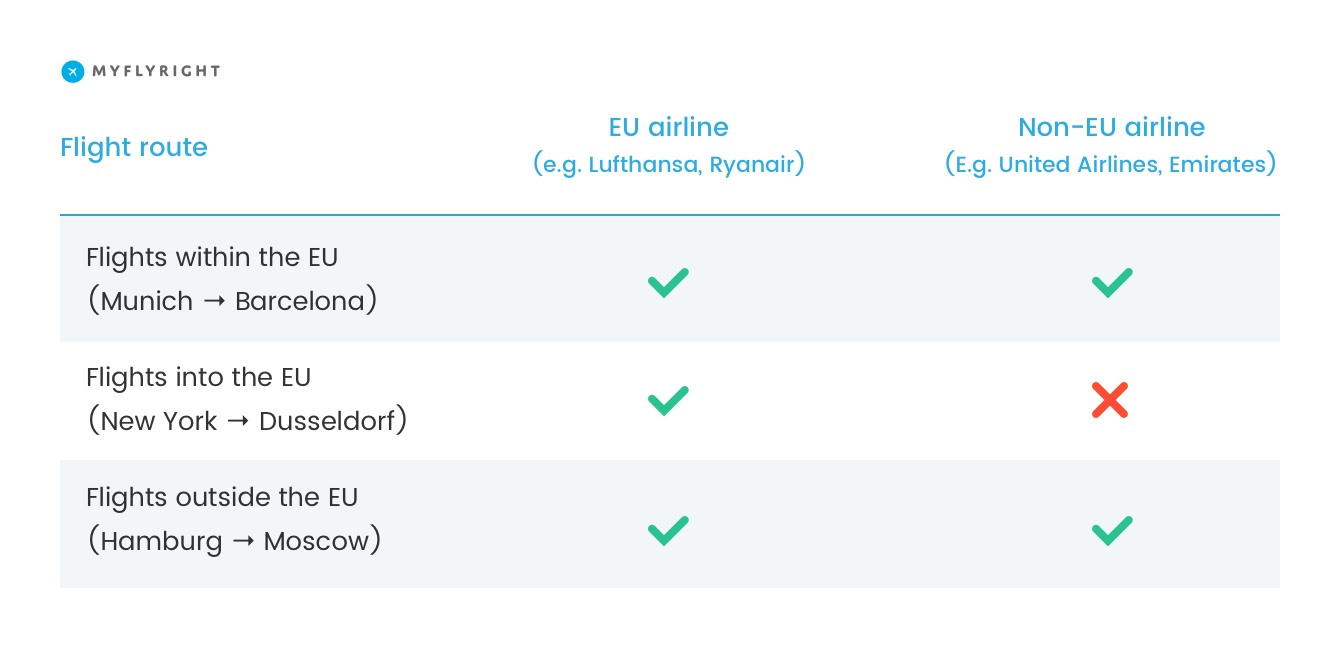 In addition to flight time changes, flight delays, flight cancellations, flight overbookings and missed connecting flights are also covered by the EU regulation. You can find more information in our articles Flight delay, Flight cancellation, Flight overbooking and missed connecting flights.
Flight rescheduling - additional services
As mentioned in the article at the beginning, when a flight is rescheduled, a passenger is entitled to care services such as free meals and drinks, as well as the possibility to make two phone calls, faxes or emails. If the replacement flight is not available until the next day, the airline will also cover the cost of an overnight hotel stay and transfers to and from the airport. In case of longer waiting times, several overnight stays will be paid for. Below you will find a summary of the rights and benefits you are entitled to in the event of a flight delay: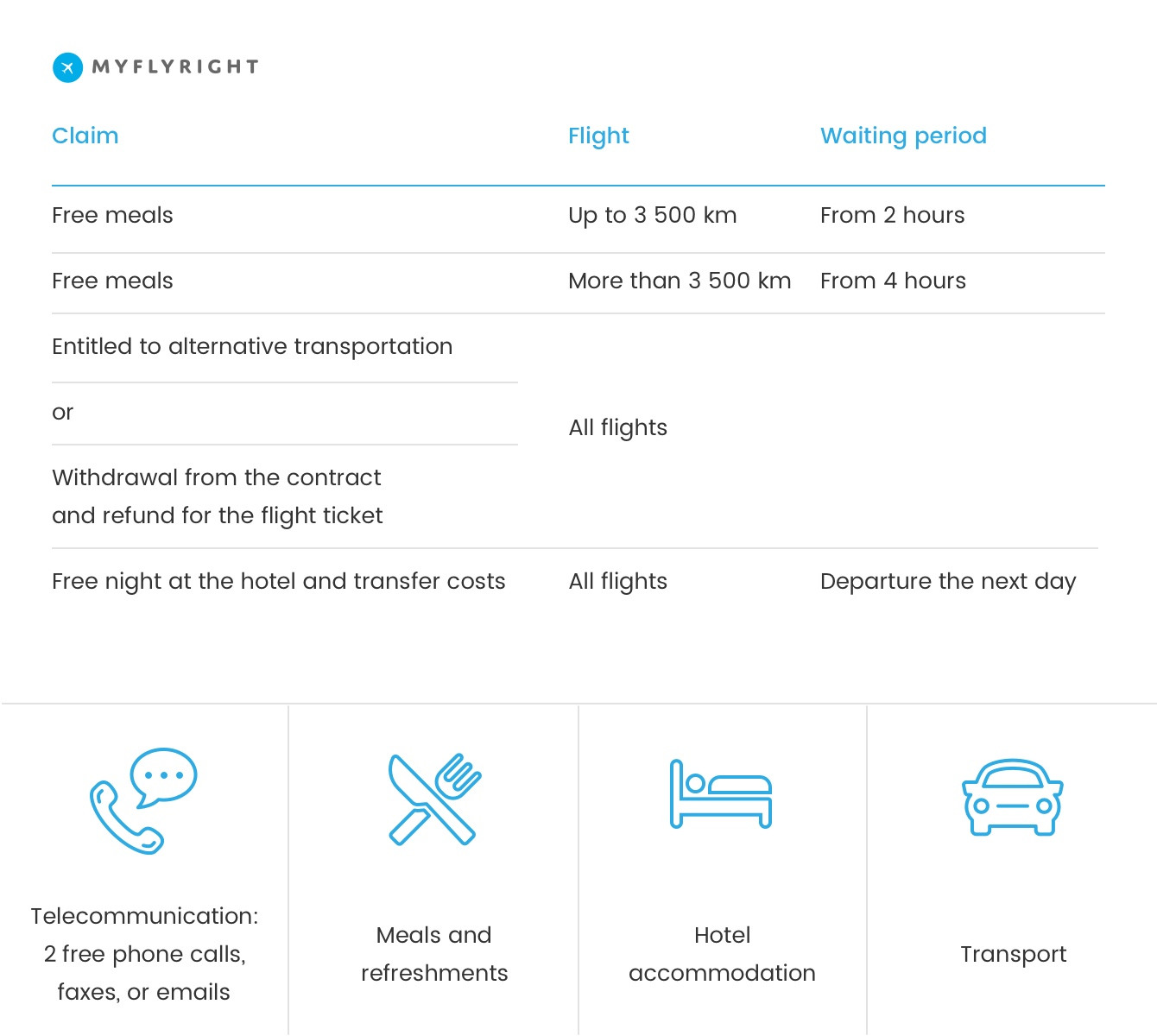 Flight brought forward: Rights for package tours
The Frankfurt Table is a summary of judgements of the District Court of Frankfurt in Germany where passengers have experienced flight disruptions such as denied boarding during package travel. It can be used a guideline for when passengers may have a claim, and how much they can expect to receive in terms of a price reduction against the tour operator. It is important to stress that The Frankfurt Table is not legally binding and should therefore be used only as a reference. Cases are judged individually, and price reductions are calculated according to each specific assessment. For more information, please take a look at our article on Package travel.
Business travel: Flight time change
Business trips are work-related trips that usually take place on behalf of the company. They include both outward and return travel and often involve flights, especially if the destination is abroad. Although the company pays for the airfare, business travelers are usually entitled to compensation for flight irregularities such as delays, cancellations or rebookings, unless otherwise agreed in a contract between the traveler and the company. There are companies that include a clause in the contract waiving the employee's right to flight compensation for business travel.
However, the rule is that business travelers have the same rights as individual travelers. The amount of your compensation varies depending on the flight distance and for business travelers is 250 €, 300 €, 400 € or 600 €. Depending on the duration of the delay, the airline must offer passengers additional services such as free meals, refreshments and accommodation.

What to do if your flight is rescheduled
It is advisable to immediately visit the airline ticket office in case of a flight postponement to get information about alternative flights. Airlines have the obligation to find a reasonable solution. In order to receive compensation later, you should document the reason for the flight rescheduling. For example, you can keep your boarding passes and baggage tags or obtain written confirmation from the staff. If you are forced to wait for a replacement flight the next day and need overnight accommodations, meals or a cab, it is equally important to keep receipts.
Flight advance - Ticket reimbursement
In order to receive a refund for your airline ticket, it is crucial to be informed of your rights and know what services must be provided by the airline. These include compensation of up to 600 €, as well as a full refund of the ticket price or a refund for unused legs of the journey and a free return flight to the original departure airport, as early as possible. You can find more information in our article Ticket refund.
Help from MYFLYRIGHT
If you have experienced a flight rebooking by an airline, you can always contact MYFLYRIGHT. To avoid the financial risk and the time-consuming and stressful process of the procedure, you can delegate your case to us. We are experts in air passenger rights and can help you to get the compensation you are entitled to. If you wish, MYFLYRIGHT will pursue your case against the airline without any cost risk. Just enter your flight details at www.myflyright.com and we will do the work for you, without any cost risk.

Get up to 600 €* in compensation