How airlines try to trick their customers in corona times
Travel trends
Some airlines are being inaccessible with ticket refunds despite a record number of cancellations during the COVID-19 pandemic. The airlines have lost billions since the beginning of March as they have been forced to cancel flights and suspend operations, while still incurring operational costs. The air carriers are currently struggling with decreased cash reserves and revenues, therefore they try to convince passengers to accept vouchers instead of paying out the ticket refunds in cash. According to the German Travel Association (DRV), airlines in Germany currently owe travelers refunds of billions of euros and it appears that there are still considerable delays with the ticket reimbursements.
Vouchers instead of ticket refunds
If you are having trouble requesting a refund from the airlines, you are not alone. Instead of refunding the ticket price, the airlines are hoping that customers will take a voucher. This is the only way for airlines to retain some of the revenue and battle against airline bankruptcy. With most airlines cancelling over 75% of their flights over the coming months, it is understandable that the airlines are trying to keep hold of cash for as long as possible by offering an alternative flight or vouchers. Some airlines are even offering bonuses or discounts if customers are willing to accept the option of rebooking for a later date instead of demanding a refund. Finnair for example proposes an incentive to take the voucher option – customers can get vouchers worth 10% more than their cancelled booking. This is the airline perspective. However, it is essential for the customers that their money is adequately protected too and people, who urgently need their money back, such as many people who have recently lost their jobs, can get it.
Difficulties to reach the airline
As the airlines have cancelled thousands of flights, it is currently very problematic to reach the airline's customer service and ticket refunds are paid only reluctantly. Some airlines have reportedly been complicating the refund process for customers. Ryanair, for instance, does not automatically agree to a ticket refund when you request it. The contact form to request a ticket refund is rather tricky in its wording and you end up receiving an email with a credit voucher. At the end of the email, there is a text, purposely placed there so that most customers would not read it, stating that if you want your ticket reimbursement in cash, you should undergo another procedure to file your claim. EasyJet has also faced criticism as rebooking is done online but refunds require calling customer services and getting through is almost impossible.
By offering minimal customer support and ignoring the customers' refund requests, the airlines are able to keep the cash a bit longer but at the cost of disappointed customers. The German government is trying to increase the pressure put on the airlines. Thomas Bareiss, the federal government's commissioner for tourism criticizes the airlines for taking far too long to reimburse the ticket costs, claiming that the airlines have a legal obligation to their customers and this obligation should be met. Bareiss believes there needs to be more transparency in the refund process.
How to get airline refund instead of voucher
There is one basic rule regarding airline cancellation policies: if the airline makes the change, you are entitled to a ticket refund. If you make the change yourself before they actually cancel the flight, you are not entitled to a refund. This is true whether or not the airline offers flexible cancellation policies. For this reason, it is not in your best interest to cancel before the airline does. Currently the airlines are cancelling their flights very late in the hope that the customer cancels first. In this way, the airlines are not obligated to reimburse the full ticket price. Additionally, if you accept an alternative flight, you are also not entitled to a ticket refund.
If the airline has cancelled your flight and you are entitled to a refund, the next thing you need to do is to try to contact the airline either per email or telephone and request it. The airlines usually suggest that the customers should contact them within 72 hours before the flight would have taken place. Phone waits are usually extremely long as you would expect. If you have any special status such as the Star Alliance Gold Status, for example, you can call a dedicated customer hotline where you might be able to get through more quickly. It is not a guarantee, but the "elite" line customer service agents are sometimes more equipped or at least more inclined to help you. Sending an email is also an option, but you should be prepared to wait several days before you receive any reply.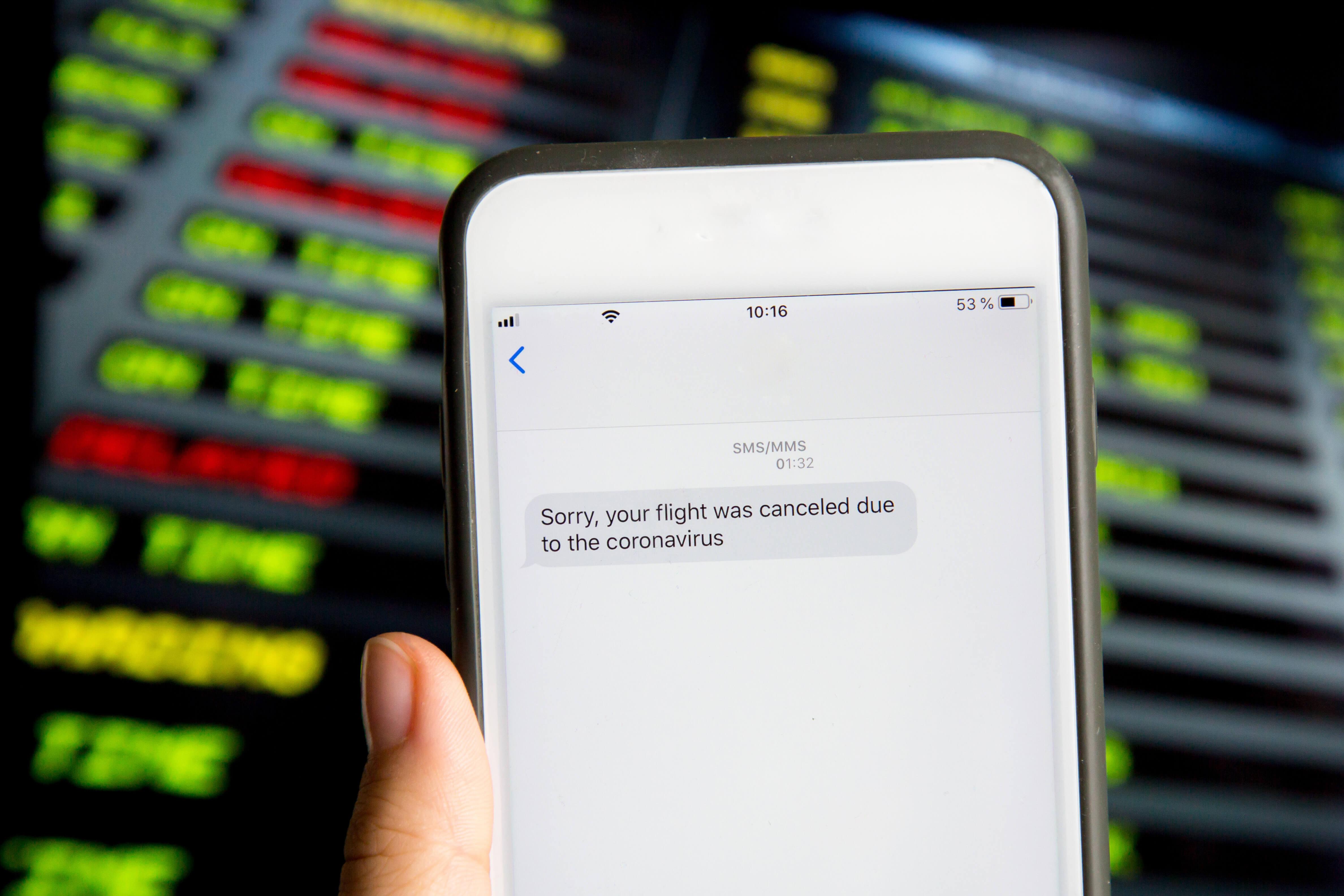 Flight cancellations. Source: Adobe Stock
Ticket refund through social media
In recent times, airlines have introduced customer service through their social media channels. Twitter teams in particular are responsive with many airlines. Air France and KLM Royal Dutch Airlines, for instance, have a strong presence on both Twitter and Facebook Messenger. Some airlines can be reached through their Direct Messages and it is worth to try. In your message you should include your name, original departure date and flight and the type of flight irregularity you are facing. You should also specify exactly what you want – an alternative flight, a voucher or a refund to the original form of payment. Before you address your airline on Twitter, make sure to check the airline's Twitter feed and verify whether the airline is active on Twitter. Some small foreign airlines don't have much of a presence there.
Ticket refund by your credit card
The last solution in case your efforts to contact the airline fail is to request a ticket refund through your credit card company. The reasoning behind it is that the airline failed to provide you a service for which you paid. In most reputable banks you can either ask for a refund or you can revoke your transaction. You usually have about 60 to 120 days to revoke a transaction you made with your credit card. This is not a guaranteed method of ticket refund, but if you have made the reservation recently, you should get the amount reinstated.
What if the airline does not refund
If your airline cancels your flight due to the corona crisis, you can request a refund of the ticket price. You are not obligated to accept a voucher and you are entitled to a refund of the amount paid for the flight. Passengers may also be entitled to compensation for the cancellation of their flight in accordance with the EU regulation 261 / 2004, provided that the reasons for the cancellation are not considered as extraordinary circumstances and the airline has not provided an alternative flight in an acceptable time frame. If you cannot reach the airline or it is problematic to receive a ticket refund, you can always file your claim with us and we will do our best to get your ticket refunded and file for compensation if applicable. You can simply enter your flight details at www.myflyright.com and check your claim free of charge. We are happy to help you with your ticket refund and there is no cost risk for you at any point.
Main image source: Adobe Stock
Latest posts
British Airways pilot fired for bragging about flight cocaine use
In September 2023, a British Airways pilot found himself at the center of a scandal that rocked the aviation industry.
Passengers express outrage as flight faces double cancellation
A Brussels Airlines flight originating from Kinshasa, Democratic Republic of Congo, experienced an unexpected and frustrating turn of events when it was postponed twice.
Swiss Air passengers left in disarray as plane lands in Spain without luggage
Passengers, awaiting their belongings at the airport's baggage claim, were met with disappointment as their bags failed to materialize even after a two-hour wait.
About MYFLYRIGHT
MYFLYRIGHT is a legal tech company, specialized in the support of airline passengers affected by flight delays, flight cancellations, denied boarding, delayed or lost luggage and the refund of unused airline tickets. MYFLYRIGHT was founded 2016 in Hamburg, Germany. The company operates out of 3 offices, its headquarter in Hamburg and its branches in Prague, Czech Republic and Zaporizhia, Ukraine. Currently, MYFLYRIGHT employs a team of around 25 people working in Marketing, Operations, Legal, Customer Support and IT. The organization operates across 5 markets – Germany, United Kingdom, Romania, Austria, and Switzerland.
MYFLYRIGHT's goal is to provide access to justice for all aviation passengers who experience irregularities in their flight transportation. Notably, 75% of all compensation requests submitted by passengers get rejected. Whereas, MYFLYRIGHT is able to successfully execute the applicable customer claims in more than 98% of cases at court.
Get up to 600 €* in compensation
Check claim for free