How do airlines perform during corona virus
Travel trends
The travel industry has been heavily impacted by the outbreak of the corona virus pandemic. Airlines are struggling to perform as they need to deal with thousands of flight cancellations, heavy financial losses, which in turn also lead to major employee layoffs. The past few months have been very challenging for these companies as they attempt to deal with this this situation without filing for bankruptcy. Some airlines have chosen to put passenger health and safety first, while other airlines have prioritized their own survival and continue on with their business-as-usual approach. In this article we examine some of the world's most famous airlines and how they deal with the current situation.
Travel policies and ticket refunds during corona virus
Ever since the outbreak of corona virus in mid-March, airlines have implemented various policies related to customer tickets — covering existing flights booked pre-pandemic as well as new reservations. There have also been significant changes in processing refunds for cancelled flights. In fact, Governmental departments all over the world had to issue warnings in order to compel certain airlines to comply with its published policies and reimburse the ticket costs of its customers.
A very narrow number of airlines have enabled their customers to receive their ticket refunds, while other airlines have done their best to offer vouchers and change the date of the booking, instead of paying out a ticket refund. Most airlines try to convince their clients to accept a voucher or to book at a later point in time, because otherwise they will face the risk of becoming insolvent. According to this solution, air carriers can offer customers vouchers with the corresponding value instead of direct reimbursement of the costs – only provided that the customers accept the voucher. If they do not, they are still entitled to reimbursement of the costs.
Overview of the airline performance during corona virus
American Airlines: In surveys conducted with American passengers, American Airlines was identified as one of the airlines dealing with the corona virus in the most consistent way. Customers pointed out that the airline is processing their cash refunds quickly, with only a small backlog to sort through.
British Airways: The airline is said to have processed most refunds within 30 days or less, with a relatively small backlog of requests. Passengers' complaints indicated that customers have experienced difficulties in contacting the airline, however, to request a refund in the first place. British Airways has since made changes to its customer helpline to ensure that calls are no longer terminated after a recorded message.
easyJet: Initially easyJet was taking up to 90 days to process refund requests. This meant that the airline had a substantial backlog of refund requests from customers trying to get their money back. Therefore, the airline had to increase the number of staff processing ticket refunds and now claims it is able to comply with refund requests in less than 30 days.
Emirates: The airline has promised to employ more staff to ensure it can process refund requests in 40 days or less from the request being made. It claims that passengers will face a maximum waiting period of 50 days.
Etihad Airways: Customer complaints suggest that Ethiad has not been paying cash refunds to its customers. Following the review, the airline changed its policies and made improvements in notifying customers of cancellations, with a direct link to the website where passengers can find information on refunds.
Jet2: Jet2 has been identified as consistent in processing cash refunds quickly. The airline has only a small backlog of refund requests.
Lufthansa: The airline has given a statement that it will try to resolve the repayment issue they are facing. Lufthansa CEO Carsten Spohr admitted that there is an ongoing problem with the refunds due to the enormous number of cancellations and apologized to the affected customers. He also mentioned that the airline has significantly increased its resources in the area of customer support so that they can speed up the processing time.
Ryanair: Ryanair was found to be taking approximately 10 weeks or longer to process refunds at the beginning of the disruption. On the 3rd of July, the airline listed a number of commitments on its website, aimed at improving the time periods for processing cash refunds.
TUI: Rather than issuing refunds directly, TUI automatically gave customers a credit note for the value of their flight. Customers then had to wait 28 days from receiving the credit note before they could claim a cash refund - which could then take a further 28 days to be processed. Recently, the airline changed its practices and now automatically begins a cash refund process once a customer's flight is cancelled. TUI claims that cash refunds will be processed within 14 days.
Turkish Airlines: The airline was forced to confirm it was offering customers ticket refunds, after customer complaints suggested otherwise. It has since made adjustments to its website, its online refund form and the notification that it sends to passengers on cancelled flights. The goal is to make it clearer to customers that they are entitled to a cash refund and explain how they can claim it.
Virgin Atlantic: Initially the airline was taking up to 60 days to process refund requests. The airline's performance became "significantly worse," according to customer reviews – making a statement to customers that the maximum wait for their money back would be 120 days. Facing criticism, the airline promised to make improvements in its refund policies.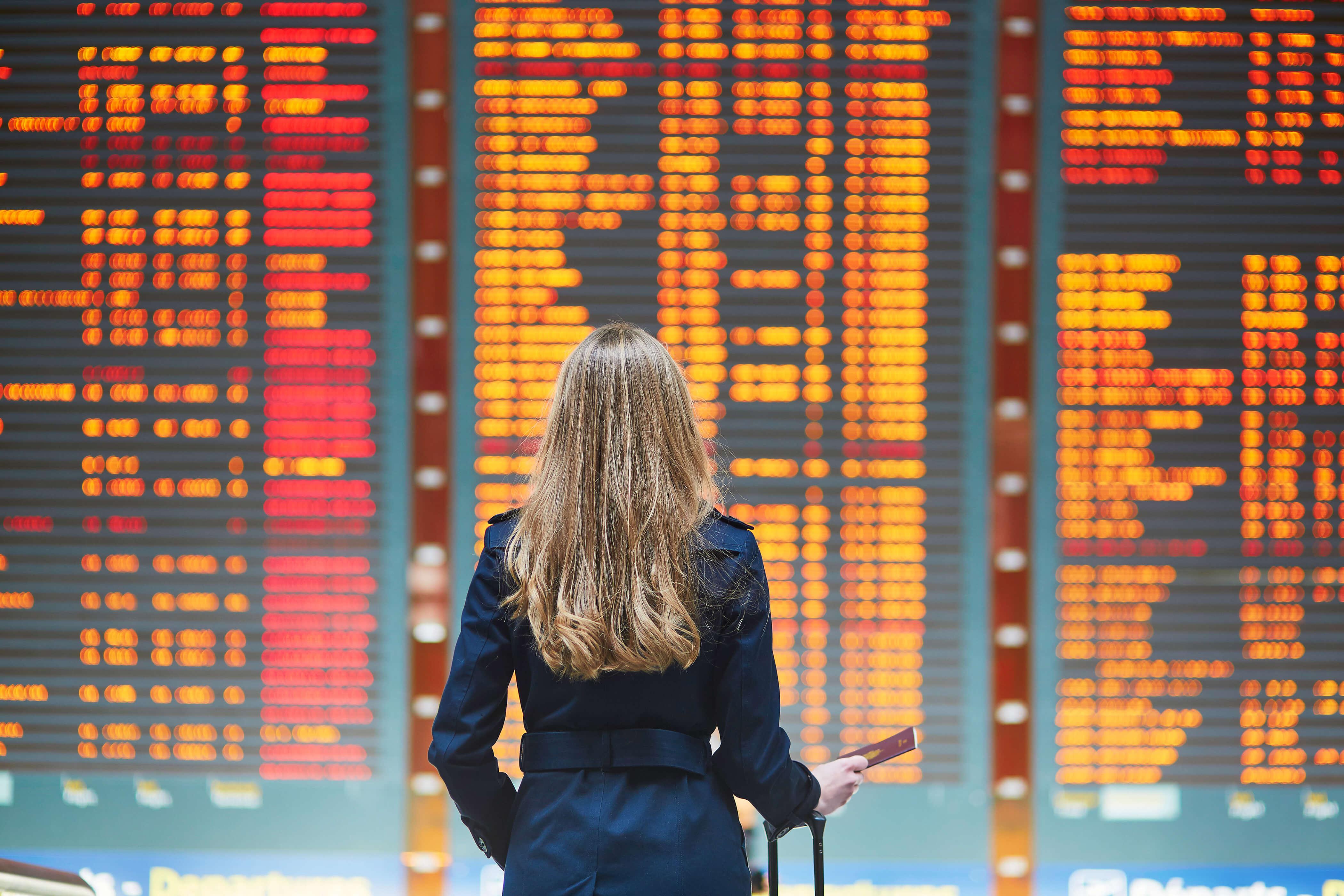 Flight cancellations due to corona virus. Source: Adobe Stock
Flight cancellation due to corona virus
What happens if my flight is cancelled because of the corona virus?
If your airline cancels your flight due to the corona crisis, you can request a refund of the ticket price. You are not obligated to accept a voucher and you are entitled to a refund of the amount paid for the flight. Passengers may also be entitled to compensation for the cancellation of their flight in accordance with the EU regulation 261 / 2004, provided that the reasons for the cancellation are not considered as extraordinary circumstances and the airline has not provided an alternative flight in an acceptable time frame. If you have experienced a similar case and your flight was cancelled, feel free to check whether you are entitled to a ticket refund and potentially to an additional compensation on the MYFLYRIGHT website. We are happy to help you with your ticket refund and there is no cost risk for you at any point. You simply need to enter your flight details at www.myflyright.com and check your claim free of charge.
Main image source: Adobe Stock
Latest posts
Pilot strike at Eurowings disrupts nearly half of flights amid wage dispute
Eurowings is currently grappling with a pilot strike that has resulted in significant disruptions to its flight operations.
Lufthansa pursues new low-cost airline amidst challenges
Lufthansa is making bold moves to expand its presence in the low-cost airline market, despite facing significant challenges in the aviation industry.
Eurowings anticipates a 10-20% increase in ticket prices
Eurowings, a leading German low-cost airline, recently forecast a likely 10-20% increase in ticket prices.
About MYFLYRIGHT
MYFLYRIGHT is a legal tech company, specialized in the support of airline passengers affected by flight delays, flight cancellations, denied boarding, delayed or lost luggage and the refund of unused airline tickets. MYFLYRIGHT was founded 2016 in Hamburg, Germany. The company operates out of 3 offices, its headquarter in Hamburg and its branches in Prague, Czech Republic and Zaporizhia, Ukraine. Currently, MYFLYRIGHT employs a team of around 25 people working in Marketing, Operations, Legal, Customer Support and IT. The organization operates across 5 markets – Germany, United Kingdom, Romania, Austria, and Switzerland.
MYFLYRIGHT's goal is to provide access to justice for all aviation passengers who experience irregularities in their flight transportation. Notably, 75% of all compensation requests submitted by passengers get rejected. Whereas, MYFLYRIGHT is able to successfully execute the applicable customer claims in more than 98% of cases at court.
Get up to 600 €* in compensation
Check claim for free